We have been waiting … and waiting ….. for the first Cosmoledo team to get back on to terra firma and send us their report. Getting back to Cosmoledo has been a long time coming so, sit back and enjoy the read. Charlotte.
In past years, Cosmoledo and Astove Atolls became synonymous as the best GT fisheries in the world before being closed in March 2009. The sheer numbers of GT's has amazed the fly fishing world, with anglers from across the globe queuing up to sample the ultimate fishing playground. Fortunately the 5-year wait has finally come to an end as the 15th of February marked the official opening of the "Alphonse Island Cosmoledo Liveaboard Season".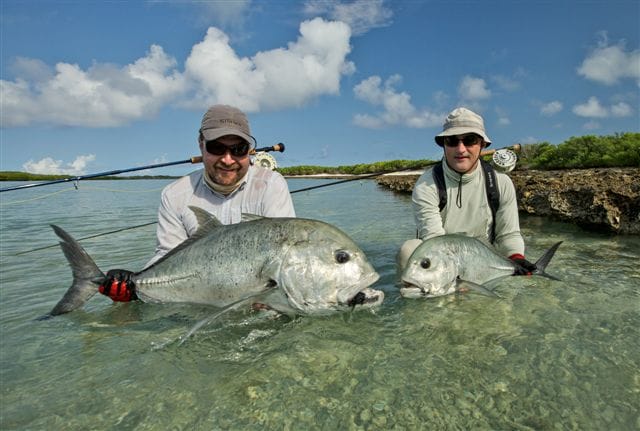 These liveaboard trips are unique in the fact that anglers get the opportunity to fish three atolls during their week, namely Assumption, Cosmoledo, and Astove. I was one of the fortunate few who guided on these atolls for 7 years before the closure and know just know good the fisheries are. After just completing our first week I can now honestly say that these atolls have been rested and the fishing has rejuvenated itself to an untouched ecosystem full of hungry GT's.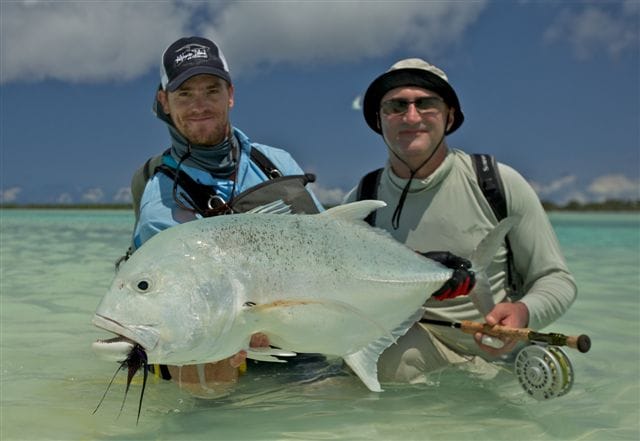 It is a world filled with colour, where the daily dramas of a pristine and wild ecosystem play out in front of your very eyes. After the 2 hour 45 minute flight to Assumption our first week of guests comprising of 6 Muscovite friends who had fished numerous destinations in the Seychelles with us in the past. A leisurely group, who were visiting not only to enjoy the amazing fishing but also the incredible surroundings that these remote atolls have to offer.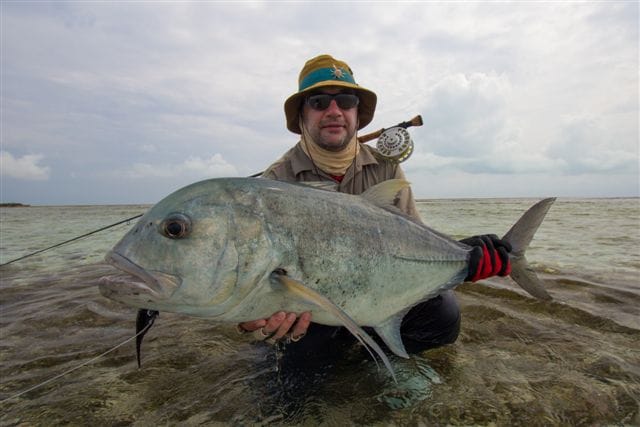 After boarding the Maya's Dugong, settling into cabins and completing all the formalities associated with living on a ship. The team ventured out for a short fishing session before we started the 8 hour steam to Cosmoledo. Literally within minutes Maxim was the first of the group to land a GT, not only marking the first GT of the trip but also his first time fly fishing and first GT. The short session saw the team land 11 GT's and 1 Bohar Snapper in 1 hour 45 minutes, with Peter landing his personal best GT of 122cm, which he would better on 2 occasions later on in the week.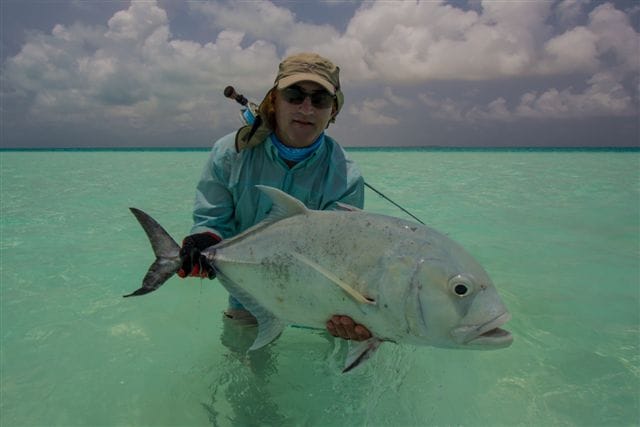 After travelling through the night we arrived at Cosmoledo, where we would remain for 5 days and only leave for a day to fish Astove Atoll. The team enjoyed leisurely starts to the morning and fished a combination of 4 anglers on the flats and 2 offshore. It was truly an amazing experience to have an Atoll which is 17km wide all to ourselves with only 4 fly anglers on terra firma at one time. The GT sessions were fast and furious at times with anglers getting as many as 15 GT's in a session. On one particular day I guided Vladimir and in a space of and hour he landed 9 GT's, lost 5 flies to one hungry Barracuda before ending up with a tally of 13 GT's and deciding not to cast to GT's anymore but rather concentrate on Triggerfish.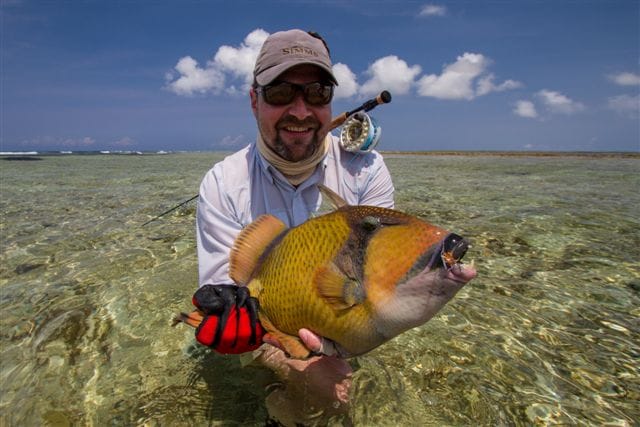 The amount of GT's on the flats was simply hard to comprehend at times and to the extent that by day 3 our anglers let the GT's swim by and focused their attention on the amazing amount of tailing Triggerfish and various other species on offer.We split our stay at Cosmoledo by departing at 3 am on day 4 to arrive at Astove for daybreak.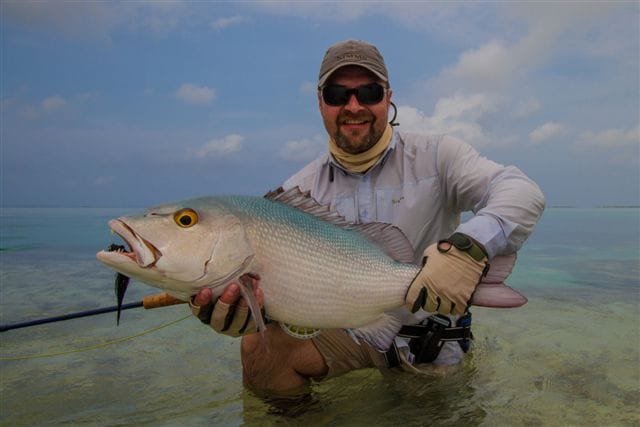 This amazing atoll is unique in that it has only one small channel linking the lagoon to the sea. The lagoon is the perfect refuge for juvenile fish and is jam packed with small Bonefish for the GT's to feed on. Its a place that has been frozen in time and once again the GT fishing was outstanding with the team of Rodion and Vladimir landing 18 GT's in the session and the biggest measuring 105 cm. What an amazing start to the liveaboard season! Cosmoledo and Astove have truly fulfilled expectations in every way and we look forward to all the up and coming trips.
Tight lines from the Alphonse-Cosmoledo Team!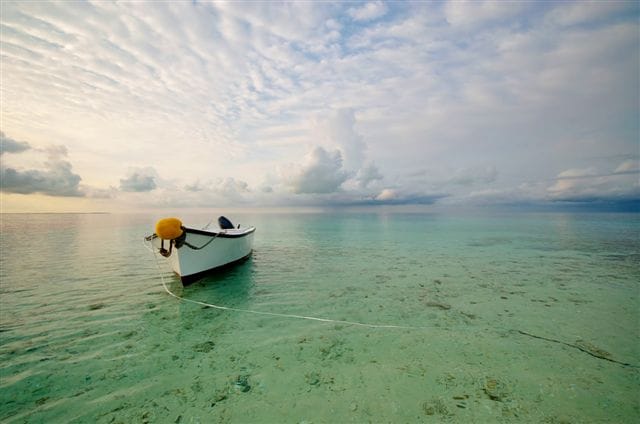 If you are interested in heading out to Alphonse, or any of our other Indian Ocean destinations, please contact Charlotte Chilcott or call our office on +44(0)1980 847389. It is still not too late to book up for Alphonse this season. Although all weeks are currently full, space may become available and we will keep you updated of any changes.
There are only two spaces left on Cosmoledo this season – 19-26 March, the rods are available through a cancellation so if you are interested, please contact us either by email, or by phone on 0044 1980 847389 if you are interested.
Bookings for the Autumn season are now open.