In February 2020, Steffan returned to the Rio Grande in Argentina to chase sea trout. This time to Kau Tapen Lodge.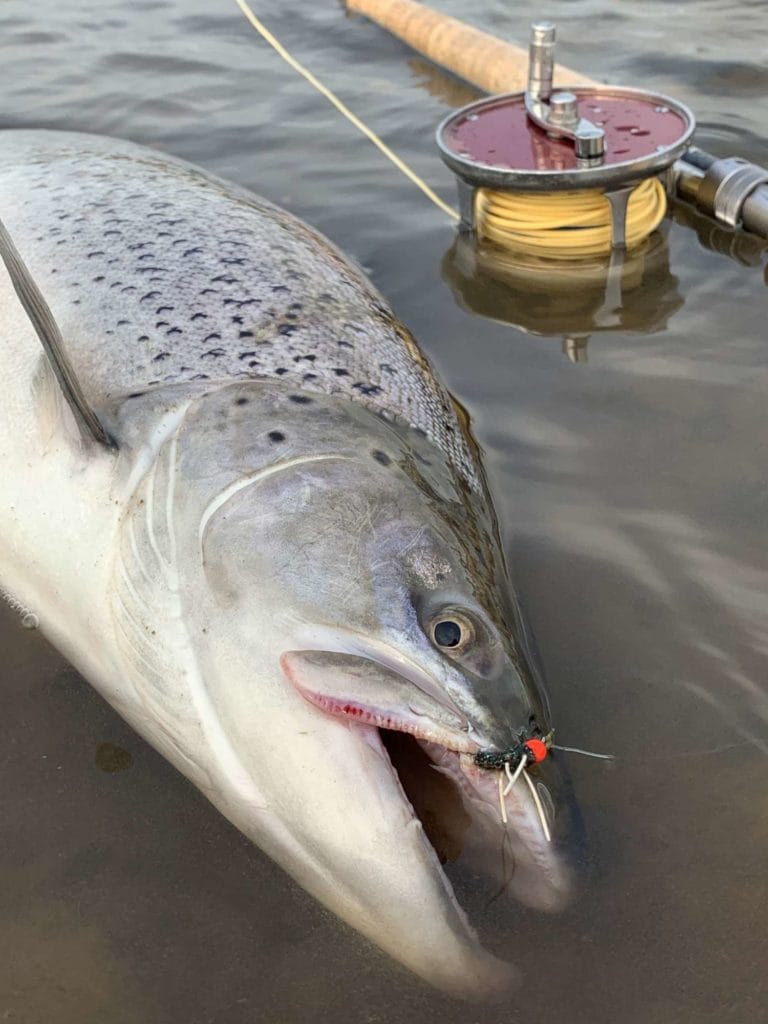 A winter without heading to Argentina would be a very strange sensation and one quite frankly I would prefer to avoid. There is a very real connection with a place after you travel there year after year, with returning becoming a pilgrimage rather than a fishing trip.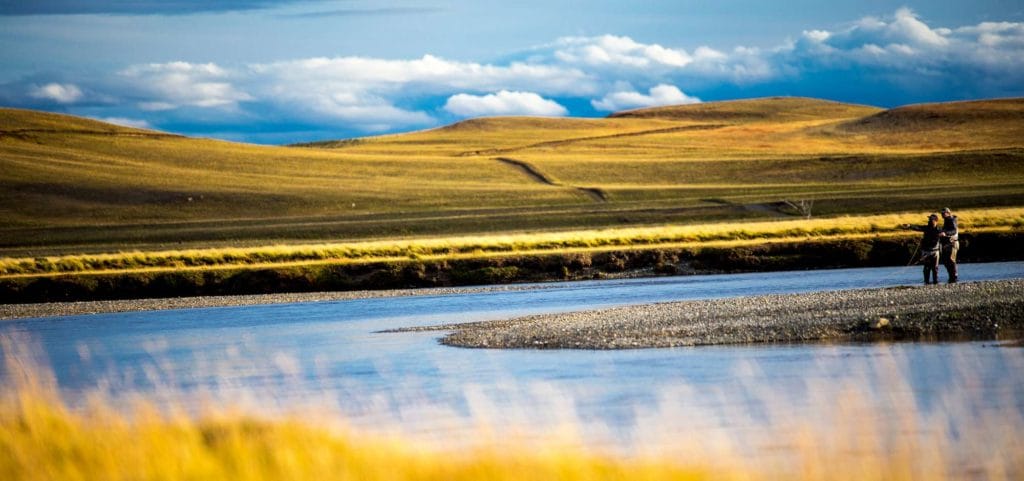 I started heading to Tierra del Fuego back in 2000. After that, I literally missed one winter where I headed to New Zealand instead – not exactly a hardship! Each trip has been different and each trip brings about new experiences and learning curves, which I relish and cherish. Spending time at different lodges, with different guides, with different water conditions etc. all add to your experience and understanding, which can inevitably be applied to other locations across the world and closer to home.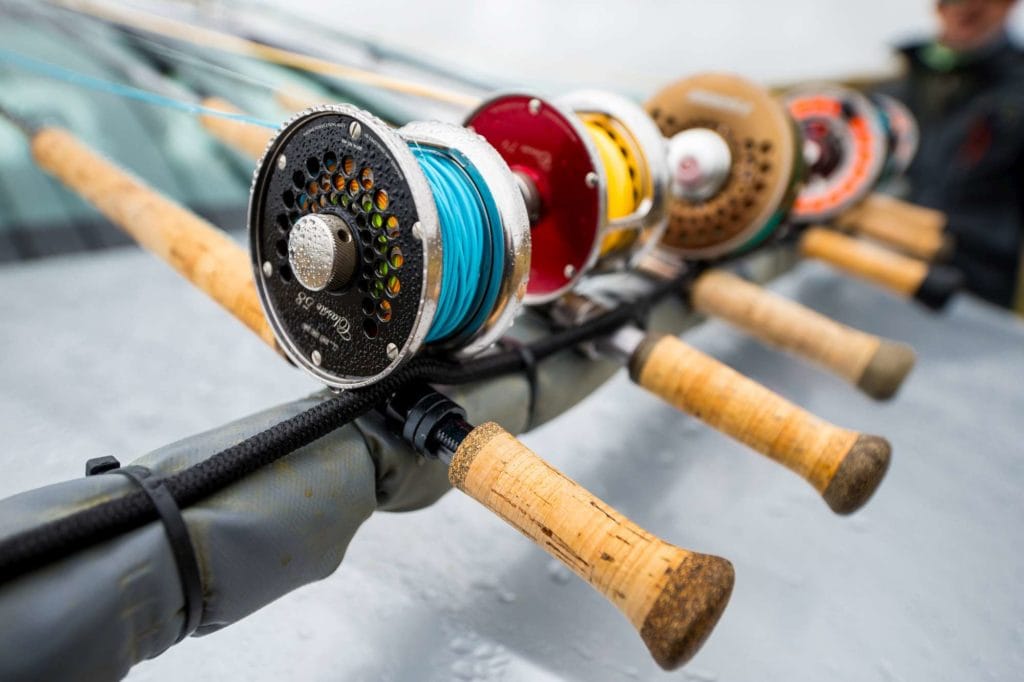 It had been a few seasons since I last visited Kau Tapen. As such, for a change of scenery a visit to reacquaint myself with what is one of the finest lodges in the world was arranged. Three other anglers joined me on the week – all of which I now count as friends; Colin.D, Tim.B and Rene.K. None had fished the Grande for sea trout before. Indeed, it was only Tim that had any sea trout experience prior to the trip, so I was confident they were all in for an amazing introduction to the species – what a lodge and what a river to start their journey!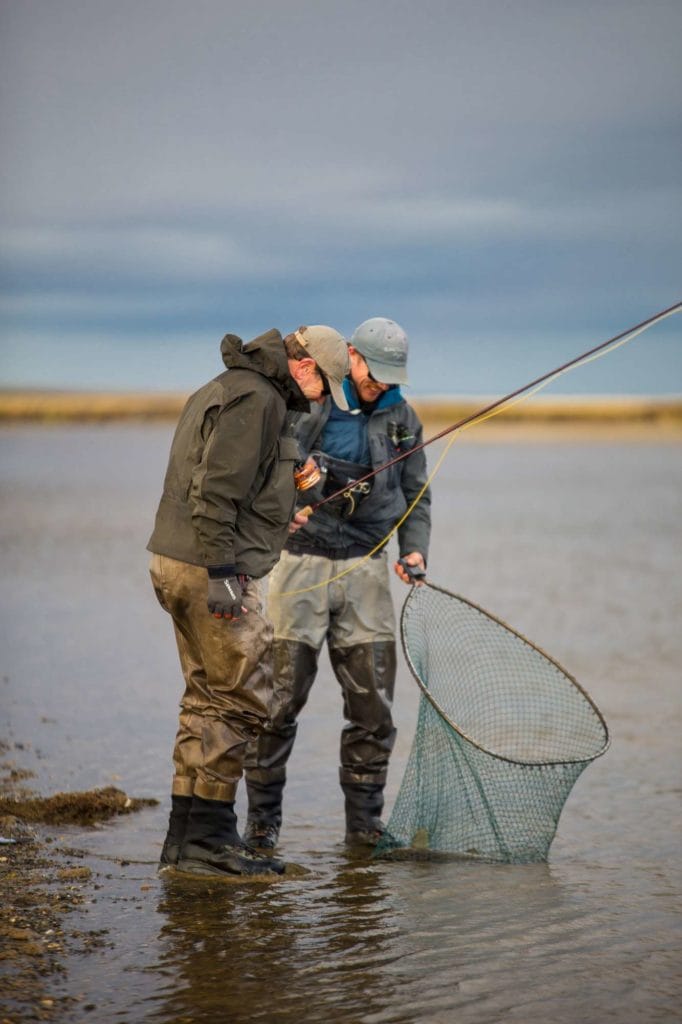 I send the office into a state of anxiety every time I travel. To say that I am relaxed would be an understatement – to overcome a problem you must first admit you have one. Packing usually happens the morning of departure and the schedule of getting to the airport is always relying on public transport to run as it should – a gambling nature emerges.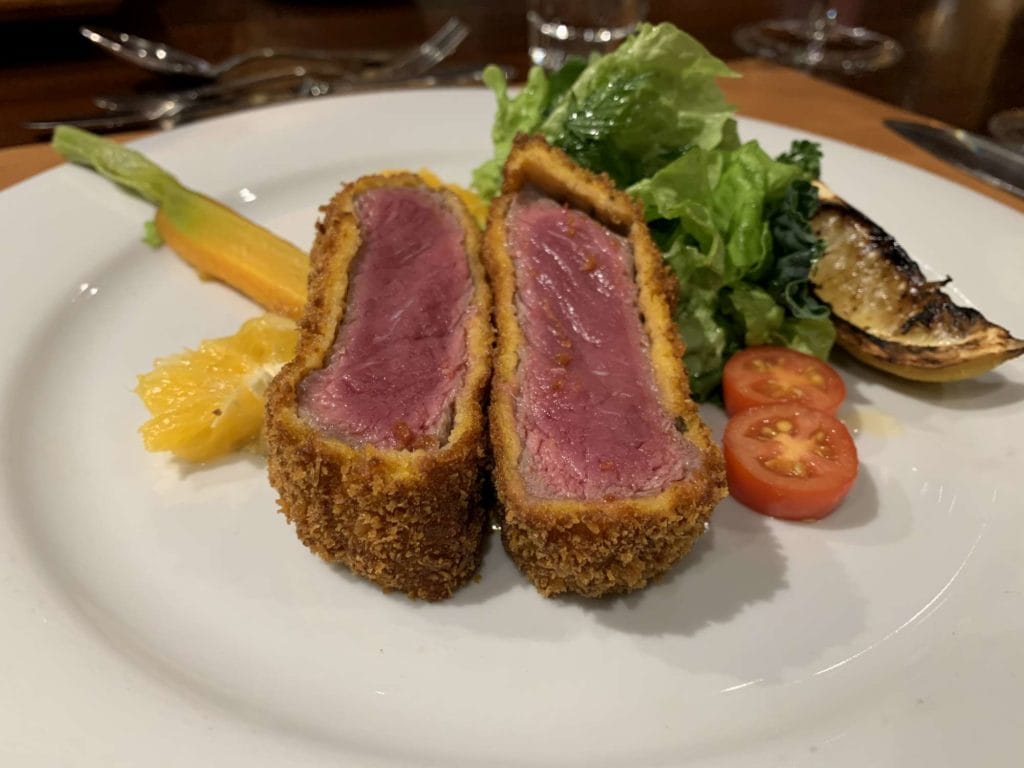 This winter has one common denominator; rain! Virtually every weekend has been a washout, which has curtailed fishing and shooting efforts closer to home. It has also had severe knock-on effects to public transport. The day I was set to fly was no different. It had rained heavily overnight and continued to do so throughout the day. As such, being sensible (quelle surprise), I added some time on to make sure I got to the airport safely.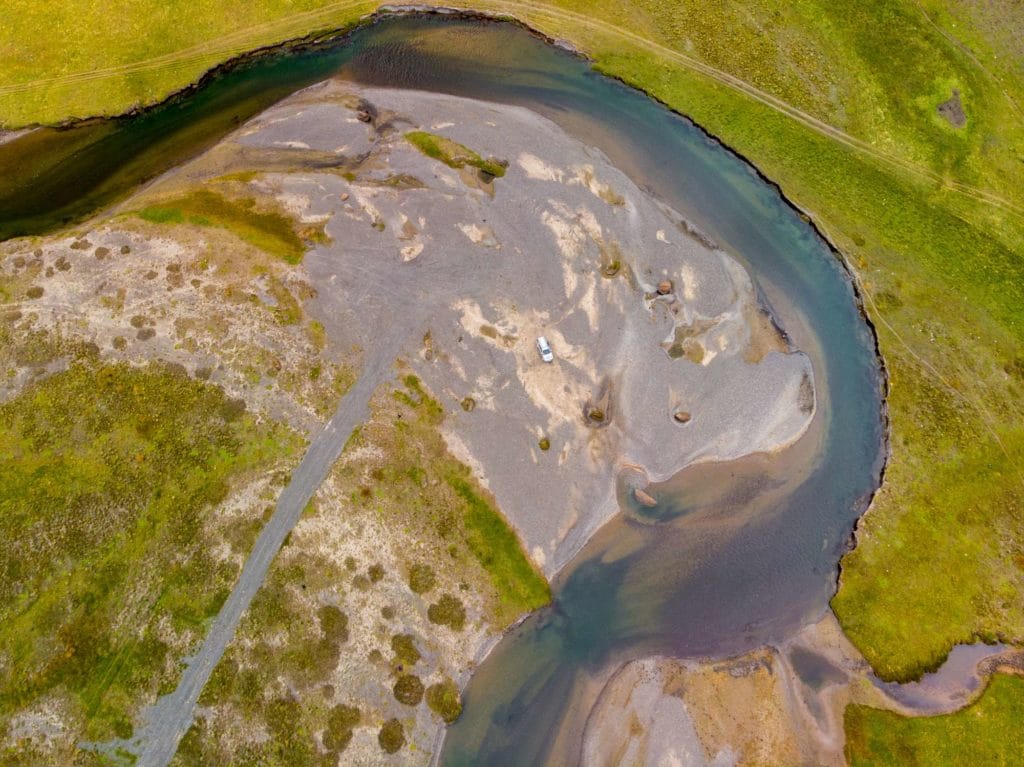 Upon arriving at the train station, I was told that there was a bus replacement service from Carmarthen to Cardiff. Fine, nothing to worry about. We all got on the bus, to then be told to get off as there was a train to Swansea and there would be a bus from there to Cardiff. Annoying, but fine. However, we only got as far as Llanelli. We remained in the station for a good ten minutes and I could see the station staff start to panic. Soon enough a message was announced that the line ahead was flooded and we had to wait for the line to be pumped! Beyond that, it was a series of events that I care not recall and certainly made for an interesting start to the trip. A taxi, another train journey, followed by another taxi journey. It was honestly a nightmare journey, one in which someone was seriously testing my resolve.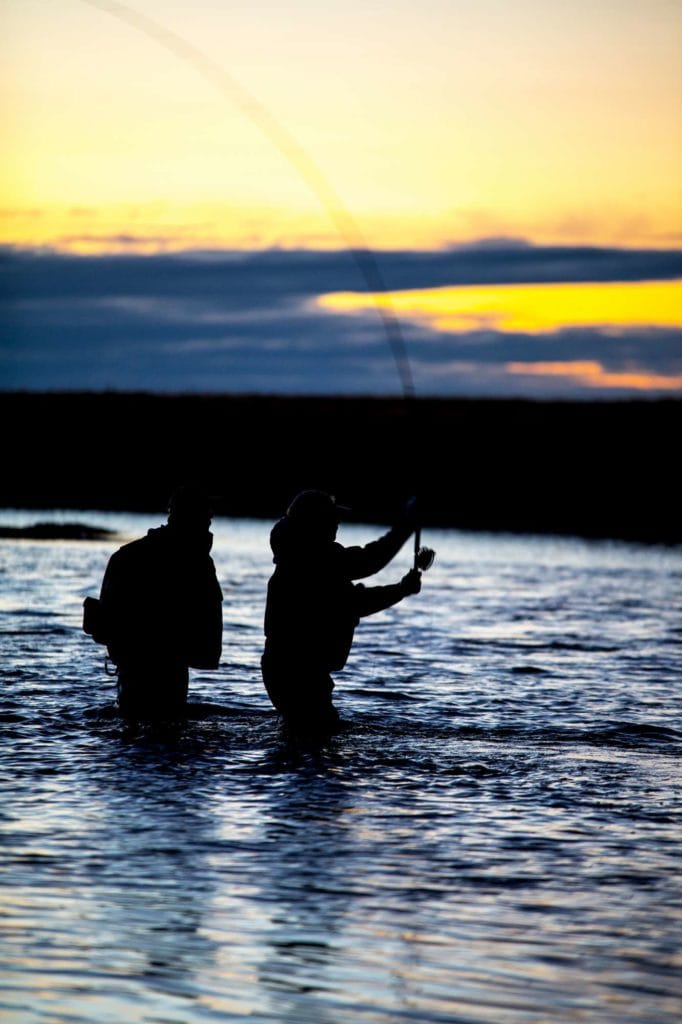 Amazingly I made it to the airport with over two hours before departure, which was a minor miracle. Needles to say a beer was in order as soon as security was cleared – I definitely felt it was well deserved.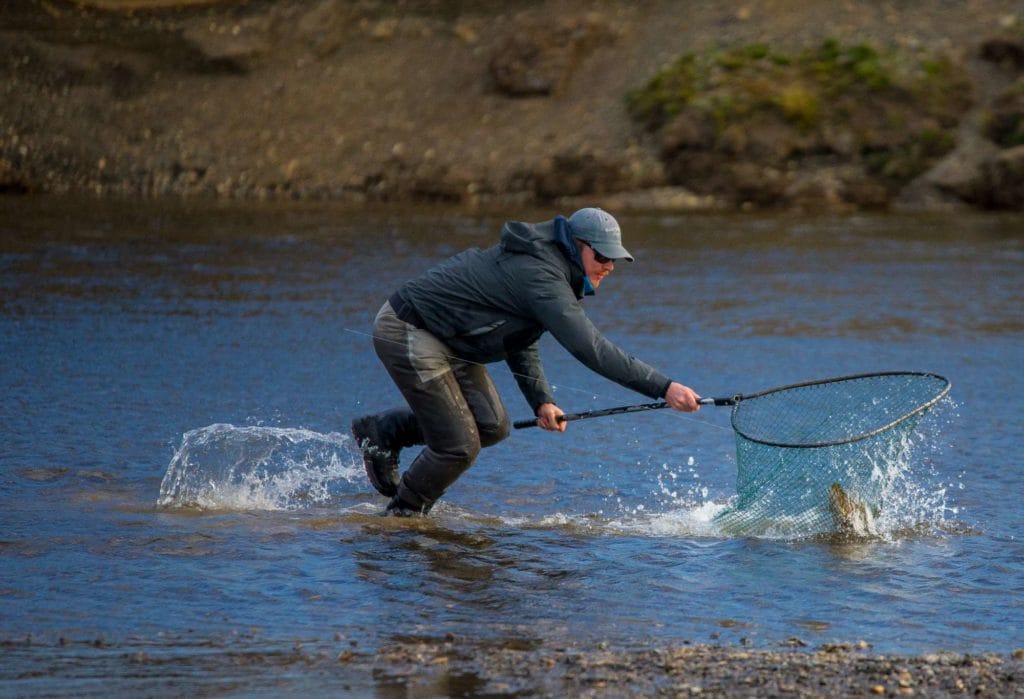 It was just Colin and me heading from Heathrow. The rest would meet us in Buenos Aires. We made it safely to the flight and all was well in the world. Given the ordeal of getting to the airport and then having a 5-month-old baby at home, I slept well during the flight…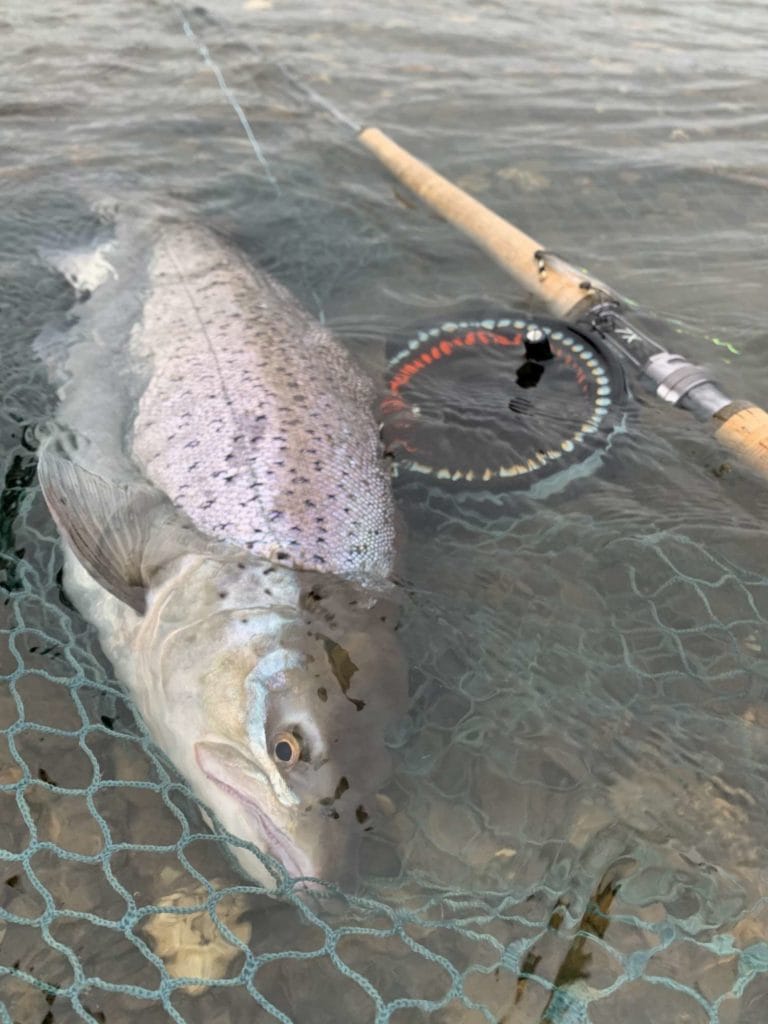 Arriving into Buenos Aires around 0900 in the morning is pandemonium. There are usually at least two other flights arriving at the same time, so passport control / immigration is absolutely bedlam. Thankfully we have a wonderful ground team in Buenos Aires that are worth their weight in gold. We were on a tight schedule, so they had arranged an expedited service for us, which worked a treat. Tim was already waiting for us, having arrived slightly earlier. We were whisked through and were on our way to the domestic airport in no time.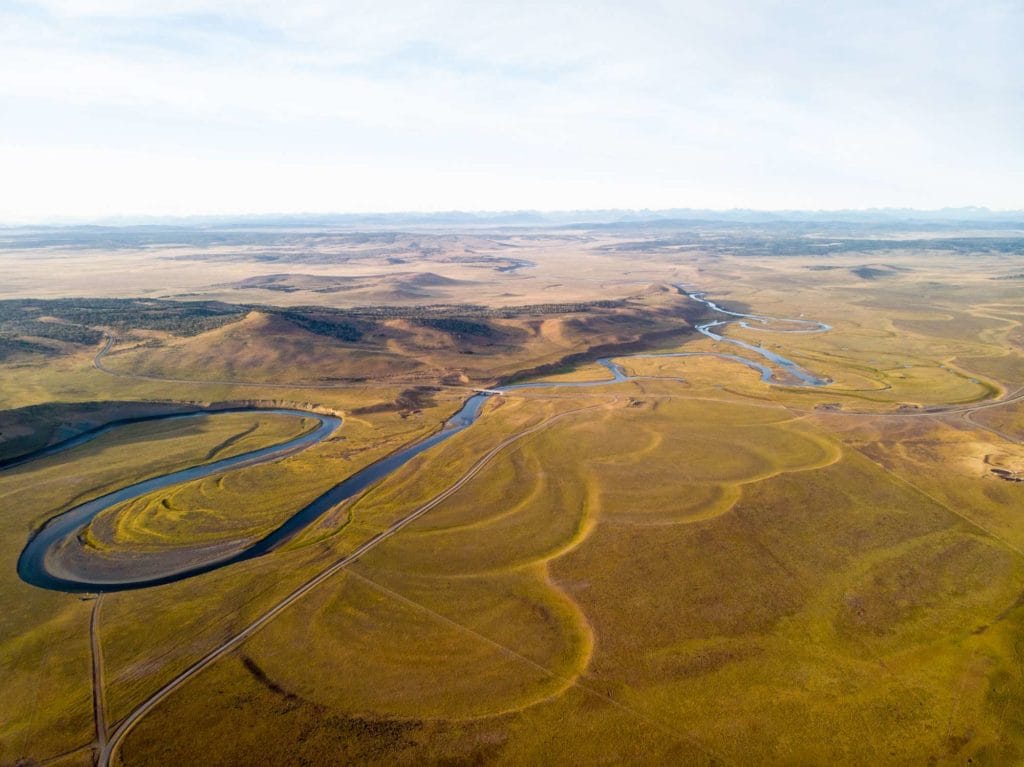 Good old Aerolineas Argentinas! It may shock you to hear that they are heavenly nowadays compared to what they were like 10-20 years ago. There is a lot more order nowadays, but flight times change frequently and you often have airport switches in Buenos Aires. There used to be a great afternoon flight to Rio Grande. Nowadays there are two, but both arrive stupidly early in the morning. As such, it's either that, or head to Ushuaia and have a longer (paid for) road transfer from there. Given our schedule, this is what we chose.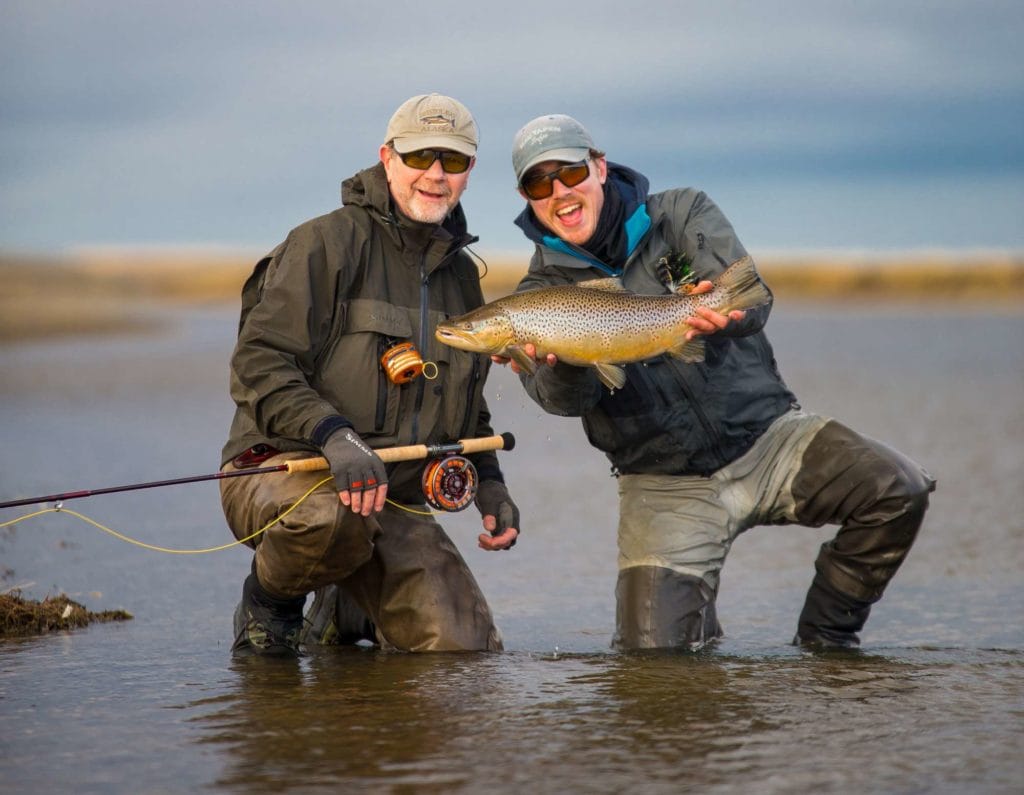 We met Rene at the domestic airport and at that point the team was together and ready for action – full of the usual enthusiasm that surrounds the start of a fishing week.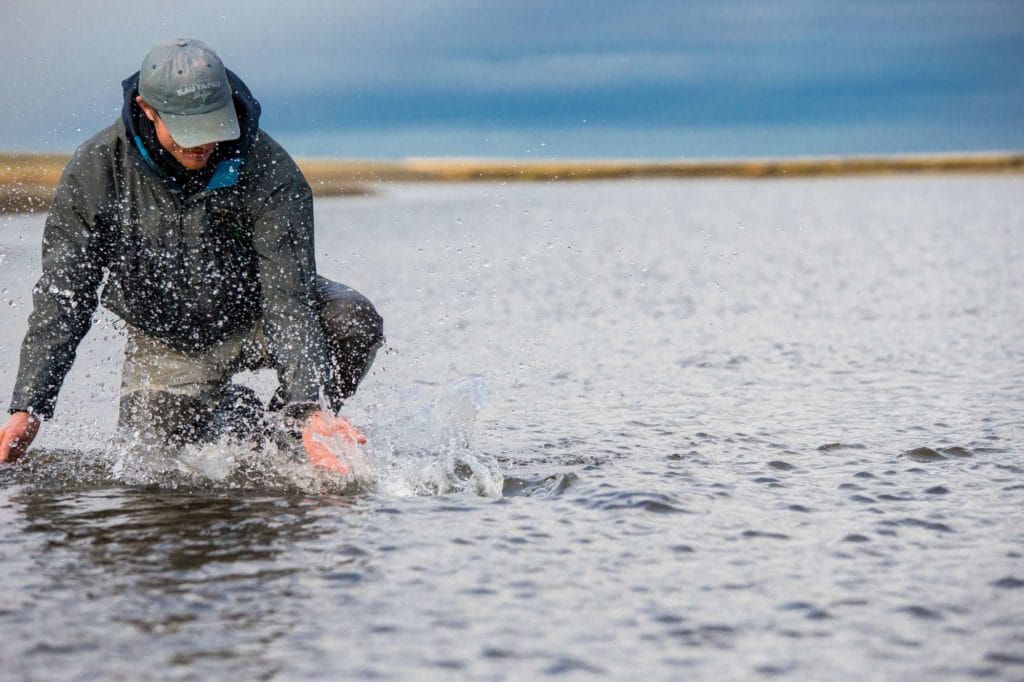 Flying through Ushuaia is definitely not a bad thing. It is a much nicer town to arrive into and it also provides a much prettier journey to the lodge, rather than through the barren wasteland of Rio Grande town.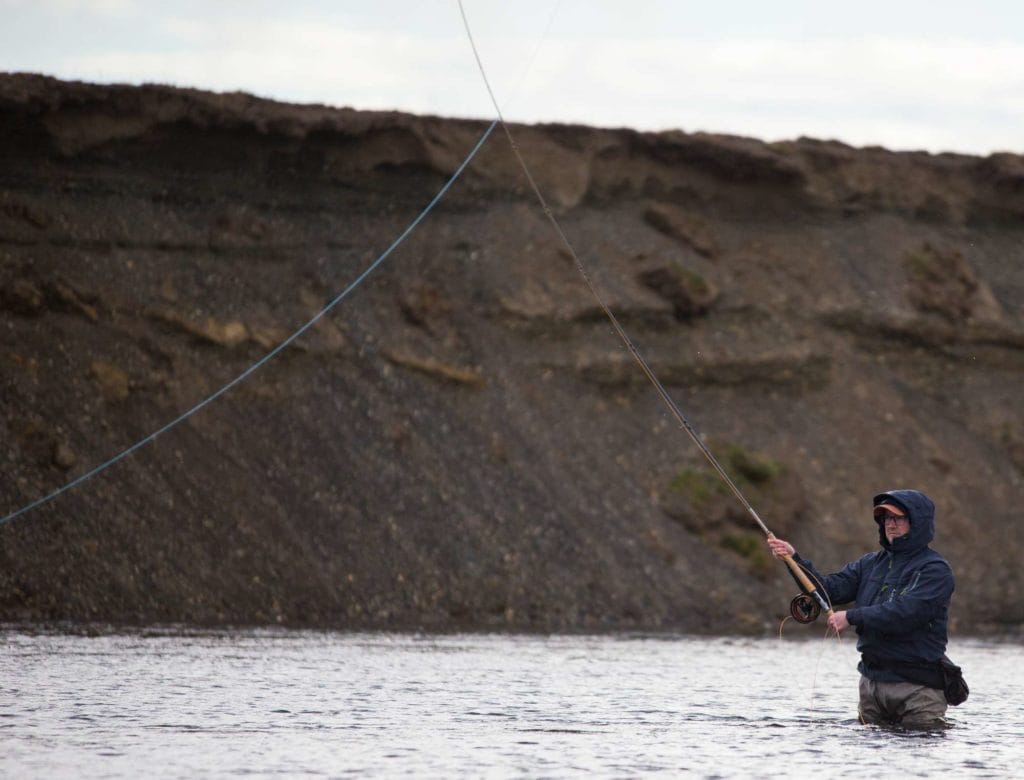 Upon arrival in Ushuaia we were met by the Kau Tapen representatives and ushered towards the awaiting vehicle. There was talk of 2.5-3 hours to the lodge, which I found very optimistic, especially having already warned the group that it would take 4-5 hours. Anyway, 5 hours later we made it to the lodge and it was time to relax.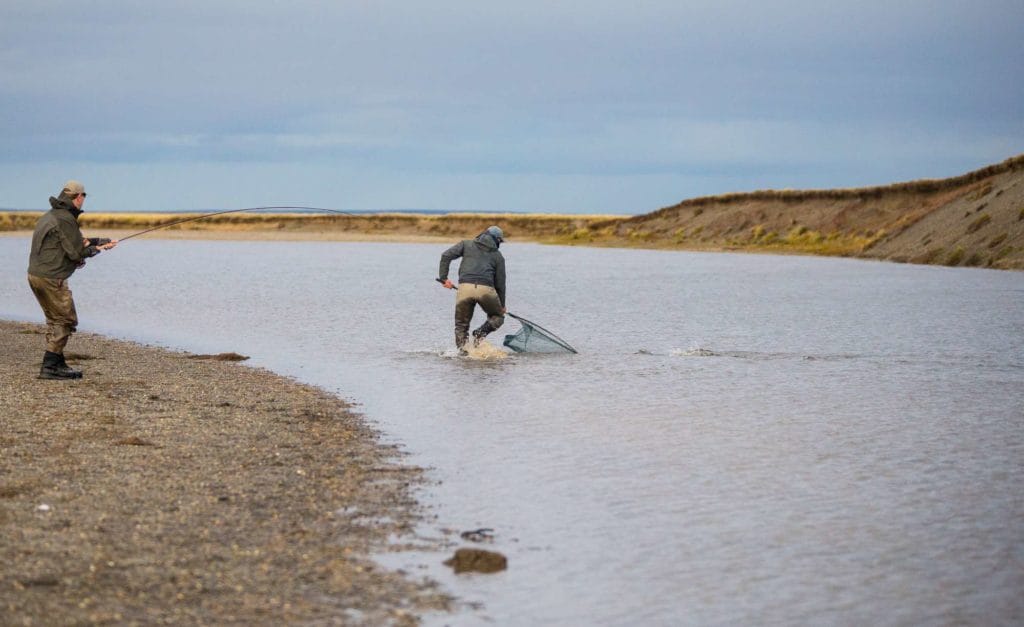 It is very difficult not to relax at Kau Tapen. It's the kind of place where you feel a dropped napkin would be intercepted before it hit the floor. There were a crowd of friendly faces awaiting our arrival and we were quickly made to feel at home.
The first night is tapas night, which is a great time to meet the rest of the guests and also meet the guide team – asking the usual questions that must bore them to tears, but they still put a bright smile on some ten weeks into the season. The lodge has a complete overhaul since I last visited. I did not know any of the staff or the guides, so it was a new environment for me in many respects.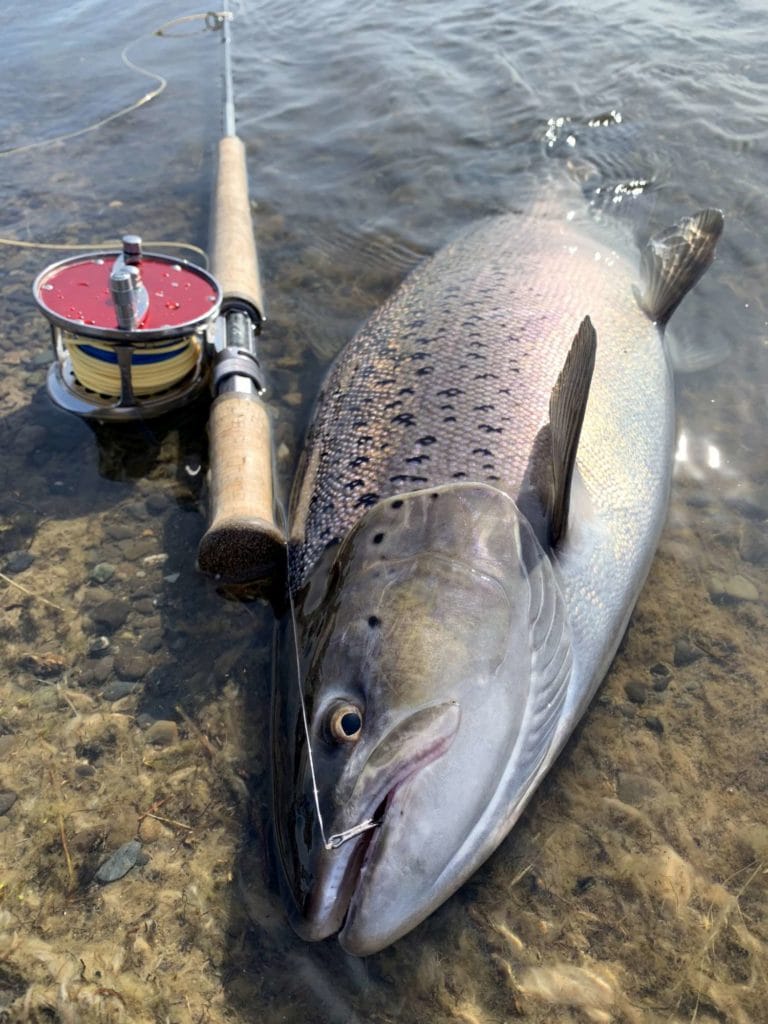 You are teamed up with another angler at the start of the week, but then rotate through the guides and beats throughout the week. I think this is a perfect system, as you get a fair shot at different beats but also get to glean different experiences from different guides – it also helps alleviate any clashes in personality, should you not 'get on' with a particular guide.
In addition to many miles of the main Rio Grande, Kau Tapen also has many miles of the Rio Menendez. The Menendez is one of the largest tributaries of the Rio Grande and a fantastic fishing river in its own right. It flows down to join the Grande at the 'Boca' pool, which denotes the end of Kau Tapen water. During your week at the lodge you have the opportunity to fish the Menendez. Many don't take the offer, because they feel they are being short-changed in some way. This is definitely not the case and I firmly believe the Menendez has a higher average size compared to the main river. Also, if the wind is howling and you need to rest your shoulder, then it is the perfect medicine as you only need a single hander on the Menendez. Beyond that, it forms an amazing contingency when the main river is too high or coloured.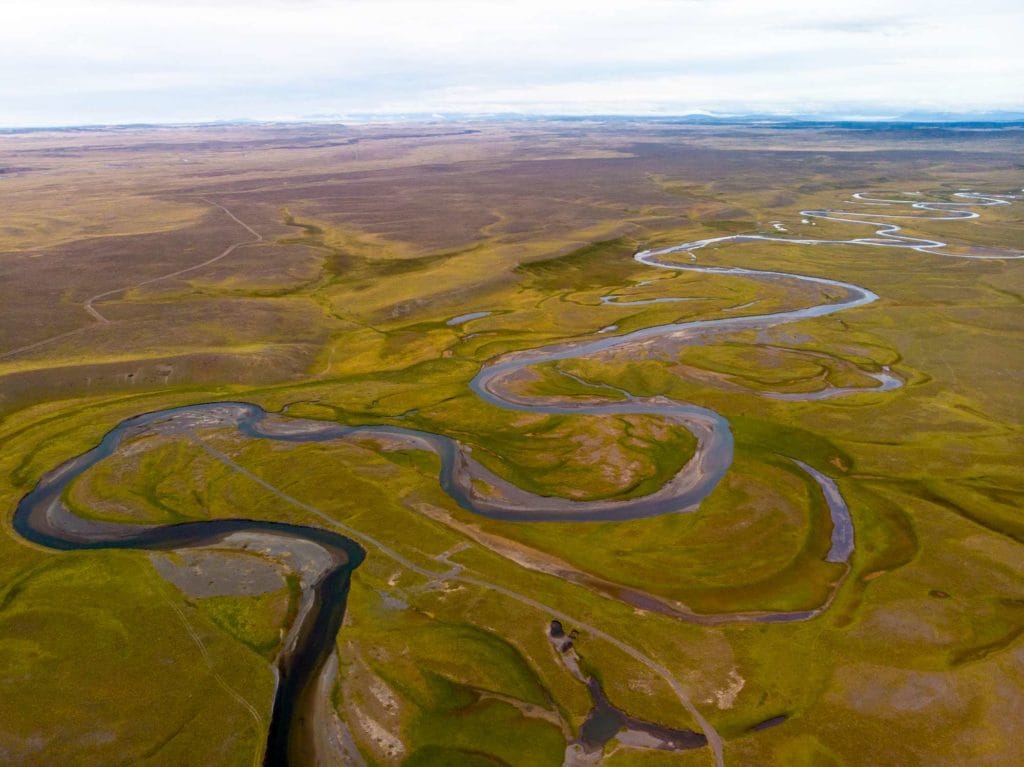 The river levels and temperature were fluctuating a lot. As was the weather and wind direction. This certainly added challenges to the week and, in my experience, hardly hails the basis of a great sea trout week – sea trout prefer constants, be that in terms of pressure, river levels, temperature etc. This has been my experience at home and also on the Grande.
Alas, a fishing trip is a role of the dice. There are no guarantees in terms of catches, weather etc. but one thing is for sure, if you listen to the guide team then you are going to be best positioned to capitalise on whatever may transpire. I cannot stress this enough – the guides are on the water every single day. Sharing information, trying new things. Regardless of how many times I have been there I will always listen to the guides information and advice. Sure, try some of your own stuff too, but disregard their knowledge at your peril.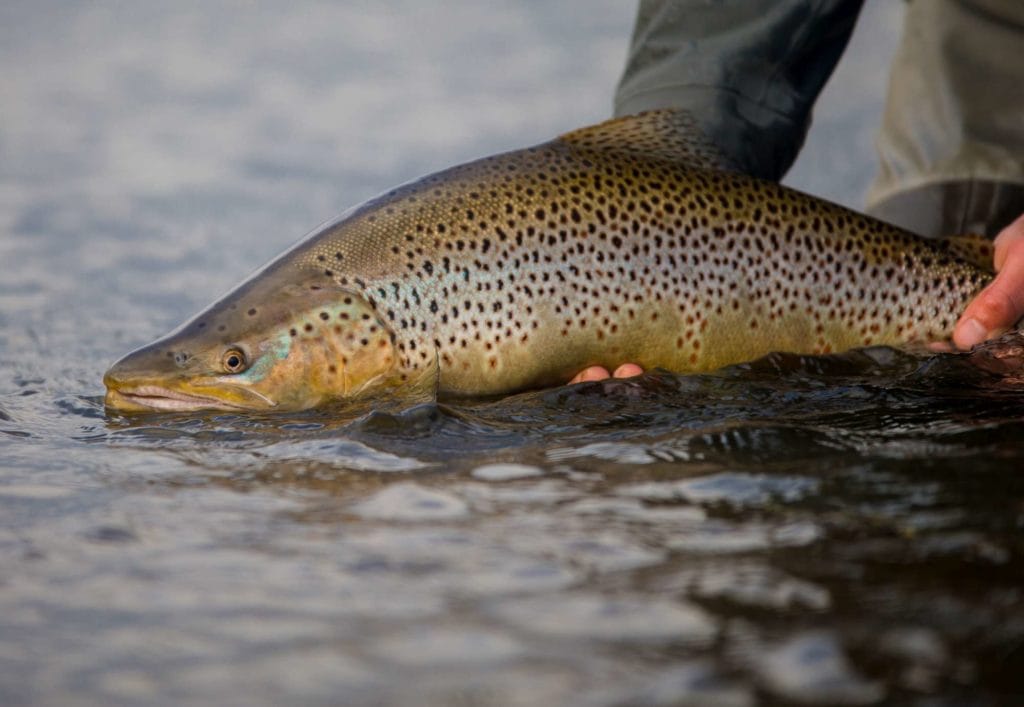 When heading to the Grande I am always realistic in terms of expectations and one of the most important part of our roles when selling trips is managing expectations. If you want to talk to someone that will fill you false information that will leave you angry and disappointed then I – or the Aardvark team as a whole – am not the person to book with. If I lose a booking because the reality does not match what the individual wanted then so be it, I would rather that than have them waste their time and money. As such, I always say to aim at a fish between 12 -16 lbs and rarely will you be disappointed. I also put a figure of around two landed fish per day as being a realistic level – some will catch more, some will catch less, but it should even out around there all being well.
The levels experienced throughout the week meant that the fish were still pushing. Tide-fresh fish were encountered, along with their brethren that had been waiting around in the river for weeks. What this did mean, however, was that you could be on the fish one day and off the fish the next. As pods emerged in the river and headed upriver you could get lucky to land on them or you could be working away for a lot less fish. You were always covering fish, of that there was no doubt, but to what extent varied a lot. Also, the fresh fish, as is normally the case, were more eager to take, so it was always nice to have a few of those around to brighten up your day.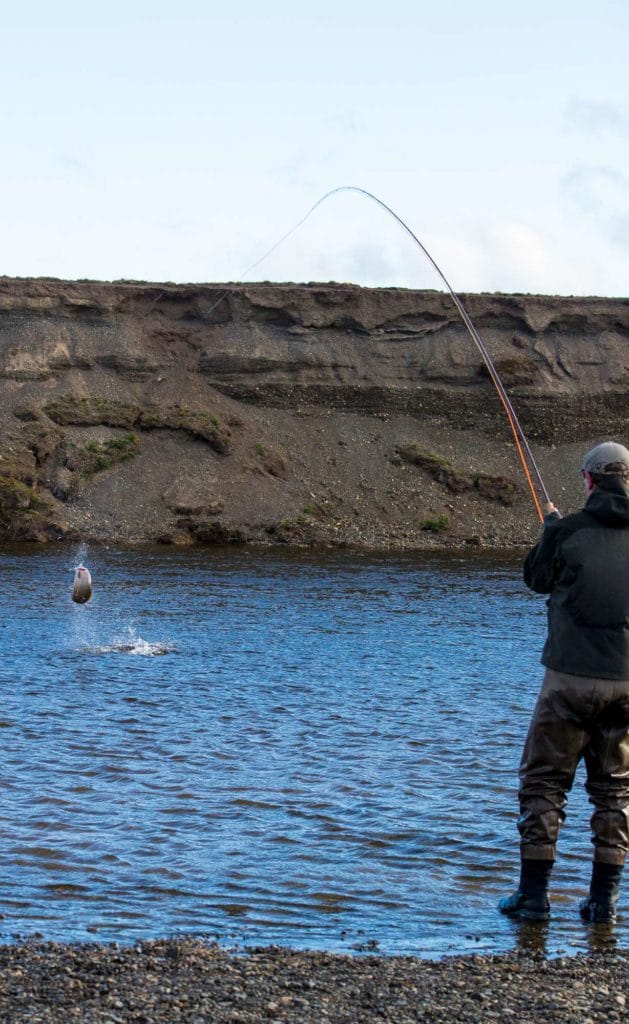 I fished with Rene for the week, who was such great company (even though he was a fan of Nikon cameras, which I forgave him for, eventually). He had never fished with a double hander before, but took it in his stride. It was amazing to see him develop each day with his confidence growing with almost every cast. Not only that, he was catching fish – proof of the pudding. There was one really memorable red-letter day on the water that I'm sure Rene will remember for years to come – I certainly will. During the day Rene managed to land ten sea trout! Hooking and losing a few more and having many more takes. For someone who had never fished for them before and never fished with a double hander this was a major achievement. It also coincided with his 60th birthday – what a way to celebrate!
I love the Menendez, as I'm sure you have gathered by now. I would honestly travel to fish it for a week and leave the Grande behind. It's really interesting and you have to think about the fishing a lot more than on the Grande, which grabs my attention. I was keen to show Rene the river, so we headed there one morning. The river was low and very clear, but the fish were there. The pools are much smaller and you can end up fishing well over half a dozen in a session. Rene fished with the guide on a lovely bend and quickly encountered a lively sea trout of around 6 lbs, which was great to see and gave Rene a fantastic fight on light tackle and on the small river.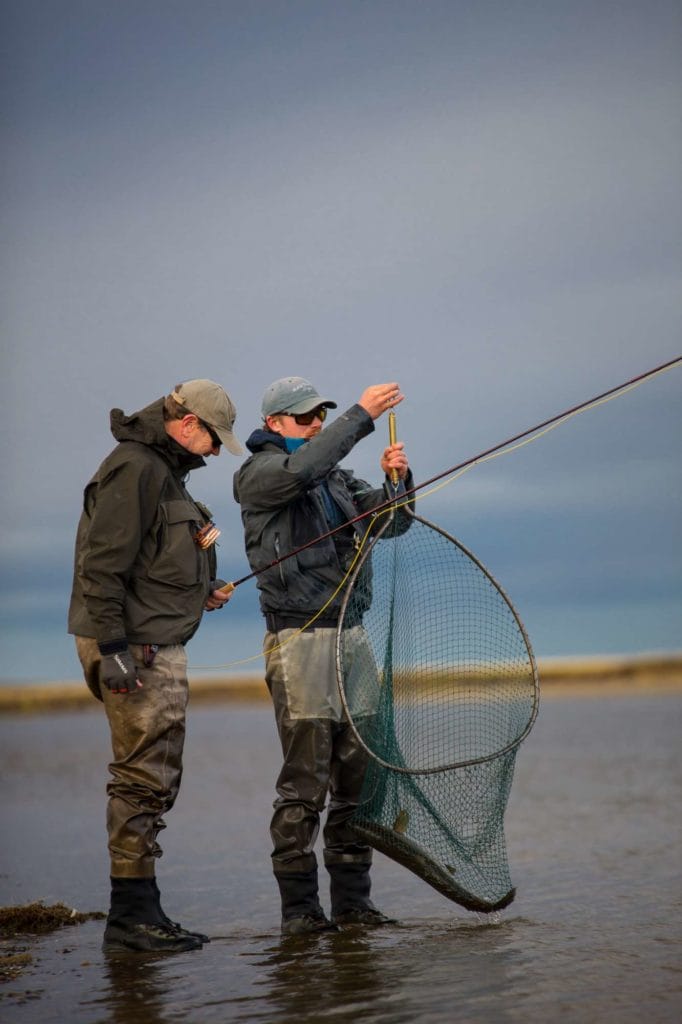 My perseverance also paid off. When fishing through a deep neck with a small, traditional double a solid pull was felt. Hook set there was no give. The fish remained deep and held its ground. It felt big. More pressure added it soon started moving around and caused a lot of commotion in the pool. When the fight was won the fish tipped the scales at around 10 lbs. Not the monster that we first thought, but a cracking fish nonetheless, especially on lighter tackle. We both had a Menendez fish, which was cause for celebration.
Changeable conditions call for changeable tactics. You have to keep adjusting to what every day throws at you. Travelling when we did should mean fishing higher in the water with smaller flies, but, to the contrary, heavy nymphs, leeches etc. combined with heavy T-Tips were the order of the day. Some fish would react to sunrays, which is always great sport, but consistency certainly favoured the dredging tactics. It was a case of systematically working the pools and known spots, looking for holding or resting fish.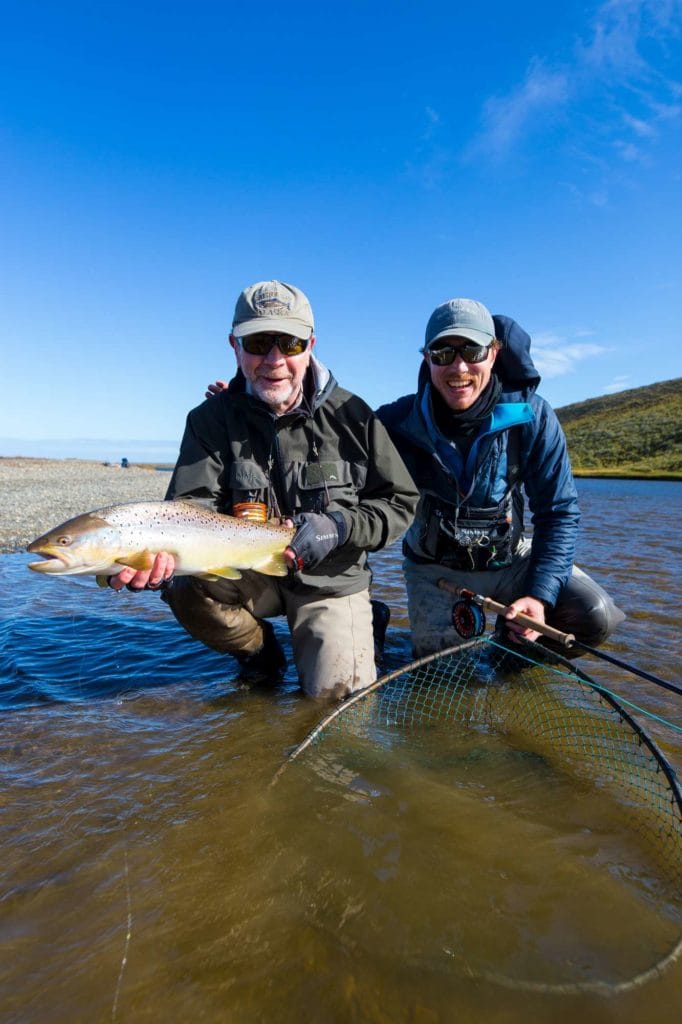 The week ended on 101 landed sea trout, with many more that 'got away'. Between ten rods this certainly didn't break any records, but it was still good going given the conditions faced. Beyond that, everyone in the group caught fantastic sea trout – Colin with a brute of 18 lbs, Tim with a 16 lb'er and Rene with a 14 lb'er.
Fishing weeks end far too quickly. By the day you hit day three the rest of the week seems to accelerate. However, plenty of fond memories were made during the week with long-lasting friendships forged. Plenty of laughs along the way, and so much food that certainly called for the belt to be loosened throughout the week…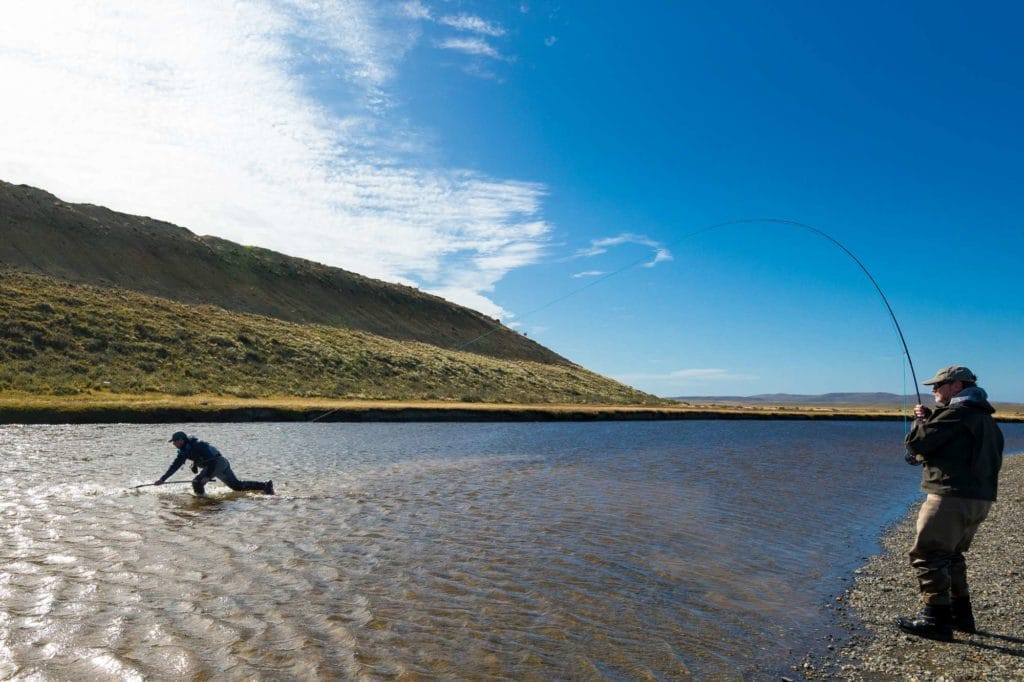 It was a pleasure to return to Kau Tapen and a pleasure to see how the new team are carrying forward such a strong tradition that Kau Tapen has sealed over the years. Now to start stocking up the boxes and looking forward to the sea trout season closer to home…
Interested in fishing the Rio Grande next season? We have access to more lodges on the river than anyone else, which means that we can make sure to situate you at the lodge that suits you best at the time you need to be there. Don't put your trip down to chance; we know the lodges and river like the back of our hand. Email Steffan or call him on +44 (0) 1980 847 389 to make an enquiry or to make a booking.