Newspaper cutting – August 1910 – River Itchen
"Large Trout. – On Monday evening Mr.A.E. Hasler, son of Mr.G Hasler, of Durngate Mill, succeeded in landing a remarkably fine trout from the river [Itchen] in Water-lane. Having lost his tackle with presumably a large fish earlier in the evening he tied on a stronger cooler, and with a live minnow as a bait he struck a large fish shortly before eleven p.m. It took him both up and down stream, and repeatedly jumped out of the water. Mr Hasler played him very skilfully until there were sign of failing strength, only, on each occasion when he attempted to land him, to find that his prize was yet possessed of plenty of staying power. He obtained the assistance of some passers-by in case he was eventually successful, and his attempts to land it did not succeed until after four hours of playing, viz., at three a.m. when he was able to guide the monster into the landing neat a point opposite Percy-terrace. The fish was transferred to the eel-trap at the mill and kept alive throughout the following day, when many who heard of the capture came down to see it. On Thursday it was killed, and handed over to Mr.W. Chalkley, our local taxidermist, for preservation. The fish was a male, and weighted just 11lbs. It was 2ft 4in. in length, and 17in. in girth. Except that it had hooked jaws it was otherwise prettily shaped and marked, and will, when set up, make an excellent ornament. It's presence in the river for several months was well known, and for many have regularly fed it in the hope of sooner or later "getting it on" Mr Hasler is to be therefore congratulated upon his success."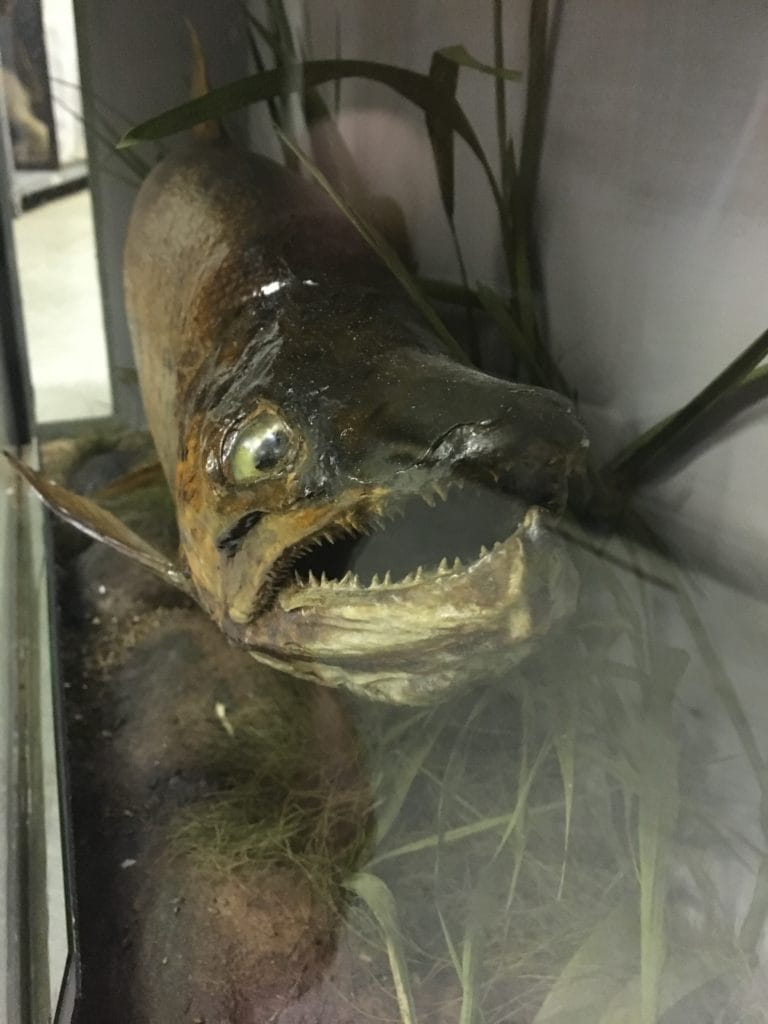 Following the research on the Monarch of the Itchen, a huge brown trout caught in Alresford on the upper Itchen, we were lead to look at other fish preserved by the taxidermist William Chalkley. The fish which we briefly touched on at the end of the previous blog, was a fine specimen of 11 lbs, caught in 1910 in Winchester. Above is the newspaper article written at the time of its capture.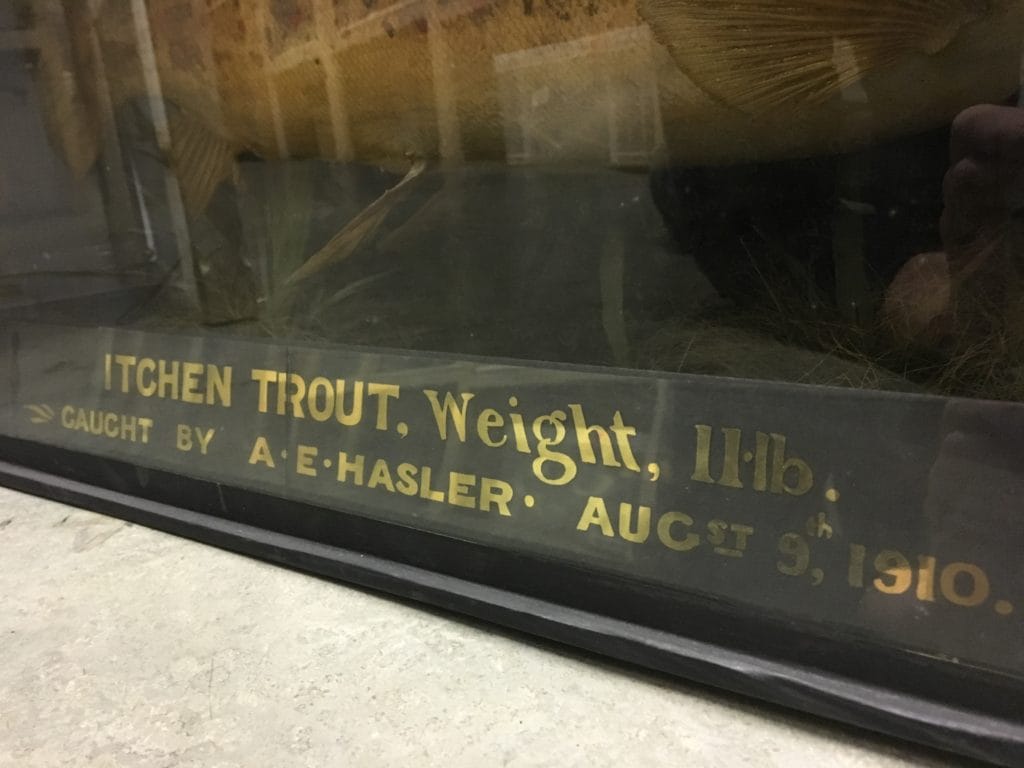 Well low and behold, with a little time and nostalgic effect, all the clues lead us to the Hampshire Cultural Trust. After making contact with one of the curators who looked after all the preserved wildlife in storage we were told that the fish in question was in storage in Gosport, but we had Access Granted to visit the storage unit in Winchester. Passing rows and rows of shelves, full of glass cabinets carefully wrapped up, the odd gold leafed date showing where the previous snooper hadn't covered his tracks. It seemed that anything in the 19th century was a recent piece of work. The place 'excuse the pun', was stuffed with all sorts from all corners of the globe. Gold crests, eagles, bitterns, a mole, wildcats, a 6 ft crocodile?! Then down the final alleyway, bream, chub, carp and some enormous pike, but nothing salmonid, until right at the back behind a 37 lb pike caught in 1894 I saw a monstrous trout tail, my first thought was the Monarch! Carefully moving the vintage artefacts, I saw the gold leaf date '1910', I knew instantly this was Hasler's fish that Chalkley did, bingo!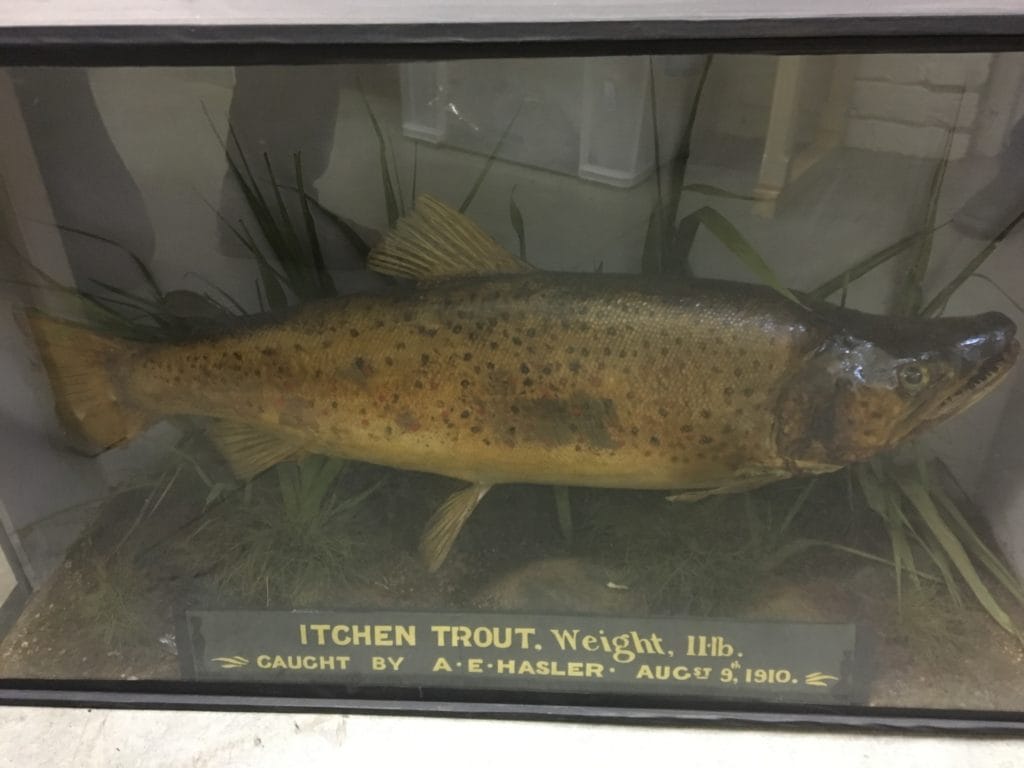 "He's not in Gosport"
I had Itchen history in my hands.
If you would like to catch an Itchen monster of your own this summer contact us by email call our office on +44(0)1980 847389.