Russia's eastern peninsula is the apex of modern trout dry fly fishing; an adventure of the purest kind, across vast wilderness and rivers that teem with wild trout.
The landmass of Kamchatka stabs south from mainland Siberia, slicing into the Bering Sea just west of Alaska. Its jagged coastlines are lapped by fish-rich waters, its snow-capped horizons are dotted by strato-volcanoes, and its valleys are carved deep by over 12,000 pristine spring creeks and rivers. Virtually none of the peninsula has been impacted by man. It's a trout, salmon and char Utopia. This coast-to-coast, trackless wilderness is inaccessible to all modes of transportation except horse, jet-boat and iconic orange and blue MI-8 helicopters.
Alaska angling veterans will find a level of familiarity in Kamchatka's rivers, landscapes and climate. Most of the same plants and animals inhabit the two regions, the weather is similar; and all life on the peninsula depends on annual runs of salmon for essential energy.
All of these trips are rustic and wild and not for everyone. They require a reasonable degree of physical fitness and mental stamina. The payoff is the simple guarantee that they will set hearts pounding with trout fishing like you have never seen, in a setting that few people have ever seen.
Zhupanova River Float Trips
The Zhupanova is the legendary flagship river of Kamchatka that first put the region on the map. It has trophy rainbow trout fishing like nowhere else on the planet, and is a "lost world" of surreal beauty. Its headwaters flow through a massive, immaculate valley framed by smoking volcanoes, snow-capped mountains, ancient birch forests, and abundant wildlife. Anglers float 57 miles of the section's finest fly water to target the Zhupanova's wild, native trout. Averaging two feet long and commonly reaching 27 – 30 inches or more, they are an exceptionally large and ancient genetic strain. These monster rainbows aggressively attack swung flies and large streamers resulting in vicious, bone-jarring grabs. And, even more amazing, there are times and places where these river-giants also love big skated mouse patterns, reminiscent of waking dry flies for steelhead.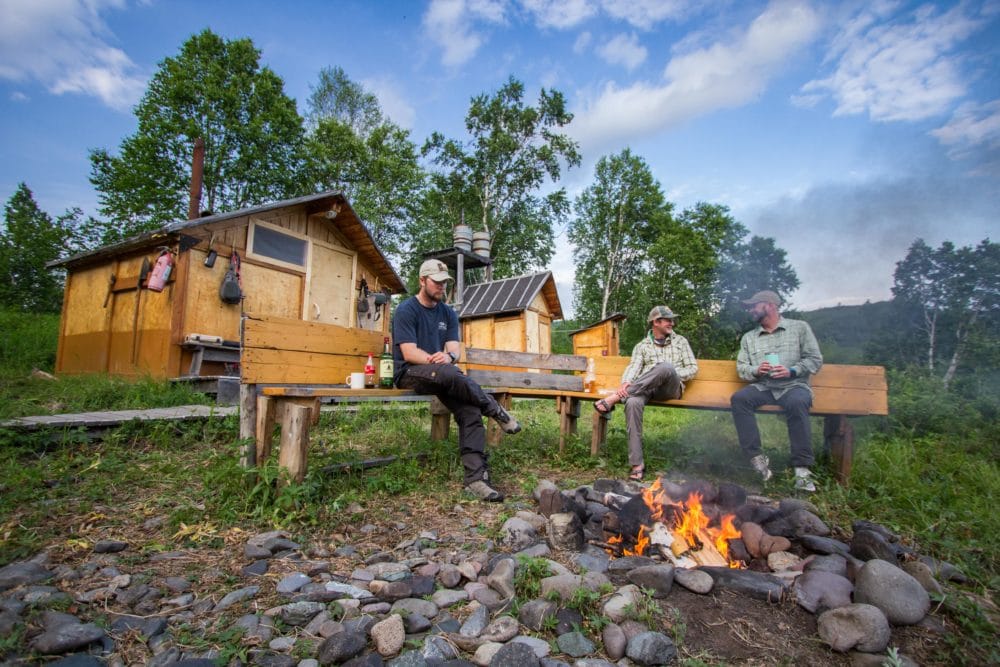 Rainbow trout are the main attraction in the Zhupanova but from early August through October, the rare "super kundzha" make their annual run in from the sea. Dolly Varden also exist in almost obscene numbers, average 12-18 inches, and readily take dry flies. Finally, silver (coho) salmon are present during late August and September. The aerobatic fight of a fresh coho is something every angler should experience.
Unlike traditional float trips that depend on guides and anglers to set-up and break down camp each day, the Zhupanova float incorporates six permanent river camps. Anglers will be able to relax at the end of each day in relative comfort, enjoying hot showers, cold drinks, permanent wood cabins or modern high-tech tents with beds and mattresses, and a well-equipped dining facility. Highly qualified Russian and American guides and camp staff provide for your safety, angling success and comfort. Each expedition is limited to a maximum of six anglers.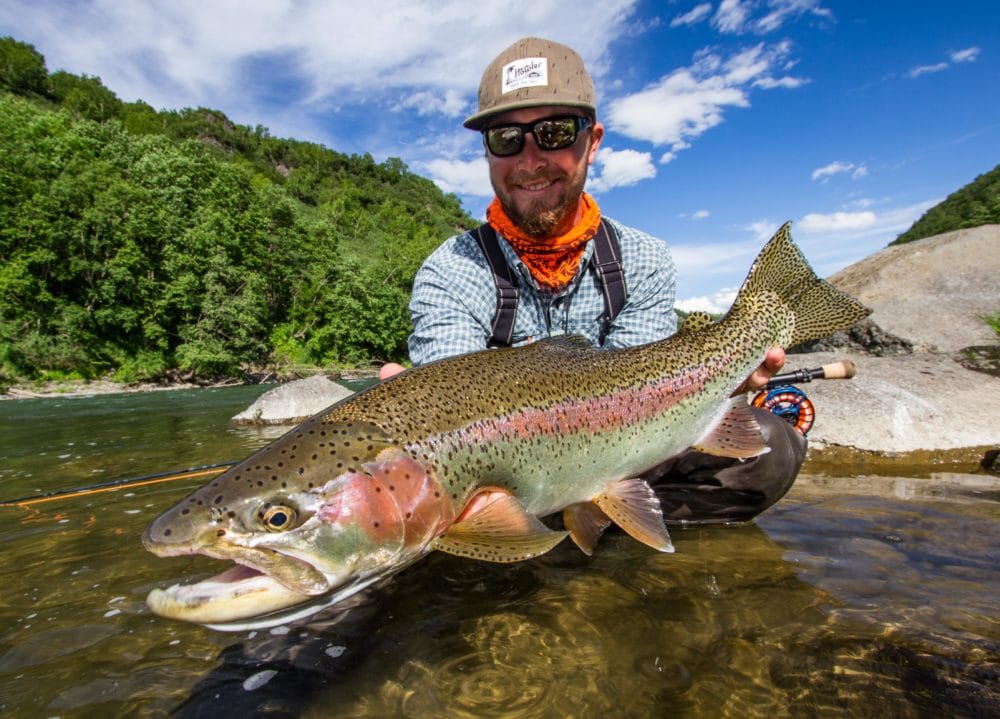 Availability:
17 – 24 July: 5 rods
24 – 31 July: 2 rods
7 – 14 August: 1 rod
Cost: US$6,995 per person
Zendzur Hot Springs Lodge
Zendzur Lodge sits on a shoulder of the lower Zhupanova River amid a thick forest of Kamchatka stone birch, in the shadow of snow-capped Karimsky volcano. Exceptionally large rainbow trout, untamed wilderness, and deluxe accommodations define this sensational fly fishing safari. Anglers at Zendzur target an ancient, trophy-sized strain of rainbow trout that average 24 – 26 inches and reach a jumbo maximum in the 33 – 35 inch range. Like all Kamchatkan trout, they regularly crush skated mouse patterns, swung streamers on sink-tip lines, and, occasionally in July, traditional dry flies. From late July through August, huge Asiatic kundzha char also pour into the river from the North Pacific.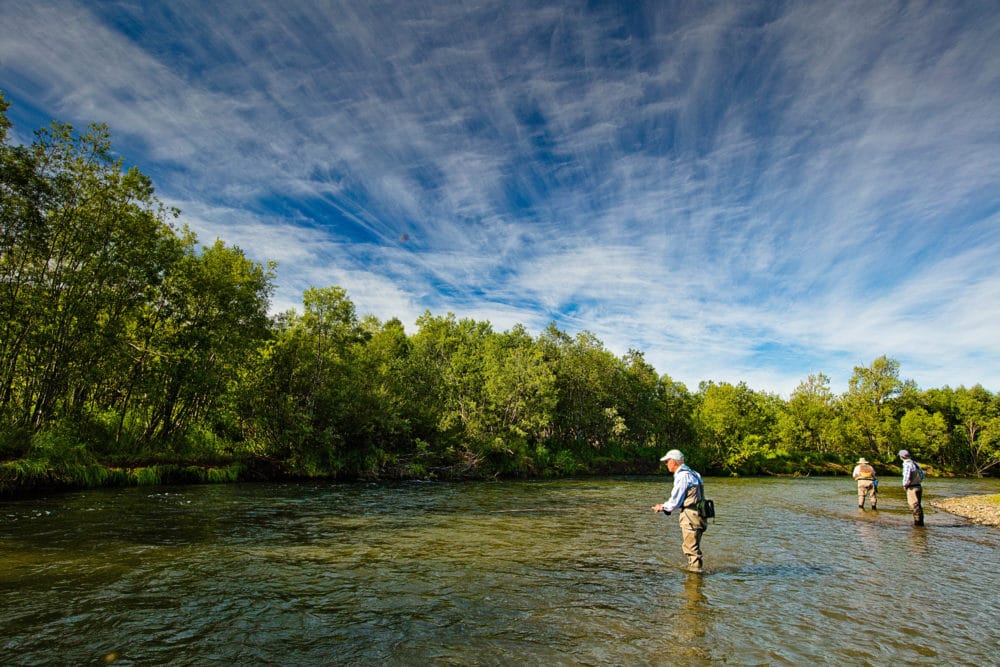 Every morning, two anglers head out with their guide in powerful "Alaskan-style" jet-boats, accessing over 20 miles of classic big-river freestone riffles and runs. They cast to holding or free-rising rainbows, many of which will be among the largest they have ever taken. For those that have not had enough after a full day, there is a great home pool in front of the lodge. Zendzur Lodge itself is a beautiful, traditional Russian wilderness outpost, staffed with a combination of talented American and Russian professionals. Lodge amenities are surprisingly deluxe given the remote nature of the operation and include double accommodation suites and cabins, each with private bath and sitting rooms. One of the highlights of Zendzur is the fabulous on-site natural hot-springs, enclosed in a banya cabin just down from the lodge on the riverbank.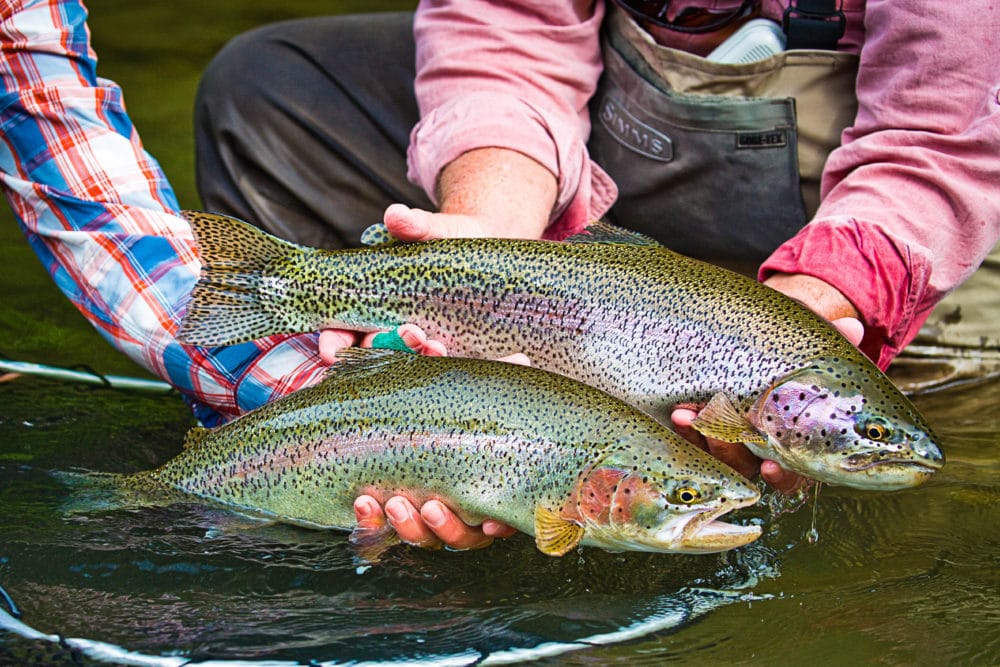 Availability:
24 – 31 July: 3 rods
31 July – 7 August: 5 rods
7 – 14 August: 6 rods
14 – 21 August: 4 rods
28 August – 4 September: 2 rods
4 – 11 September: 4 rods
Cost: US$6,995 per person
Cedar Lodge
The comfortable, well-appointed Cedar Lodge is located in the middle of the world-famous Zhupanova River, surrounded by stunning wilderness. These middle sections of the river are below the end of the upriver float trips, and above the river beats fished based out of Zendzur Lodge. Much of the early, pioneering fly fishing explorations in Kamchatka began here on these fabled sections of river in the mid to late 1990s. Indeed, this is the fabled water that first put Kamchatka on the angling map. Since the early 2000s, however, Cedar Lodge and the middle Zhupanova was kept as an exclusive resort for Russian sportfishers. These anglers focused on catching salmon, and as such the trout in this section have been mostly un-molested now for decades.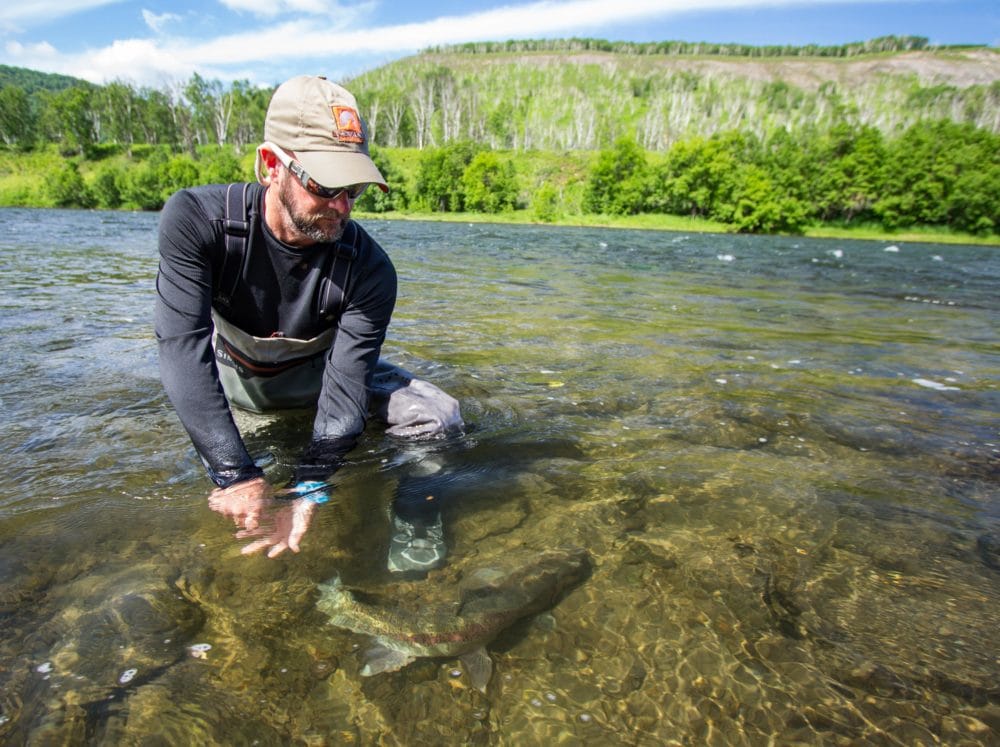 Now, for 2019, international anglers been granted exclusive access once again to two of the prime weeks at Cedar Lodge, directly in the heart of the Kamchatka trout season. A maximum of 6 anglers will enjoy this deluxe wilderness lodge, with each pair of two anglers departing the lodge each morning jetboat to target the productive reaches of the middle Zhupanova River. As with the other sections of the Zhupanova, the waters around Cedar Lodge hold some incredibly large rainbow trout. These fish average 24-28 inches, and most guests fishing on the Zhupanova are photographed at some point in the week holding the largest trout of their lives.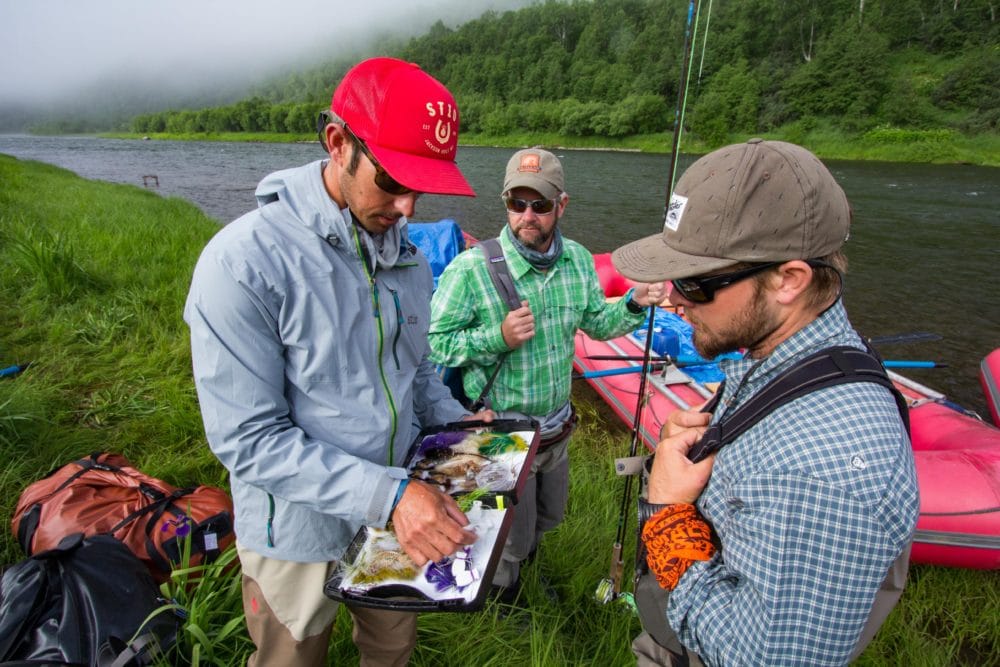 Availability:
Fully booked for 2019.
Cost: US$6,995 per person
Sedanka Spring Creek
The Sedanka River springs from the toe of an ancient lava floe on Kamchatka's north western taiga plain. It is one of the most biologically diverse drainages of the entire peninsula, with all six species of Pacific salmon, rainbow trout, kundzha and both resident and sea-run dolly varden char. This spring creek ecosystem is particularly rich with insects, mouse, and salmon biomass that feeds an exceptionally dense population of 18 – 27 inch native rainbow trout.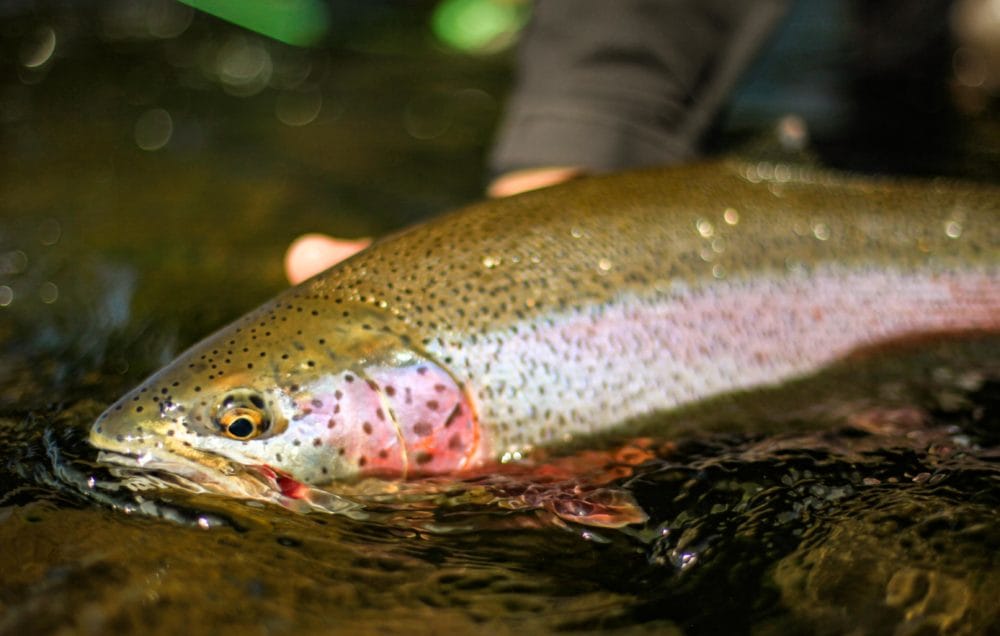 Sedanka rainbows are quite large by the standards of the Western US, though they have become better known in Kamchatka for their sheer numbers. Anglers typically hook into dozens of fish per day and come away with years' worth of trout fishing experience crammed into their week on the Sedanka. The constant flow and temperature regimes produce dense insect life which, for a fly fisher, means perhaps the finest dry fly fishing in the world.
The Sedanka is one of the most remote rivers in Kamchatka. A three hour helicopter ride from Petropavlovsk is the only method of access, and once there the river is yours. Just six anglers per week share the Sedanka. The program is fully guided and involves a combination of traditional walk and wade fishing, float days that utilise inflatable rafts to move downstream, and occasionally jet-motor skiffs are employed to access yet more water. Accommodations are simple, rustic, and cosy, with double occupancy cabins, flush toilet outhouses, and reliable hot water showers.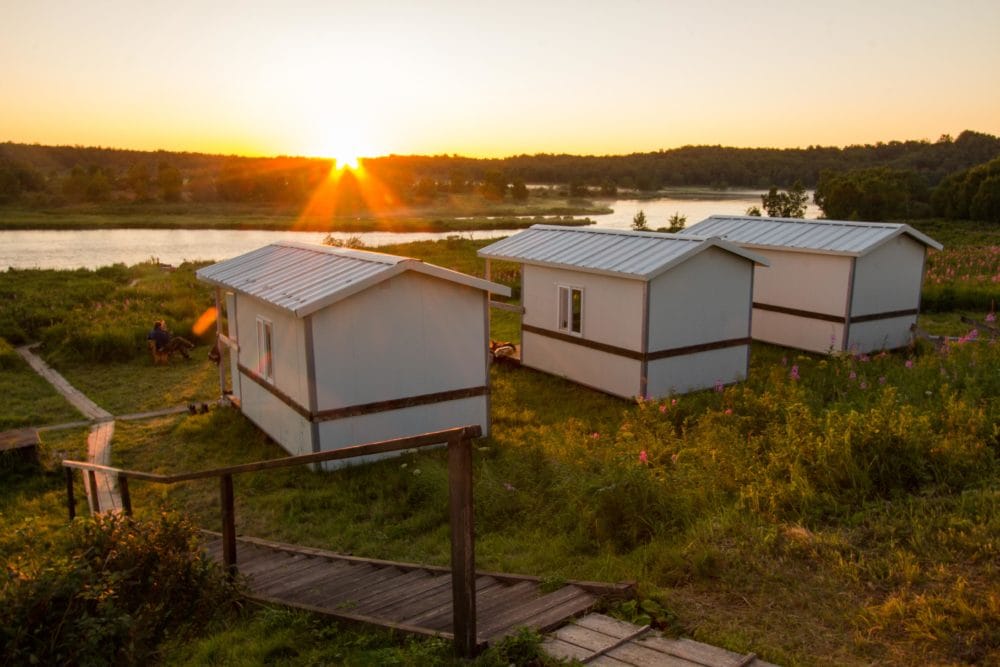 Availability:
20 – 27 August: 4 rods
Cost: US$7,850 per person
Savan River
During the early exploration of the Savan River system in 2012 the river showed the sort of promise that we first saw on the Zhupanova in the mid-1990s, with trout averaging 20-25 inches and more than a few even larger specimens hooked every week. In addition to the giant rainbows, Savan is home to some of the largest sea-run Dolly Varden char that we have ever seen on the Kamchatka peninsula. The river runs for over 70 miles, and features countless springs and one major tributary, the Ichanga. It is a spring creek system, with a vibrant ecosystem and crystal clear flows every day of the season.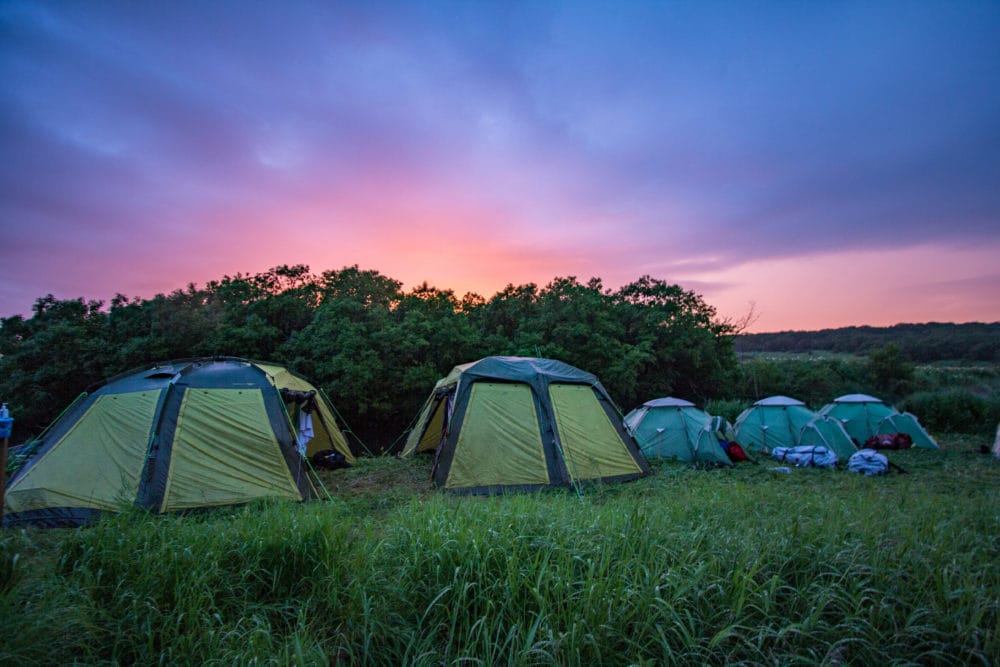 The biomass in this river also makes for some of the heaviest trout in Kamchatka, with some 25 inch rainbows here weighing an astonishing 8 pounds. These fish are the apex predators in their ecosystem, and they aren't shy about attacking large streamers or mouse patterns twitching across the surface. You will not see many big hatches, but those anglers who have taken the leap of faith and tried casting traditional dry flies or large attractor patterns have had some success over the past few seasons.
The Savan River adventures are the perfect combination of hard core and comfort. The trip is focused on floating one of the prettiest, most pristine wilderness rivers in the world, while ending in the comforts of the Savan BaseCamp Lodge.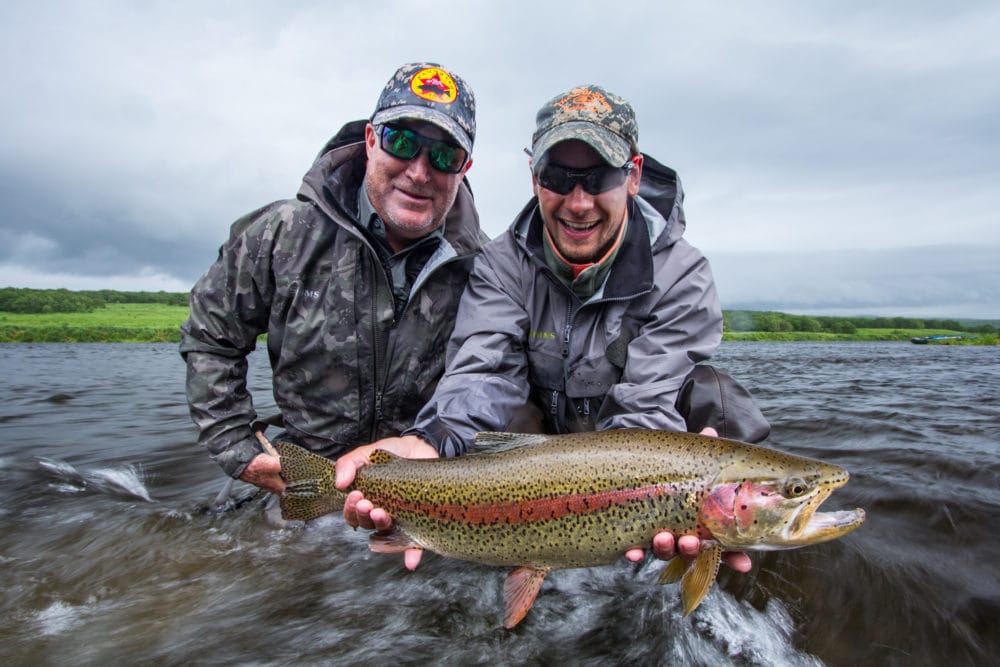 Availability:
22 – 29 July: 4 rods
29 July – 5 August: 5 rods
5 – 12 August: 6 rods
12 – 19 August: 6 rods
19 – 26 August: 6 rods
26 August – 2 September: 4 rods
Cost: US$6,850 per person
Ichanga River Floats
With this first exploratory season in 2013, the quality of the fishery on the Ichanga (a tributary of the Savan) shone through, and also its limitations. Because it's a small river, with a short section of perfect trophy trout habitat, the program has been custom built around this stream to minimize impacts to the fishery and guarantee a great fishing experience for the few anglers who will have an opportunity to fish it each year. The Ichanga River Floats are limited to groups of four anglers, focusing three days on the Ichanga and ending their week with two full fishing days on the main Savan. To limit pressure on the river and guarantee that it remains as good as it was on the first trips down, it will only be floated and fished two or three times each summer, with a week or two rest in between trips.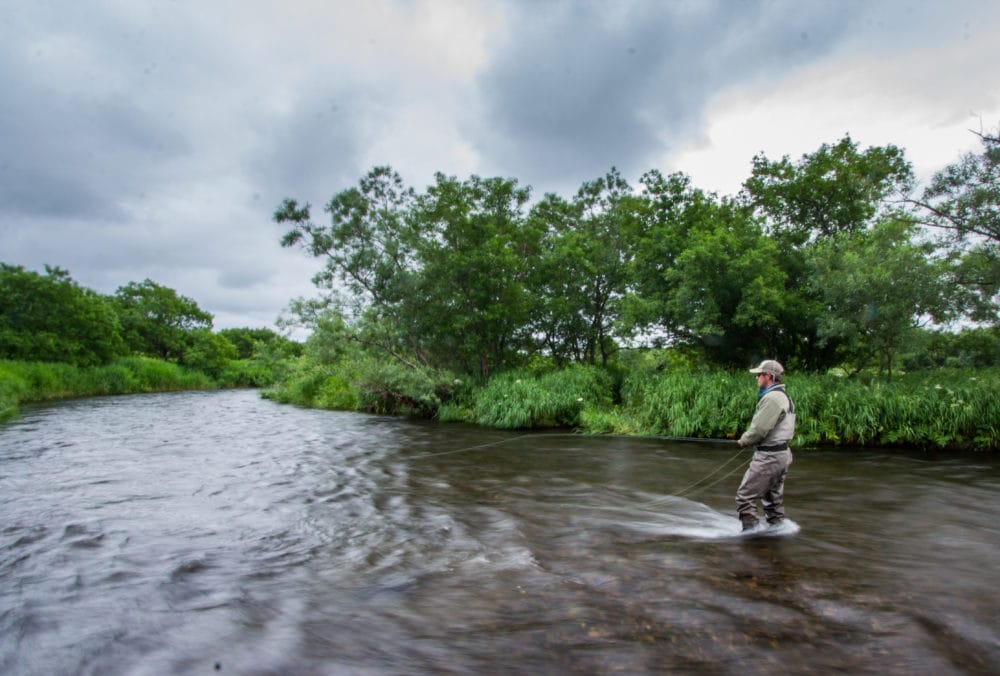 The Ichanga and Savan River floats are set up exactly like our Northern River Wilderness Floats, utilizing hi-tech 4-season mountaineering tents and specialized cooking and camp equipment. A cook and camp assistant travel with the group, preparing tasty meals based on a combination of local fare and more familiar foods. Anglers are responsible only for erecting their two-man tents each day and breaking them down in the morning. Comfortable sleeping pads are provided, but you do have to bring your own sleeping bag and towel.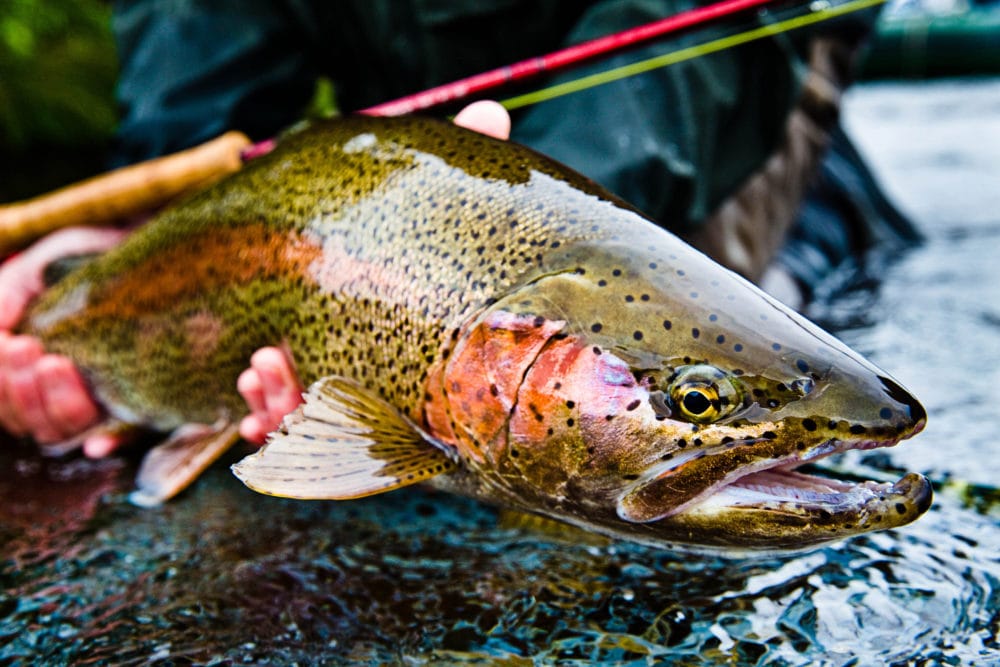 Availability:
29 July – 5 August: 4 rods
12 – 19 August: 4 rods
26 August – 2 September: 4 rods
Cost: US$6,850 per person
Kamchatka Wilderness Floats
The Northern Wilderness Floats in Kamchatka are easily the least-fished rivers in the world. There are a series of six different streams in this region, each one fished only once, at most twice a year. This ensures that every fish in the river has almost never seen an artificial fly, let alone been hooked. It is the wildest fly fishing experience on the planet. The river systems culminate in the massive Tigil River, and feature a handful of tributaries, both large and small, including the now-famous Sedanka Spring Creek, Turuscheva, Perevalovaya, and several different forks of the Pirozhnikova.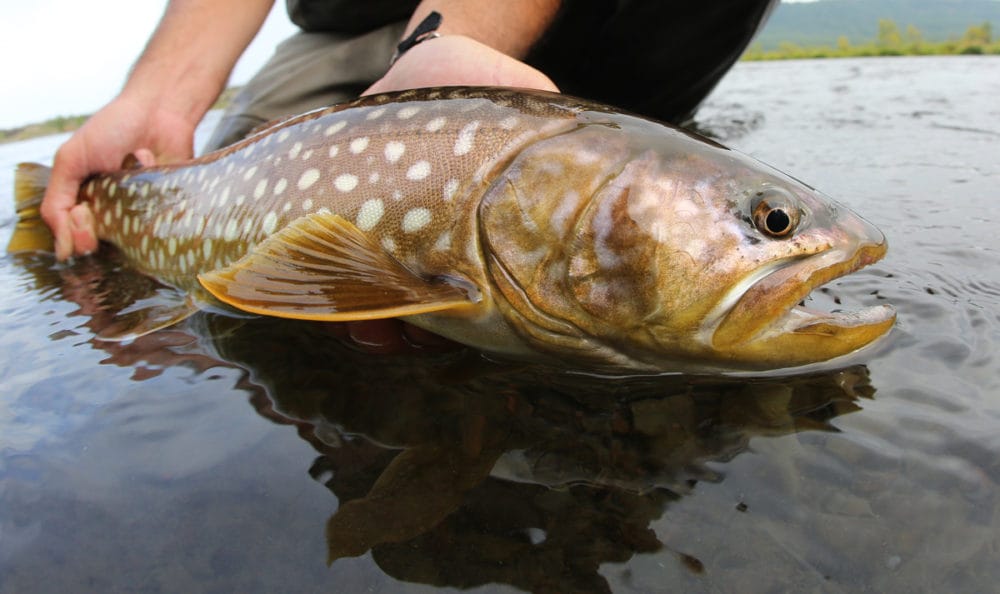 It is one of the most biologically diverse drainages on the peninsula, with all six species of Pacific salmon (including Cherry Salmon only found in the Far East), rainbow trout, resident kundzha, and sea-run dolly varden, both of the latter being species of char. This spring creek ecosystem is particularly rich with insect, mouse, and salmon biomass that feed an exceptionally dense population of 16-27 inch native rainbow trout. As a bonus to the incredible fishing, these rivers do not "blow out" except in the absolute worst extended rain storm conditions, owing to the spring-fed origins and expansive lava rock in the drainage. These rivers are extremely stable.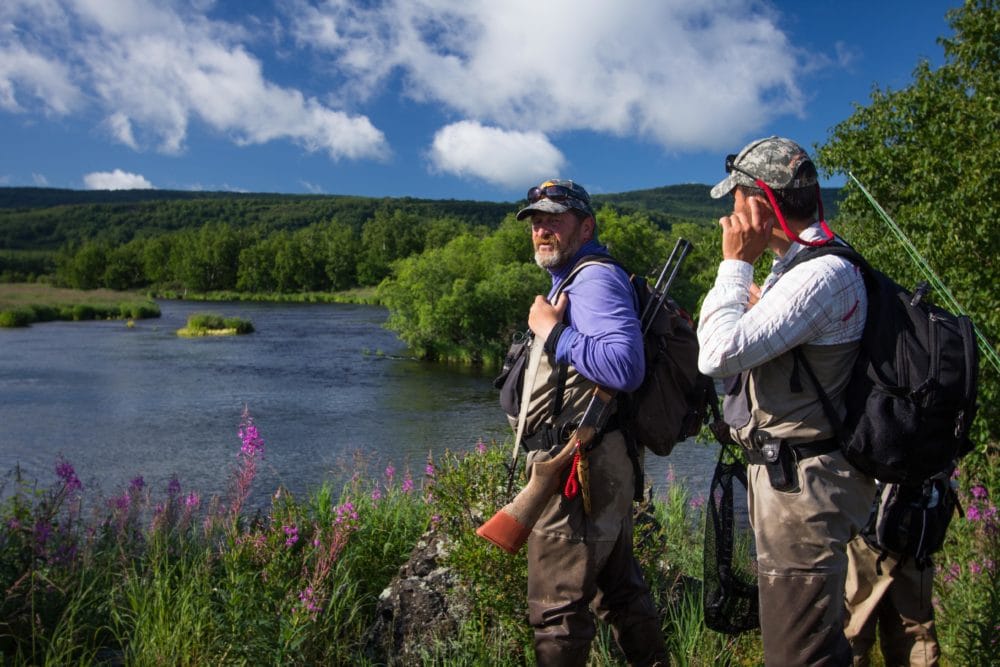 Availability:
Contact us for more details.
Cost: US$7,395 per person
Kamchatka Steelhead Project
Kamchatka is home to Asia's only population of steelhead, and the only way to legally target them is through a scientific research project. To participate you donate to the cause, then become a volunteer data collector with the job of trying to catch samples of the population, tag them, and then let them go unharmed. Steelhead are strictly protected under Russian law and spawn only in a handful of rivers draining westerly into Kamchatka's Okhotsk Sea. Populations in three key rivers are very robust, and are the target of a unique Russian-American field project taking place each fall.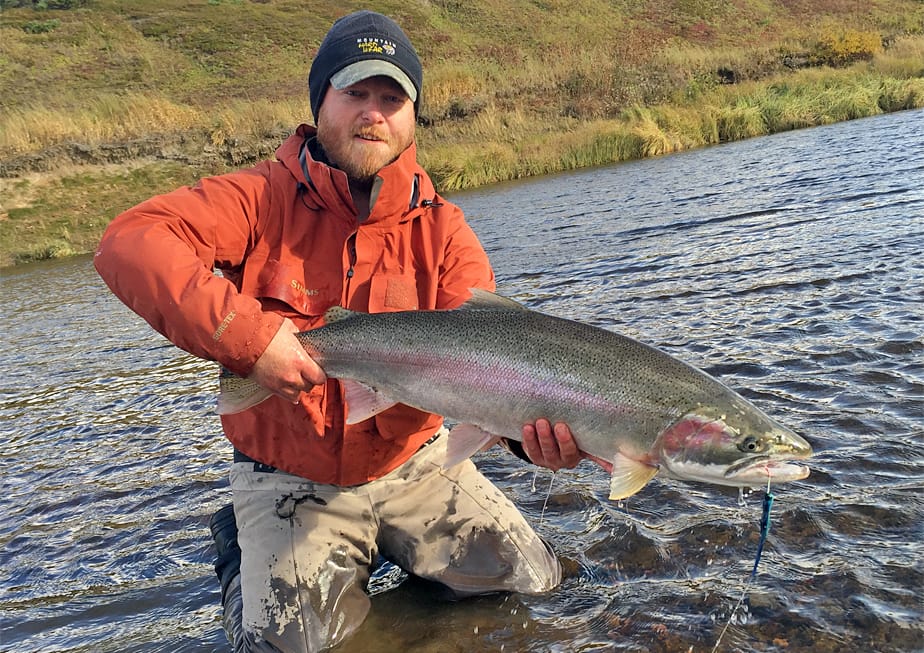 Today the Kamchatka Steelhead Project is jointly operated under the aegis of Moscow State University, the Russian Academy of Sciences, the Russian Federal Government, The Conservation Angler, and The Fly Shop. Typically the Project organizes three 8 full fishing day expeditions taking place from the middle of September through the middle of October. Participating angler-sponsors assist Russian scientists in the collection of scale and tissue samples, and the tagging of all caught-and-released fish. This is more than a great fishing trip, it's a worthwhile, accelerated learning course in sea-run fish at the elbow of experts.
Availability:
Contact us for more details.
Cost: US$9,995 per person
For more information about the Kamchatka trout fly fishing options please contact Alex Jardine or call our office on +44(0)1980 847389.