Fishing Ponoi River Russia Ryabaga Camp Kola Peninsula Atlantic salmon
PONOI FISHING REPORTS – 2016 SEASON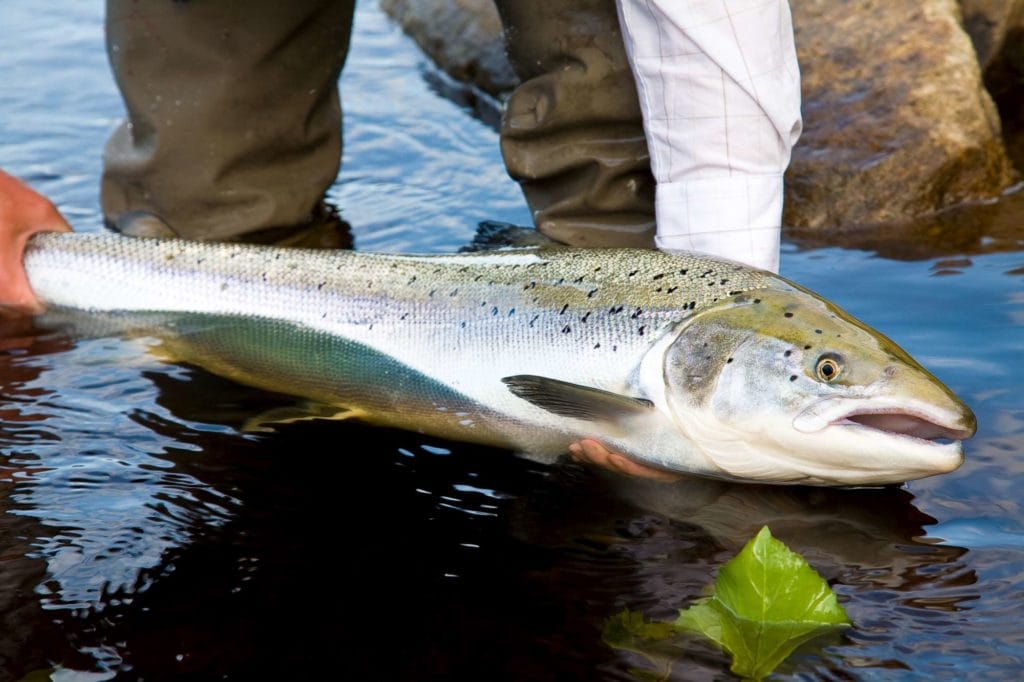 28TH MAY – 4TH JUNE
This first week of the 2016 Ponoi salmon season has come to a close, and we could not have asked for a better start. A long anticipated spring left the river in unsurpassable condition. With barely any residual ice in the surrounding tundra, water levels slightly lower than average in historic first weeks. This flow allowed the Ponoi to showcase all of her features, much to the delight of our anglers. We truly could not have asked for a river in better shape.
A combination of weather and water levels afforded our guests an astounding 1286 salmon for the week. This truly impressive number equates to the most fish landed in Week 1 in 25 years on the Ponoi! What's more, 30 – plus fish tipped the scales at over 15 lb.  All in attendance were once again in awe of the remarkable resource that is Ponoi.
Floating shooting heads with slow-sink or intermediate tips paired well with large-ish tubes dressed in the typical yellow and orange were used by most but others fished floating lines all week and had success. Though swung flies were the most popular choices, water temperatures that ranged between 10 and 12˚C rewarded those willing to skate dry flies. An impressive number of fish were taken on the surface, to the delight of the dry-fly faithful.
Home Pool was, as expected, very productive. Guests landed 94 fish in Home Pool after dinner and before breakfast. Peter and Patrick from Ireland were the most consistent visitors to Home Pool, and made the most of the salmon found there.
PRC owner Ilya Sherbovich welcomed into camp three generations of Gavrilenko's (grandfather Anatoly, son Anatoly, and grandsons Anatoly, Sasha and little Max). All celebrated Max who, at 7 years of age, landed his first Atlantic salmon on the fly. Ilya, alongside father Victor and son Kostya, shared Ryabaga's magic with these longtime family friends. In addition to celebrating the Ponoi bonanza, they also did some successful exploratory helicopter expeditions in search of trout and perch in the most remote corners of the Kola.
We had a full house this week with 22 guests in Camp. The Big Tent was as lively as we have ever seen it, and a joyful tone was enriched by a regular supply of cognac!
Another notable Ryabaga guest this week was Margaret, who returned to camp after almost 22 years. Margaret's previous trip in 1994 was not to cast a shadow on this year's return, and with 61 fish landed, Margaret surely proved that Ponoi has upheld its reputation through the years..
With a week such as this, our hearts remain full and expectant about what lies ahead.  Needless to say it will include more salmon, more fine friends, and more days beside and upon this river that we love.  We look forward to sharing this all with you, and seeing just what the 2016 Ponoi salmon season has in store!
4-11TH JUNE
After a record 1st week with over 1200 fish landed, our expectations for the second week of the 2016 season were appropriately high. The flows remained in good condition, and with a full camp of 21 rods, all were poised for yet another memorable event.
Mother Nature, however, had a slightly different plan for us. Weather conditions changed dramatically last weekend when strong north winds made matters challenging for both anglers and guides. As with all the main rivers of the Kola, the Ponoi is a shallow, lake-fed water body that responds negatively to 2 or 3 days of very hard winds. The resulting agitation of sediment can impact water clarity for a couple of days, much as it did through the middle of this past week.
Water color was not too bad on the first fishing day when we landed 134 fish. From Monday on, however, things were more difficult, and it was only by Thursday afternoon that we were able to see a considerable improvement in water conditions. By last Friday we were nearly back to normal, and on that day 131 fish were landed. On the whole nearly 700 fish were taken this week, with numerous salmon pushing past the 15 lb. mark.
We were grateful through the week for the steady performance of Home Pool which, with the influx of clear water from the Purnache and Ryabaga tribs, fished as well as we've come to expect. Anglers who frequented Home Pool managed more than 40 fish on this amazing stretch of water. On Tuesday, Yury D. waded the Purnache trib to great effect with Head Guide Max Mamaev. The Purnache is low enough to wade across it in different spots, and though the wading was at times challenging the reward was obvious with several fish landed, including two in the 10-15 lbs range.
Off-color water conditions demand bigger heavier and brighter flies, and this week we also saw some success with extra-fast sink tips. Our guides targeted shallower runs, and guests who attempted to do some wading performed reasonably well from the bank.
We enjoyed the return of several regulars this week: the Twigger's group of six enjoyed their usual long, post-dinner conversations in the Big Tent. It was again very nice to welcome back Jon and Hubert who between them have managed a remarkable 58 trips to Ryabaga Camp. It was also a pleasure to welcome other guests who have not visited Ponoi in a few years; watching them enjoy the benefits of the new cabins was a pleasure. John M. was one of these returning guests and also our top rod of the week with 60 fish landed including a 21 pounder.
Another regular, Sugai from Japan, allowed us to finish the week on a high note by catching the biggest fish of the season so far. The beast was a 25 pounder netted by our big fish specialist Sergei Bistrov in a deep channel of the Hourglass Beat. Needless to say both guide and angler were pleased with the result of their work. Not to be outdone was young Kostya Sherbovich, son of PRC owner Ilya Sherbovich, who at 10 yrs. old managed a 19 lb. brawler on Thursday. Kostya followed up this catch with a 19 fish day on Friday alongside the beloved guide 'Uncle Nick' Sigov. It seems that Ponoi is kind to its children!
Weather conditions appear more normal for the upcoming third week of the season. Barring the challenges of nature, fish size and number look wonderful for the rest of 2016, and we are looking forward for some more Ponoi bounty in the coming days.
11-18TH JUNE
After a challenging Week 2, weather and general fishing conditions drastically improved over the last six days, and catches returned to the impressive numbers that we expect to see on Ponoi.
Arguably the most notable news this week was the very early and prolific arrival of summer-run salmon. Historically, the first summer-run fish are caught sometime around June 20th, but we landed our first bright salmon on this week's first day of fishing, nearly 10 days earlier than expected. This early arrival instigated some debate regarding whether these fish were actually summer-run or late fall-run salmon that had stayed in the estuary for the first part of the spring. 2 days later, when we started to catch some sea-liced fish, that was the end of the discussion: THE SUMMER RUN WAS HERE!
Proportion and number of bright fish did improve steadily during the week, and even on the last day of fishing, with some really strong wind and a bright sun, 15% of our catches were fresh fish. By the end of the week we had landed 776 fish, 60 of which were chromers, with the majority of bright fish taken in the last 3 days.
These summer fish were not only early and numerous, they were also big! Normally the summer run tends to produce a dominant proportion of grilse, but this year proper bright salmon from 9 to 15 pounds were landed quite consistently, and we saw several bright fish pushing the 20 lb. mark. Regardless of size, these chromers were truly beautiful, and notably powerful. Fishing tactics were the usual for Ponoi at this time of year, but those anglers wanting to target bright fish were successful fishing bigger and faster water with big bright flies. Of these, most fished Max's tubes, swung with good speed or stripped.
With 4 couples in camp, the Big Tent was lively, and a great tone was present every night. We were visited by a number of regulars: Jim and Paddy, Francois, Ray, Terry, Bob and of course Len (who was enjoying his 53rd week in camp!) have maintained their annual week at Ryabaga for over a decade; we are always very happy to welcome them back, and proud that they have chosen to join us.
There were also some first-timers here on the Ponoi this week. Keith came to camp with his wife Olga, who landed her first Atlantic salmon, and followed that up with an unforgettable Thursday when she landed 6 fish including an 18 pounder. Also enjoying his first Atlantic salmon experience was Evgeny from Russia, who proved to be a natural: he landed an 18 pounder as well, and 2 more fish over 15. Not new to Atlantic salmon but first-timers in Ryabaga were Karen and Kevin, who I'm sure will visit us again, as will Teresa and Robert who came back to Ponoi after 9 years hiatus.
In all, it was a wonderful week in every respect, showing us very good potential for the rest of the first part of the season.
18-25TH JUNE
Our fourth fishing week of the season just finished, leaving us with a host of memorable moments, both on the river and in camp.
The most noteworthy fact about the season to date has undoubtedly been the arrival of summer-run fish. With an early spring and the best Week 1 on record we started the season off in great form. To build on that fine start, this season's summer salmon entered the Ponoi both earlier and in greater number than ever. The fishing during the last few days of Week 3 hinted at a truly impressive summer-run catch, and by the end of this week we can say that our expectations were exceeded: a total of 109 bright, summer-run fish were landed in the last 6 days of fishing! What's more, frequent rains and cool temperatures encourage us to think that there might well be more bright fish on the way. The 2016 summer run is shaping up to be one of the greatest in Ponoi history.
The week started with a bit of off-color water, but conditions improved quickly, and over a 100 fish were landed on Monday. Conditions remained favorable for the rest of the week, with slightly less productive fishing sessions on the brightest days. The total count for the week was 546 fish.
Angling techniques were the usual: floating lines with intermediate to slow sinking tips and mid to big tube flies in bright colors. The more adventurous guides have done quite well with some "designed-on-Ponoi" rubber leg patterns.
Fishing was accomplished largely from the boats for the comfort of our guests, but those who decided to wade did so with great success. The top rod this week was Ross Spence, who managed to catch most of his 63 fish from the bank. The options for wading in this river are almost limitless, and when conditions are right, wading can be very productive. It is always refreshing to remind anglers that wading Ponoi can be gratifying, and a nice alternative to the comfortable and social boat fishing we are known for. Wading alone through the innumerable runs in the Ponoi is a magical experience that we recommend to everyone that has the option to try it.
In camp we celebrated the return of many longstanding guests, some of whom have made over twenty visits to Ryabaga waters. It is always nice to see Ponoi veterans sharing their love and passion for this place with those visiting for the first time.
PRC owner Ilya Shervobich spent the week in Ryabaga with his family. As a group, the Sherbovich anglers fished the Ponoi every second day, interspersing their salmon days with some 'off the grid' fishing adventures. One of these excursions to a remote part of the Kola made for a memorable day, as the crew was able to take good numbers of large Sigg (a relative of the north American whitefish) on dry flies.
As we look ahead, we welcome the 5th week of the season with tremendous enthusiasm. The river is in great shape, and some nice weather is on the horizon. We have every reason to believe that the flow of silver coming up from the White Sea will continue onward into this remarkable summer.
25TH JUNE – 2ND JULY
This past week of the 2016 salmon season represented the definitive start of the summer on the Kola Peninsula. The week started with mild weather and overcast skies, during which our group of anglers averaged 5 fish per rod per day, with more than 20% the catch being bright, summer fish. From the third day of fishing on, however, the sun shone brightly and the temperatures rose, posing some challenges for anglers and guides alike. We ended on Friday with temperatures above 30ºC, and, the catch rate responded in kind.
In a constant search for the most productive fishing tactics, our team of guides and anglers explored many different techniques. In some specific spots – usually big, deep, slow pools – full sinking lines and big flies were quite effective. Others opted to target fish in the more oxygenated broken waters of the innumerable points with small, bright flies. Another group cast heavily weighted rubber-leg tubes fished with energetic twitches and strips. These techniques, plus some more traditional approaches, worked with a certain level of success, but as would be expected the conditions determined most of the results, and fishing slowed as the temperatures rose.
Several fine old friends joined us this week in Ryabaga. Gianni from Italy was our top rod with 37 fish. At age 85, Pat made his usual 2-week excursion to the Kola Peninsula with his family friend Peter, and entertained us with stories of the adventures that took him around the world. It was also nice to welcome Cyril and Alexander back in camp once again.
A special note should be made about our dear friend Bill Young who came to camp this week with his son Willie. "Youngie" (as his friends call him) has been fighting a hell of a battle with cancer for some years now, and we were thrilled to see his resolve in returning to Ryabaga. Youngie is not only a passionate angler, and one who has fished the world's famed salmon rivers, he is also a passionate person, full of amazing stories and charm. He is a man who takes life into his embrace fully, and having him here back was an inspiration to us all. Until next time, Youngie.
From here, we are fully in the throws of Kola summer, and we are looking forward to more fine fishing and more friends before our summer break. Week 6 looks like a promising one, with a full camp and 20 skilled rods on the water. As with all things in the far north, the weather dictates much, but we are confident that good conditions and fine anglers will collide with a wealth of Ponoi silver. As we enter another week on this remarkable river, we are confident that 2016 will continue to be a record-breaking season.
2-11th JULY
As we near the end of the first half of this 2016 salmon season, we look back on yet another Ryabaga week with camp at full capacity, and guests from Spain, France, the UK, and the US.
The fishing for most of this past week was reminiscent of what we saw in the final days of Week 5. In total we had 6 days of +30ºC temperatures that spiked the water temperature up to 24ºC on Wednesday afternoon. This rise marked the peak of our heat wave, before some cloud cover gave us much-deserved relief. Such extreme conditions are rarely seen on the Kola Peninsula, and in a season that, though productive, has been very early, this warm spell did without a doubt handicap the overall catch for the week.
Despite tough conditions, it was amazing to see the Ponoi continue producing good catches. There were even a few very good sessions like Thursday's up-river day for Pedro, Eugenio, Inigo and Juan who among them landed 27 fish. And we must also mention Eric from France, who managed the biggest fish of the week, a brute of 18 lbs.
Home Pool was a productive spot this week, and 54 fish were landed in that stretch of water between dinners and breakfasts. Home Pool was especially productive in the first 30 minutes right after the sun had dipped below the horizon, bringing some much sought-after shade.
Once again, a range of patterns and fishing techniques were tested by our guides: some used heavy rubber-leg tubes and others employed small, traditional salmon flies. Several anglers made good use of small riffling hitches that proved to be quite successful at moving fish in the last couple days.
This week we welcomed two big groups of anglers from Spain and France as well as a couple from the US and two old friends from the UK. Though the fishing was challenging, spirits remained high, and the atmosphere in the Big Tent was quite jovial. We enjoyed several wonderful sessions during which Gerardo entertained all of us with his songs on the guitar.
Fortunately for the fishing, Friday's evening temperatures dropped to more normal levels, and a welcome rain cooled down the water substantially. The fishing should respond in kind, and with these favourable conditions, and a continued number of fish in the system, we anticipate a strong and enjoyable Week 7 in Ryabaga.
Mid-Summer Break Report
The mid-summer break in Ryabaga Camp will be ending in the coming days. Of late, the weather has been quite mild, with temperatures barely exceeding the 20's C. We have seen very consistent rains over the past four weeks, which leaves us with a river full of cool water. Needless to say we are more than ready to welcome the first fall-run fish of the season into PRC waters, and though we have not seen this pulse of fish around Camp quite yet, bright salmon have been spotted by our guards at the mouth of the river. The first fall runners should arrive in our water at any time, and we cannot wait to see them!
Throughout the break, though several of our staff departed for some much-deserved relaxation, a good portion of the team remained in camp to work on varied projects, in an ongoing attempt to improve the Ponoi experience. The most notable and necessary summer break project was the replacement of our floating boat dock. With enough space for 18 boats and ample room to move cargo back and forth, this improvement will certainly make the 9 AM rush to the boats much more fluid.
Another important project, which is in the final stage of construction, is the new toilet facility adjacent to the Big Tent. The proximity of this facility will contribute to the comfort of our guests, as those in need will no longer be required to walk to the cabin bathrooms before or after dinner. Due to this improvement we have been able to remove the older toilet blocks that were formerly positioned in middle of the Camp. Ryabaga couldn't look better!
Less noticeable but perhaps more important is a significant upgrade in the fire-fighting system. A new pump, water connections, and piping allow us to get an unlimited water supply from the Ryabaga Creek in the event of an emergency.
Up on the hill, aside from a fresh coat of paint on the entire Guest House, workers are close to finishing the new Guest House Banya, arguably the loveliest Banya on the Kola Peninsula. We have added a guest gym and workout space, tuned all of the boats and motors, and set new river lunch tents throughout our waters. We are in peak form, and ready for the return of anglers.
It is with great enthusiasm that the whole of the Ryabaga team is together in camp, eagerly awaiting what promises to be a memorable second half of a record-breaking season. We cannot wait to share that with you, our guests.
Fishing Ponoi River Russia Ryabaga Camp Kola Peninsula Atlantic salmon
CONTACT AND MORE INFORMATION
For more information or to check on availability please do make contact as we'd be happy to assist. Please contact Steffan Jones or call our office on +44(0)1980 847389.