Fishing VARZINA River Russia Kola Peninsula Atlantic salmon
VARZINA FISHING REPORTS – 2016 SEASON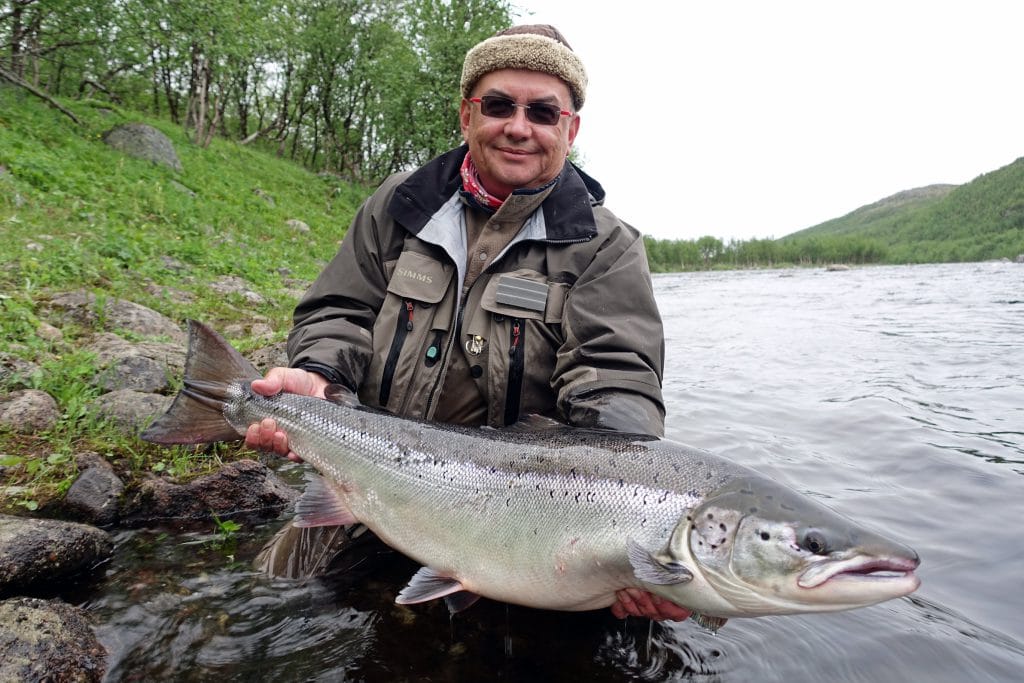 10-17TH JUNE
This was just an amazing first week of the season at Varzina. Besides the fact that river provided us with ideal water level for fishing, those, who make pools diverting, entered the river. More than that, the number of them made our guests fall into euphoria. In other words, no one stayed indifferent. Every day 20lbs salmon was landed. As a matter of course, each guest of our Lodge managed to feel the weight of such salmon in his hands. Some of them more than once and usually per day. As we supposed, salmon dashed to Varzina waterfall by the beginning of last week, occupying all main spots along the river.
Some days fishing was to some degree even extra intense, at least for beginning of the season. For example, Matt caught 10 salmon on Long Walk & Boulders pool on his first day of fishing. Three of them were over 20lbs. Other guests had also nothing to complain of regarding weight. During this week 14 salmon over 20lbs were landed. All in all 6 guests caught 88salmon, 15 salmon per rod on average.  Only one grilse was caught. The biggest salmon (male), landed by Richard on Waterfall, was 106cm in length.
By the end of the week, water warmed up to +11C. Water level continues to drop down, thankfully very slowly. Fishing was great on hitch flies, which made almost everyone at Lodge happy. Such a pleasure is rather rare on first weeks of the season. Other classic flies for Varzina river were also very productive. The favorites were Sunray Shadow, Collie Dog, Snaelda and, of course, Golden Killer. Looking forward to seeing the results of next week. It seems that salmon run at Varzina is in full swing.
17-24TH JUNE
Last week surprised us with a fall in activity of salmon, though nothing foreshowed it. The river is full of fish and new schools enter it every day. Salmon running upstream was clearly observed on fishing pools, and sea lice on landed salmon were rather often. Nevertheless, fish rising fell down and fishing stopped being so easy and made fishermen work hard to achieve some results. However, the results were achieved, so everybody caught salmon. Dmitry and Stanislav were more lucky than others, as they managed to land more 20lbs salmon than anybody else this week. It's worth mentioning, that landed salmon was rather big and in good condition, no kelts and grilse were caught. There was not a rotten apple in the bunch, all salmon was fresh and of good size.
As a result 43 salmon were caught by 6 guests, 14 salmon among them was over 90cm up to 1meter. The highlight of the week was salmon of 112cm in length. This fish (over 30lbs in weight) was landed by Roger on the outflow of Filippov lake at home pool of Cliffhanger  Lodge. The fight for orange Francis fly took 40 minutes. Sometimes it seemed that fly was ready to change its owner. But even after getting fish into net Roger and his guide could not feel relaxed, as net did not manage to keep such a monster and traitorously broke down. After having committed waste for the company the salmon tried to take the fly away in the second round, but was finally landed on the beach of Filippov lake by joint forces. Our congratulations to Roger with the biggest salmon in his life!
Water is dropping down and warming up little by little, but at least it is not bad that this process goes rather slowly. The current is still comfortable for fishing on most of the pools. Water temperature went up to +13C by the end of the week.
24TH JUNE – 1ST JULY
The beginning of this week was not bad. However, by the end of it weather has spoiled fishing factor. One can hardly remember such a heat in summer hear. For the second part of the week the sun was shining accompanied by the southern winds, so that northern salmon fishing turned to tropical one. Though water level has been dropping not very drastically, all pools still have nice current and water surprisingly warmed up only to +15C, salmon react to this change of climate unpleasantly. The fishing was the same as last week, when it was hard to persuade fish, which was presented in numerous numbers at pools, to fight. Nevertheless, several 20lbs salmon were caught by Peter and Neil. The last one was lucky to hold in his hands a 30lbs male salmon. Surprisingly this beautiful salmon was caught again on the home pool of Cliffhanger Lodge, as the previous 30lbs salmon. This fact cannot but please and inspire our guests of Varzina tented tamp, who arrives today to open fishing season in the middle reach of the river. The trophy salmon was caught not only at the same place as the previous monster (outflow of Filippov lake), but it preferred the same fly – Francis, but only in black colour.
As a result 34 salmon were landed by 6 guests. There were not so many grilse. The average weight of salmon was also not bad. Pink salmon entered the river, which is not usual for the end of June. Fishing for sea trout in the Varzina estuary is just creasy. Trout is not very big, but very funny. Summing up, real summer is in!
Fishing VARZINA River Russia Kola Peninsula Atlantic salmon
CONTACT AND MORE INFORMATION
For more information or to check on availability please do make contact as we'd be happy to assist. Please contact Steffan Jones or call our office on +44(0)1980 847389.