Russia, fishing Varzina River 2021 season. Prices and availability. Atlantic Salmon.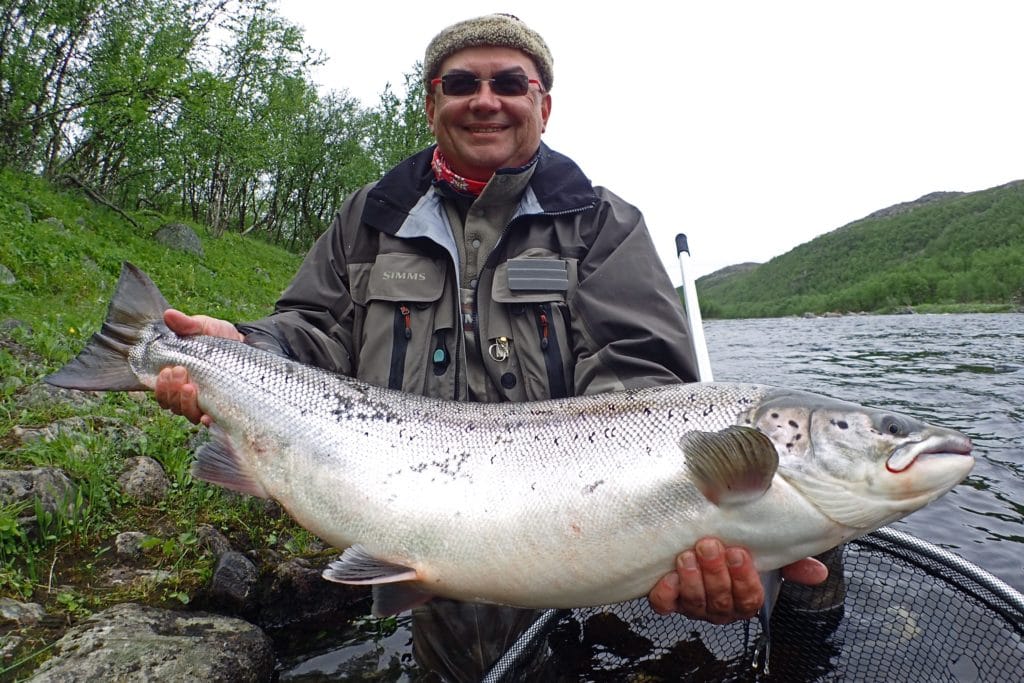 The north-east coast of the Russian Kola Peninsula is a unique place. The cold waters of the Arctic Sea meet the stony coastal hills protecting the finest of the treasures of Kola, the last refuge of the large Atlantic salmon. The river water is clear as the wind of the tundra and the salmon big and plentiful. In the middle of this rugged beauty sits the finest salmon fishing camp in Russia, the Varzina River Lodge. The Varzina River Lodge harbours the fishing headquarters of the Varzina River Company. Within a radius of 24 kilometers from the lodge are some of the most productive fly pools ever fished. Daily helicopter flights take fishermen to different pools of Varzina and Penka rivers to catch the salmon of their lifetime.
The Varzina River rises in the tundra in the north of the Kola Peninsula. Originating in the Lake Yenozero it flows for 35km (20 miles) before reaching the Barents Sea. In the middle of this rugged beauty sits one of the finest salmon fishing locations in Russia; the Varzina River Lodge.The landscape around the Varzina is a true untouched wilderness. Gin-clear water and pristine surroundings combined with first class fishing make for a truly memorable trip to the Varzina.
There have been some massive improvements to the Varzina programme; both in terms of the lodge and the fishing. The lodge has had a massive overhaul, as the following images highlight. In addition, the fishing is now for just six rods per week, meaning a lot more rested water and water to explore for the visiting angler.
Interested in visiting? We have one week left in prime-time:
12-19th June; 6 RODS
COST of the week is £9,500 plus a service fee of US$2,200 – per rod.
This is the second week of the season and is a prime week. Here are the catch stats for that week for the last few years:
2019 15-22.06 72 fish, 45 fresh, 2 over 100cm, 6 rods
2018 9-16.06 66 fish, 27 fresh, 1 autumn run, 3 over 100 cm, 7 rods
2018 16-23.06 111 fish, 96 fresh, 7 rods
2017 10-17.06 104 fish, 30 fresh, 3 Autumn, 4 over 100cm,  run 6 rods
2016 11-18.06  88 fish, 83 fresh, 2 over 100cm, 7 rods
2015 13-20.06 51 fish, 4 over 20lbs, 6 rods
For more information please do make contact as we'd be happy to assist. Please contact Steffan Jones or call our office on +44(0)1980 847 389.