Few salmon rivers have the history of the River Spey. To fish there is to walk the same banks as some of the salmon greats that have gone before. Some months ago, I was invited to fish one of the rivers most famous stretches, Tulchan. Of course, it didn't take long to accept the invitation to three days to this historical piece of water. I have never fished Tulchan before, but others had told much about how good the fly water was and the rather impressive set-up. I went straight to the hut at Beat B on arrival to join the others who were already sipping beer and pondering a fairly tough day. There had been slight a push of water which had coloured the river and made fishing tough. It was no comfort for the two leaving, but the prospects looked favourable for the next three days. We spoke with Roddy the ghillie while sipping Tennents, the larger of choice when we are north of the border. Roddy is full of chat and thinks we should bank a few in the coming days. He suggests sticking with the classics, a Copper Willie Gunn being his favourite. This seems to be one of the standard fish takers on the river.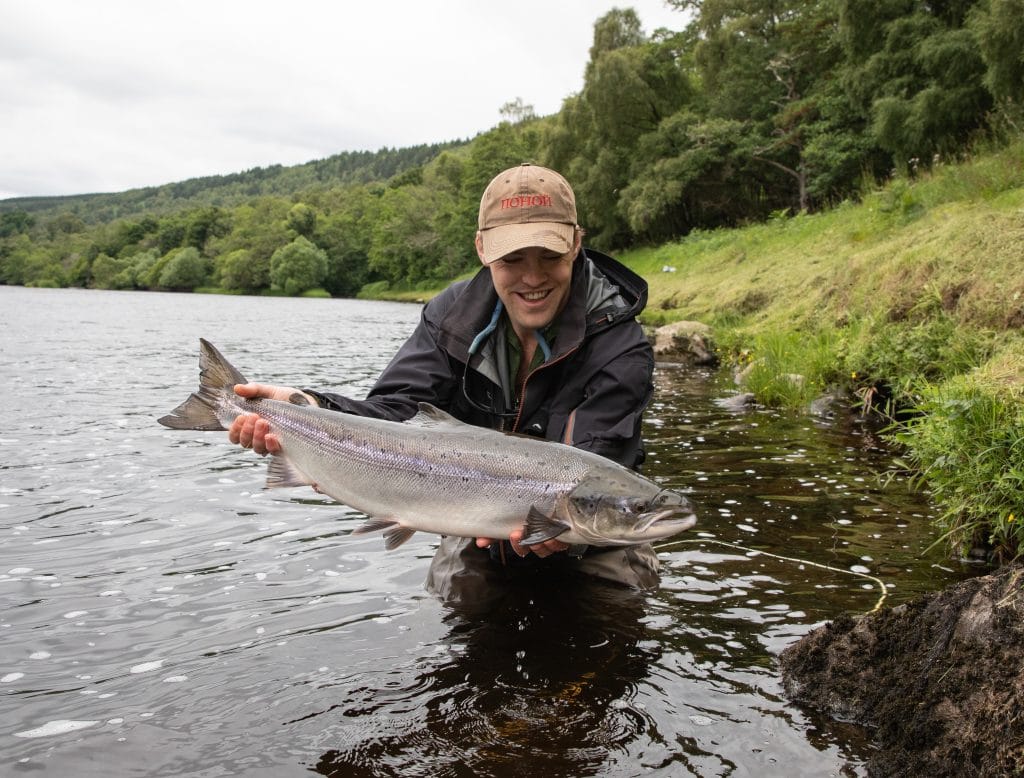 I chance a few casts hoping to winkle one out before supper, but knowing we are short of time, don't bother putting waders on. Because of this, I can only fish from the bank. My running line spends more time getting wrapped in the grass than letting fly. Before getting overly moody, I wind in. It's time to eat. One great luxury of staying at Tulchan is that food can be organised through the estate. It is not overly expensive, and a delicious but simple meal is cooked for you and left at your cottage. It is faff free, as all that has to be done is the oven switched on and the table laid. Even better is that each fishing hut has an oven and bbq so that supper can be on the river. Very civilised and a world away from my typical riverside grub.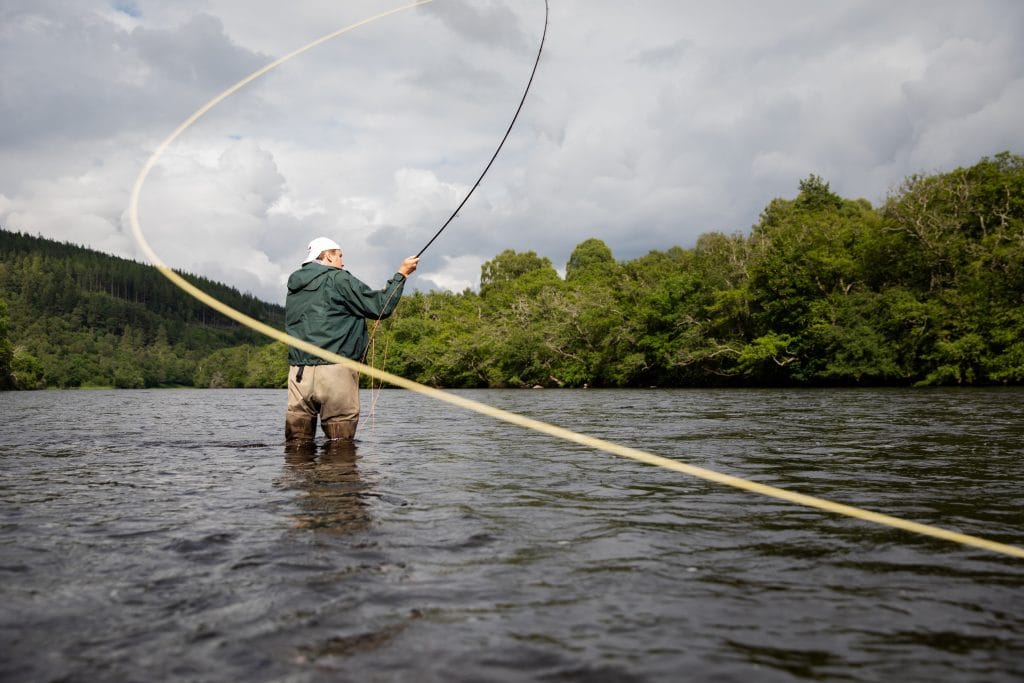 After the football, the night drew longer than was necessary, and five somewhat jaded faces turned up for a fry-up at Beat C hut the following morning. Conditions were good, and I couldn't help but feel annoyed that I hadn't taken it easier the night before. It was, of course, not my fault, but that of the others. We had three rods on Beat B with Roddy and two with Phillip on Beta D between the five of us. A coin flip decided my fate, Beat D. Having been on the beat for seven years, Phillip is the youngest of the ghillies at Tulchan and was keen and full of information. We followed him to the March Pool, where he runs us through the taking spots and the dos and don'ts. As he chats, a few decent double figure fish jump. By no means a guarantee, but a comfort to see that we would not be covering empty water. The March Pool starts as a fast riffle that develops into a long run a few hundred meters long. It looks fishy as hell and is obvious holding water. I start just below the small island at the top and begin easing the line out. A few more fish jump below. I can't help but think how satisfying it would be to bank one before lunch. To take the pressure off and allow for a worry-free few days.
My mini templedog looks good as I hold it in the current to check its swimming correctly. Its tail flickers and dances. It seems like it's about to swim off the hook. But I can't shake off the nagging thought that it is a little small. By now, I have seen plenty of salmon, and no doubt covered many more. I get the feeling a push of fish has come into the pool and might be running through. Possibly something a wee bit bigger might do a better job of persuading them to stop? As soon as the doubt creeps in, I can't help but change, so choose a Black and Red Snelda two inches long. A fly that I doubt many of these fish have seen. Ten casts later, I get my first take. A snatch from the middle current and when the line is still in full belly. Rest. Cast again. Nothing. I continue my plod downstream. It is not often that I have seen such good holding water as this. The streamy water at the top looks perfect for a grilse or a running fish, the water below where I am looks like it will hold fish at any time.
I don't fiddle with the fly too much, casting square enough to allow the line to form a nice belly, and then I start to figure of eight once the swing slows. Of the fish jumping, none have been grilse. Most look between eight and fifteen pounds. The boat that signals the ends of the pool and Tulchan's boundary is only fifty meters away, and Hugh is now behind me and chasing my tail. Cast, swing, figure of eight, stepdown. Same again. Only this time a little different. Mid swing and full belly, the line tightens. The feeling is unmistakable. I wait a while until I can feel the weight of the fish and then lift slowly. It is not a grilse. After a spirited fight, a salmon of about twelve lies in the net. He is not coin silver but has not been in the river too long. I guess that he ran up a few weeks ago and had been holding downstream until the recent rise. I watch him charge back to the peaty depths with one powerful kick of his tail. An unsurpassable hangover cure, if only someone could bottle this feeling.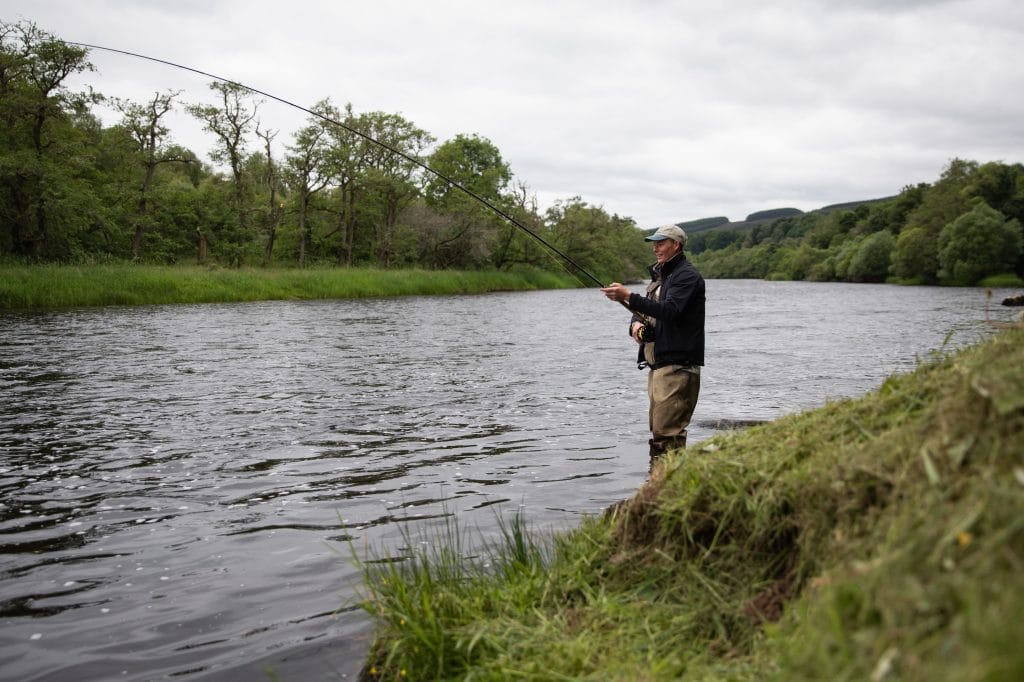 I watch Hugh catch a lovely hen fish higher upstream in the fast water. A fish each before lunch, a morning that could hardly be bettered. Unfortunately, the rest of the team haven't had the same kind of luck on Beat B. Not that they seemed overly concerned as we tucked into roast beef sandwiches and a beer. Roddy was still in sparkling form and taking some amusement from seeing that the night's damage hadn't completely worn off.
We returned downstream to see Phillip while the others continued with Roddy. Phillip advised that I fish the run above The Boat, A streamy section of water that looked ideal for picking up a running fish. It didn't disappoint as a hen fish of nine pounds grabbed the fly on a short cast after only a few minutes. In the fast water, she put one hell of a fight, and until she jumped, I couldn't help but think I was into something far more significant. I was able to shout Andy down, who driving past to help me land the fish. Good timing, as it was an awkward place with steep banks and no shallow spots. His brother has lost one here that morning.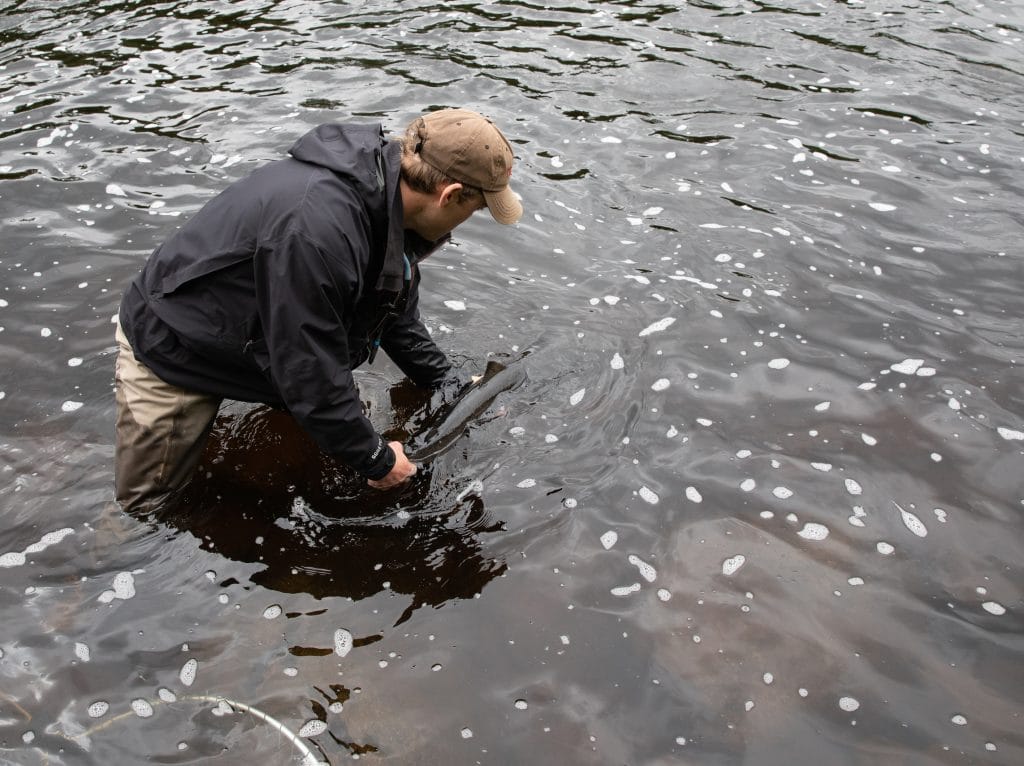 Landing two lovely fish on the first day was more than enough to make the trip. Of course, I would not have sniffed at landing another, but it was not to be. The following day the river rose, and for all but a short period, the fish seemed to come off the take. By the end of the three days, we had all banked a fish and some more. None had been grilse, and most had been hovering around ten pounds. All fought like dogs and gave a memorable scrap. But it was not only the fish that made the few days so special. It was more. It was, partially, the company of good mates. But more so, the stunning fly water of the Tulchan beats, the ghillies Roddy and Phillip and the incredibly smart and well-organised set-up they have created. It is, as I have said before, faff free and glorious.
River Spey, Tulchan Availability
July
22nd – 24th 3 rods, Fishing with Ian Gordon
29th – 31st 3 rods, A Beat
29th – 31st 3 rods, B Beat
August
5th – 7th August 3 rods
9th – 11th August 3 rods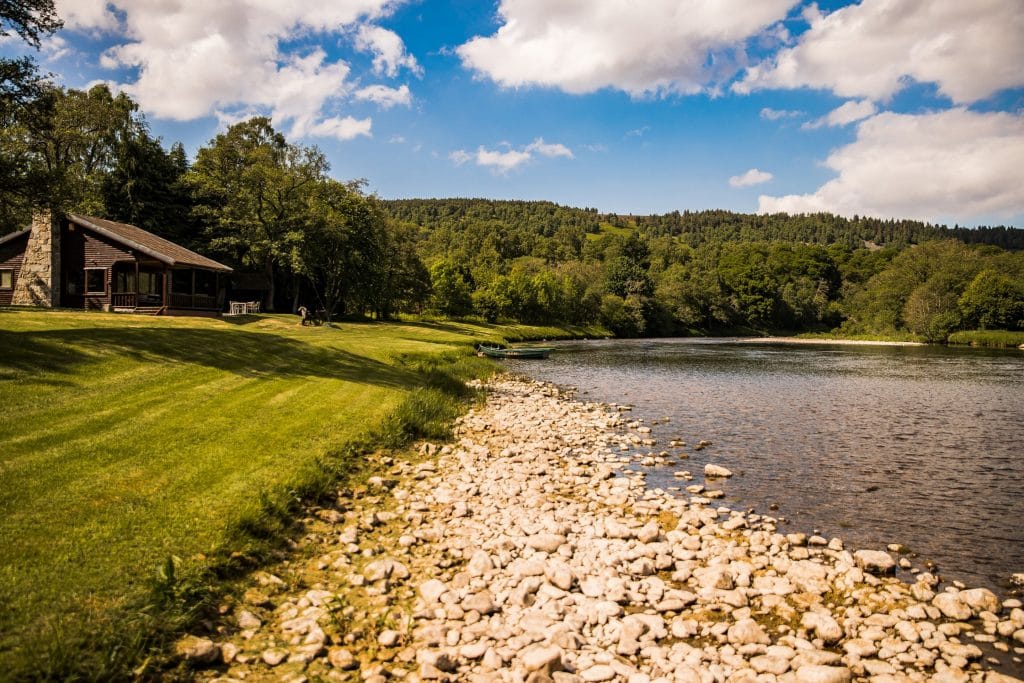 For other Scottish availability please click HERE, and for availability on English salmon rivers click HERE.
For more information about our UK salmon fly fishing options please contact us or call our office on +44(0)1980 847389.