With spring finally on the way our thoughts turn to the salmon fishing season come. The annual pilgrimage that both angler and fish make in the hope that one may intercept the other for that electrifying heartbeat of connection. If you have not planned your salmon fishing yet we present a round the world tour of the world's greatest spots to cast a fly for these majestic creatures.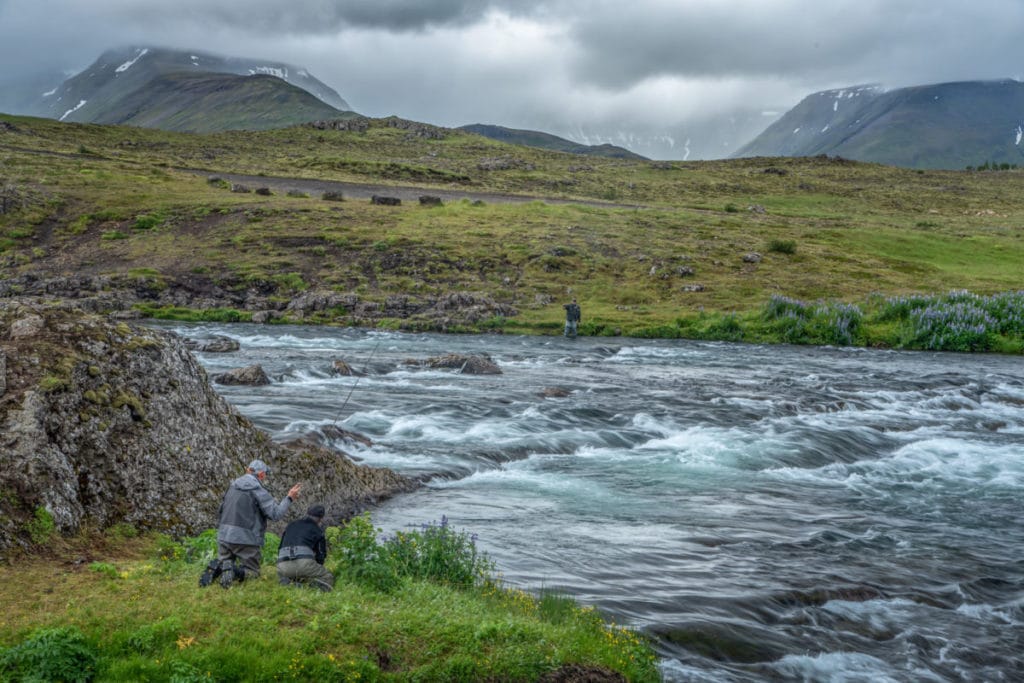 Iceland
There are many reasons to visit the land of fire and ice and the fact that it's one of last great bastions of Atlantic salmon fishing is up there at the top of the list. That the runs are still prolific is down to careful management of the fisheries, and unique to Iceland is that rivers are run by a single leaseholder so 6 to 12 rods will normally have access to the entire river system rather than just a beat.
Carefully crafted rotations during your stay will allow you to fish productive pools while leaving others to rest. Much of the fishing is visual, in crystal clear water, meaning it is often possible to watch a fish's reaction to the fly. Many rivers are tackled with single handed rods and tiny hitched flies which makes for incredibly exciting fishing. If you prefer to fish double handed there are some excellent options here too. Most fish are between 6 to 12lb, so perfect for light tackle. A 20lb fish is big for Iceland, but these offer excellent sport on light tackle.
The superb local guides live and breathe salmon fishing and accommodation here is excellent with exceptional food served throughout.
Iceland is a short 3 ½ hour flight from the UK which means you can often be standing in a river casting a fly on the afternoon of arrival. Finally, it is one of the few locations that allows rods to be shared which can bring the price down considerably.
We have a huge portfolio of over 40 rivers and will use our detailed knowledge to narrow down the perfect river to suit your wishes.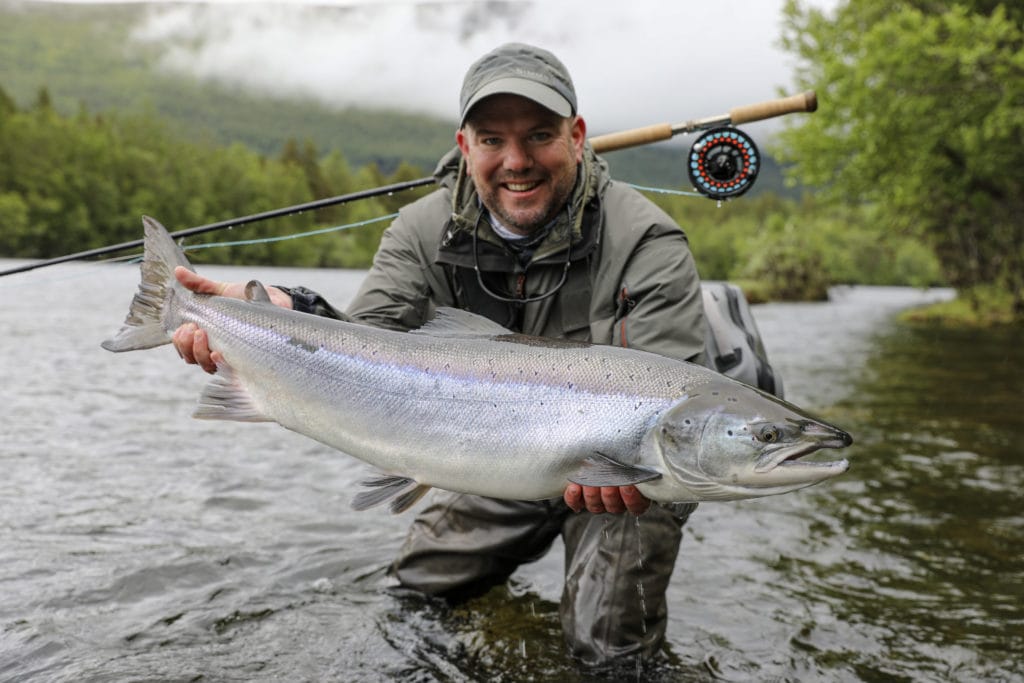 Norway
To go salmon fly fishing in Norway is to give yourself the chance of landing the fish of a lifetime. From the famous rivers of the Trondheim region all the way to Finmark in the north, Norway boasts a list of salmon rivers that few countries rival.
Much like Scotland, there are lots of lodges, beats and associations and it can be hard to know which is the right one to choose to offer experience that you want. With this in mind, we hand select just a small group of lodges that offer some of the best fishing, lodging, all round experience and, most importantly, value for money.
Managing expectation, true when fishing anywhere in the world, is vitally important and this is certainly true with Norway.  If you are after big numbers of salmon, then Iceland is probably more suitable.   Norway, for the large part, is the home of big Atlantic salmon and gorgeous fly fishing rivers. A general rule of thumb is that one to three salmon in a week is a reasonable expectation.  Of course it's possible to land more than this, but those are exceptional weeks. Depending on time of year and location, you also have a very good chance of a fish in excess of 20, 30 or even 40lb.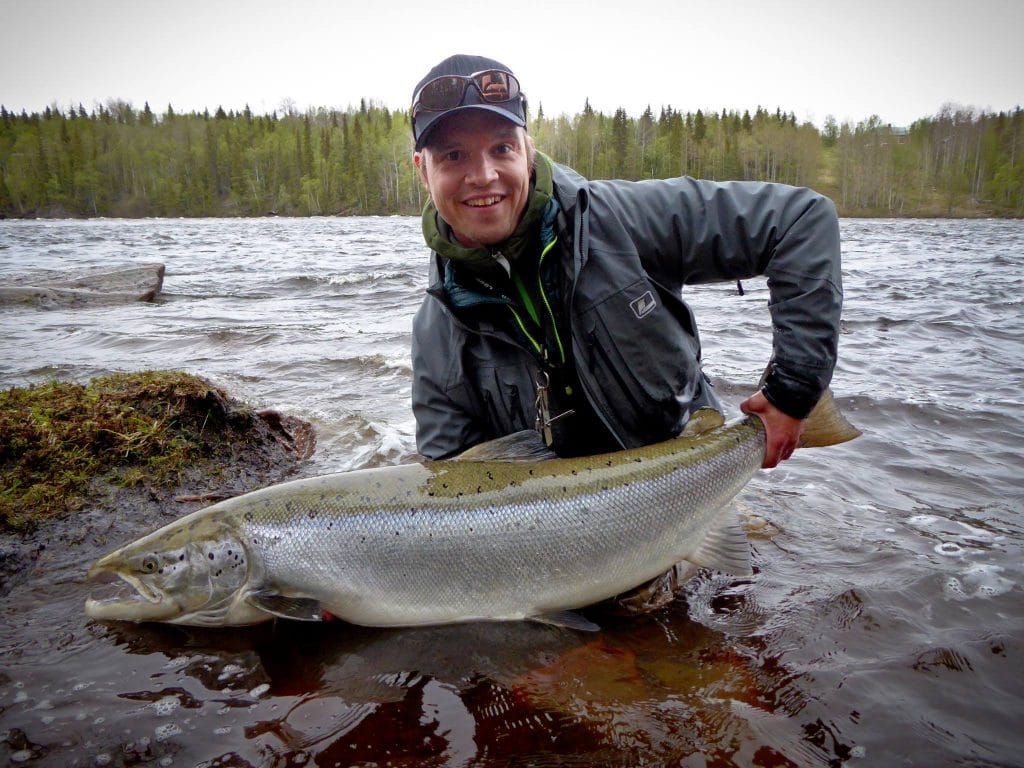 Sweden
Salmon fishing in Sweden often gets less publicity than Norway and Iceland, but there are some beautiful rivers throughout the country. One of the highlights of fishing in Sweden is the opportunity to target Baltic salmon. Baltic salmon are a geographically isolated group of the Atlantic salmon family. River systems like the Torne in Swedish Lapland have become must-visit destinations for die-hard salmon anglers. Word has spread about fish size, quality and strength in these rivers. One of the go-to rivers to target large Baltic salmon on the fly is the Lainio River. Sourced in Northern Swedish Lapland and close to the border with Norway.
With 9.5 kilometres of double bank access, Camp Onka has some of the best exclusive water on the Lainio River, including the famous Onka Pool, where the old camp was initially established. The fishing is split into Lipistokoski, Onka and Phatakoski on the upper, middle, and lower beats. The Lainio is the most important tributary to the Torne River, with over half of the salmon in the system entering its waters. Lainio is a big river but has excellent fly water, and some of the best holding pools are located in Camp Onka's beats. While the average weight of salmon is in the region of 15 to 18lb, a trip to Camp Onka is all about the opportunity of a truly massive fish in the 30-40lb range.
This is wilderness fishing, with the only significant restrictions being your sense of adventure and your stamina. The midsummer weeks provide 24 hour daylight where the dedicated can fish long and hard. Camp Onka also allows anglers to enjoy the seclusion and wilderness that a week in this environment affords and the basic simplicities of a resourced but remote fishing camp.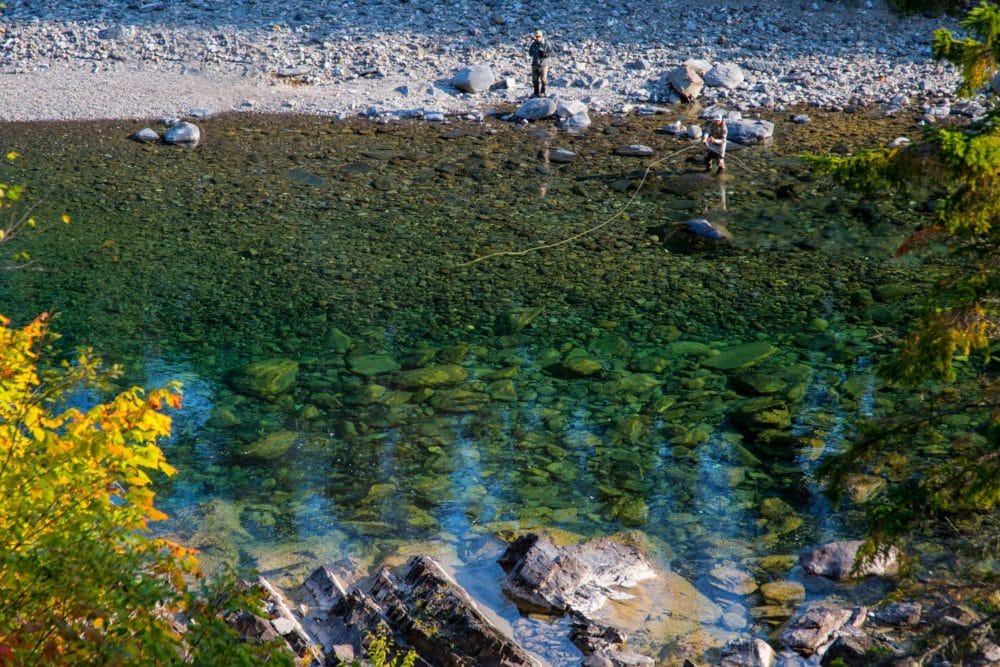 Canada – East Coast
When considering Atlantic salmon fly fishing destinations, it is easy to overlook eastern Canada in favour of Iceland, Scotland and Norway, but there are some fantastic fishing options to be had here.
We work with three of Gaspé's most notable salmon lodges, offering fishing on the beautiful Bonaventure and Grand Cascapedia rivers.
The Bonaventure River is legendary for its water clarity and sight casting opportunities, the Petit Cascapedia is known for its clear picturesque pools holding big salmon and huge brook trout, and the famous Grand Cascapedia is where salmon in the 40lb+ class are not uncommon. Your days on the river are enhanced by the experience and knowledge of the expert guides who have fished these waters for years and know exactly where to put you over fish.
The fishing is either wading or from traditional 26-foot river canoes. Early season can allow for a combination of both while later in the season wading the pools is more productive. Another option is to take a float trip down miles of pristine river where you will experience great fishing and breath-taking scenery too.
Gaspé is famous for its big fish and these rivers regularly catch fish over 30lb, even up to 40lb. The chance to sight cast to fish this size using dry flies in crystal clear water is unique to this part of the world. Whether you are a beginner just learning how to cast or an experienced fly caster seeking to perfect your skills with a single handed or Spey rod, the band of talented guides here will take fantastic care of you.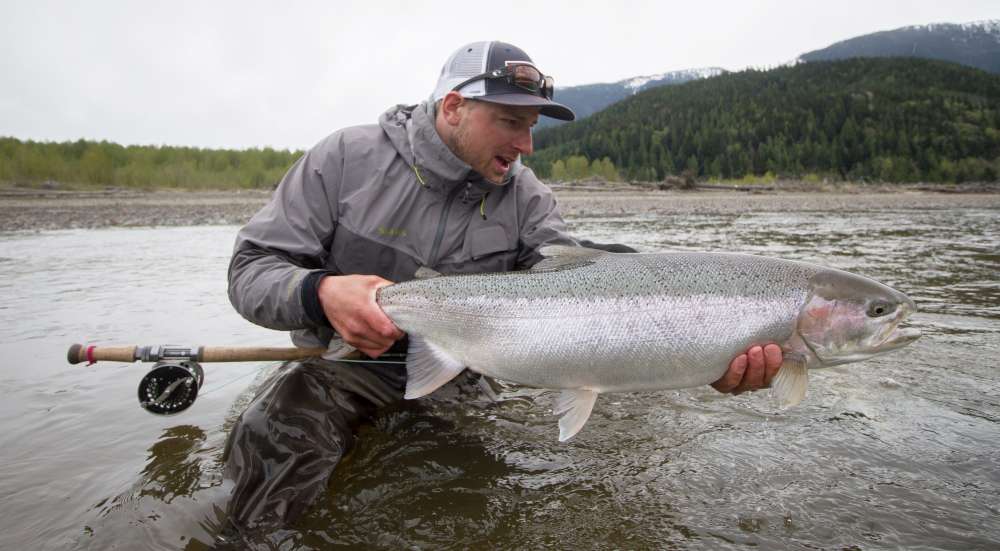 Canada – West Coast
If you are interested in a chasing different species in the same river systems then look no further than British Columbia. All five species of Pacific salmon run these rivers, alongside the fabled steelhead and dolly varden.
Fishing is varied, with each species requiring different techniques and tackle. Although regarded as the last bastion of wild steelhead fishing, the kings will test your tackle and your wits while the silvers, chum and sockeye provide decent numbers to keep you busy. The rivers are wild with each tributary offering a totally different environment. There is plentiful wildlife in the huge temperate forests, and your guides will take huge pleasure sharing this aspect of the environment with you as well as the fishing.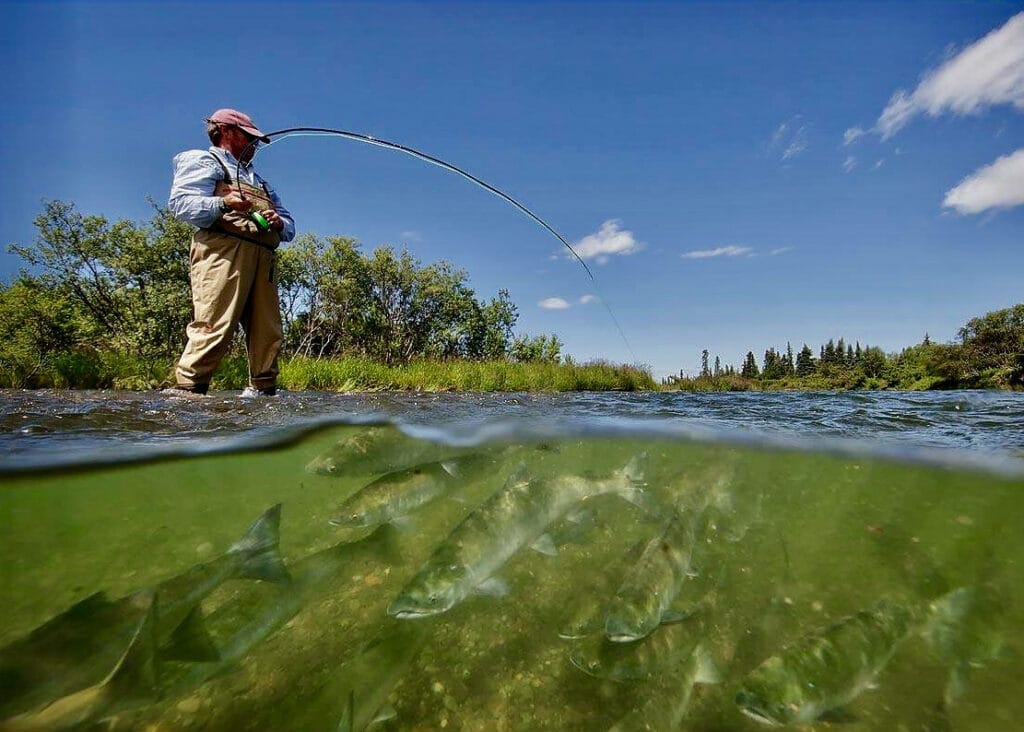 Alaska
Fly fishing in Alaska is fabulous, with a huge amount of variety in terms of species to target but also accommodation options. There really is a lodge for everyone up here, whether you are a seasoned salmon fly fisher or looking to dabble your toes into fly fishing travel. Many anglers have fallen into the trap of thinking that because there are no Atlantic salmon that they would rather not travel to Alaska, but they are missing out on some thrilling fishing.
Although only a very short season, each month offers a completely different experience. In the early weeks you will target chinook (king) salmon, the largest of all the Pacific salmon and a fish with unrivalled strength in these waters. As a comparison the chinook run can be likened to the bigger multi-sea winter fish we see running the Norwegian or Russian rivers, often reaching over 40lb.
Silver salmon start running in August and push right through until early September. Alongside these two, Alaska offers a multitude of species running the rivers to spawn including the other three salmon species; chum (dog), sockeye (red), and pink (humpy) salmon. In addition to the Pacific salmon there are rainbow trout, Arctic grayling, Arctic char, dolly varden, northern pike and lake trout. It is the freshwater equivalent of flats fishing with variety being the spice of life.
For more details on salmon fishing in any of these magical spots please do not hesitate to contact Peter McLeod or Alex Jardine or call our office on +44(0)1980 847389.