November 2012 saw Charlotte Chilcott back on Alphonse with her hosted week. As always, looking forward to whatever the atoll, the tides and fishing gods threw at her.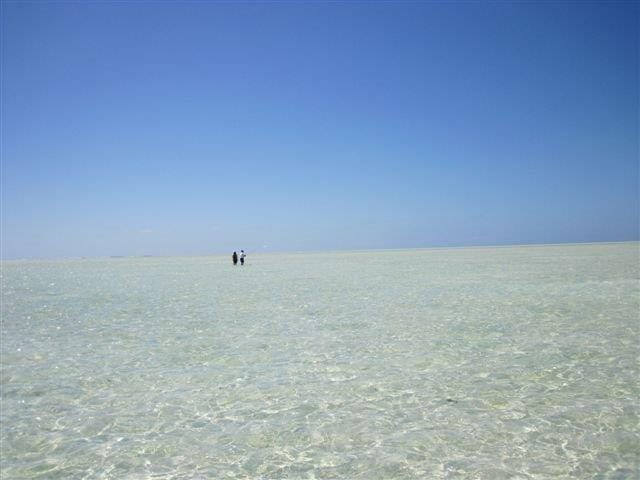 The week had been amazing good. Fish everywhere, weather perfect, visibility ideal. It couldn't last and Thursday didn't start well. As so often happens in the tropics, rain had appeared overnight. The morning started off with a slight glimmer of light on the horizon during breakfast. Before long the looming grey clouds had closed in and snuffed it out.  Out on St Francois, we'd struggled with visibility, the clouds and the wind making it difficult to see much on the flats and pickings had been pretty slim. After an enthusiastic but totally unrealistic charge down the beach on St Francois after a GT, we had headed over to One Palm for some less than stellar bonefishing. Like a bright light of hope, we heard over the radio that milkfish were up and feeding on the outside. None of us needed persuading to move and in short order we'd packed up and headed out.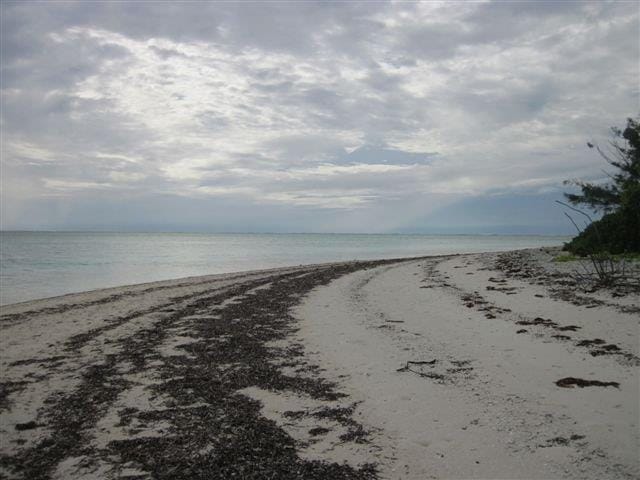 Our guide for the day, Wayne Haslau, himself a pioneer of milkfishing techniques, found what turned out to be a vast pod of fish in pretty short order. My boat partner Roger was up first and I was witness to some outstanding casting in challenging conditions. Visibility was poor, it was windy and the swells are not inconsiderable. So much so that at one point Roger was casting at feeding milkfish that were above him. This pod was so big that even in murky conditions, you could see dark shadows breaking the surface to feed. Occasional glints of light caught the pale inside of their lips as they fed on the surface. Most were feeding sub surface so flies were trimmed a little, the aim for them to sit slightly lower than normal. Roger had a hard hit but frustratingly, as it often the case with milkfish, it wasn't long before it was off and it was time to swap seats.
Not the most steady on my pins at the best of times, I muttered bleakly to myself about being able to stay on board. Thankful as never before for the leaning bar, I wedged myself in as best I could, dropped my line into the well behind me. Prayed. Cast. Nothing so reset, dropping the line back into the footwell, Roger kindly keeping it clear for me. The last thing I needed was a line around my leg, in rollercoaster swells, if I hooked into a turbo fuelled milkfish. I recast, drawing the fly slowly through the school, trying to keep tension as we rose and fell. As I felt my line go tight, Wayne was shouting 'set it, set it, set it'. My fly line disappeared. In what felt like only a few heartbeats I was well into my backing. Bright pink (it was all we'd had in the office), my backing was a frighteningly long way away from me and my devil fish caused chaos for my fellow anglers in their nearby skiffs as it disappeared under their boats. Hollering a very British, cheery 'sorry' as we picked our way past, I suddenly realised that I was in serious danger of being spooled. My 350 meters of backing was pretty much all out. I squeaked back at Wayne that I was running out of backing and he rather shortly told me that it would be more helpful if I didn't leave that kind of information to the last minute.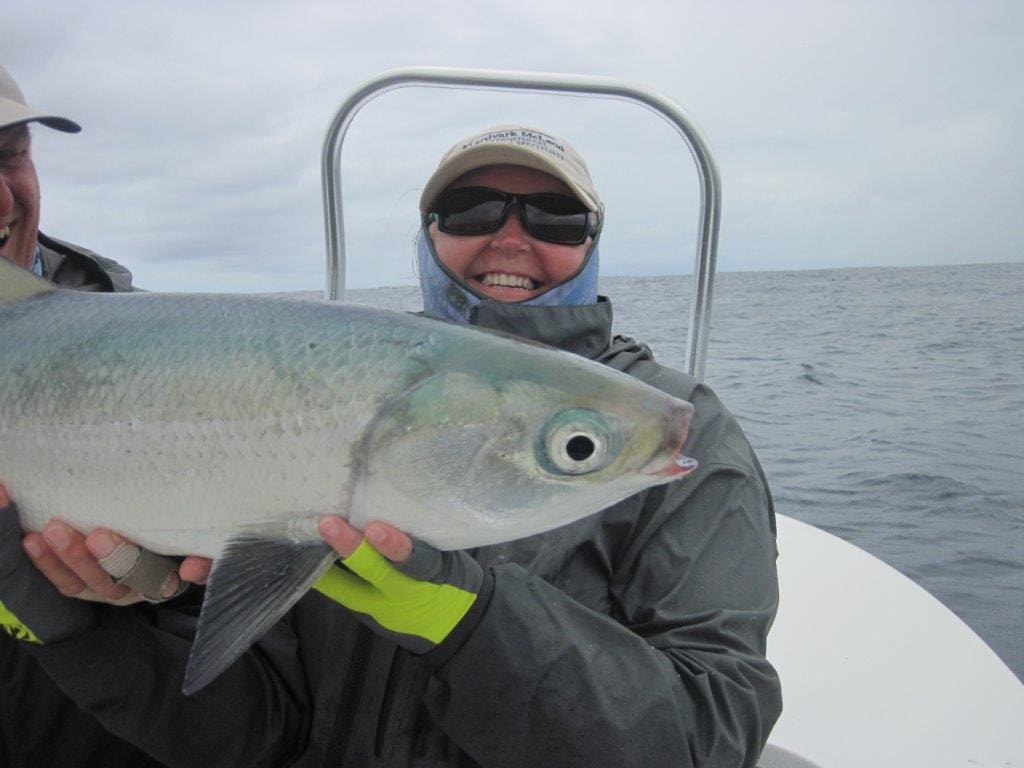 Other anglers later told me that all they could see was the lime green of my 12 Weight gloves flashing as I wound and wound frantically trying to get back some line. There was a point where I was perched, heron like, unmoving – much to John's amusement from the front of his boat. The fish wasn't giving an inch and there was just nothing I could do to gain any more line back. The line was in, the line was out. I wound uphill, I wound downhill. We went down to the backing a second, third, fourth time and with Wayne helpfully pointing out that I was now in stage 2 of 5, 3 of 5 etc. With no lactic acid build up, milkfish just keep fighting. Diving deep, running hard, it felt like it was just a matter of who gave in first. I wound and wound and wound. 350 metres of backing is an awful lot of winding and when you are doing it for the third or fourth time, its unsurprising that you ask yourself "why"? Why am I perched on a tiny white platform in the middle of the Indian Ocean, exhausted, sweating, fingers burning, muscles aching. Watching all the line I'd laboriously claimed back, run out again was soul destroying. Roger kept me up to date on timing and I was beginning to think we'd have to tow the fish back to Alphonse in order to land it. 1 hr 15 mins after that first cast, Wayne scooped my milkfish up into the net and I could finally get down off my undulating perch. Legs shaking, heart pounding, muscles protesting, I couldn't believe that I'd done it.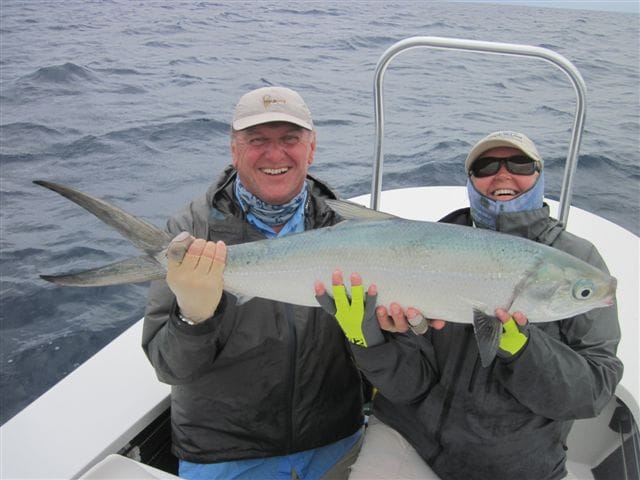 We had lost sight of the other boats on and off during the course of that battle. I had to enlist the help of Roger in holding it as I was absolutely whacked. It was still fighting on board and Roger had to step in and help. My hand was too small (and by now too weak) to get much of a grip on the tail. Photos taken, it was quickly back in the water and off it went with a very dismissive flip of that beautiful scimitar tail. A stunning fish and as remarkable was the fact that I hadn't fallen in …..
I've never been so happy to sit down and put my rod away. By this time, the swell was nastier. Definitely more choppy and much more difficult for Roger but it didn't take him long to get into another milkfish. There were times that he looked pained and I'm not sure he appreciated my regular time calls but he landed a beauty of a fish in 1 hr as Wayne scooped it up in the safety of the net. Two delighted, if exhausted anglers and a happy guide.
For more information on fishing in the Seychelles, please contact Charlotte Chilcott or call us on 01980 847389.