After two weeks of less than favorable conditions, the weather finally began to subside, giving the team ample opportunity to concentrate their efforts on targeting the sand and finger flats, which are often highly productive during a neap cycle. With a decrease in water movement, less wind and some very excited guests. The stage was set for another great week's fishing inside St François's lagoon.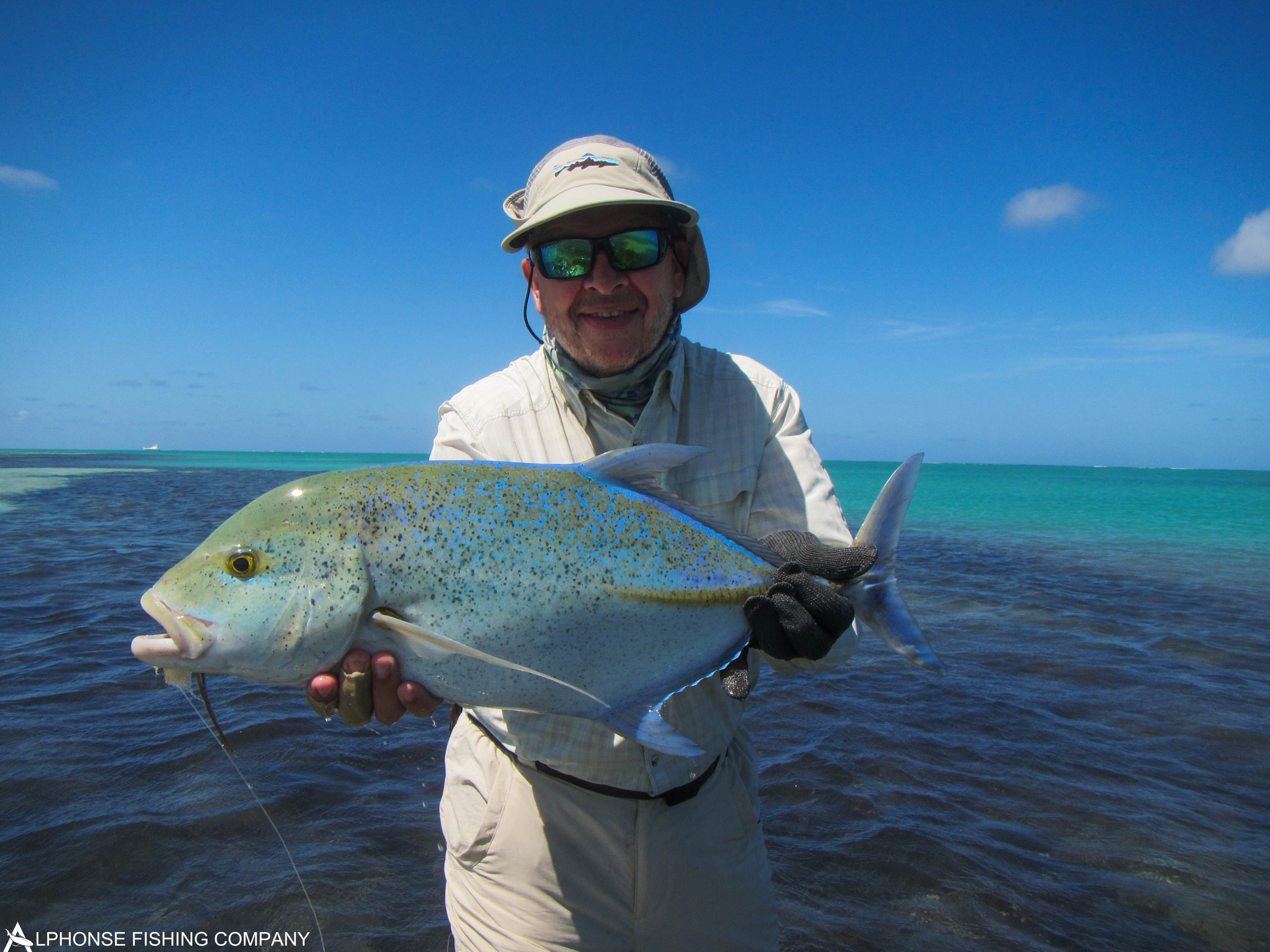 In spite of the difficult light conditions during the first day, Ross Brawn got off to a cracking start by quickly racking up more than twenty bones to join the 20+ club ,which he followed up by landing a nice mustache trigger during the closing moments of the day. Also to get off the mark was Matt Thomas who managed to tick the holy grail of fly fishing, the Indo-Pacific permit, off his list when he caught a beautiful specimen during the first few hours of the day. Renowned for their elusiveness and picky nature, Indo-Pacific permit is one of the most sought after fish in the fly fishing community. Charlie Limond has joined us for over seven years and has continuously had bad luck with hook-pulls and line breaks while targeting them. This week however, his perseverance finally paid off when he landed not only one but two big permit, the latter of which measured a whopping 70cm, in two days.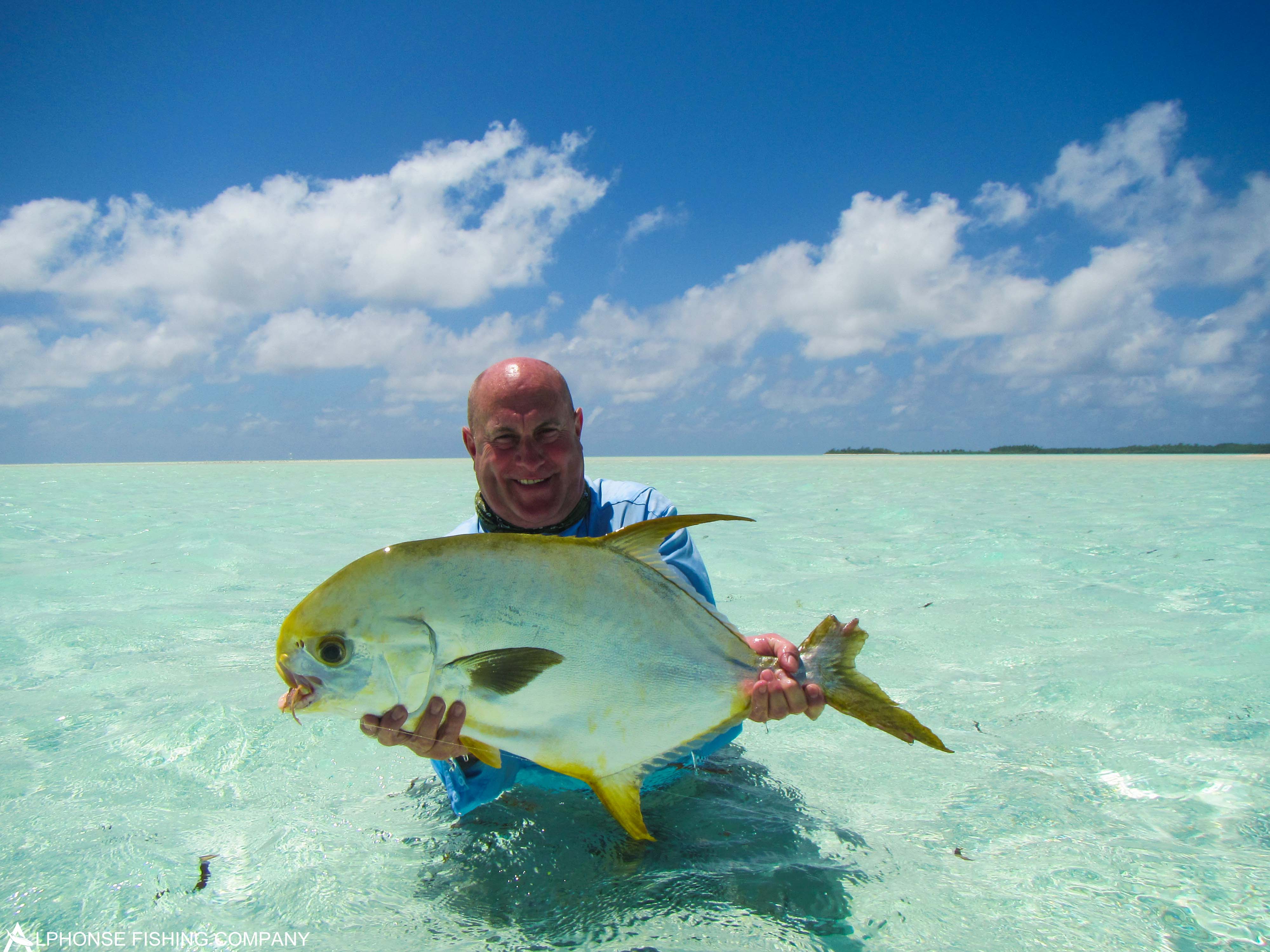 He further sweetened his week with a lovely 80cm GT in the surf zone. Dominique Goga, who was spending his second week with us on Alphonse, also joined the GT club with a very nice 70cm fish. A big tip of the hat goes to Jim Carolan who landed his first GT and giant triggerfish on the same day along with a few bonefish. This qualified him for a "Flat's Slam" which is a very difficult and special feat to achieve especially when there are fish of such high value at stake. Ross Brawn was the trigger champion of the week with another nice giant triggerfish landed on the last day.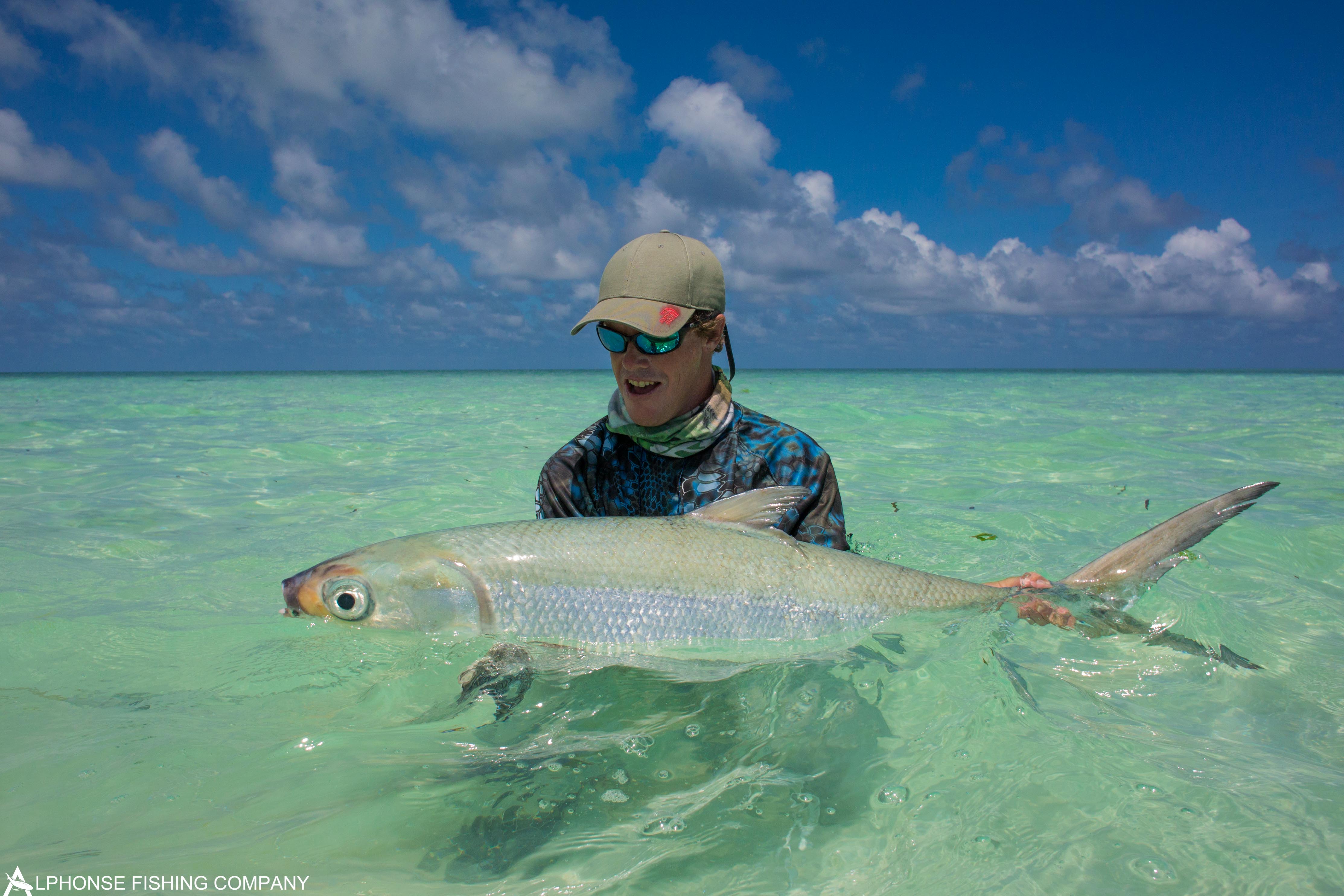 With the approach of the neap tides we waited in anticipation to see the return of large numbers of milkfish to the sand flats. We were delighted to witness large schools of milks pushing up onto the algae patches on both the Eastern and Western flats where they spent vast portions of the day grazing. The guide team has put in a lot of time and effort into researching and testing different methods to try and consistently hook these fish. Many of the guests spent countless hours pursuing large groups of fish with many hooks bent and lines popped due to their sheer power. Matt Thomas managed to capitalize on this event by landing a huge 35lb fish in less than nine minutes, which is almost unheard of. 
The never ending opportunities we have to target fish in different scenarios keeps pushing the boundary of our methods and knowledge proving yet again the vastness and diversity of the atoll. As the approaching spring tides bring an increase in milkfish activity on the outside we hope to continue to target these fish on a regular basis on and off the flats. With another full group of guests scheduled for next week, who knows what the days ahead will bring.       
All the best and tight Lines from the Alphonse Fishing Co. team.
If you would like discuss Alphonse or receive further information, please contact Peter McLeod or Charlotte Chilcott. Alternatively, please contact the office on +44(0)1980 847389.