Alphonse Fishing Report November 20th – 27th 2021  
What a great week of fishing we had this week. We were greeted by a group of guests who have been to Alphonse since the beginning. This week was one of their standout weeks and was a week to remember, with incredible catches and great weather.
The week started with two flats slams, one caught by Russel, who landed two GTs, a milkfish and bonefish, and Kevin, who caught his first moustache triggerfish, a bonefish and the GT of a lifetime measuring 105 cm. The Slams didn't end there, with Peter achieving a slam on Thursday comprising of a milkfish, GT and bonefish. Tim topped everyone on the last day by catching a super grand slam. A GT, milkfish, bonefish and moustache triggerfish. Tony was deemed our bonefish king of the week, catching multiple 20+ bonefish and a good few fish over 60 cm.
Teisha and Jeremy also joined the bonefish bonanza and got 20+ bonefish, while Ryan, Julianna, Charles, Will and George all caught their first bonefish. This week, the GTs were plentiful, with David catching his first GT after a long dry spell. Jim, Paul, Tim, Kevin and Russel all landed GTs as well, with Russel being the GT king of the week landing four fish with the biggest being 90 cm, beating his personal best. After a few lost battles with some very big GTs, Paul finally landed a very healthy 90 cm fish on the last day. He also landed a sizable yellowmargin triggerfish earlier in the week.
On the bluewater side of things, Espen landed his first sailfish as well as a bonefish giving him a Bills and Bones Slam. Russel and Kevin also managed to land a Bills and Bones Slam, as well as a wahoo each. The cook family joined us for a bluewater on Friday and caught some notable fish, with Jeremey catching his first sailfish and Charlie, William and Kathleen all catching their first wahoo.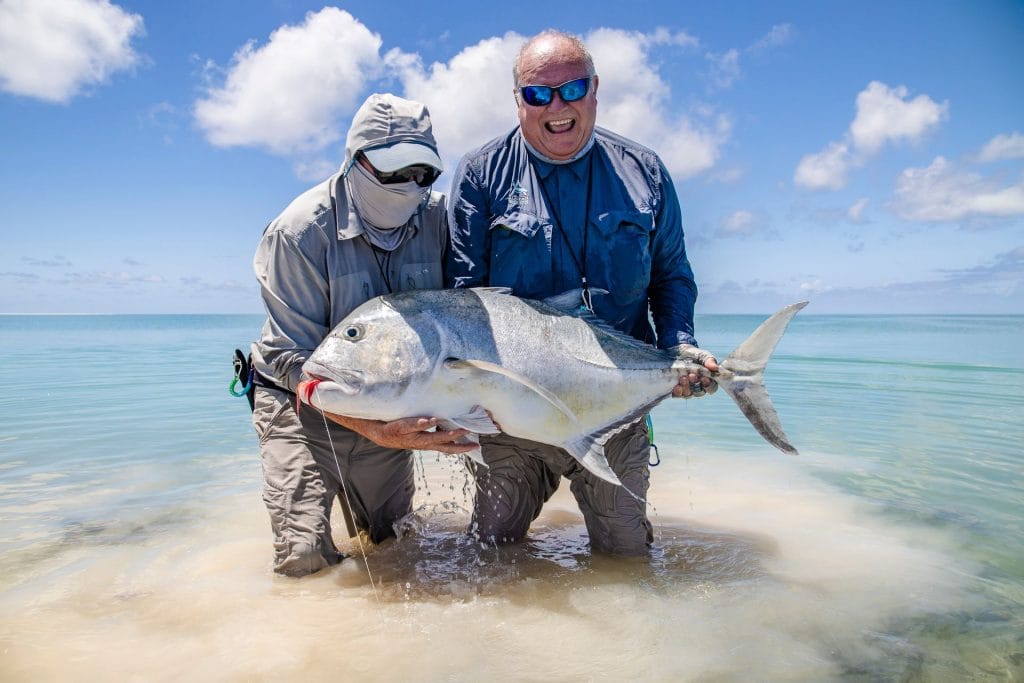 Alphonse Total Catch Stats From 12 Anglers for the Week
Bonefish 458
Triggerfish 3
Giant trevally 13
Milkfish 3
Bluefin trevally 6
If you would like more information please contact Charlotte Chilcott or Peter McLeod or call us on +44 1980 847389. Alternatively click HERE if you would like us to contact you.