Alphonse fishing report 21st – 28th September 2019
Wind speeds dropped for the first week of the Alphonse season. With anti fouling still under their nails from prepping the fleet, the guides were eager to get on to the flats and get the season underway. The first week did not disappoint and the twelve rods saw some incredible GT and permit action.
Both guides and guests were all excited to see the changes that were made on the atoll during the four month off season. Time and tides had shifted areas of sand to form new cuts and higher sandy knolls. This new features seemed to attract a magnificent variety of species.
The week started with neap tides which then moved to springs, this allowed the anglers to focus on a range of species, permit, GT's and triggers along with a mass of bonefish.
The opening week of the season for the St Francois fishery could not have been more successful, with some brilliant permit and GT fishing. One of may highlights of the week was on the first day of started, with the groups' fearless leader Ray Cadis catching a 58 cm Indo-Pacific permit, while walking the back of the moon. This was his first ever permit and the fight took over 25 minutes.
The bluewater team rose 13 sailfish and nine wahoo. Vincent Lockwood opened the season with the first sailfish on fly.
Total Catch Stats From 12 Anglers For The Week
Bonefish 243
Triggerfish 12
Giant trevally 14
Permit 11
Bluefin trevally 6
Sailfish 1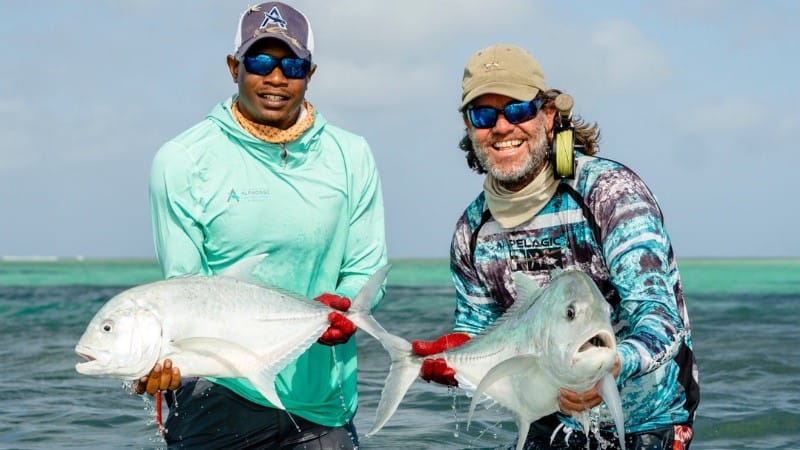 If you would like more information please contact Charlotte Chilcott or Peter McLeod or call us on ++44 1980 847389. Alternatively click HERE if you would like us to contact you.