Alphonse fishing report 26th October – 4th November 2019
A strong south easterly wind blew for most of the week on Alphonse this made casting a challenge for even the most experienced anglers. All of the anglers were able to take full advantage of the spring tides and were able to make shots at a wide variety of species.
Day one was a successful day with Antonio Audia landed a beautiful 60 cm bonefish and Bernard Lester put in some graft to land two GTs, measuring 67 cm and 70 cm. On day two Turner Wingo put in the work to land a nice 35cm moustache triggerfish. Day three proved to be a fantastic day for boat partners Vladimir Rybalchenko and Sergie Pashigorov. While walking the surf Vladimir landed a trigger slam, this consisted of a yellowmargin, moustache and a mature picasso triggerfish. In the same session Sergie was kept equally busy with a flats slam that was made up of a substantial bonefish, a moustache triggerfish and an 80 cm GT. On day four David Chamberlian Snr landed a solid 71 cm GT.
Yet again Chantal Chone was able to bring the goods as she has many times before by landing our second milkfish of the season. Guided by the legendary Yousuf Shaikh the milkfish was landed after a 35 minute fight and measured a whopping 104 cm.
Total Catch Stats For 12 Anglers For The Week
Bonefish 185
Triggerfish 4
Giant trevally 4
Milkfish 1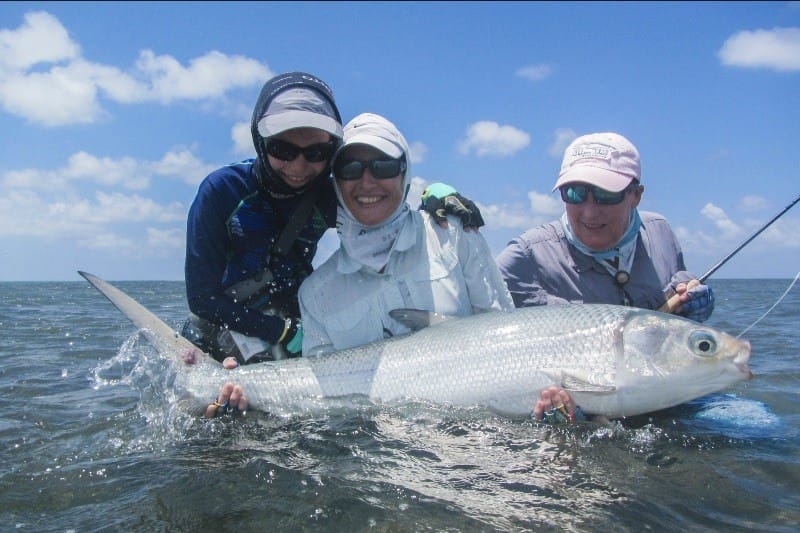 If you would like more information please contact Charlotte Chilcott or Peter McLeod or call us on ++44 1980 847389. Alternatively click HERE if you would like us to contact you.