Alphonse fishing report 2nd – 9th November 2019
Anglers on Alphonse were fortunate to experience some extremely good weather through much of the week, these favourable conditions held until the last day when southeasterly wind picked up and brought rain showers. Guests targeting bonefish did extremely well catching over 584 fish over the week, this included some very large fish. Big Duke landed the biggest bonefish of the week measuring 64 cm. Tij proved himself to be the king of bonefish having landed over 120 bonefish over the six days.
Day one proved very successful for most of the anglers. Emma Lasky managed to land a slam on her first day out on the flats catching a 21 cm yellowmargin triggerfish, a good sized permit and a handful of bones. Michael Collins also landed a slam on the same day. Landing a permit, large 48 cm moustache triggerfish and a few good sized bonefish. Day two proved equally successful with Michael landed a 67cm GT and Alena Goeddel landed a beautiful 20 cm permit that she worked extremely hard for. Later in the week Timothy Kutzkey had a day landing 2 GTs in one day. The fish measured 60 cm and 75 cm which mad him the GT fisherman of the week.
Total Catch Stats For 12 Anglers For The Week
Bonefish 584
Triggerfish 3
Giant trevally 5
Permit 4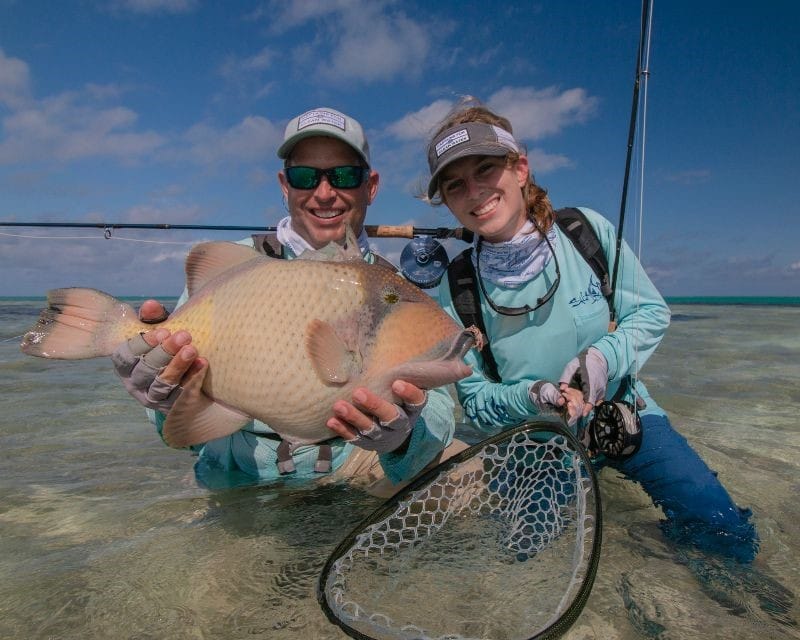 If you would like more information please contact Charlotte Chilcott or Peter McLeod or call us on ++44 1980 847389. Alternatively click HERE if you would like us to contact you.