Alphonse Fishing Report 30th October – 6th November 2021  
This week ticked all the boxes with some wonderful weather and some stunning fish caught. Initially, the week started slow but ended off with a bang.
Thomas, Bart, Steve, Mark and Mark all caught their first GTs. Of those firsts there were two very notable fish, caught by both Mark's. Mark Bowater landed a fish of 101 cm and Mark Bernstein with the fish of the week, a massive 115 cm GT. Mark Bernstein kept this lucky streak going by finishing the week with a Flats Slam, landing a GT, permit and bonefish on the last day.
Alexi and David, who are no strangers to St Francois, also managed to land two GTs each. On the other side of the spectrum, the milkfish have made a return due to the calmer conditions. After countless battles and lost fish, Chantal finally landed a milk measuring a lovely 78 cm. Adding to their list of firsts, Steve, Bart and Sonja all landed their first milkfish.
Thomas and Chuck caught their first moustache triggerfish, while Anthony joined an elite group of anglers who have caught permit. Speaking about permit, David landed a personal best, with a stunning permit measuring 62 cm. There was also some great action on the bluewater side of things with Steven, Elizabeth, Maya, Ed and Fredrique catching their first wahoo, while Steven, Elizabeth and Ed all caught their first sailfish on fly.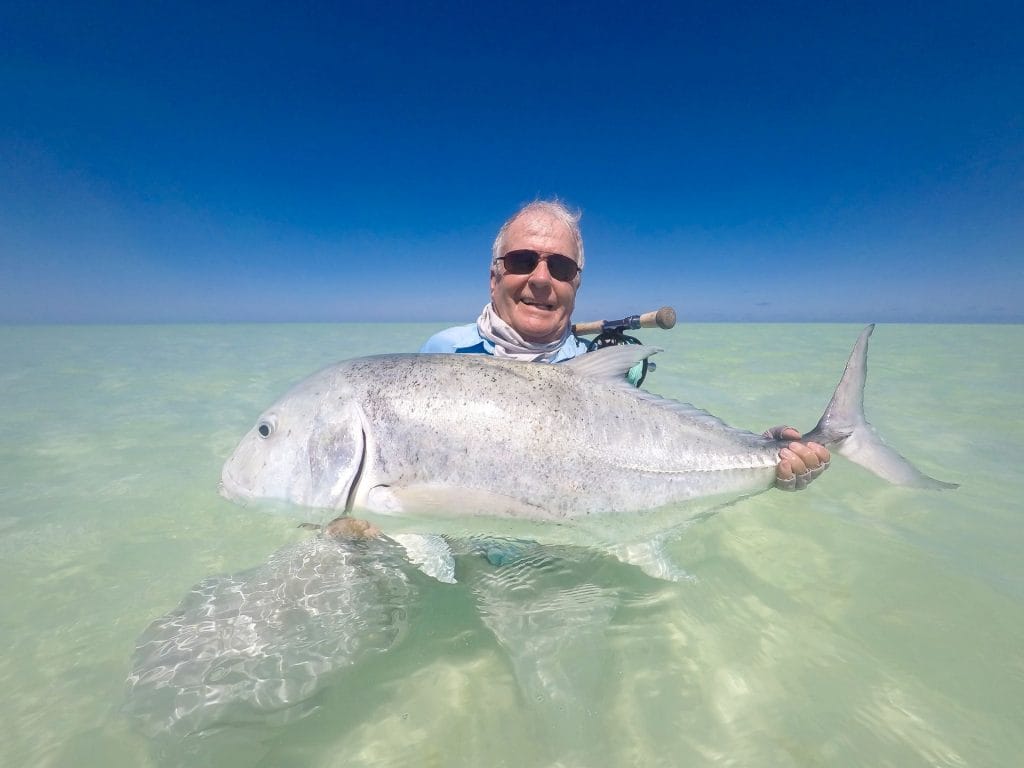 Alphonse Total Catch Stats From 12 Anglers for the Week
Bonefish 622
Triggerfish 2
Permit 2
Giant trevally 9
Milkfish 2
Bluefin trevally 8
Lyre-tail grouper 2
Bohar snapper 6
If you would like more information please contact Charlotte Chilcott or Peter McLeod or call us on +44 1980 847389. Alternatively click HERE if you would like us to contact you.