The GT tagging programme on Alphonse is well under way, with over half of the proposed number of GTs already tagged on St Francois and Alphonse atolls. If you want to help contribute to this important study, there are still a few dates left on Alphonse so book now as these rods will fill very quickly.
28 Sep – 5 Oct 19 NM 28th – 4 rods
5 – 12 Oct 19 – 7 rods
30 Nov – 7 Dec 19 – 3 rods
14 – 21 Dec 19 – 5 rods
18 – 25 Jan 20 NM 25th – 4 rods
14 – 21 Mar 20 – 3 rods
28 Mar – 4 Apr 20 – 9 rods
11 – 18 Apr 20 – 5 rods
18 – 25 Apr 20 NM 23rd – 10 rods
25 Apr – 2 May 20 – 6 rods
2 – 9 May 20 FM 7th – 8 rods
Caitlin McGarigal is a Ph.D candidate, Dept Ecology & Conservation University of Massachusetts Amherst. Based on Alphonse, her research will provide invaluable data for the sustainability of this fishery. When caught, the GTs are scanned for a PIT tag which will reveal whether that particular fish has been previously caught and released. When, where, and how often GTs are recaptured is valuable info for identifying fishing interactions. A small fin clip collected from each of our tagged GT allows Caitlin to look at the genetic structure of the Alphonse population as well as their trophic feeding ecology using stable isotope analysis (SIA). Tracking device collection stations anchored around the atolls pick up the tracker as fish pass by, providing key data on fish movements and whether individual fish have a preference for location.
If you would like more information please contact Charlotte Chilcott or Peter McLeod or call us on ++44 1980 847389. Alternatively click HERE if you would like us to contact you.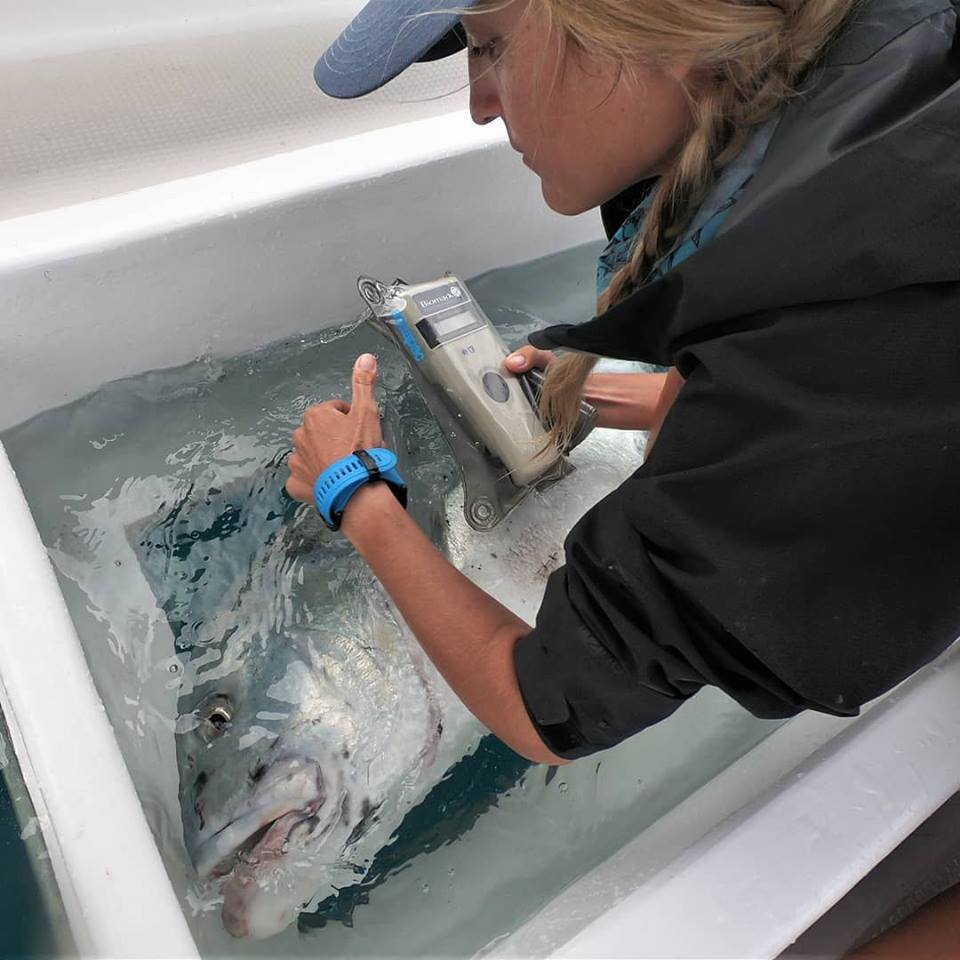 The last month's worth of tagging updates is below. Grab a coffee and enjoy the read.
2-9 March 2019
It was a very exciting week on the GT Tagging Project with quite a few fish caught, including our first recapture of a previously caught and tagged fish! This fish (74 cm, pictured) was initially caught by guest Mike on 5 February 2019 (tagged by Head Guide Kyle) and recaptured exactly one month later in almost the exact same location. This may be further evidence that some fish are resident to particular areas, or they may tend to use the same corridors for movement between the reef and the flats. Additionally this week 14 new fish were PIT tagged and three new GT were outfitted with acoustic transmitters, including the smallest fish of the project to date (59 cm). This individual is likely just reaching sexual maturity and may provide interesting insight into whether there is a size-related difference in GT behaviour.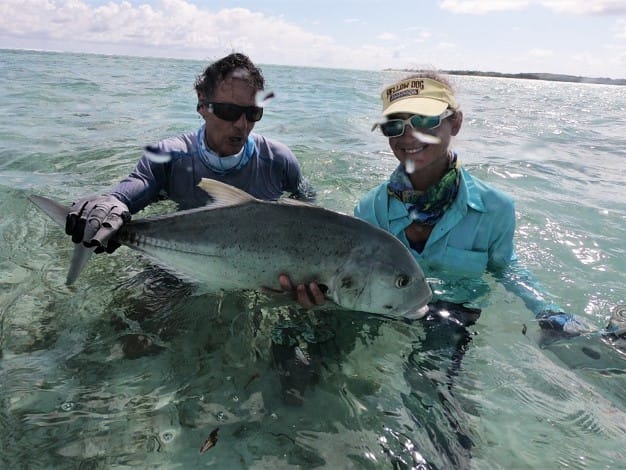 23 February-2 March 2019
Although no GT were caught that received acoustic transmitters this week, 2 fish did get PIT tags –including Mike's personal best GT, a 120 cm behemoth. We are currently sitting at 48 fish with acoustic tags and 114 fish with PIT tags, so we are still creeping up on our goal of 70 acoustic tagged fish. This week we were also able to host two trainees from the Seychelles Fishing Authority (a partner organization involved in the GT project) who were able to help with collecting the data from the acoustic receivers. Working together with ICS we have downloaded data from 50 of the 70 receivers we have deployed around Alphonse and St. Francois, as well as the data from 10 temperature/depth sensors. The truly massive amount of data pouring in (e.g. some fish have >100,000 detections already!) will take some time to organize and analyze, but stay tuned for some more information on their movements posted soon.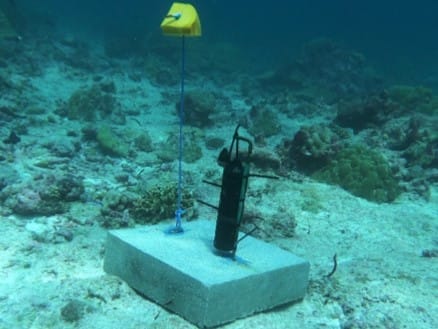 16-23 February 2019
The fishery is still firing on the flats of St. Francois and guests landed 15 GT's that guides were able to tag with microchip PIT tags (size range from 60 cm to 100 cm). Returning guests Bo and Kaijsa also landed twin GT that both underwent a small surgical process to insert an acoustic transmitter that allows us to track their movements. These two additions are #47 and #48 of the project, bringing us 2 steps closer to our goal of 70 tagged fish. We continue to work our way through downloading the data from our network of 75 underwater receivers and so far a preliminary look at the data is fascinating! Stay tuned for more updates on how these 'gangsters of the flats' are actually using the flats.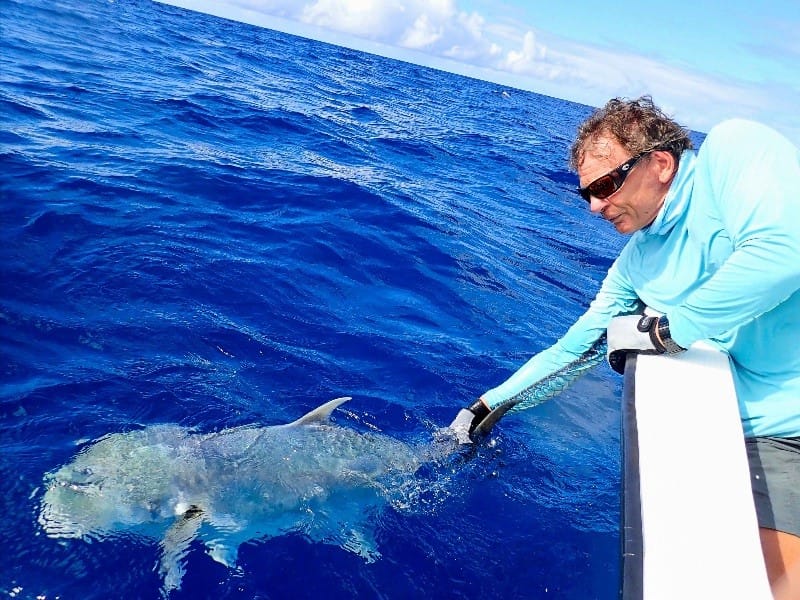 9-16 February 2019
It was another wild week of GT fishing and the Alphonse Fishing Co. guides managed to stick 12 new GT's with PIT tags. These tags provide a unique ID number that is detected by hand-held scanners if fish are recaptured, although none of the 95 trevally PIT tagged has been recaptured yet! May be a sign that the population may be much bigger than we thought? We also managed to tag another 3 GT with acoustic transmitters so we can track their movements and see how they are using different areas of the flats. We now have 46 GT tagged with acoustic transmitters and are racing toward our goal of 70 tagged fish by the end of the season. Downloading data from the network of receivers around the Alphonse Group has begun and the data is pouring in! Over 428,000 detections of 19 different fish. Info from temperature and depth sensors will allow to model how fish movement is impacted by tidal changes.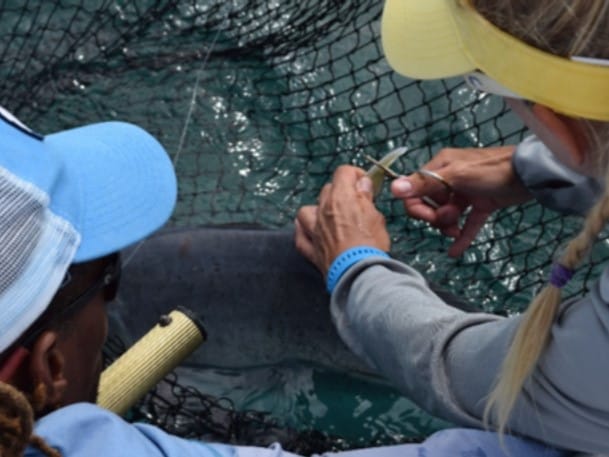 2-9 February 2019
There was lots of GT activity this week and five of the caught fish received PIT tags. Head guide Kyle put guest Nick on one fish along the edge of Bijoutier that received an acoustic transmitter. This 76 cm fish is only the 2nd GT tagged around Bijoutier and will be a very interesting individual to keep track of over the next 5 years. Hopefully this fish will help us understand how much movement is occurring between the atolls and whether these fish caught on the outside reef are spending much time in the lagoon or on the flats. This week we also began the intensive process of downloading the data from our network acoustic receivers (composed of 75 underwater listening stations!) that have been storing data of fish movement over the past 4 months. So keep checking in and as that data gets analyzed we will begin posting some of that information here on the AFC website!
If you would like more information please contact Charlotte Chilcott or Peter McLeod or call us on ++44 1980 847389. Alternatively click HERE if you would like us to contact you.