After 15 years working with Airflo I have had the pleasure of fishing many incredible places, but the top destination on my bucket list was one of the most famed destinations in the world, Alphonse Island in the Seychelles. After a chance conversation with my good friend Steffan Jones from the coveted specialist destination fishing company Aardvark McLeod I found myself along with work colleague Richard Wothers Airflo's flyline design director booking up for a week at the end of October.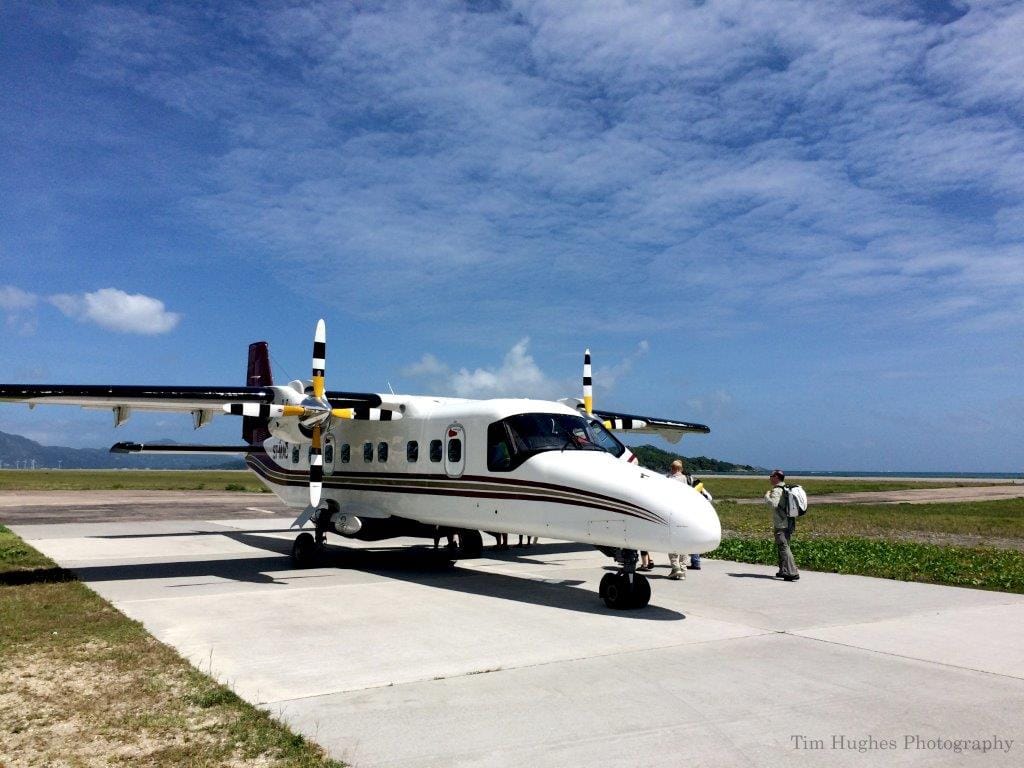 The flight from Heathrow to Mahe and then the short flight to Alphonse passed quickly with talk of the mouthwatering list of species we could target. As the plane turned to make its landing on Alphonse the stunning beauty of the islands became apparent; the lush vegetation surrounded by shallow flats and aqua blue sea.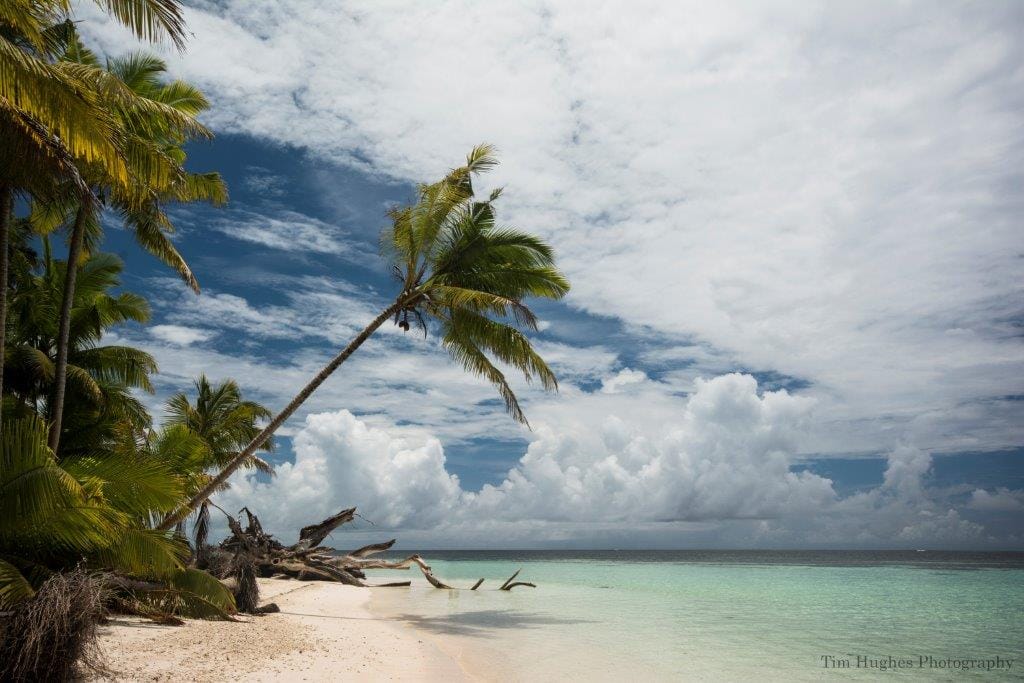 Upon landing we were met by the team and whisked to the bar for fresh coconut drinks before being taken to our luxury A-framed chalets to unpack. Unpacking was the last thing on our minds and Rich and myself were straight down to the nearest flats. Within a short time we were both playing our first Seychelles bonefish, no more than a couple of minutes from our accommodation. Even after all the travelling it was hard to sleep that first night because of the excitement but the alarm was soon ringing. After a quick breakfast we all gathered at the fishing lodge to be introduced to the guides and transported over to the flats of St Francois atoll on the 40' mother ship to join up with the skiffs and our first days fishing; what a day it was!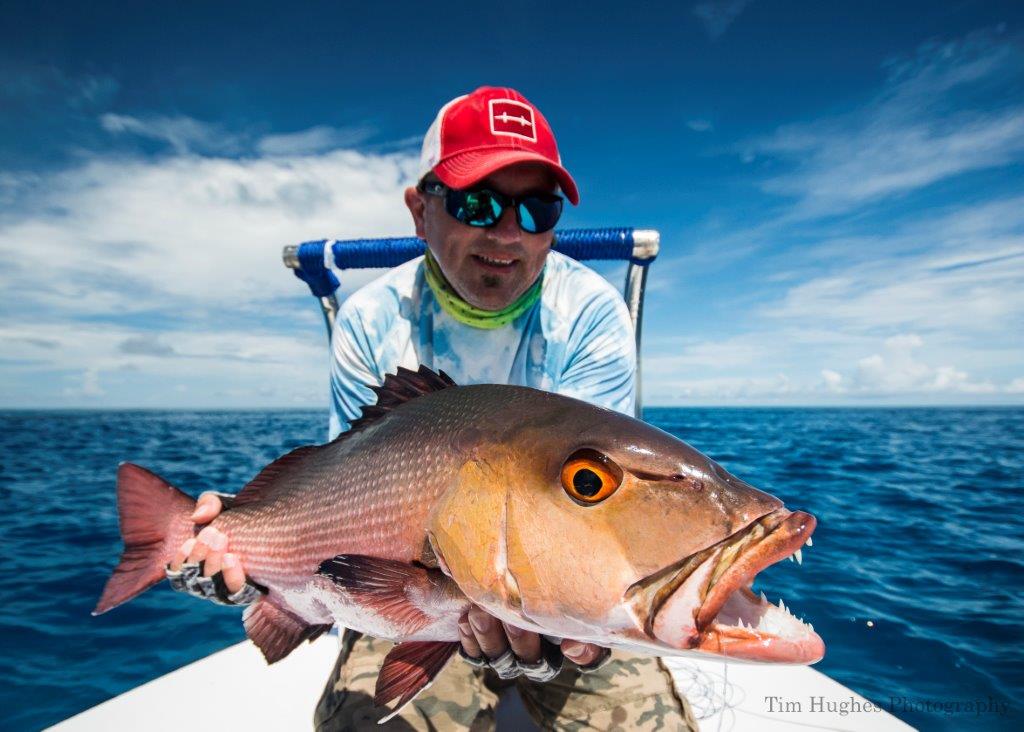 Within the first few hours I had seen and caught more bonefish than in a whole week at other destinations and all this surrounded by the most incredibly backdrop of white sands, palms and crystal clear waters. Lemon sharks, rays and rivers of bonefish passed us by and by lunch time we had both taken in excess of 20 fish. After fuelling up with a lovely packed lunch and plenty of water we went off to look for some larger single bones and permit. Having taking a nice bonefish of about 7 lbs I made my way across a pristine white flat to join up with Rich and our guide Alec. Out of the corner of my eye a group of large shapes came zig-zaging straight towards me and when they were within 20 yds I realised this was my first encounter with the legendary milkfish. It didn't matter that I was under gunned with only my 8# bonefish rod in hand because they refused everything I threw at them for the next 10 minutes and ended up circling off the end of my rod tip as if to rub it in!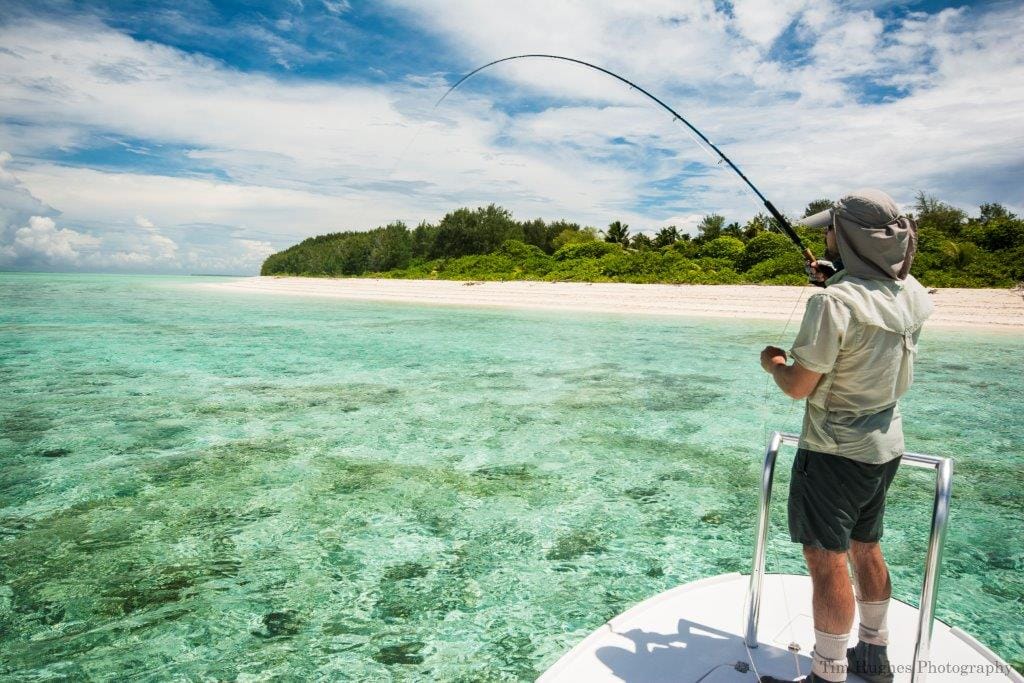 With the amazing diversity of fish species swimming around it was sometimes hard identifying what fish we were casting to. By the third day our eyes and casting had sharpened and the tally of different species the group caught had grown considerably, especially when we went to the outer reef edge drop off with our Airflo Depth Finder Big Game lines. honeycomb grouper, lyretail grouper, bohar snapper and tuna were all caught. One of the group played something which the guide though was probably a dogtooth for over 45 minutes before unfortunately losing it. GTs had been hard to tempt but Rich manage to persuade one to smash his Fulling Mill NYAP popper from one of the channels on the outer edge of the flats. Plenty of triggers were spotted and cast at but these also proved tricky to tempt.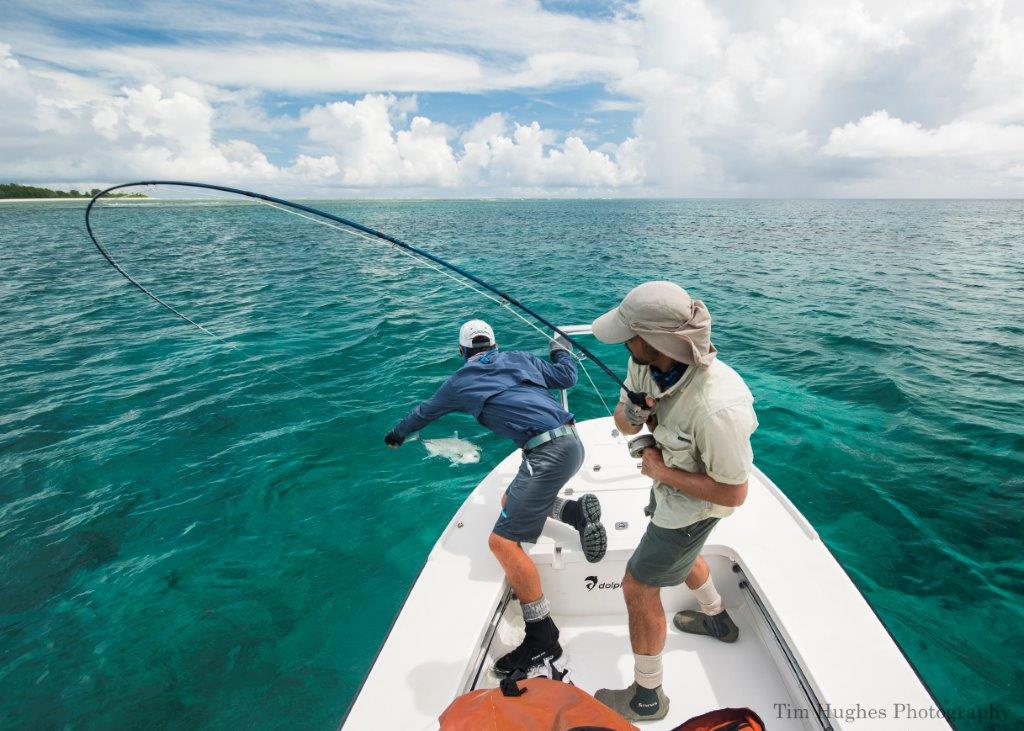 As it usually does the second half of the week started to fly by and our last days fishing came round all too quickly.Rich and myself had the privilege of being guided Wayne Haselau who has been guiding in the Seychelles for over 15 years and has been instrumental in working out how to target and catch the abundant milkfish that swim these waters. The weather the evening before had settled and Wayne was sure that this would congregate the feeding milkfish on the outer edge of the reef. When we arrived the wind and swell had strengthened and while we both had casts at pods Wayne explained that they weren't concentrated enough.
While we cast at the pods the bluewater boat motored out about 1/4 mile from us with father and son Gene and Peter onboard and it wasn't long before Waynes VHF radio burst into life with excited shouts that they had a double hook-up of sailfish and as we all looked across we could see the spectacular sight of these huge creatures spiralling out of the water! I think that last morning they hooked up on four or five sailfish landing two.With the day quickly drawing to a close the chances of me hooking one of the fabled Alphonse GT's getting slimmer Wayne worked tirelessly over every coral outcrop he knew to try to get me a fish.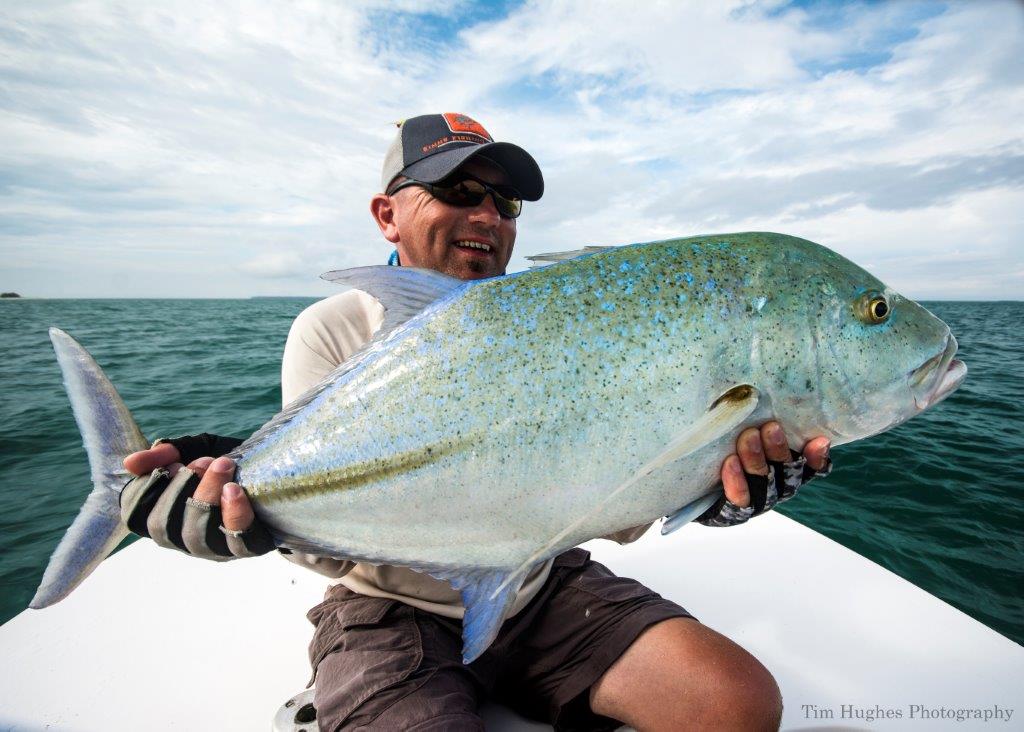 With only 15 minutes to go before we had to make our way back to the mothership and my arm aching from casting the #12 rod, the water exploded behind my NYAP popper and I was into a fish that doubled my rod over in an attempt to get back to its coral home. Clutch locked right down and doing my best to not give an inch of line we soon had colour under the boat but it wasn't the anticipated GT but its close relation a huge bluefin trevally and one of the biggest Wayne had seen from Alphonse. To say I was over the moon would be an understatement and a great finale to an amazing trip. Well not quite, Richard and myself had a couple of hours on the last day before breakfast on Alphonse island itself and while the bonefish that morning were very spooky we both managed one each. I'd like to thank all the guides and staff for making it such a phenomenal experience they couldn't do anything to have made it better.
For more details about fishing on Alphonse, please contact Charlotte Chilcott or call the office on ++44 1980 847389.