The First A'mani Charters of the Season
First week; 2nd – 7th November 
The first A'mani charter was with father and son team, Jeff and Ryan Monsein. Jeff and Ryan were the first group to fish the Amirante Islands in almost a year so there was a huge amount of anticipation and excitement about how the atolls may fish. As the boat sailed to St Joes the team tackled up and used the time to make flies for the days ahead.
Multiple groups of permit on the first morning allowed both father and son to iron the cobwebs from their casts. Ryan kicked the week off first with his first Indo-Pacific permit, a perfect specimen of 55 cm.
Once the water had fallen from the flats and it became too shallow for permit a healthy number of St Joes bonefish came out to play and kept the boys occupied. On the last day at St Joes Ryan made a spectacular shot to catch the permit of the week, a stunning fish measured 69 cm.
Picking up the anchor we sailed to Poivre Island. On arrival to the flats we hoped to see good numbers tailing permit and this proved to be the case once the water level started to drop.  Over the following two days Ryan caught two more stunning fish, one of 68 cm and the other 60 cm.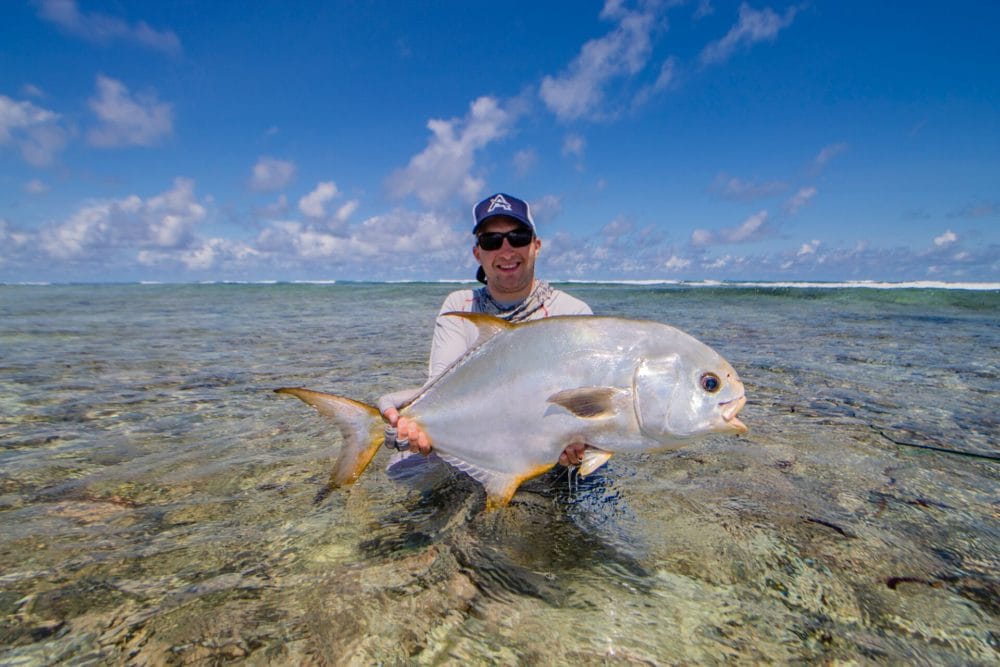 2nd week; 9th – 17th November
The second week of guests included Vladimir, Vadim, Gregory and Sergey. The trip started with a thrilling double strike on black marlin. One of these fish Vadim fought for over 45 minutes before the hook pulled at the boat.
On arriving at St Joes the group tackled up and got ready to walk the flats. Overcast conditions made light hard for spotting and it was difficult to locate permit. Gregory was the first to get the ball rolling with a stunning 50 cm permit, this gave hope and promise to the rest of the team for the days to come.
The pushing tide brought in large schools of bait and it wasn't long before a group of at least 20 GT's followed. After some persistence Vladimir was rewarded with a trophy fish of over a metre. Despite its size this was the smallest of the group.
Vadim and Sergey found schools of permit congregating around some of the many coral heads around St Joes. Taking advantage of this opportunity they landed five fish, this included two double ups. Six permit was a great start before heading to Poivre for the rest of the week. 
The fish were certainly abundant with each angler getting up to thirty shots a day at tailing permit. Sadly, the team ran out of good luck and although big fish were hooked little was landed, all the team was rewarded with was bent hooks and broken tippet.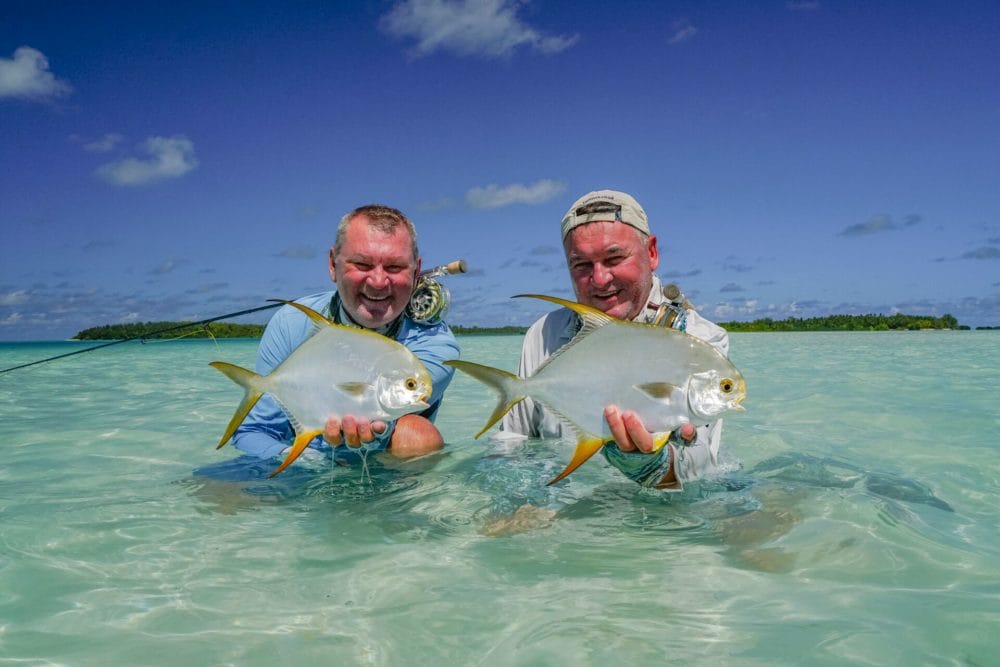 If you would like more information please contact Charlotte Chilcott or Peter McLeod or call us on ++44 1980 847389. Alternatively click HERE if you would like us to contact you.