The largest giant trevally landed on Astove to date was landed last week by Joern Heiner and measured a healthy 106 cm.  The ending could have been so very different without the nimble footwork of Cameron Musgrave, Astove's head guide..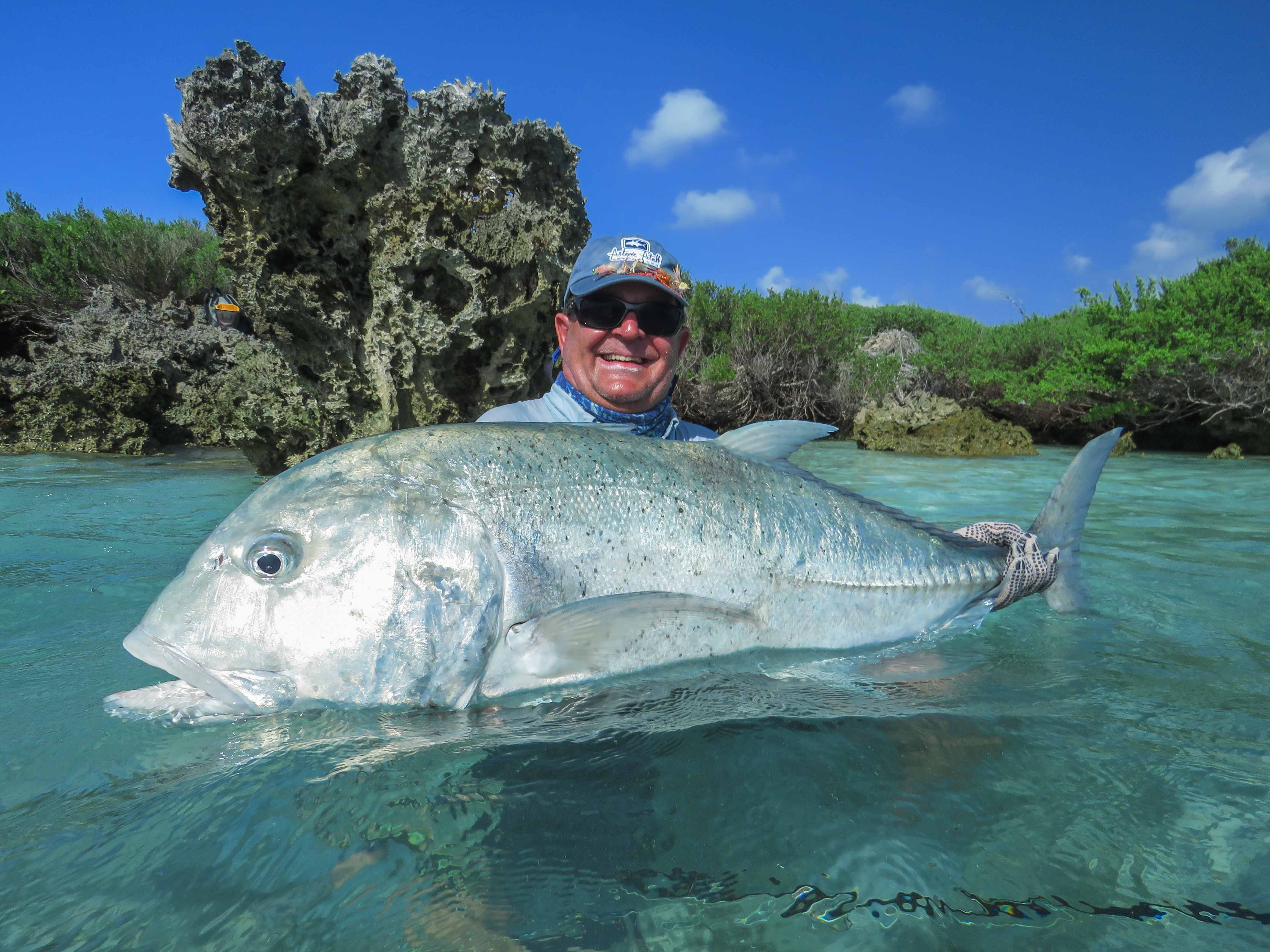 Joern and Cameron were fishing by the last big coral head in the mouth of Astove's lagoon on a pushing tide. Slowly working their way around  the coral head, Cameron pulling the boat to avoid engine noise, they saw an enormous barracuda, well on its way to 1.5 metres. Joern cast, no reaction from the 'cuda so he recast, stripped, the 'cuda spooked and with a massive hit, the GT nailed the fly and took off. Running hard to the left, zigzagged around two smaller coral heads, heading for the comparative safety of the mangroves. Cameron was holding the fly line up and trying to avoid it hooking up in the mangrove whilst still hanging onto the boat. Once Maria took charge of the boat, Cameron could concentrate on the fly line using both hands, his chest and some nimble footwork to keep the line from snagging on the structure. The fish was still determined that freedom lay in the mangroves and by now had taken all the fly line plus about 20 metres of backing. Joern shut the drag down on his Mako, keeping the pressure on, the GT did a handstand and Cameron grabbed the tail. Include a birds nest of tangle that made it through the rings – both ways – and it's astonishing it ended as happily as it did.  Some things are meant to be.
If you would like more details on Astove, Cosmoledo or Alphonse please contact Charlotte Chilcott or call the office on ++44 1980 847389.