Astove Fishing Report 16th – 23rd March 2020
Week 19 was a combination of leisure and fishing guests on the island. With the tide shifting from neaps to springs this opened the opportunity to cover plenty of water and see the entire Astove Atoll in the week.
We only had two fishermen with us this week, Michael Rudman and Angus Selby (Australian fire fund auction winner). Throughout much of the week the weather was very good, even though Saturday and Sunday was rather breezy.
Day one was spent in the north of the Atoll. The GTs played their part, showing in numbers, Mike took advantage of this buy catching a decent GT of 70 cm. By midweek the weather was still good and the practice payed off with each guest landing four GTs two days in a row. A day to remember and described to me by the guests as inexplicably magical.
The manic action started at the mouth of the lagoon, where huge numbers of rays lay waiting for the pushing tide, almost every ray had a passenger! On three separate occasions both Michael and Angus were doubled up.
Once the action slowed we moved to the outside of the reef to tease, within minutes and for both rods were casting to sailfish, unfortunately none took. After the sails left it was time to concentrate back on the GTs. We were bust the whole afternoon fishing to packs of 10 to 15 fish coming in on the tease.
The final two days of the week were more testing as the wind picked up. Despite this Mike and Angus pushed on and still some great fish.
Total Catch Stats For 2 Anglers For The Week
Bonefish 40
Giant trevally 14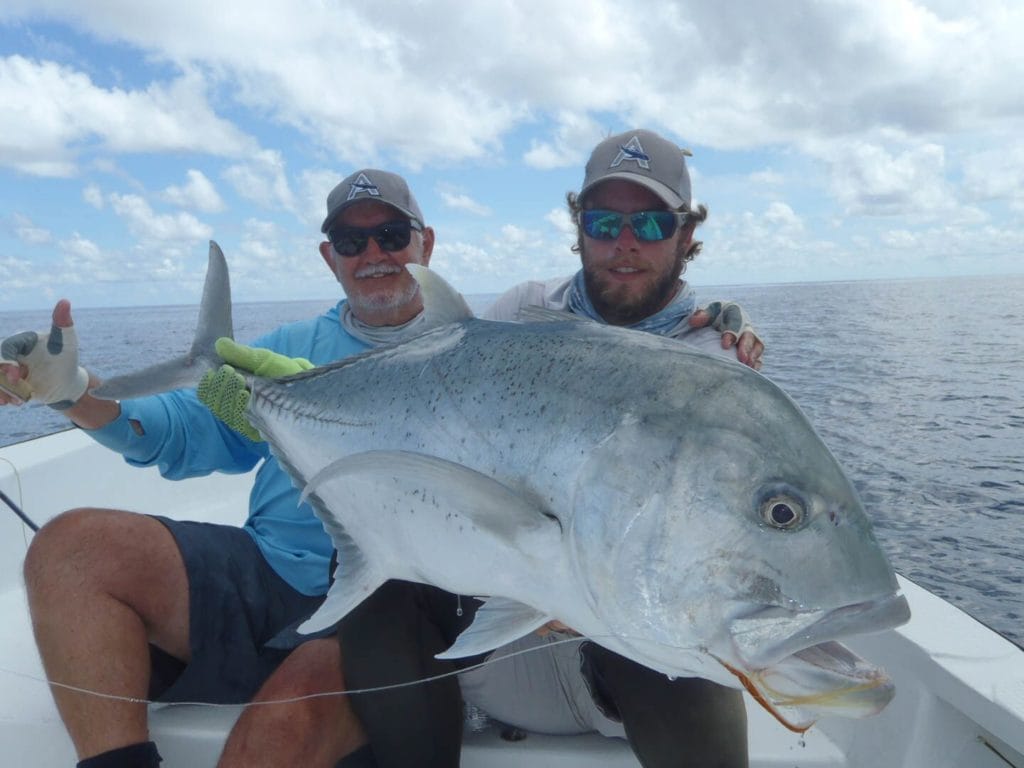 If you would like more information please contact Charlotte Chilcott or Peter McLeod or call us on +44 1980 847389. Alternatively click HERE if you would like us to contact you.