Astove fishing report 7th – 14th December 2019
The week started at the tail end of a cyclone, which despite blowing the lodge around no damage was sustained. Unsure of how the fish where going to react after a sustained period of strong winds and massive swell, the team was nervous but ready to get back on the flats.
To our amazement the weather turned out for the better and throughout the week and we had some of the calmest and hottest days of the season.
The opening day of the week brought some impressive results with each group member opening their GT account with at least two fish. David Williams landing the best fish of the day measuring 94 cm.
Day two and the conditions continued to be settled. Samuel Parkinson and Keoni Kauwe got straight into the action on north point, seeing fish on rays and sharks as well as riding in the line of surf. After two double ups Keoni broke his rod tip, but continued fishing, landing two more GTs before a second stick was dropped off. Once the madness of the GT fishing settled the boys got stuck into a group of large bonefish, Sam landed a huge fish of 70 cm.
When fishing the lagoon Derek, Philip and Courtney experienced the best of a Astove pushing tide seeing multiple groups of GTs moving into the lagoon to smash schools of bait. On hearing the action Dave and Zach dropped down from the upper lagoon to join, Dave landed a cracking 92 cm GT.
Dave's fishing partner Zack had a great start to the third day laying out a long cast and convincing a big 99 cm GT to eat. Philip started slow but finished strong landing three GTs by the afternoon, 74 cm, 86 cm, 90 cm and a wonderful giant triggefish in a slightly unorthodox fashion on the cliffs. The trigger eating in very deep water and simply sipped the crab pattern up like a dry fly. Philip completing the slam by sneaking a bonefish just before mooring the skiff.
The rest of the week continued to be amazing with continued GT action and multiple species caught, Zack landing a yellowmargin triggerfish and Keoni landing an awesome 25 lbs milkfish were just a few of the other fish to mention
Total Catch Stats For 6 Anglers For The Week
Bonefish 30
Triggerfish 5
Giant trevally 72
Milkfish 1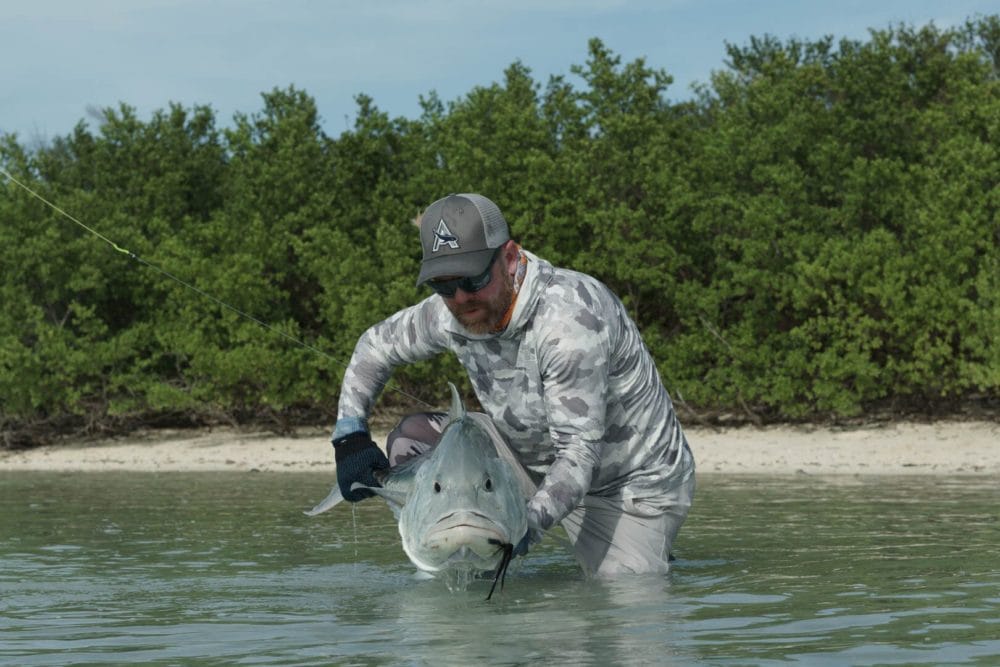 If you would like more information please contact Charlotte Chilcott or Peter McLeod or call us on ++44 1980 847389. Alternatively click HERE if you would like us to contact you.