Cosmoledo Season Roundup Part 2
Week 8 and 9 of the season was used to give the fishery a bit of a mid-season break. We invited a few special guests to Cosmo, firstly a team from Yeti who used the atoll as a playground to gather shots for their newest product release. Secondly our marketing team who collected new footage for you all to enjoy in the weeks and months to come.
Week 10 lead straight into a record GT week. John Stott, a veteran to the Seychelles, landed a whopping 35 GTs with his best topping out at 113 cm, Ken Teague and Chris Webb each caught 10 fish in one day, one of which was a metre in length. Despite all the great catches the highlight of the week was Peek Garlington monster of 123 cm! Along with all of the GTs there were also three milks and plenty of bonefish landed.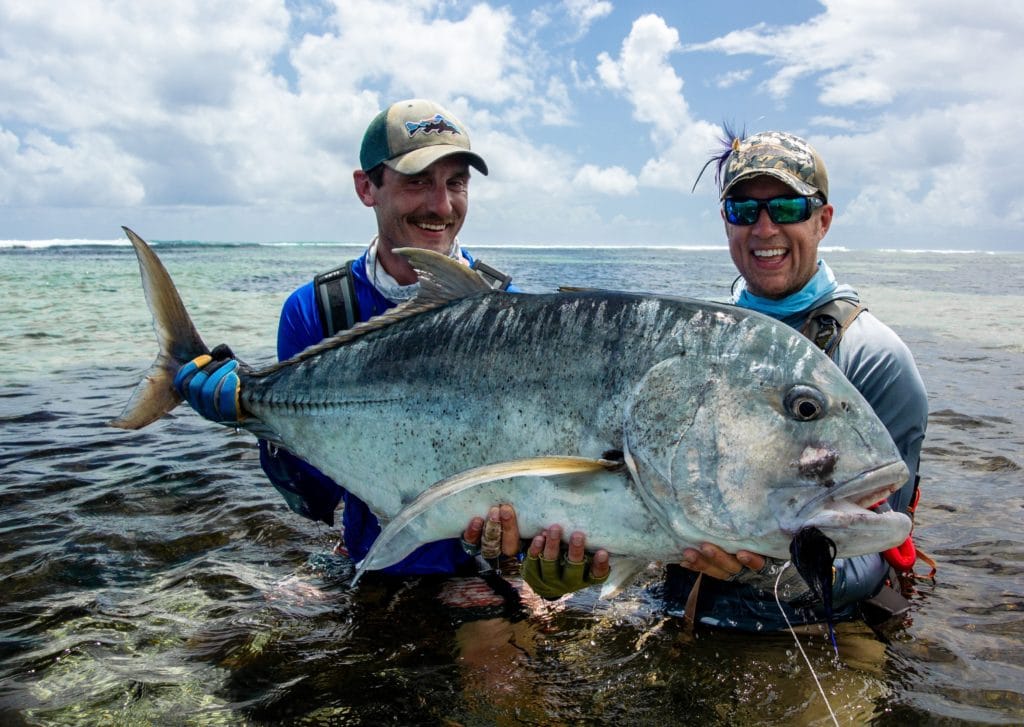 Week 11 was kicked off with two flats slams, landed by Chris Westerhoff and Dave Curtis. In addition to this the group landed 44 GTs on the same day. One of these was a massive fish Justin Kemp caught of 114 cm. Two notable triggers of 54 cm and 55 cm were landed by Chris. Not to be outdone Dave landed a huge trigger of 70 cm! The argument of 'best fish of the week' was settled when Richard Came landed a magnificent specimen of 110 cm GT on a small 4/0 bushfly, he then went on to catching another GT of the same size in the dying hours of the final day.
Week 12 showed off by breaking the record put in place by week ten, 197 GTs in the six days. It wasn't just the phenomenal GT fishing that made the week so special but also the group, this was a week that will be hard to beat! David Mangum came close to the a golden grand slam, which included a 121 cm GT and 70 cm permit, just missing the milky. Four flats slams were completed by Billy Platt, Jason Carrico, Ron Catena and Mike Peck.Jason Carrico landed the only milkfish for the week. Ron landed the fish of the week, a monster GT of 128 cm. Byron Christie landed a trophy 106 cm fish and Richard smiled all the way home with his fish of a lifetime a 118 cm GT, which he eventually landed after it tore off 200 yards of his backing!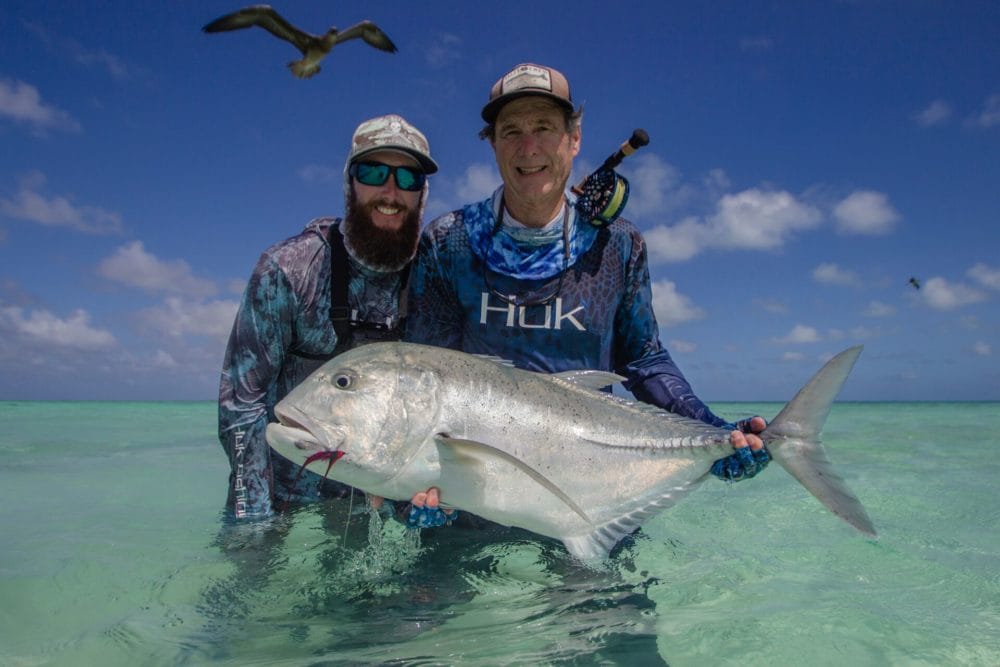 Week 13 was made up of a mix of fishing, diving and leisure. With the exception of one day the weather picture perfect all week which ensured everyone had a phenomenal time doing their respective activities. Chris Strickland and Digby Flower were sharing a skiff when they both caught flats slams, which included bonefish, GTs and their first milkfish! Gill Griffiths reeled in a sizable dogtooth tuna and Tom Ohaus laded the fish of the week which was a GT of 109 cm.
The remainder of the group enjoyed leisure activities which consisted of diving with huge napoleon wrasse, hawksbill turtles, GTs and massive shoals of barracuda. Added to the mix was a blend of nature walks and island hopping. Their highlights for the week were the Menai Mangrove tour and a cruise alongside South West Island to witness the enormous booby population. When not partaking in activities, they spent their time relaxing on the beach, lapping up the sun's rays and enjoying cocktails.
If you would like more information please contact Charlotte Chilcott or Peter McLeod or call us on +44 1980 847389. Alternatively click HERE if you would like us to contact you.