Cosmoledo Season Roundup Part 3
Week 14 saw the return of many familiar faces that have visited Cosmoledo before. George Mabreger started the week with a splendid one metre GT, Klaus Miller slipping in just behind him with one of 98 cm. Vadim Titovets, another seasoned AFC angler, stretched the tape a few cm longer to catch two great trophy fish of 102 and 104 cm. Kay Jones, one of our best lady anglers, didn't miss out with a cracking  101 cm fish. Helmut 'never stop casting' Zaderer, as usual, landed more than a handful of fish. One GT just breaking a metre and the other measuring 107 cm. He also claimed the fish of the week with a whopping 11 lbs bonefish!
On week 15 the tricky triggers came out to play despite the challenging weather. Strong wind and plenty of rain was a feature for the week which made it difficult to covert opportunities to landed fish. Kajsa Larrson, another veteran lady angler for our destinations, brought a monstrous 55 cm yellowmargin to the net. Anders Nissen bagged two triggers, followed by his father, Soren, claiming another. Alex Powers also landed a nice moustache.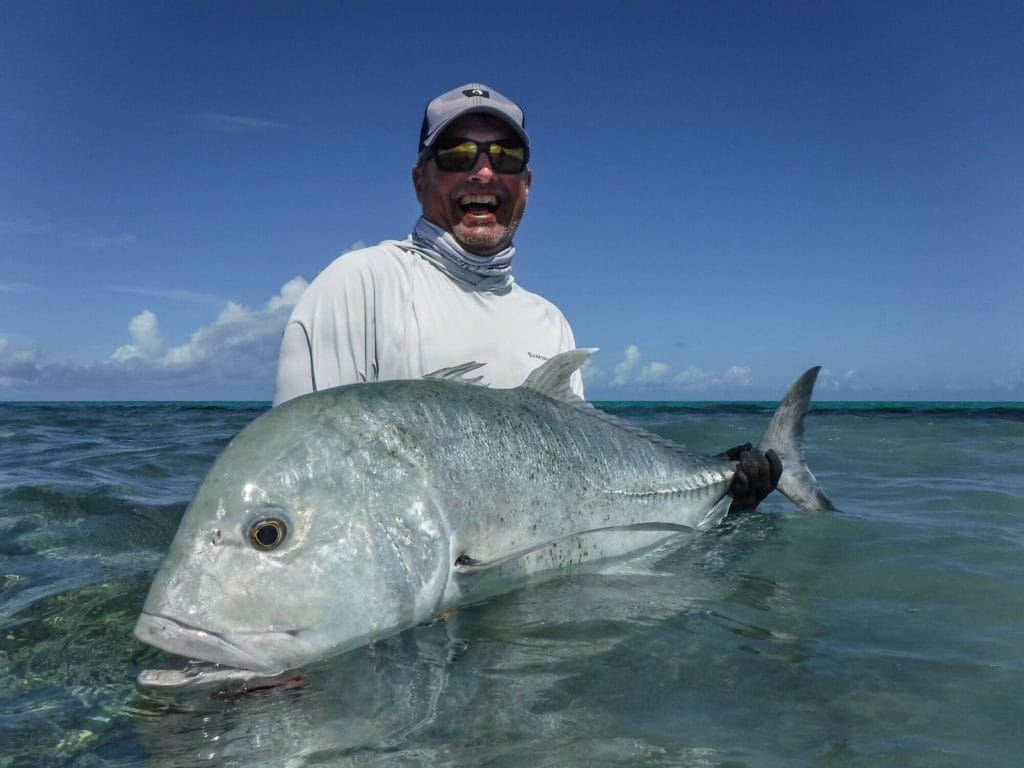 Joanne Hessney landed a grand slam on her first day with a milkfish,
bonefish and GT. Most certainly the highlight of the week was JoAnn Ribauldo, landing a stunning emerald parrotfish which is extremely rare, and a fish she has longed for for years!
Of the 12 rods on week 16, only four anglers were new to the atoll, and although the weather was not perfect some excellent catches were achieved. This started with Julie Wilson beginning her trigger career with a record for the season of 57 cm. George Babikian and Sam Gary landed their first triggers. Justin McCarthy struck gold with an Indo-Pacific permit of 67 cm and Ben Pierce landed a huge wahoo on fly, weighing in at 40 lbs!
Week 17 was another mixed group of guests on Cosmoledo with divers, fly anglers and leisure guests all enjoying what atoll has to offer. Barbara and Charles Osbourne headed up the diving for the week and were then joined by Sue Barnes and Carol Powter several days later. They experienced many great sightings on their dives, these included schooling batfish, oriental sweetlips and barracuda. Denis and Nadia Laptev capitalised on some great opportunities and both landed a fair amount GTs. Nadia bagged a fantastic yellowmargin triggerfish on the final day. David Powter landed the fish of the week, a wonderful 104 cm GT in the surf.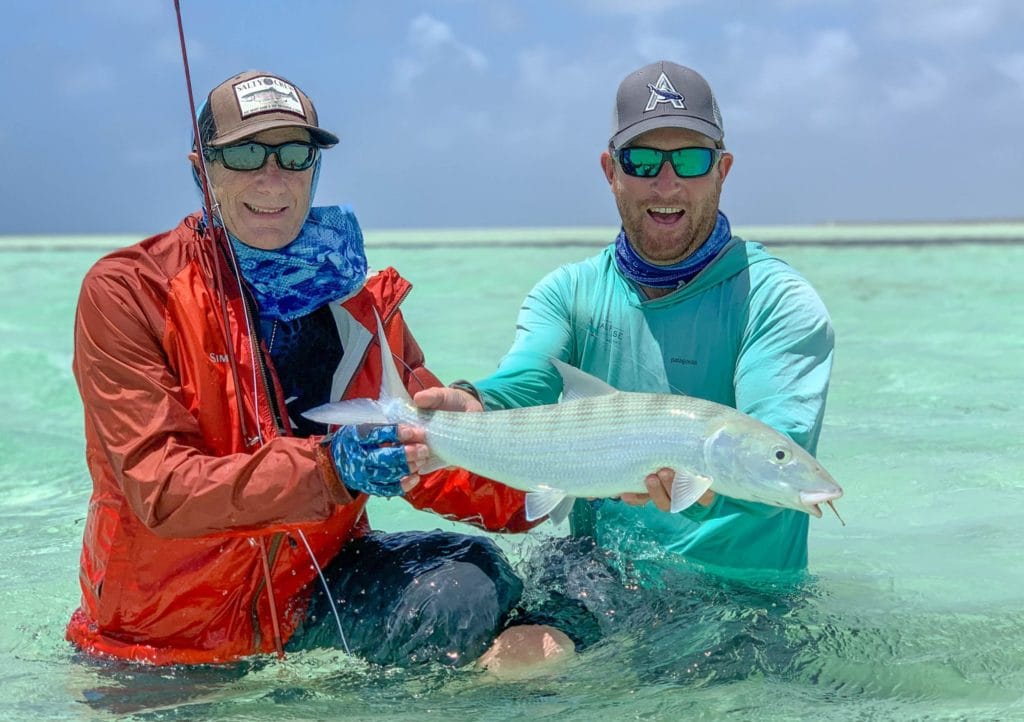 Whilst we are sad not to have been able to complete our season at Cosmoledo, we are thankful that our guests made it home safely after another fantastic season. Although this season has had its challenges there were many outstanding catches and moments. We are grateful to be able to rest our fishery for the coming season. The memories that have been made over the past couple of months will ignite a longing to return to Cosmoledo for the next season. We cannot wait to welcome new and old guests to explore more of this extraordinary fishery once more.
If you would like more information please contact Charlotte Chilcott or Peter McLeod or call us on +44 1980 847389. Alternatively click HERE if you would like us to contact you.