Cosmoledo Fishing News 12th – 19th December 2019 
The unstable weather conditions finally passed through which allowed the return of a group of experienced anglers back to Cosmoledo.
This was a week of two halves, the first three days were filled with GT's, with the group catching 64 fish on the first day alone! Sadly, Chris Cox lost a tug of war with a monster fish that parted his fly line. In the second half of the week the GT count slowed which made way for opportunities at milkfish and triggerfish. By the end of the week five milks were landed and six triggerfish.
There were two slams in the week, the first by Dr Solomon with a flats slam consisting of a GT, triggerfish and bonefish, the second by Bruce Neill who came home with a Grand Slam compiling of a GT, milkfish and bonefish.
Although there were multiple highlights throughout the week, the stand out achievements were: Dr Solomon breaking the trophy mark by landing the biggest GT measuring 103 cm. Justin Kemp landing another meter plus GT of 100 cm. Matt Ferrey landing two barracuda, the first being a behemoth of a fish. Bruce Neill getting his first triggerfish, milkfish and napoleon wrasse. Gordon being on his first saltwater fly fishing trip and banking his first GT, milkfish, triggerfish and bonefish, along with a variety of other species. Chris Cox landing his biggest fly caught GT in the surf together with an impressive saddleback grouper.
Total Catch Stats For 10 Anglers For The Week
Giant trevelly 167
Bonefish 7
Triggerfish 6
Milkfish 5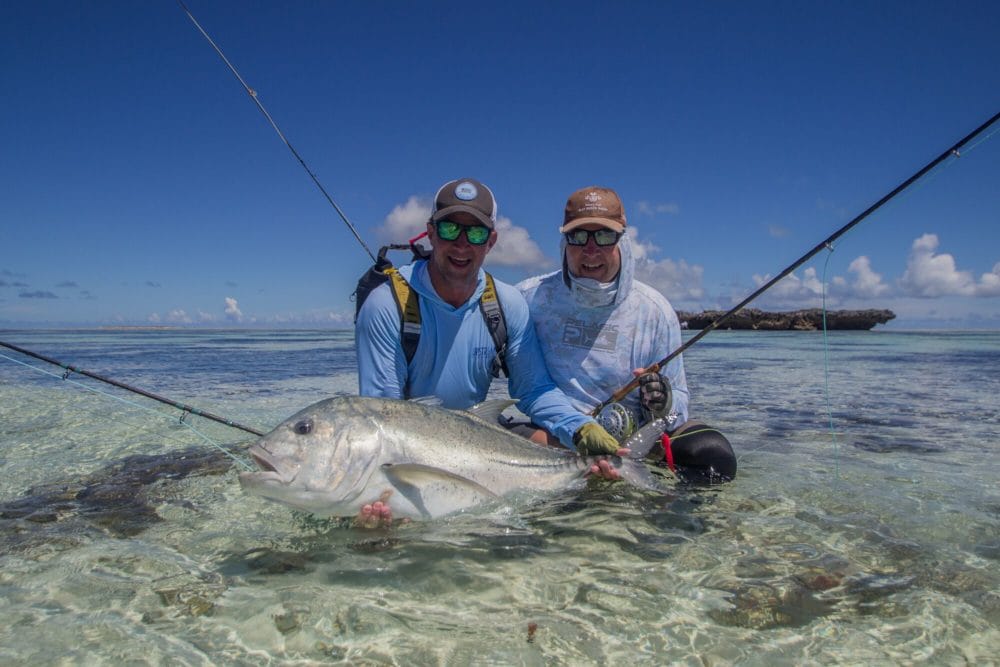 If you would like more information please contact Charlotte Chilcott or Peter McLeod or call us on ++44 1980 847389. Alternatively click HERE if you would like us to contact you.