Cosmoledo Fishing News 14th – 21st November 2019 
Week two of the Cosmoledo Atoll season started off extremely well with the weather easing as the week progressed, this gave some great fishing opportunities. This week we welcomed Tony Armour, Steve Madry, Phil Canfeild, Scott Gwilliam, David Koo, Ben Shapiro, brothers Jim and Mike Froy as well as Seychelles veteran Justin McCarthy.
All apart from Justin, were new to the flats of the Seychelles and were keen to tick that much anticipated GT box, this didn't take long for any of them. Along with some great GT action, one of the highlights of the week was when Tony landed a massive 106 cm napoleon wrasse. Certainly, a fish that will be hard to beat this season.
The GT fishing was fantastic, both on the flats, in and around the lagoon area and along the surf line. Scott headed the big fish chart with a GT of 105 cm. He hooked the GT on a finger flat, instantly the fish ripped into the distance proceeding to wrap the line around a coral head, his quick thinking guide Shaun was able to untangle the line before it broke and it wasn't long before the fish came to hand.
Justin had an epic week, constantly racking in good numbers of GTs each day. Sadly, it didn't go all his way as one afternoon he lost two fish well over the one metre mark.
There is always something to catch on Cosmo, during the time of day when the GT fishing slowed, the guests shifted towards catching bonefish and fishing around coral structure. This resulted in a incredible number of different species being caught, from many species of grouper, boha snapper and napoleon wrasse to bluefin trevally.
Total Catch Stats For 9 Anglers For The Week
Giant trevelly 97
Bonefish 24
Napoleon wrasse 2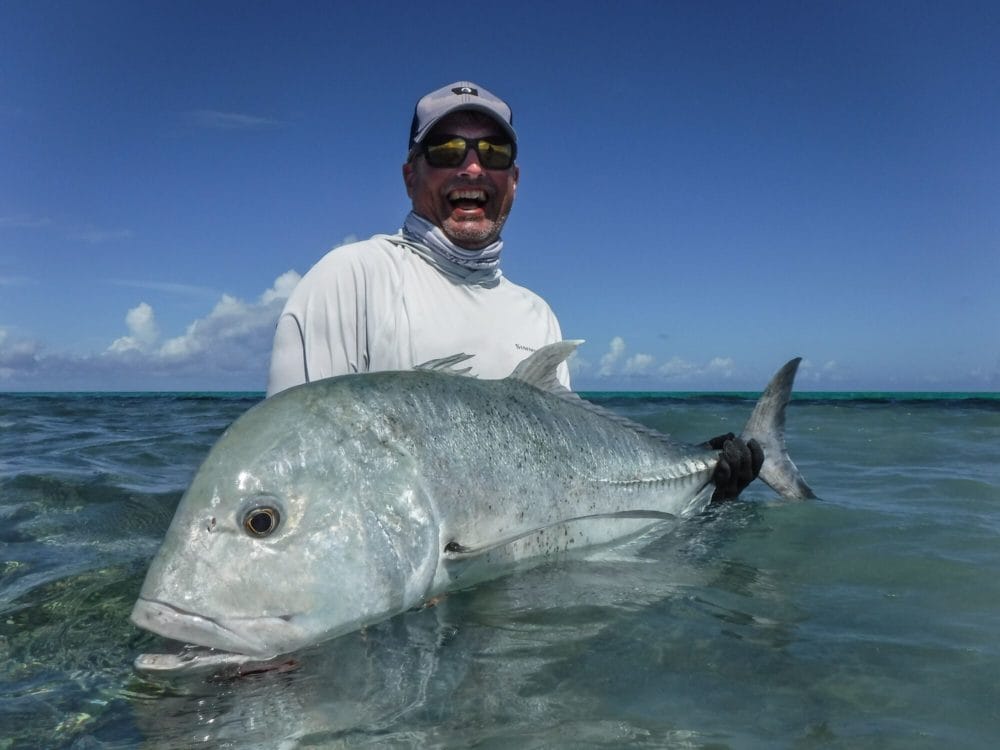 If you would like more information please contact Charlotte Chilcott or Peter McLeod or call us on ++44 1980 847389. Alternatively click HERE if you would like us to contact you.