Cosmoledo Fishing News 21st – 28th November 2019 
Week three welcomed the return of the three Irish brothers back to the Seychelles,  Mark, Greg and Niall Turley, seasoned angler Bill Roberts, David Powter, Greg Barnes, Dan Christensen, Nick Baird, Allen Morrison and Peter Rippen.
The weather played a part throughout most of the week with a several passing squalls, however this didn't damper spirits and fish were caught throughout the week.
A  total of 92 GT's were landed in the week, two of these exceeding the magic metre mark. Along with GTs a nice moustache triggerfish was caught, a handful of bonefish and a mix of other strong and brightly coloured species.
Some large fish lost at the start of the week, but luck changed as the week progressed and the last few days produced two fish over 100 cm. Dan Christensen landed his biggest GT, a impressive fish of 114 cm that smashed his popper. Peter Rippen topped the week with his personal best, a massive 118 cm GT he pulled from the surf, truly a fish of a lifetime.
Alan Morrison had a stellar week by landing several decent GT's as well as the only  moustache triggerfish of the week.
In all it was a great week, of not only good fishing but also great fun. Each evening whiskey was drunk and war stories of fish landed and fish lost were told, not surprisingly the lost fish got bigger each time.
Total Catch Stats For 10 Anglers For The Week
Giant trevelly 92
Bonefish 6
Triggerfish 1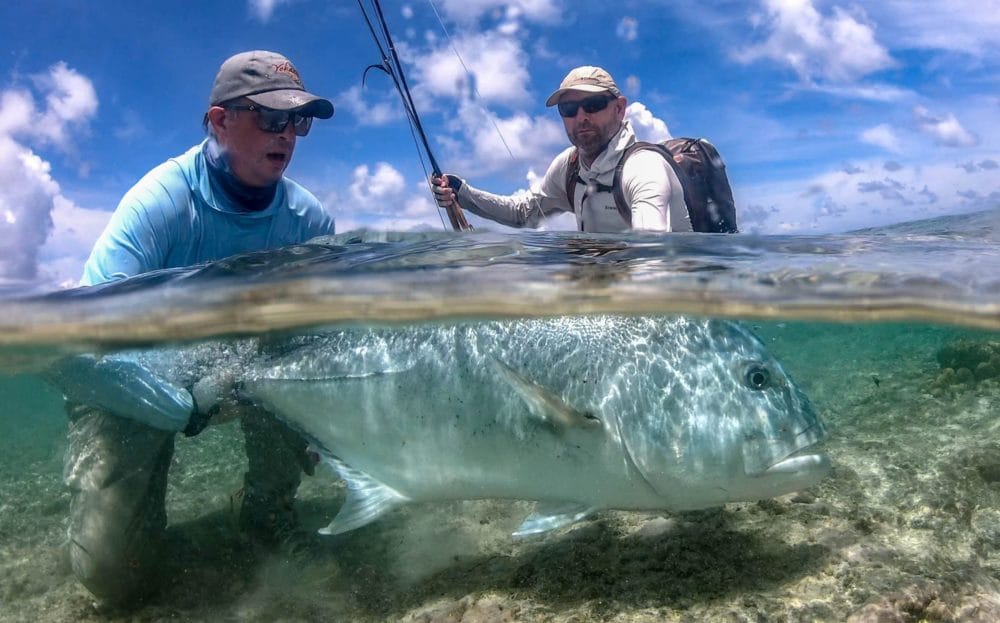 If you would like more information please contact Charlotte Chilcott or Peter McLeod or call us on ++44 1980 847389. Alternatively click HERE if you would like us to contact you.