Cosmoledo Fishing News 12th – 17th March 2020
Week 17 on Cosmomeldo was a mixed bag of divers, fly anglers and leisure guests, all enjoying what the atoll has to offer.
Barbera and Charles Osbourne dived from the start of the week and were joined by Sue Barnes and Carol Powter after a few days. Diving at Cosmoledo is an amazing experience, this was proved by the sightings each of them had. Huge schools of batfish, oriental sweetlips and baracuda were just a few of their underwater highlights.
Denis and Nadia Laptev had the fishery to themselves for the first few days, and made the most of the opportunity by landing plenty of GTs, despite the testing windy conditions. Along with GTs Nadia caught a large yellowmargin triggerfish on the final day.
David Powter and Greg Barnes joined us on Monday and didn't wast time in getting stuck into the fishing. David's first of the week was a trophy GT of 104 cm pulled from the crashing surf.
Cosmoledo Total Catch Stats For 4 Anglers For The Week
Giant trevelly 6
Bonefish 7
Triggerfish 1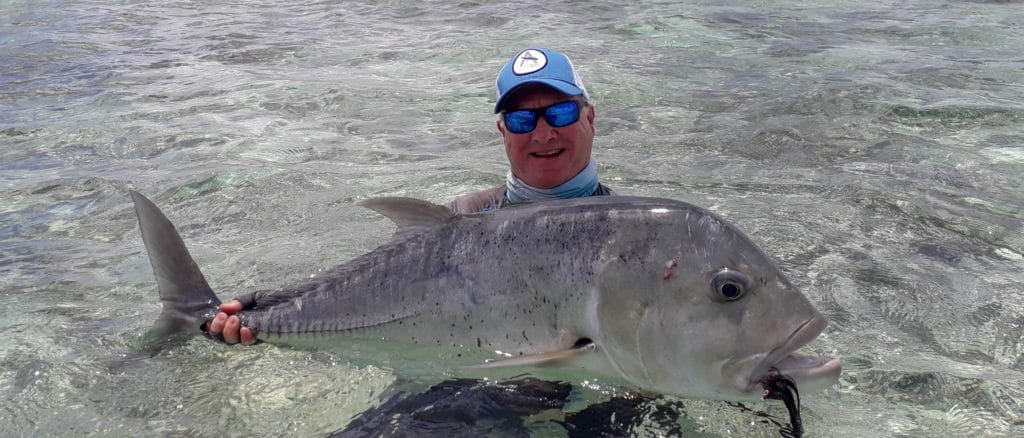 If you would like more information please contact Charlotte Chilcott or Peter McLeod or call us on ++44 1980 847389. Alternatively click HERE if you would like us to contact you.