With immediate effect, the Seychelles Government has confirmed that visitors from all countries can enter the Seychelles as long as they have been vaccinated. More details are included below the most recent fishing report from Alphonse Island so enjoy the read, get read to fish and check on the new requirements.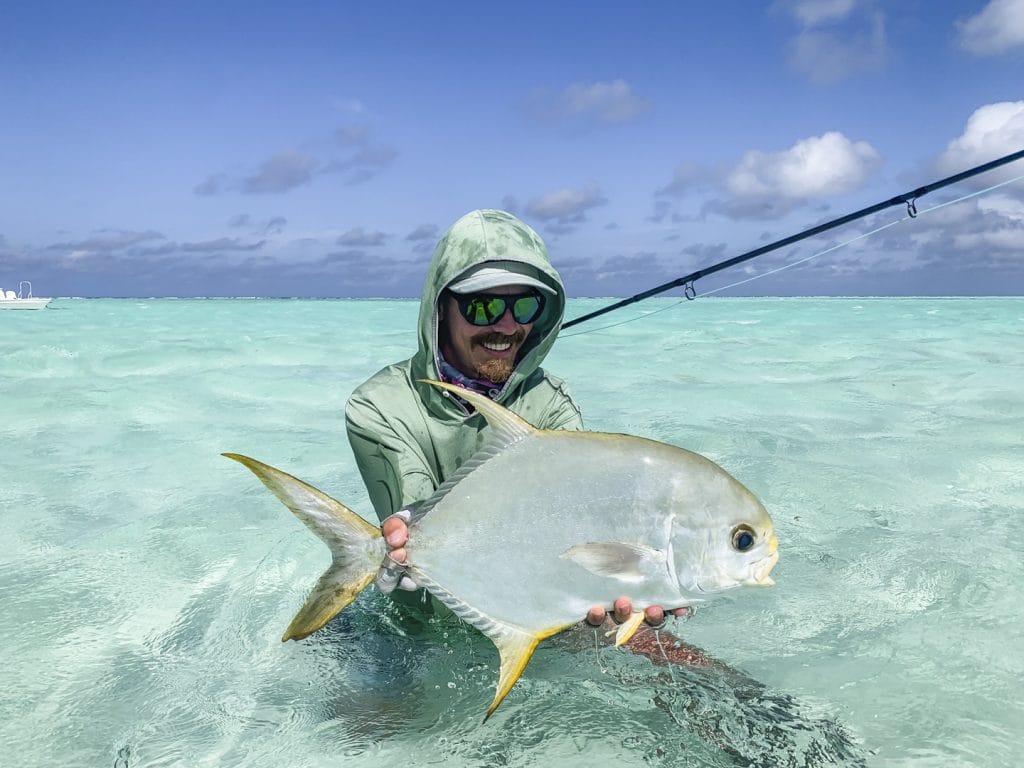 Alphonse Island 2nd-9th January 21
What a week it has been on Alphonse Island. The anglers were excited and anticipating a good week and the fish could sense it! The weather around St. Francois was harsh over the week. Anglers experienced heavy rain and strong winds with some sunshine in between. The tides moved from a spring tide to a neap tide over the week allowing some amazing fishing to take place. The bad weather pushed cold freshwater into the lagoon system creating ideal conditions for permit fishing and our anglers took full advantage of the opportunity.
The week was off to a great start with Mike Howarth landing a beautiful 45 cm GT. Tapani Henriksson had a cracker of a day on the second day. He, guided by flats veteran Yousuf Shaikh, managed an epic Flats Slam consisting of a 101 cm GT, a 54 cm permit, and a 54 cm bonefish to top it all off. That set the tone for his week as he proceeded to land a 105 cm milkfish, a 77 cm, and a 64 cm GT.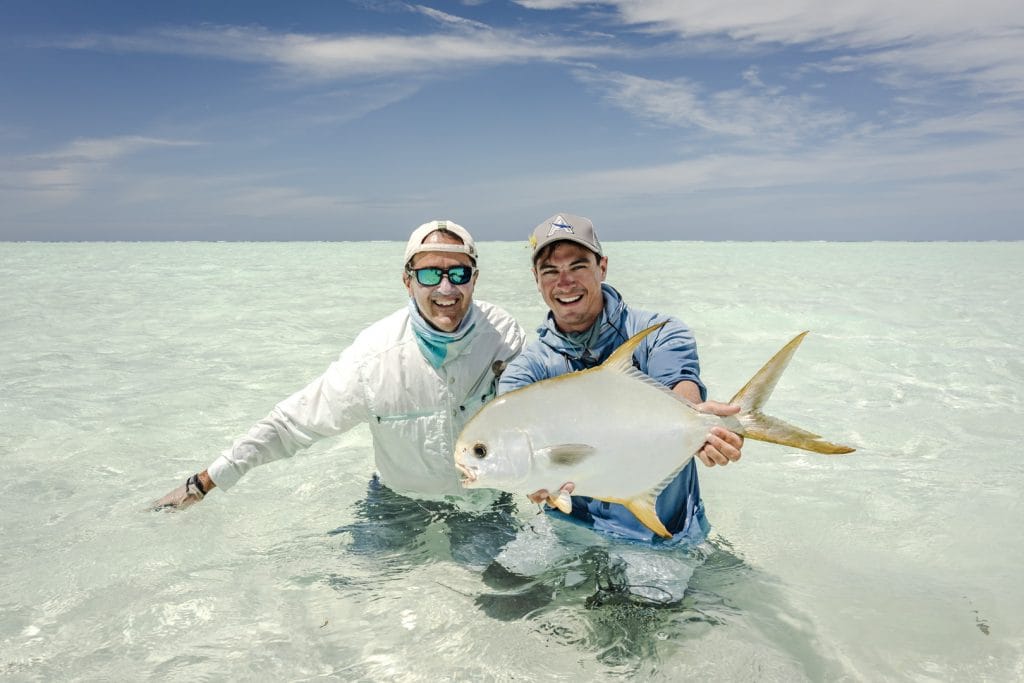 On day three Mike Howarth struck gold and landed a fantastic 60 cm Indo-Pacific permit. Legendary angler Jasper Paakkonen from Finland followed his lead and landed a beautiful 58 cm permit after making shots at an estimated 20 permit throughout the day. Day three was a lucky day for Ralph Cummings. Ralph managed to land a massive yellowmargin triggerfish which is estimated to be the largest specimen landed over this season.
On day four Ralph's luck carried on – catching a stunning 97 cm GT on the edge of a finger. The fish fought so hard it took around 100 m of backing. Day four was a good day for angler Alexey Lavrova and his guide Cullan Ashby. They brought to the net a large 59 cm permit.
Ralph's luck continued through to day five. Ralph landed another monster GT measuring 91 cm. Ralph hooked the fish off the Carpul Shoal which is a phenomenon of a pack of GTs that follow a school of sharks around. On day six even more gold was found. Murray Collins, who had been trying to land a big permit for the past few weeks, managed to land a beautiful 63 cm permit while his boat partner Jasper landed a 53 cm permit to add to his weeks' tally. The accolade of angler of the week was toughly contested but ultimately fell to Ralph Cummings who did well to ride his luck and close his week with a noteworthy tally of catches.

Another successful week was spent at Alphonse Island fishing the St Francois Atoll. Memories were made and bonds were formed that will last a lifetime. Stay tuned for next week's report as we are sure you won't want to miss it.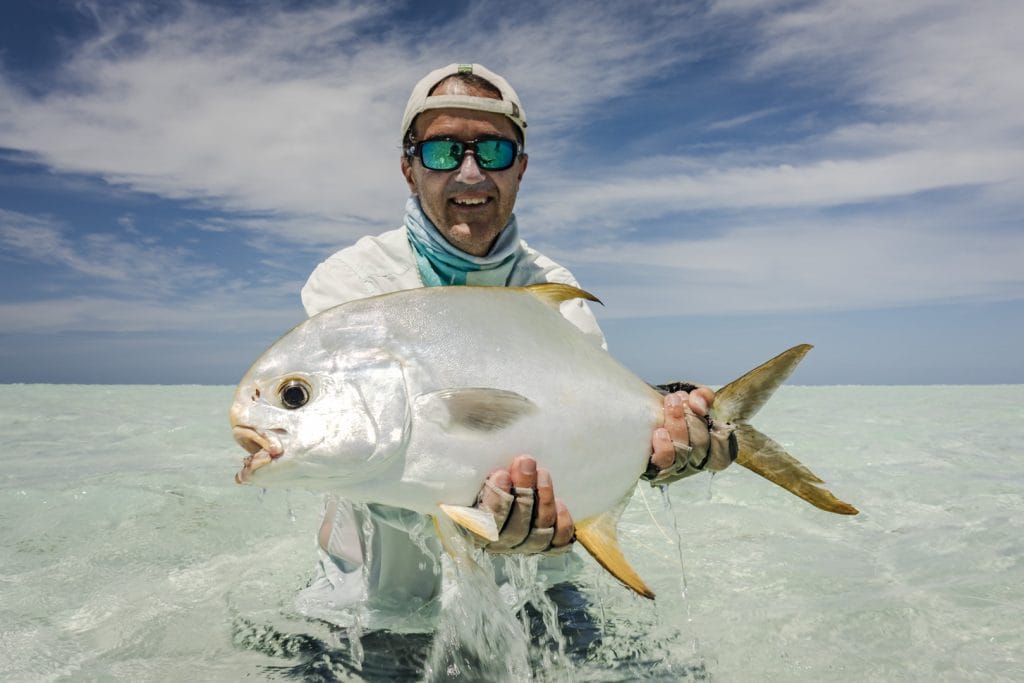 The tally for the week, to 5 anglers, was 187 bonefish, 7 GTs, 7 permit, 9 bluefin trevally, 1 milkfish, 1 triggerfish
If you would like more information please contact Charlotte Chilcott or Peter McLeod or call us on +44 1980 847389. Alternatively click HERE if you would like us to contact you.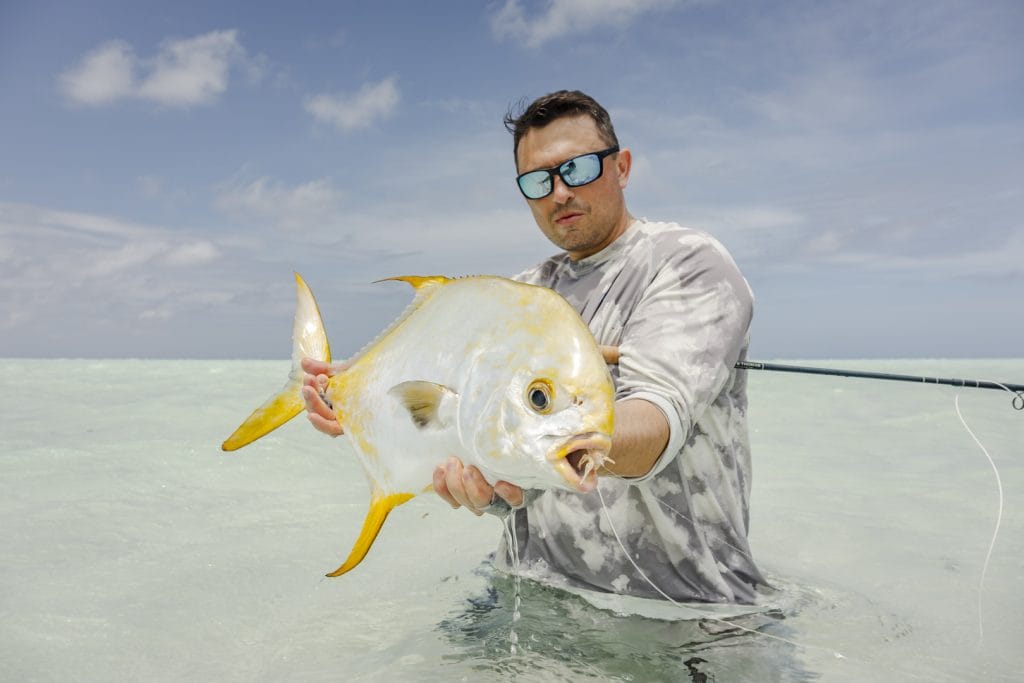 Seychelles entry requirements
So what do you currently need to be able to enter Seychelles if you are able to travel from your country of residence?
To be recognised as having been "vaccinated" you must be able to show that you have received the complete dose of the vaccine ie two doses plus 2 weeks after the second dose for the four vaccines currently receiving heavy media exposure. Visitors need to submit an authentic certificate from their national health authority as proof of Covid-19 vaccination.
Visitors are still required to supply proof of a negative Covid-19 PCR certification obtained less than 72 hours prior to travel.
If you are not vaccinated or are not coming from a Category 1 or 2 country or travelling by private jet, you will not be allowed entry.
From mid-March 2021, when the Seychelles will have 3/4 of the adult population vaccinated, visitors will be able to enter the country if you are not vaccinated. You will still be required to provide a negative PCR test obtained not less than 72 hours prior to travel.
If you would like more information please contact Charlotte Chilcott or Peter McLeod or call us on +44 1980 847389. Alternatively click HERE if you would like us to contact you.