We welcomed a group of anglers from all corners of the globe for our second trip of the season on Farquhar, including some new friends as well some familiar faces. Needless to say each every one in the group was eager to get stuck into some great fishing.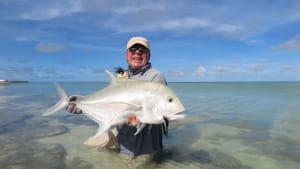 The week started off with some very stable conditions with not a drop of wind on the first morning. There are a lot of GT's around on the flats at the moment and we managed to bend some of the 12 weight rods to the max. Congratulations to Cliff, Michael, Christopher, Martin and Paulus on landing their first ever GT's sight fished on the flats.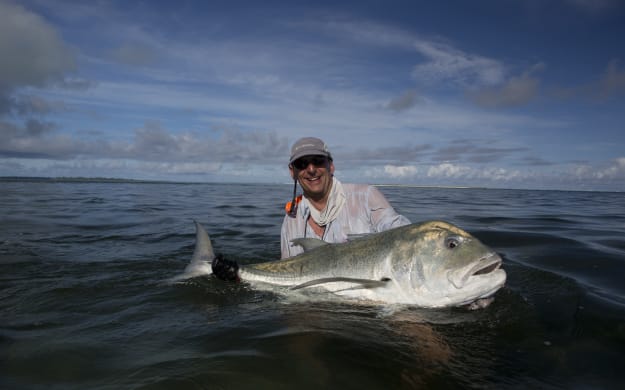 A special mention however must go out to Adrianus who successfully landed our biggest GT for the season so far with a prime specimen of 120 cm. A fish of a lifetime for sure and considering it was his first GT on the flats, a very special moment indeed. The fish was lying in a deep hole on a turtle grass flat holding against the tide waiting for any baitfish choosing the wrong path when guide and angler came across it. The cast went out, landing in the perfect spot and the GT charged and ate the fly without any hesitation. It attacked the fly with such ferocity it almost launched itself clear out of the water. The hook was driven home and the fish screamed off, the backing peeling off at a frightening speed. Thankfully everything went to plan and after a solid 15-minute battle his prize was tailed, photographed and set free to fight another day. Another truly epic moment on Farquhar! All in all 9 GT's were landed during the week, not to mention a further 8 of which were hooked but came off earlier than hoped.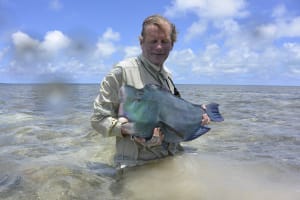 We are also happy to announce our friends the Bumphead Parrotfish are back and tailing happily across flats. We managed to hook a total of 11 for the week, sadly though only one of which made it all the way into our nets one landed. Congratulations to Martin for sticking with it and for landing one of these extremely powerful fish.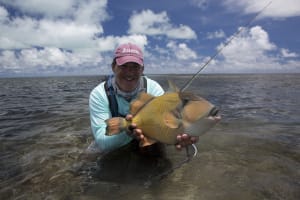 The fair weather continued throughout the week that definitely showed in the fishing. The Triggerfish were therefore around in good numbers, allowing us to hook 7 of the wily critters. Sadly not all were landed but credit goes out to John Giles for making it happen on a real solid Giant Triggerfish, as well as to Paulus who achieved his Grand Slam for the day by landing his Picasso Triggerfish.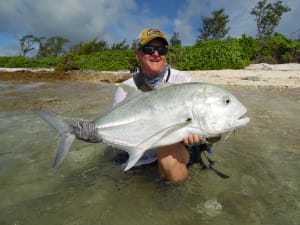 The calm offshore conditions provided us with the much-anticipated Milkfish feeding sessions during certain tides. 4 fish were hooked throughout the week, 2 of which sadly came off right at the end. Nonetheless, these sessions and the experience of fishing to these immensely powerful fish will not be easily forgotten by the guests who came into contact with the Chanos Chanos.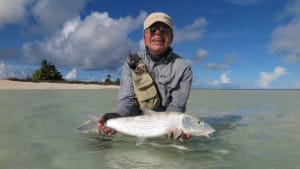 The Bones were full up this week and provided constant action when sought out. We managed to get some really good sized fish, so together with these iconic fish and Martin's flats caught Golden Trevally Farquhar produced a great week of diversity once again. Thank you to all our guests for sharing this incredible place with us. We now look forward to days and weeks ahead!
The Farquhar Guide Team