After a productive week of preparations we welcomed our first group of anglers for the season, a party of 10 guests from France. The group, who has fished with us multiple times, was obviously eager to get stuck into the incredible fishing Farquhar has to offer and so were we.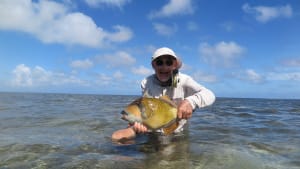 Sadly however the weather did not seem to get memo and we battled some very overcast conditions and the odd rainsquall throughout. This made sight fishing tougher than normal, which was frustrating indeed as there were clearly some good fish around. There was however some really good Triggerfish fishing to be had, the fact that they were tailing in ankle deep-water allowing the classic walk and stalk we love so dearly. A special mention must go out to Alberto Cafferi for landing his first ever Giant Triggerfish and ours for the season. Certainly one of the toughest fish to land on the flats, it will certainly not be forgot in a hurry.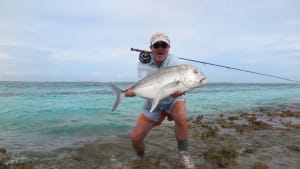 There were good numbers of GT's prowling the flats this week, unfortunately the conditions making it difficult for us to capitalize. Nonetheless we stuck at it and were rewarded with some great fish, including Jean Louis Stoffel's first ever GT on the flats as well as Louis Boutros massive 118 cm fish (sadly no image of this special fish)! The benchmark has therefore been set very high and it's going to take a special fish to match or top this brute of animal during the next 3 months. Congratulations Louis!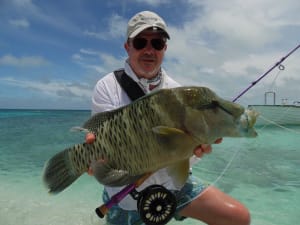 The cool weather did allow for some pretty spectacular Bonefishing, with shoals of these iconic game fish tailing over both the turtle grass and pure white sand flats. Our group took full advantage and we racked up some really good fish as well as numbers throughout their trip. These in addition with some great Snapper, Grouper and a highly prized Napoleon Wrasse made up the bulk of the flats species landed.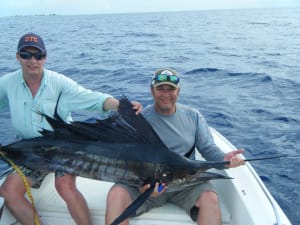 Farquhar does however some great offshore fishing at its disposal and so with the tough conditions on the flats we opted to go offshore during certain periods and were rewarded. Two Sailfish came out which is terrific considering it's not really the season, both fish being tagged before swimming away strongly. In addition to these fine fish, good offshore catches of GT's, Yellowfin Tuna, Wahoo, Barracuda, together with a 35kg Dogtooth Tuna rounded up the action.
So that pretty much wraps up the first week. Certainly no fireworks but a very enjoyable week with some great friends and some very special fish!
The Farquhar guide team
If you would like more details on Farquhar Atoll please contact Peter McLeod or call the office on ++44 1980 847389.