Farquhar Atoll is the most southerly atoll in the Seychelles islands, lying just over 700km to the southwest of Mahe. This remote atoll has a total area, including the large lagoon, of 170.5 km². The large ear-shaped lagoon provides easy skiff access to the countless flats, channels, and surf zones that make Farquhar such an amazing fly fishing destination.
The atoll is famous for the sheer diversity of fish species on offer to anglers, so if stalking bonefish in skinny water, chasing the golden sickles of a permit, throwing crab flies at crafty tailing triggerfish, trying to hold back the powerful runs of a bumphead parrotfish or holding your nerve as large giant trevally charges in at your fly… well, then Farquhar is certainly the fly fishing destination for you.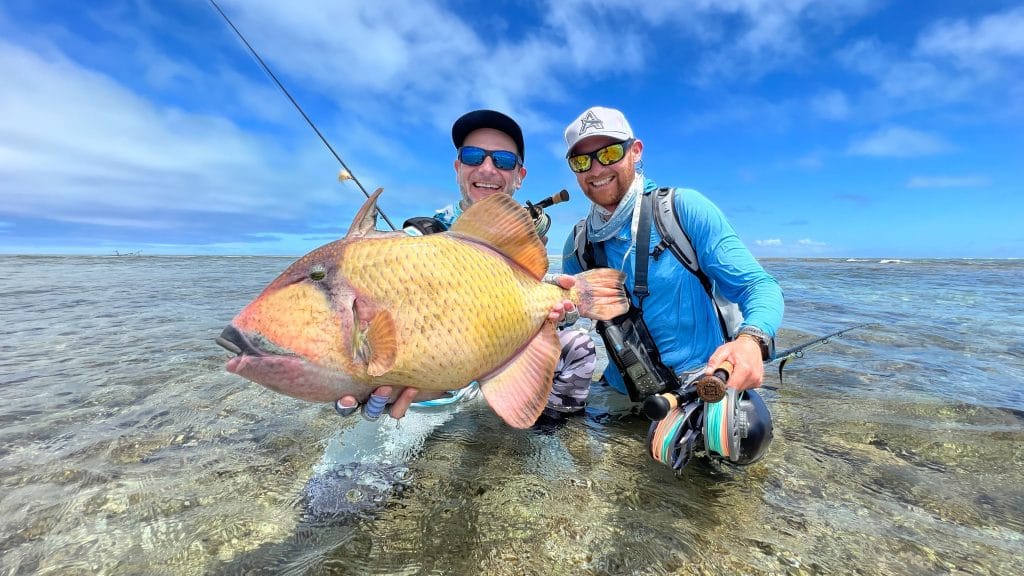 There is exceptional offshore fly fishing for sailfish, wahoo, yellowfin tuna, dogtooth tuna, and a host of other species like grouper, snapper and jobfish, providing even more species to tick off your bucket list.
Janauary starts with a bang on Farquhar Atoll
The week of the 18th to 25th January 2023 was something special on Farquhar, with two of the best giant trevally fishing days recorded this season and a total of 85 GTs for the week.
Unfortunately, the anglers arrived in two days of rain and windy weather conditions, which made using skiffs difficult. The team however kept themselves busy by doing a series of surf walks targeting bonefish. There were a number of first-time bonefish catches on the opening days setting a foundation for what was to come. On day three the weather cleared, and just in time for the big spring tides that came into effect. The GTs, some big ones at that, were immediately out in full force. Peter Whittaker landed an incredible GT of 117cm, the biggest GT for the Farquhar season so far and a catch that set the tone for day four.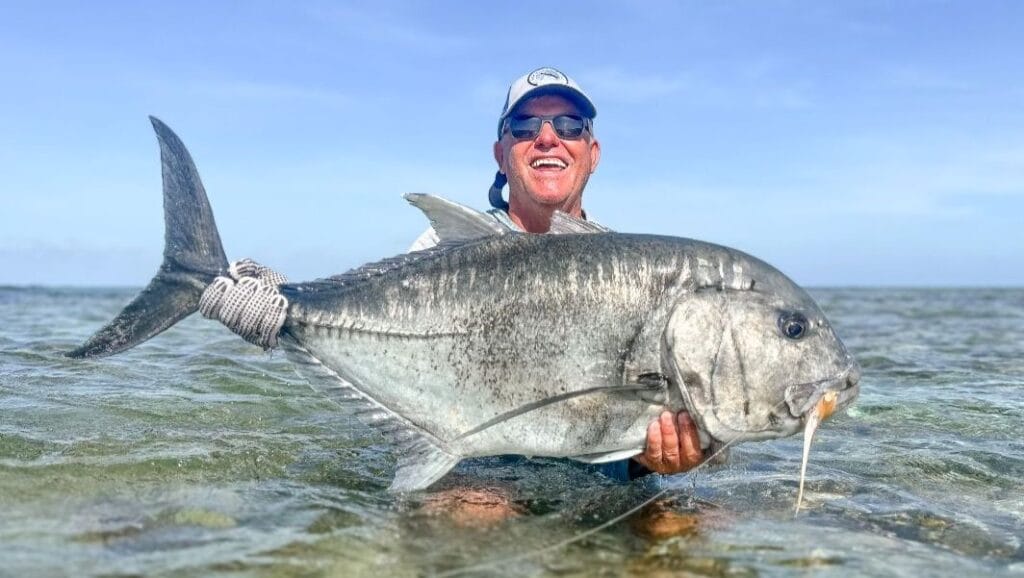 Then came the day to remember with an incredible 34 GTs landed and safely released. There were many highlights, including a double-up where anglers Charl Weitz and Daniel Pienaar both landed beautiful silver 113cm GTs. What a story for Charl's first giant trevally on fly.
With all the giant trevally around, there was little doubt that the focus for the last day would also be on GTs. Farquhar didn't disappoint by producing a further 24 GTs with another over-the-metre-mark 104cm geet caught by Daniel. An amazing week for the memory banks!
If you would like more information and availability please contact Charlotte Chilcott or Peter McLeod or call us on +44 1980 847389. Alternatively click HERE if you would like us to contact you.