Farquhar Atoll Fishing News 17th – 24th November 2021
It was another spectacular week here on Farquhar as multiple target species were landed again. The weather is starting to settle, which made for a great week.
Michael Haines got stuck into the bonefish. His most significant was a very impressive 65 cm fish for the week. Sadly, he lost a large Indo-Pacific permit. However, this did not dampen his spirits as he landed a 51cm moustache triggerfish, a GT and a bone on the same day, giving him a Flats Slam. He ended up with a few more GTs as the week progressed.
Charles McDaniel had a terrific time, landing all but the permit during his stay with us. He landed a few GTs, a triggerfish, bones and a bumphead parrotfish. Brian Griffith landed a very impressive 102 cm GT in the surf and then a pair of large bonefish. Sadly he lost five bumpies, including a monster GT after a lengthy fight.
Dick Pitini landed one of the week's fish, a 51cm Permit. Brian and Sonya Gustafson had a fairytale trip. Brain landed two GTs of 109 cm, both on the same day. One of those fish was a double up with his wife Sonya, who was hooked into a 91cm GT. An extraordinary moment for both of them. Brian then landed a GT, a yellowmargin triggerfish, bonefish and his first bumphead parrotfish in one day. An excellent Super Slam. Sonya also managed a moustache triggerfish and Brian with an amazing 81cm Napoleon wrasse.
Seychelles veterans Ian Hodge and Ty Pollock also wrapped up some decent GT numbers, with the biggest belonging to Ian, a 97cm fish. They also each landed a bumpy after losing a few throughout the week. Ty landed the hugely appreciated Napoleon wrasse on the flats.
Catches for 8 rods for the week
Giant trevally 24
Bonefish 31
Triggerfish 4
Bumphead parrotfish 4
Permit 1
Napoleon wrasse 2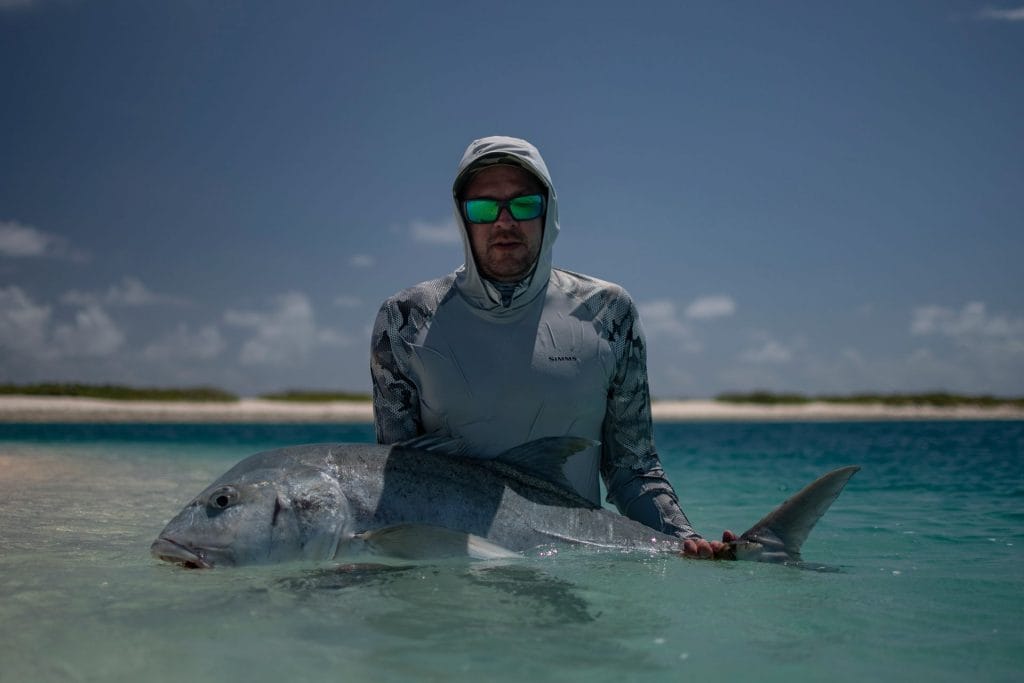 If you would like more information please contact Charlotte Chilcott or Peter McLeod or call us on ++44 1980 847389. Alternatively click HERE if you would like us to contact you.