Farquhar Atoll Fishing News 20th – 27th November 2019
Another incredible week of flats fishing has come to an end. Weather conditions were mostly sunny with varied wind direction. Wind speeds ranged from 5 to 15 knots which made for great flats fishing conditions. Tides started off as neaps then shifted towards spring tides by the end of the week.
GT fishing was excellent throughout the week with a total of 37 fish landed, the best of the season so far. All of the anglers landed GT's this week! Christian Kammerer was on his first saltwater trip and did extremely well landed ten fish for the week. The biggest of Christian's fish broke the magic meter mark being 101 cm, this was followed by another big fish of 99 cm. His fishing partner, Christian Mairold landed seven GT's. Brothers Alex Haider and Stefan Haider also had great fishing, Alex landing eight fish and Stefan four. Robert Slameckza landed three GT's and Helmut Sackl landed his first GT. Klaus Dirnberger, Marko Kallay, Michael Hason and Waltraud Hason all landed one GT.
With the great conditions anglers were also able make the most of the bonefishing, landing 58 for the week. Alex and Stefan both caught moustache triggerfish and each landed the holy grail of saltwater fishing a permit! This was the first of the species for either of the brothers and as if this was not enough both slammed in the week. Stefan completed a trevally slam with a GT, a bluefin and a yellowspot trevally (our first this season). Alex completed a classic slam of GT, bonefish and a permit.
Species fishing was also very productive with several monster bohar snapper landed including a 75 cm fish landed by Alex. Klaus caught a 75 cm napoleon wrasse.
Bluewater fishing produced two sails one by Marko and the other by Rob. Three beautiful yellowfin tuna were landed by Michael, Waldi and Rob.
Total Catch Stats For 10 Anglers For The Week
Giant trevally 37
Permit 2
Bonefish 58
Triggerfish 2
Sailfish 2
Yellowfin tuna 3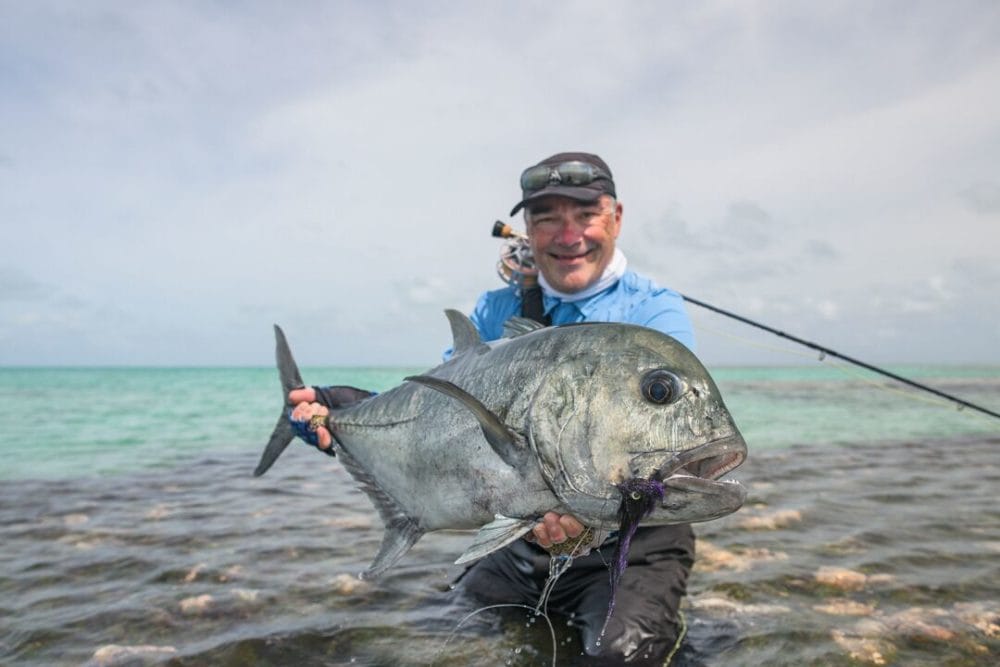 If you would like more information please contact Charlotte Chilcott or Peter McLeod or call us on ++44 1980 847389. Alternatively click HERE if you would like us to contact you.