Farquhar Atoll Fishing News November 24th – 1st December 2021
With a few newcomers to the world of saltwater fly fishing, plenty of first-time catches were landed this week. Oleksii Shokh, Kiril Demerdzhi and Maxim Martyshov all managed to land their first bonefish. On top of the constantly growing bonefish count, Oleskii and Kiril also managed to land two GTs each.
Sergey Pavlov landed a fantastic bumphead parrotfish and a couple of GTs. His boat partner, Vladimir Orlov, sadly lost his bumpy, but managed a nice 90 cm GT along with multiple bonefish.
Nikita Mishin had a great week. He landed two moustache triggerfish, four GTs and a Napoleon wrasse. Sadly, he lost a colossal GT that managed to find a coral bommie that eventually cut him off.
The Aussie Fly Fisher crew consisting of Josh Hutchins and Inram Ahmet managed some great catches, landing a bumpy and a handful of GTs. Josh managed to get the biggest of the week that measured 102 cm. He also managed a small Napoleon wrasse. Inram, who is relativity new to flats fishing and his first trip to Seychelles, landed his first GT, bonefish and many other species as the week ticked on.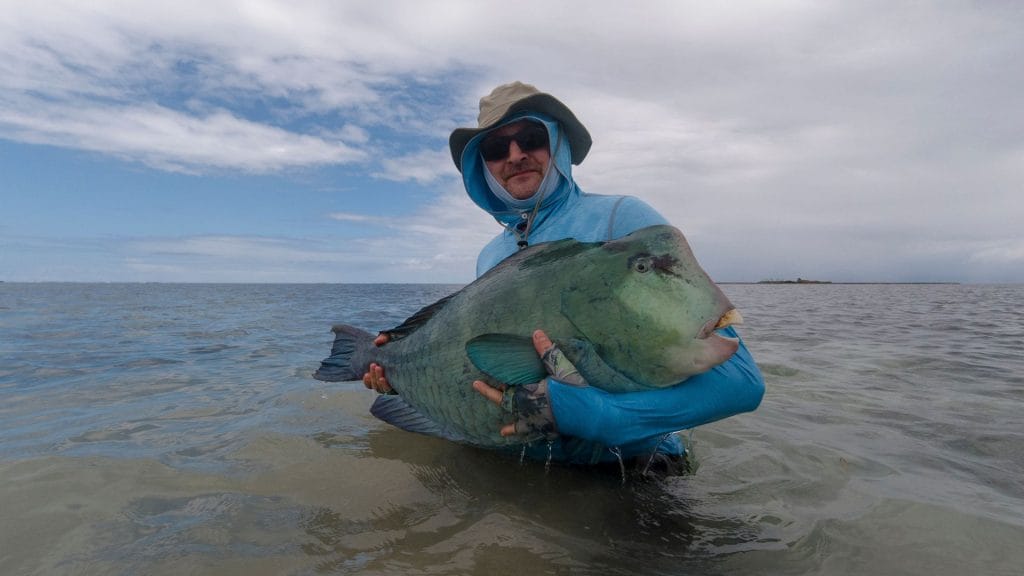 Catches for 8 rods for the week
Giant trevally 17
Bumphead parrotfish 3
Triggerfish 2
Bonefish 28
Napoleon wrasse 2
If you would like more information please contact Charlotte Chilcott or Peter McLeod or call us on ++44 1980 847389. Alternatively click HERE if you would like us to contact you.