Week one of the Farquhar season started as a 10 day trip. Our guests were able to experience this unique fishery with a cycle spring tides moving into neaps. Rodger Harding got stuck quickly by landing a huge 115 cm GT just off Goulette. Scott Harkins caught another big picture-perfect specimen of 102 cm. Heidi Albano landed her first ever GT. King of the GTs this week went to Grant Willard, racking up nine for the week!
Week two consisted of full spring tides and a strong south easterly wind. This made conditions challenging, but this did not deter the group. This was a week of big fish. Joern Heiner, a regular to the Seychelles, eased ahead of the group and showed his angling skill by landing the first bumpy of the season which measured 84 cm. Not only this, but he also caught a behemoth of a GT stretching the tape to 134 cm! An amazing permit was caught this week by Andrew Hogg, measuring 84 cm it was the largest caught on Farquhar to date!
Fantastic weather, was a feature of week three. A light breeze and clear skies made for excellent fishing conditions. A total of 21 GTs were landed in the week. The largest being just shy of the one-metre mark. Six triggers were brought to hand with Craig Durby, one of which was his personal best of 60 cm. Mike Becci landed a big moustache of 56 cm! Eric Meyer dug deep and struck gold with a gorgeous permit. Jarret Duty went offshore and had success in landing the only sailfish for the week. Two bumpys were landed by Tom 'The Donkey' Grey. Jon Duty JR was crowned 'angler of the week' due to him completing the first Flats Slam of the season!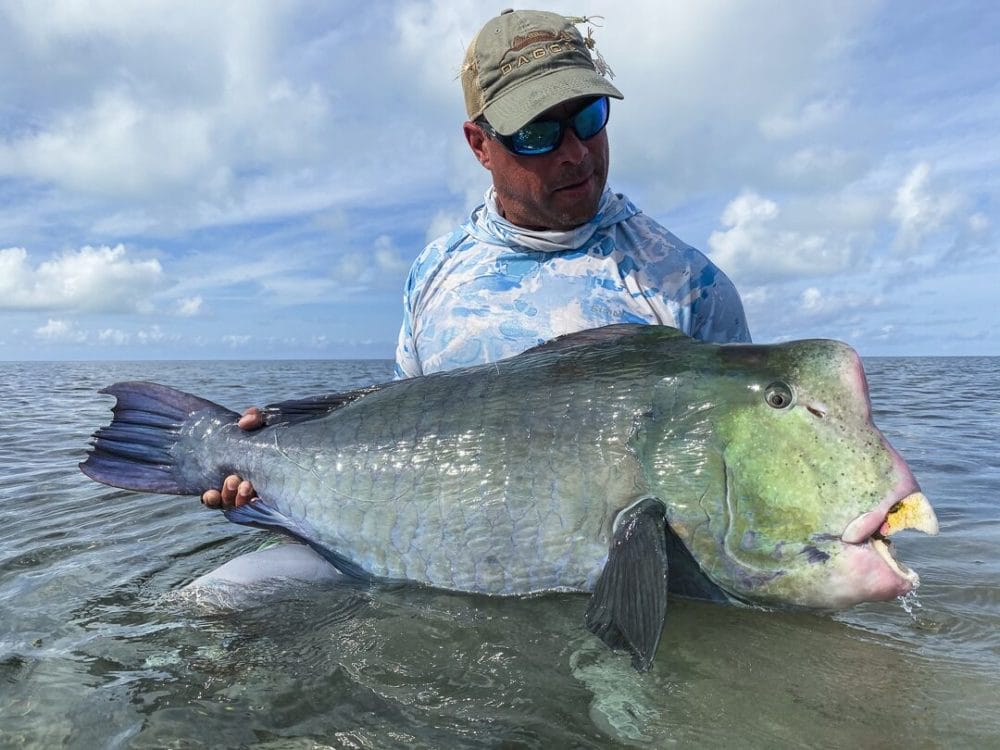 The start of week four brought spring tides and plenty of water movement, these progressed into neaps by the end of the week. The team got to experience all of what this versatile atoll has to offer, and boy did the atoll produce the goods! Three bumpys were landed this week, one each to William Collins, Kris Fuhr and Jason Cassel. Reid Schupp and Kris both landed two GTs each. This was followed by Jason and Craig Dirby who each landed one and Rudy Schupp who caught a stunning golden trevally. Four sailfish were brought to the boat in the bluewater. A trophy of an Indo-Pacific permit was brought to the net by Eric, this was his second in two weeks! Craig went on to be crowned 'angler of the week' by completing his two week stay with a Flats Slam on the last day, this consisting of a trigger, GT and a bonefish.
Wind and cloud cover started off week five but after day one this moved off and in came postcard-perfect weather. The week started with neaps which then moved into a full moon spring tide. Andrew Jensen landed the largest GT, which was just coming in shy of the one-metre mark at 94 cm. Chantal Chone and Nick Jensen landed a golden trevally each. Alan Broomhead, George McRobbie, Craig, Mark and Nick Jensen also bagged a GT each. Nick's GT was his first ever! Two bumpys were landed, one was the 'fish of the week' which was a massive bumpy of 103 cm landed by Mark Jensen.
Conditions on week six were just about perfect with light winds and mostly sunny skies which made for good visibility for sight fishing. The tides started as full springs which then tapering off to neaps towards the end of the week. Peter Esposito and Piers Smart lead the group by landing three GTs each, followed closely by Kelvin Rivett who landed two, one of which was his first!. Chantal Chone, Louis Kruger, Piers Westerman, James Carolan and Rod Wentworth all landed a GT each. Charles Benns showed off by landing a 62 cm bonefish, his first fish on fly. Peter slid into the 'angler of the week' seat with his 94 cm bumpy!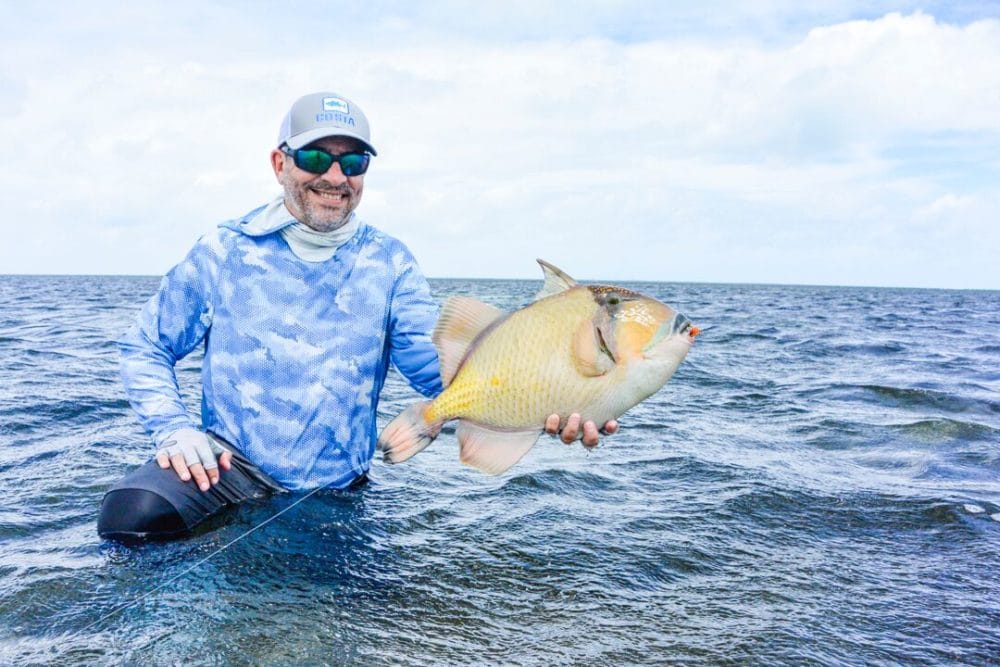 Week seven brought mostly sunny conditions paired with a gentle breeze. With tides starting as neaps then moving to springs there was plentiful opportunity for great flats fishing. The GT fishing was fantastic with a season record of 37 fish landed! Christian Kammerer was on a GT mission and bagged 10 fish, one stretching the tape to 101 cm and another came in just short of one metre at 99 cm. His fishing partner, Christian Mairold landed seven GTs crowning their boat with 'most GT's for the week'. A very special memory for us was brother team Stefan and Alex Haider, doubling up on permit, furthermore both of them landed a flats slam for the week.
The weather was challenging on week eight of the Farquhar season, as, unbeknown to us, cyclone Belina made its way towards our atoll. With high wind speeds and lot of cloud made seeing and casting to fish difficult. Tides started as new moon springs, then transitioned into neaps as the week pressed on. Despite the tough conditions, our group of eager anglers bagged a total of 30 GTs! Charlie Limond took the "GT crown" by finishing with 11 fish, two of which were meter plus trophies of 104 and 106 cm. He also landed a very big bohar snapper of 80 cm. Graham Hutton also had a cracker landing 12 fish. Larry Tailor caught a enormous 62 cm bonefish. Patrick Gras landed a trophy trigger of 55 cm. Two bumpys were caught by Elaine Taylor and Gerhard Linska. Despite the weather the fishery still showed off its diversity and the spectacular range of species that can be targeted.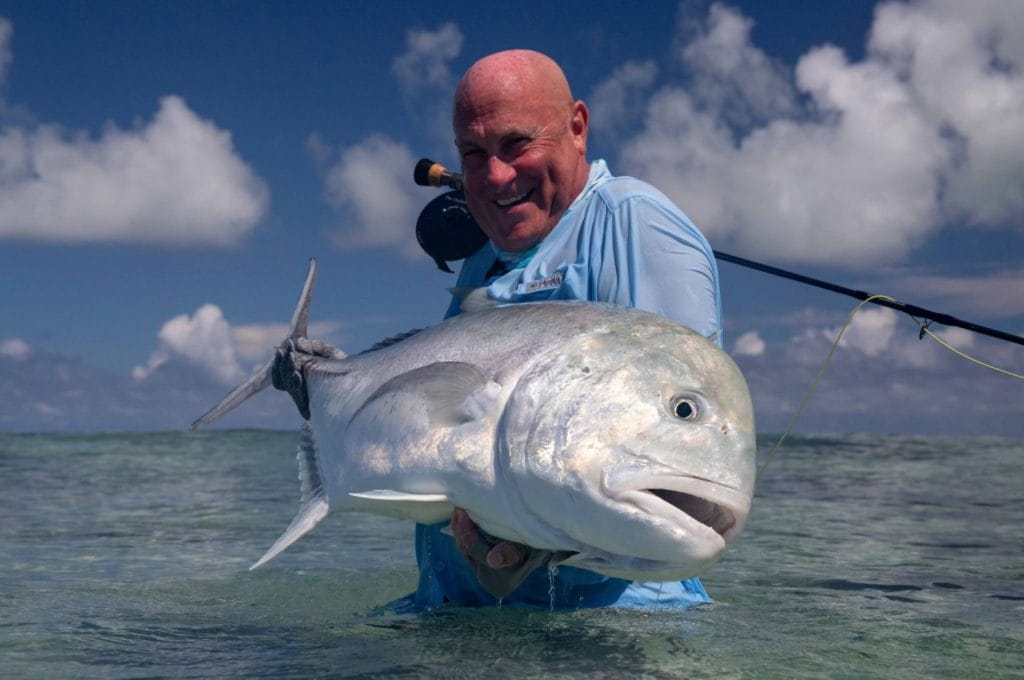 Due to Cyclone Belina week nine therefore we had to be cancelled for safety reasons. This led us to breaking for the Christmas period a week earlier than scheduled. Although this wreaked havoc for our guests anticipating their arrival on Farquhar, this gave the fishery an extended break which will welcomed guests in the New Year.
For week ten we welcomed guests back to Farquhar after the extended break. Even though the weather was a little challenging for the first two days, the group of anglers took advantage of every opportunity. Steve S from Canada, got off the mark early to catch his first GT, a trophy of 107 cm. Steve proceeded to catch three more and to securing his place as the 'GT Champ of the week'. Mark landed a Flats Slam which consisting of bonefish, a GT and a bumpy. Jesse caught his first GT and Steve finishing of his week nicely with a nice trigger.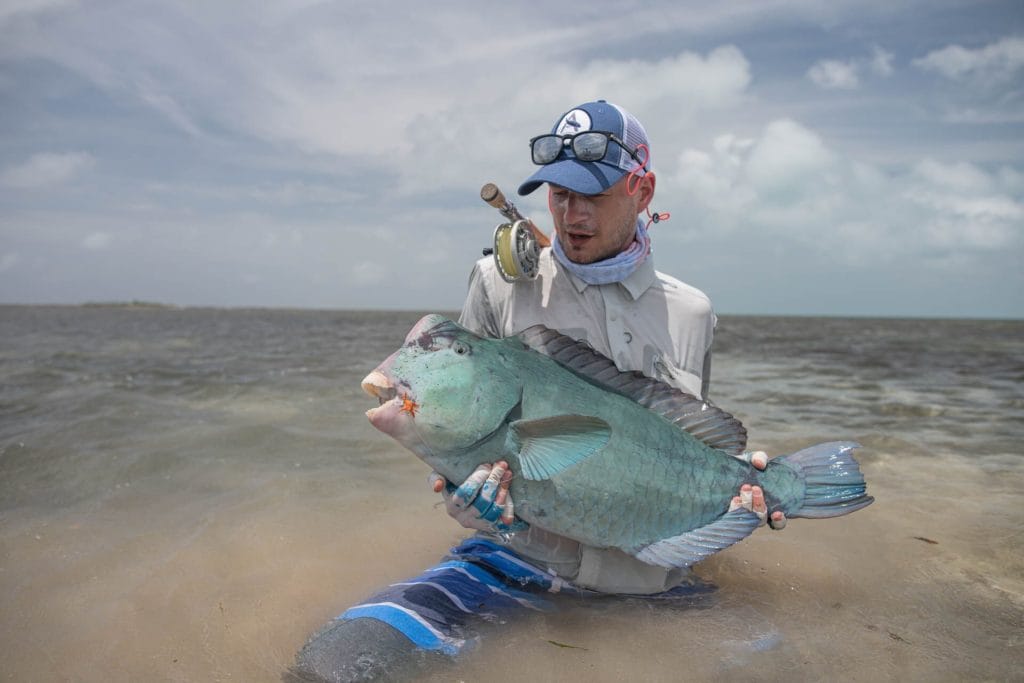 Week eleven of the Farquhar season faced some of the most challenging weather yet. Without us knowing at the time, this would be the last week for the 2019/2020 Farquhar season. Even though there was very little sun and a lot of rain and wind the team still brave it out to land some amazing fish. Bill and Thomas kicked off the week with two GTs each. Thomas also landed a beautiful triggerfish. The 'angler of the week' award was awarded to Jersey, who bagged the biggest GT of the week and a bumpy close to Second Island.
Although we have had to end the season early the catch stats speak for themselves. This truly is one of the most diverse and most amazing atolls in the Seychelles. Even for the guides who know the flats so well there are constant surprises on a near daily basis. We are so excited to get back out to Farquhar towards the end of the year and to once again share this special fishery with you.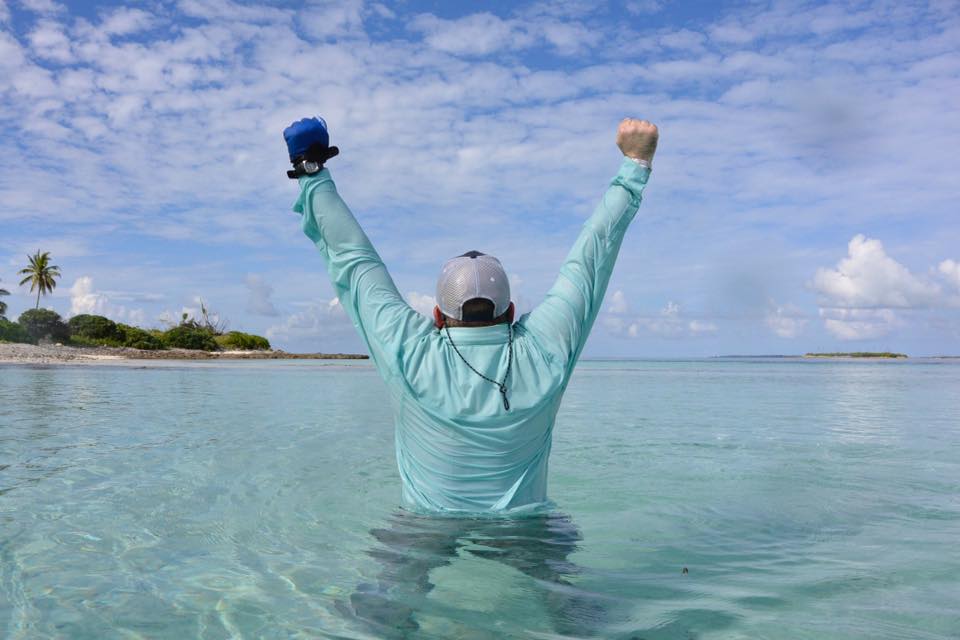 If you would like more information please contact Charlotte Chilcott or Peter McLeod or call us on ++44 1980 847389. Alternatively click HERE if you would like us to contact you.