The first two blog reports from Farquhar have made it back to the office and we're excited to share them with you along with the remaining space for 2019. As can be expected during this time of year there was still a bit of wind around, but both groups enjoyed some great fishing including some big GTs and some outstanding triggerfishing. Added to this, the newly built lodge continues to impress, with all of the guests very complimentary of the comfort levels and service they experienced. Hold your space now for 2019 – as you can see, spots are filling up fast.
2019 availability
• 8-15 March 2019, 5 rods available
• 15-22 March 2019, 1 rod available
• 22-29 March 2019, 4 rods available
• 29 Mar-5 April 2019, 1 rod available
• 5-12 April 2019, 4 rods available
• 12-19 April 2019, 2 rods available
• 19-26 April 2019, 2 rods available
– Season break –
• 6–13 Nov 2019, 1 rod available
• 13–20 Nov 2019, 6 rods available
• 27 Nov–4 Dec 2019, 1 rods available
• 4-11 Dec 2019, 5 rods available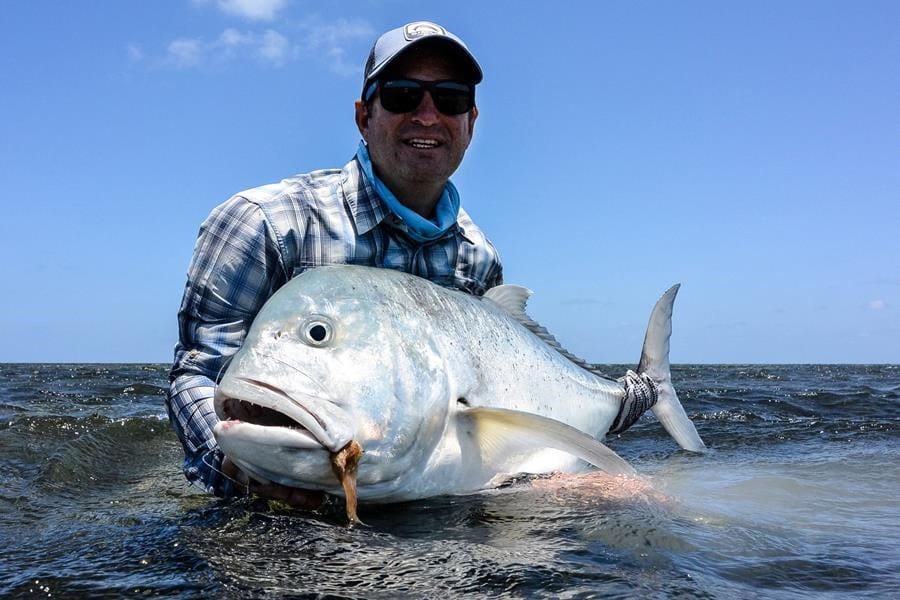 Farquhar Blog: 27 September – 5 October 2018
We enjoyed some truly great fishing on our first week of the Sept – Dec 2018 Farquhar season with a really fun but hard fishing group of South African anglers. Coming off a full moon spring tide we had large fluctuations in water level and with the strong SE wind still present early season there was plenty of cold blue water for us to explore. It made casting tricky at times but the guys never let it get to them and they were rewarded with some incredible variety as well as some great GT action. The GTs were around in good numbers and by the end of the week we had landed 33 of these incredible predators including three fish over a meter. Patrick landed six for the week, two of which were over a meter (a 101 & 102cm). François had a few stellar days and capitalised with nine fish between 70 – 96cm. Tom also had a great week landing four, his biggest a 94cm beauty. Andrew too had a special trip landing our biggest fish of 104cm fish as well as two more impressive geets. Brent landed five fish between 75 – 96cm, whilst Duncan's 96cm fish which was photographed in a suit an tie will not be easily forgotten. Rian got his prize fish with a GT of 92cm and when Brett added his 94cm specimen to the tally it was clear to all that Farquhar remains one of the finest saltwater fisheries on the planet. As much as the GT fishing remains a huge attraction for all, it was obvious from the guys feedback that it's the variety of species and scenarios which one of finds them in which really made their trip special. The Bones were plentiful and provided great sport with the lighter rods, Triggers too were present although never easy to land. Matt did however land a gorgeous Picasso and Francois a nice Moustache. Other notables included one Bumpie, a 138cm Dogtooth Tuna, some truly big Grouper, some Napoleon Wrasse, a small Permit (despite some bigger ones being cast to and pricked), Bohar Snapper, big Bluefin Trevally, a Black Tip Shark, Barracuda and last but not least a very large Yellowspot Trevally which was caught on the flat by Pat. A truly special fish as the adult specimens are normally only found offshore.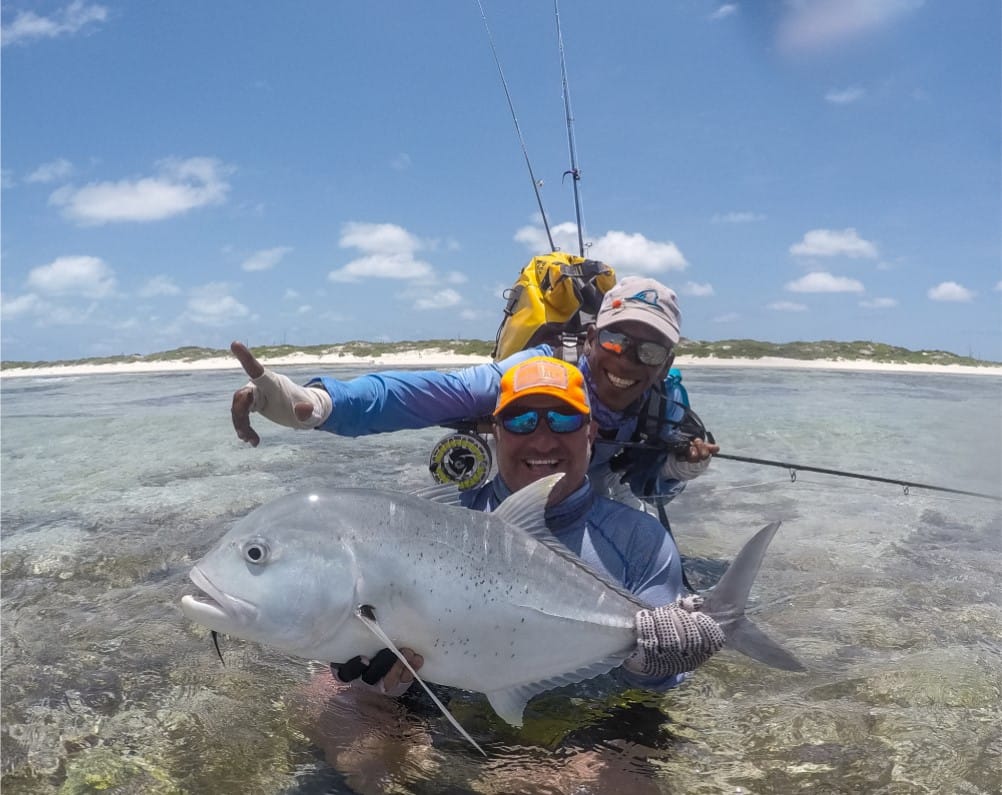 Farquhar Blog: 5-12 October 2018
Our second week of the season brought with it clear skies and a fairly strong south easterly. Added to this we had some really nice tides, our guests enjoying the prime periods of the dropping and pushing tides. The Bonefishing was solid through the week, all our guests enjoying some great sport on the light rod including some bigger Bones of between 65 – 78cm. Things were a bit tougher on the Bumpy front, we only managed to hook one of the gentle green giants but thankfully we did land it. The species fishing however continued to impress with some really large Grouper, Bohar Snapper, Bluefin Trevally as well as a Napoleon Wrasse being successfully landed. GT wise we had a solid week hooking 18 fish and landing 11, but it was the Triggerfishing which really left its mark when all 7 of the fish we hooked were actually landed. This is an incredible feat as this species is notoriously difficult to keep attached to. Things offshore seem to be picking up and although we didn't land any we did hooks two Sails. Well known South African angler and owner of Mavungana Fly Fishing Jonathan Boulton who was hosting group of guests on the week landed a solid 82cm GT, a 52cm Moustache Trigger as well a tank 78cm Bonefish on the notables front. Brothers Warren and Craig had a great week fishing together, Warren landing two GTs as well as a Dogtooth Tuna of 120cm to go along with numerous double ups on Bones and Bluefin with Craig who landed a few sizable Bluefin himself. Boat partners for the week Craig and Gregory had a good one, Gregory landing a Bumpy of 90cm, as well as a Moustache Trigger of 60cm and a small GT. Craig landed a tank 82cm African Marble Grouper amongst some other nice fish. Casper went on to land large numbers of species as was his target for the trip, whilst Neil got GTs of 72cm & 84cm GT, as well a 103cm Barracuda. Christian who had come all the way from Argentina to target the mighty GT enjoyed some great success landing fish of 60cm,86cm and 88cm. Well done! He too hooked a Sailfish but unfortunately after a long fight the hooks pulled. Mike had a solid week on Farquhar landing GT's of 73cm and 76c, as well as a 52cm Moustache Trigger. His boat partner Stephen flew in from the U.S to try and add to the impressive list of species he had caught on a particular fly he invented called "The Bouncer". With Farquhar offering an incredible array of species it came as no surprise when he added 21 new species to "The Bouncer" by the end of the trip. He also landed Moustache Triggers of 40cm and 58cm, as well as a Yellow Margin Trigger of 52cm. Congrats Steve! All in all, it was a pretty solid week with a really great bunch of guys who we would like to thank for joining us.
If you would like more information please contact Charlotte Chilcott or Peter McLeod or call us on ++44 1980 847389. Alternatively click HERE if you would like us to contact you.