I am just back from Farquhar Atoll, an amazing place where I had the almost perfect week…
This was the first time I had travelled with Aardvark McLeod and I cannot fault them on anything about this trip. Everything was super smooth from start to finish, everything went the way it was written on the schedule. What can I say but, just a brilliant organisation.
I will be using them a lot more in the future. They are totally professional, but the thing that made them so cool for me was I could phone them or mail them with any question and get the solid answers I was looking for. Trust me there was a lot questions to get me in the zone for Farquhar, from leader set ups, to flies and backing, rods too, you name it I wanted to know about it!
Now for the good part the fishing!!! And trust me, Farquhar Atoll lived up to all the hype. It was insane to be honest!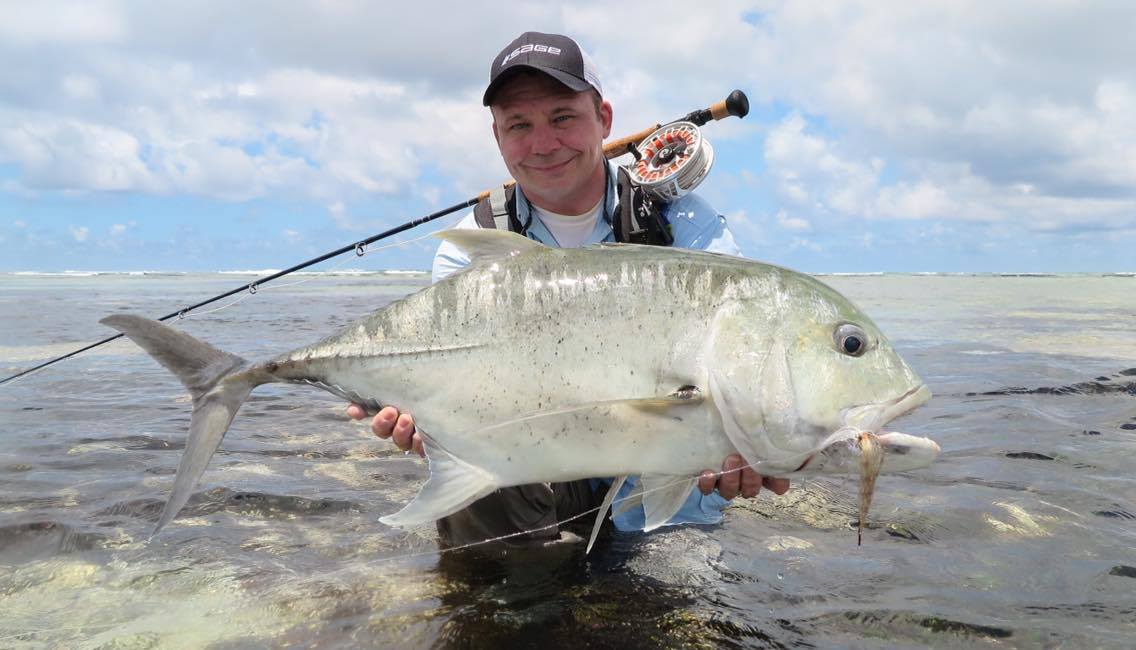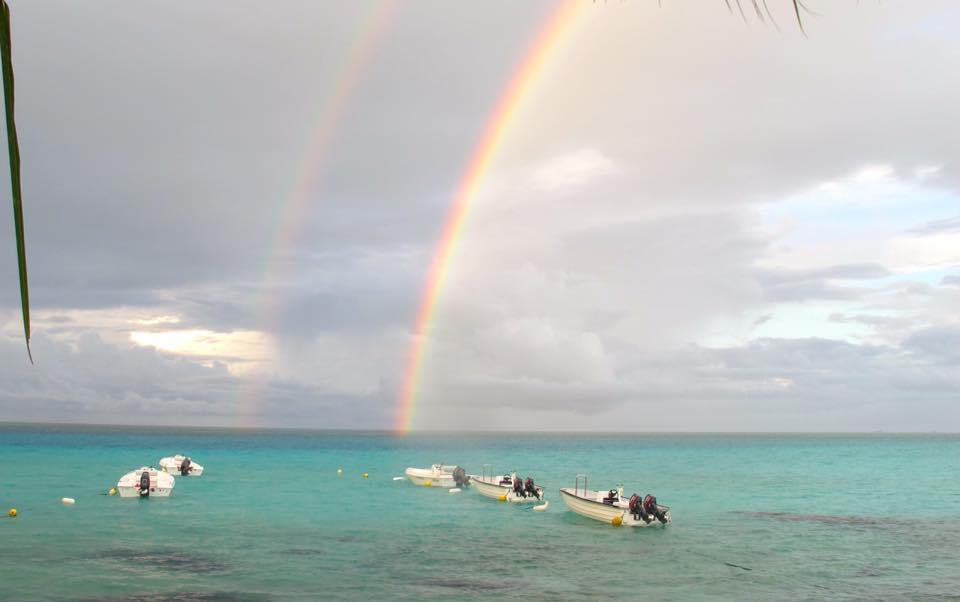 Day 1: I was up early that morning buzzing to get out, when noticed a big double rainbow across the bay in front of the lodge, I automatically had that gut feeling it was going to be an awesome day. And it was, in fact I had the perfect day landing two GTs on the very first day of trip wow! I know mind blowing stuff! One at 97 cm and the other 93 cm. My guide that day was Nick, a South Africa guide. He was very professional in his approach and was such a buzz to be around, he is so calm and did a very good job keeping me calm, he also got me a few other new species to my list…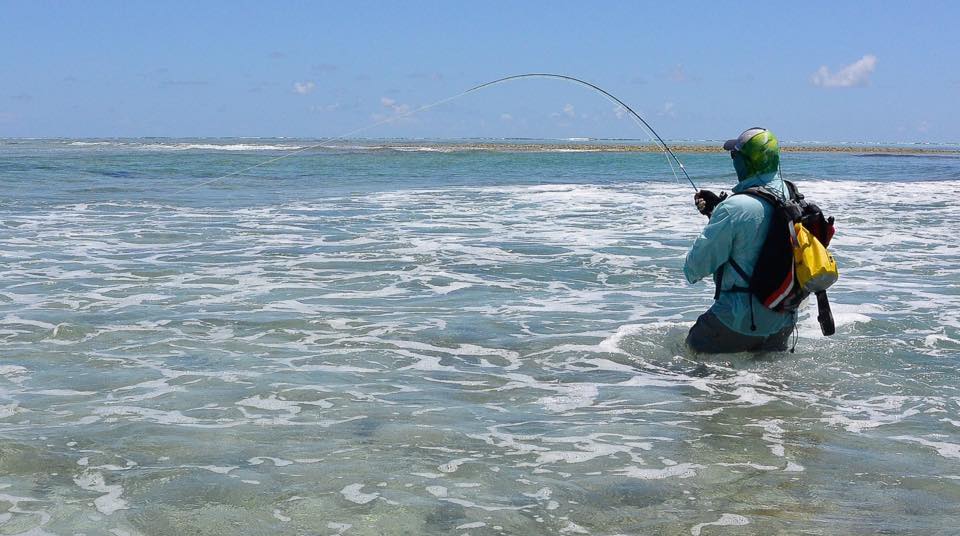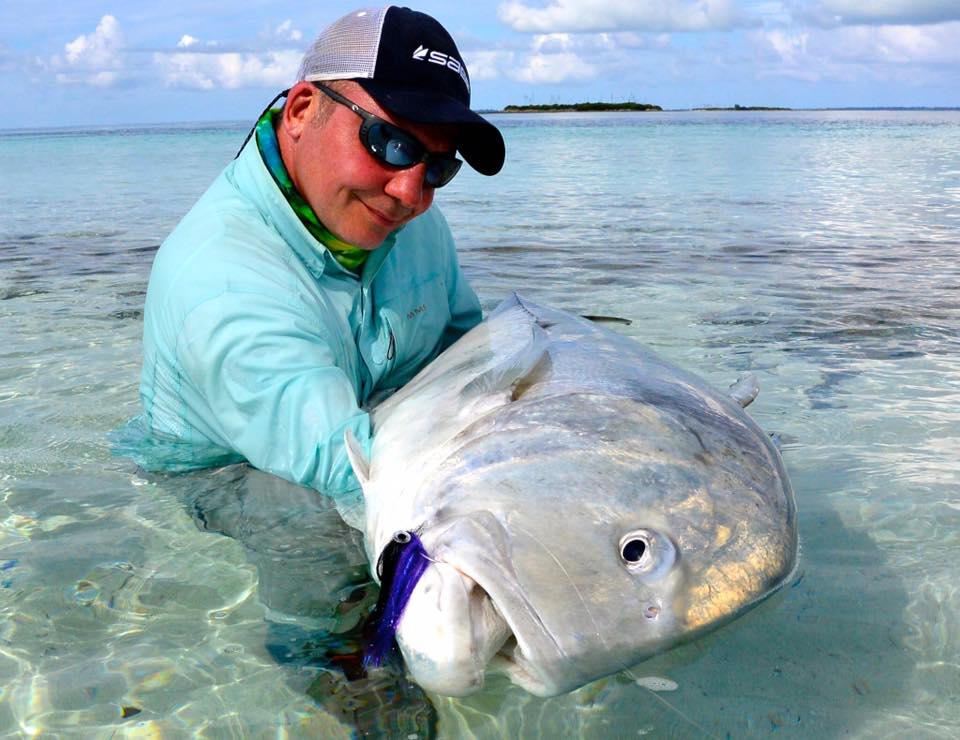 Day 2: I chased bumpies all that morning with French guide Matthieu. He was another pro and super knowable guy. He got me three solid hook ups on these heart-breakers but I never landed one! These are by far the hardest fish to catch, I played one in the surf for 15 minutes and had him only 20 feet from the rod tip when he turned his head around and boom! He was away with another one of my crabs to join his crew again… I hate bumpies! So after a full morning on the flats with not much to show, Matthieu took me to a spot on an island in search for a big GT hopefully one over 1 metre he told me…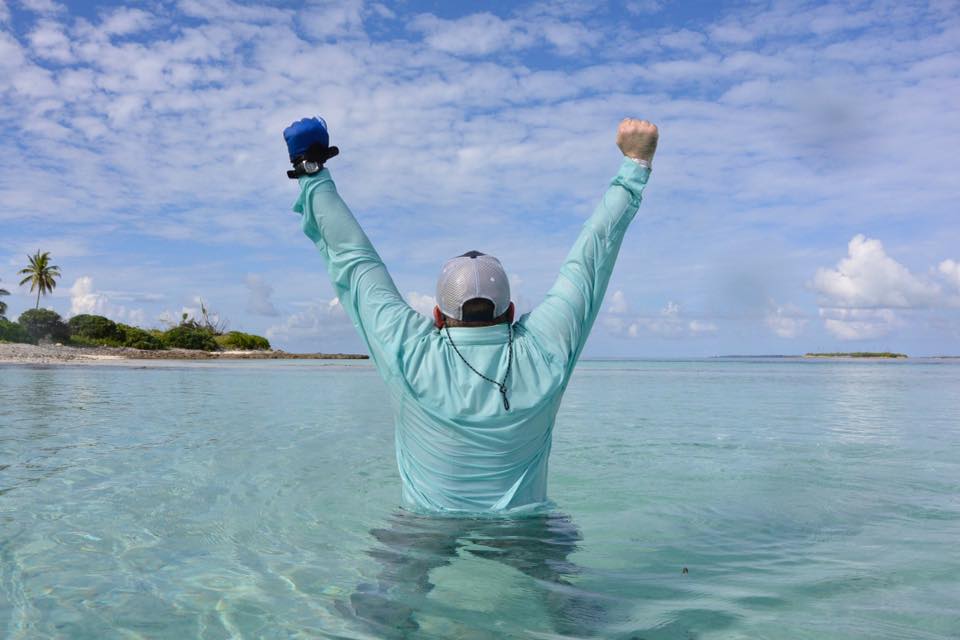 Well this guy was true to his word. He spotted a big shark with a massive GT on him and told me to cast long and to the right hand side by the shark. As the fly hit the water I was lucky to get two strips on it, when this big tank hammered the life out my fly. It ripped the line out my fingers, so I warped the line round my hand and set the hook! He nearly pulled the rod out my hand, but he was on. He motored an easy 100 yards into my backing. Even with my drag on full it was still going, this thing was relentless. Matthieu said "this is a monster man, I will need to get the boat to land him are you OK with that". He was 200 yards into my backing at this point and I just remember screaming "GO!". 10 minutes later Matthieu was back with the boat. I felt I was just starting to get the upper hand, but Matthieu said we will still chase it, and I am so glad I took his advice, because this thing was still incredibly strong, ripping more line. It was a massive relief when Matthieu finally tailed him because my forearms were like Popeye's pumped to the max! He measured 1 metre 19 cm, a giant…what a unit!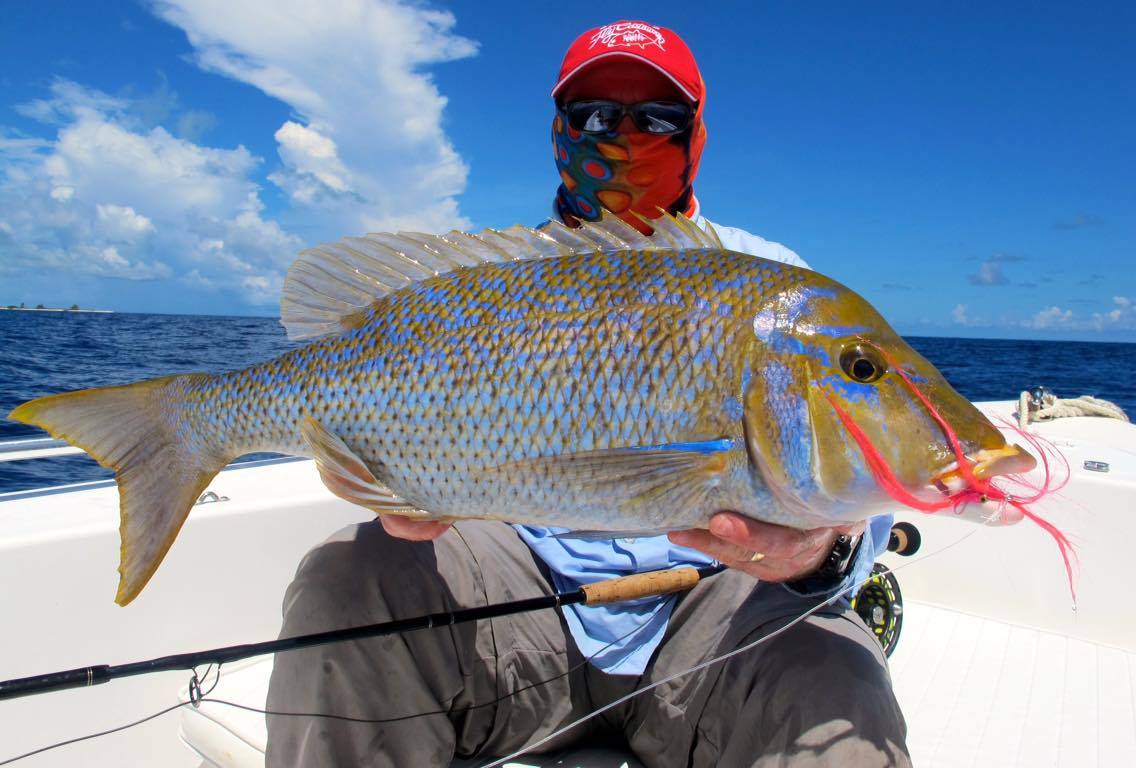 Day 3: I had cool Jerry and what a cool guy he is. I told him no more chasing GTs let's just do species, and that was exactly what we did. In fact we had well over 100 fish that day just fishing the coral heads, but the most important thing is we had so much fun doing so. It was just like being back home fishing with your best friend, we laughed so much that day…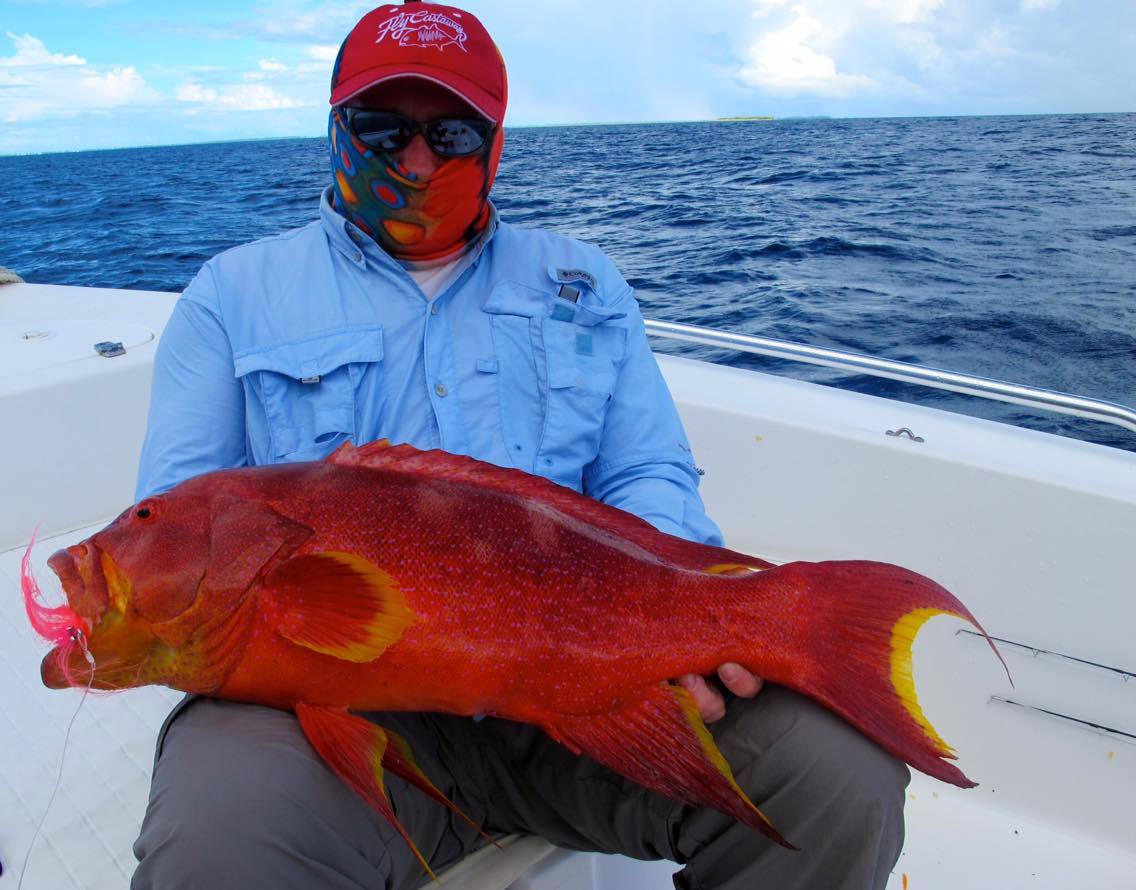 Day 4: I was with the awesome fly tyer and hardcore angler James, he is one of the more experienced guides on Farquhar. This was another amazing day catching some more new species and learning so much about his amazing approaches to fishing the flats out there. But, I really got a buzz out of talking to him about his great fly pattern ideas, this guy was amazing to be out with…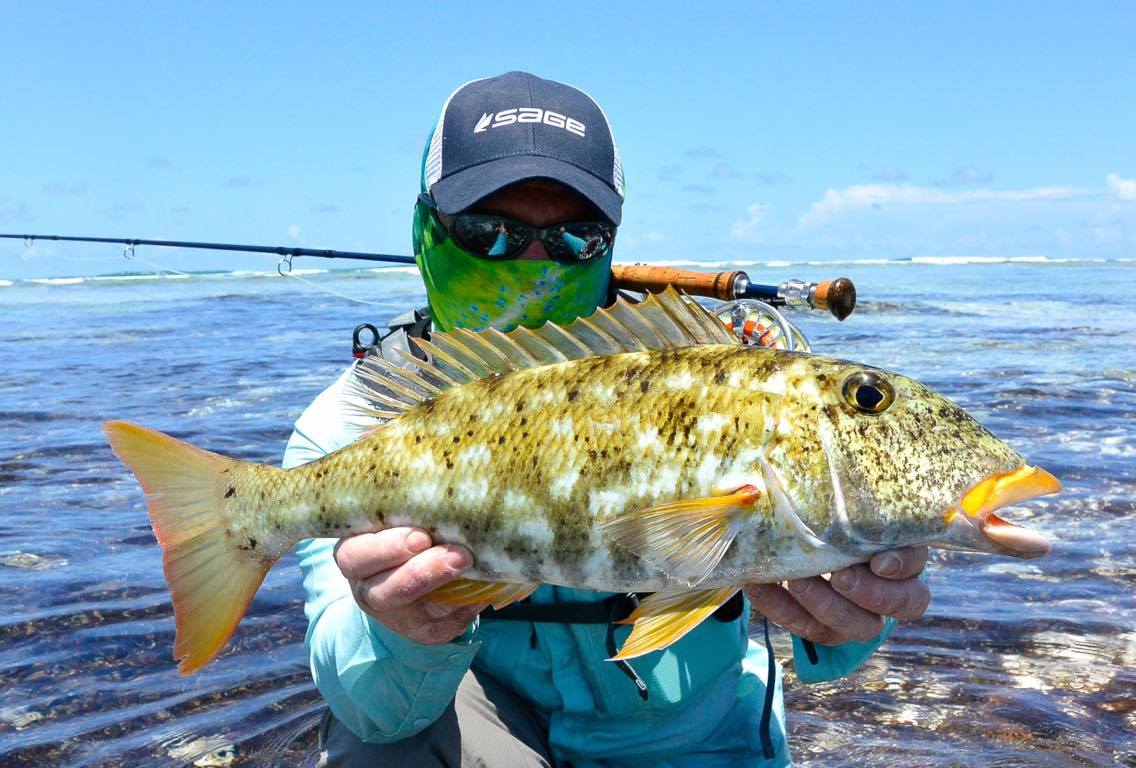 Day 5: I headed out with Peter, he is the longest serving guide on the island and this guy was a legend! He knows so much it's unbelievable, he ask what I wanted to do and I told him I had been unlucky with the blue fin trevally, losing a few and getting refusals (right at the boat sometimes). Peter pick out a smaller 5 inch mullet pattern out of my box, set me up on a sinking line and took me to one off his secret spots. Within just two casts a big blue fin was landed wow! This guy is a god!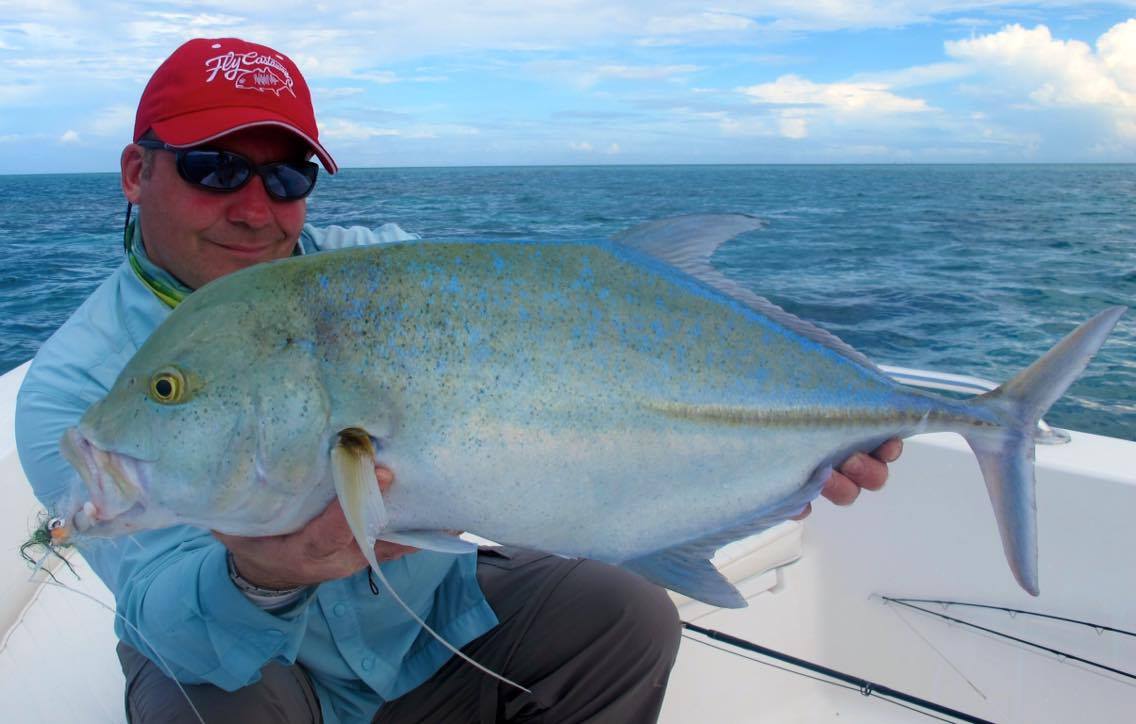 Day 6: This was the last day and I was teamed up with Justin, a real hardcore guide and angler. Only 10 minutes into the day and we had hooked into a massive white spot grouper, this thing nearly pulled me out my flats boots!  The day was amazing fun, landing obscene amounts of bonitos but Lady Luck was not on our side. We had two sailfish up at us boiling but they never took.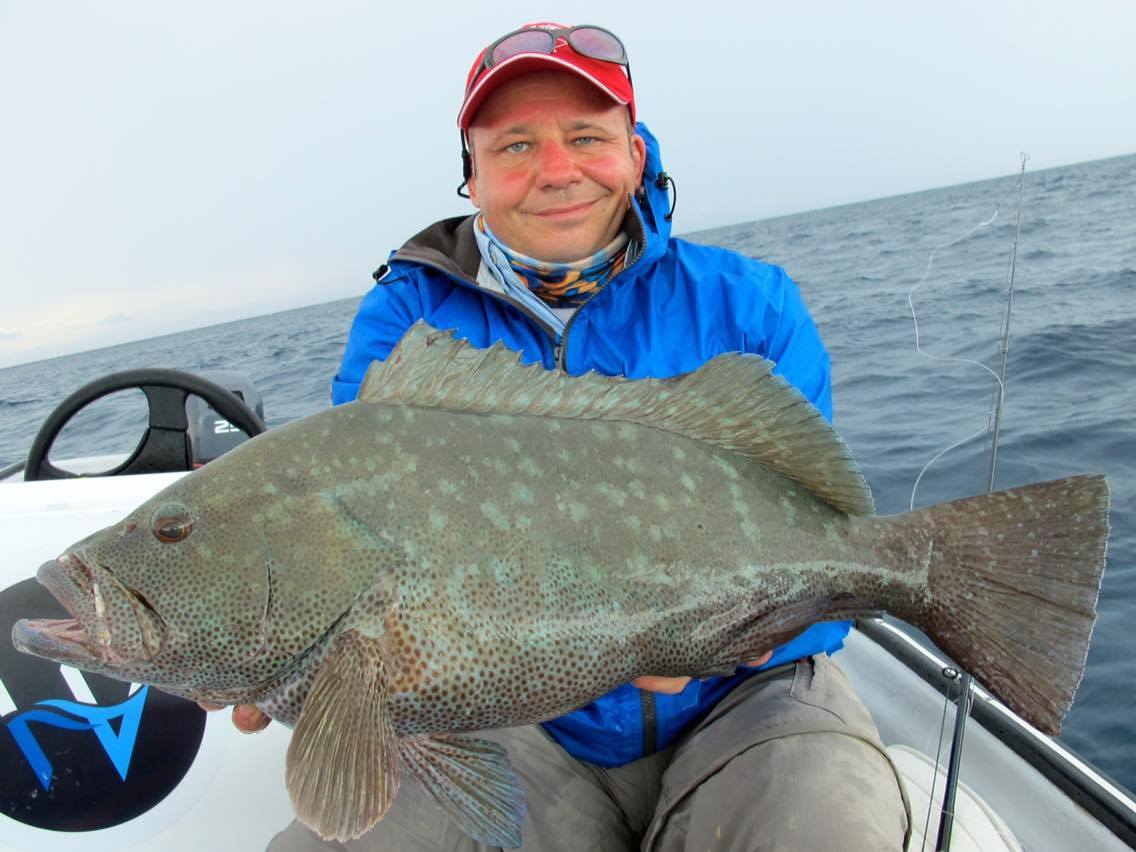 Justin and I then decided to go and play with the big dogs! Dogtooth tuna are one of the most powerful fish out there, they get big and are also known to fight to the death. We came off second best, we hooked three doggies only to get smashed up by them all! I was gutted to be truthfully honest, heartbroken. I nearly had one right up to the boat, but it just did me on the 130 lbs leader right at the end, so close but yet so far. I also hooked a monster, it ripped me 200 yards into the backing but stupidly my emotions got the better of me, I tried to put some heavy pressure on him! But it was not to be as he snapped my Rio leviathan 650 g fly line and it game over. It was right at the end of day too, so I was lodge bound with heavy aching hart! But the one thing that made this day great was Justin never gave up on me, he just kept saying you will get the next one and it picked me right back up…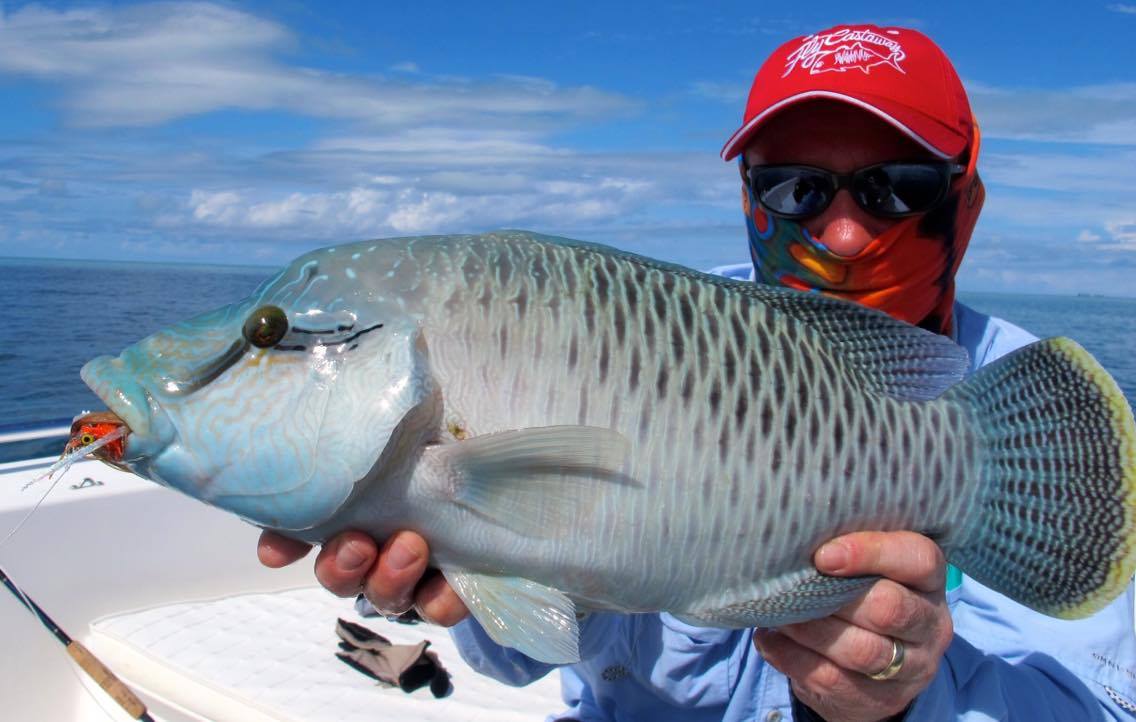 So over all I had a fantastic time on Farquhar and truly left feeling I had made some new amazing friends…
I will be back with wire leader for those big dogs and I hooked and played six bumpies never to land one so they are still firmly at the top of my hit list!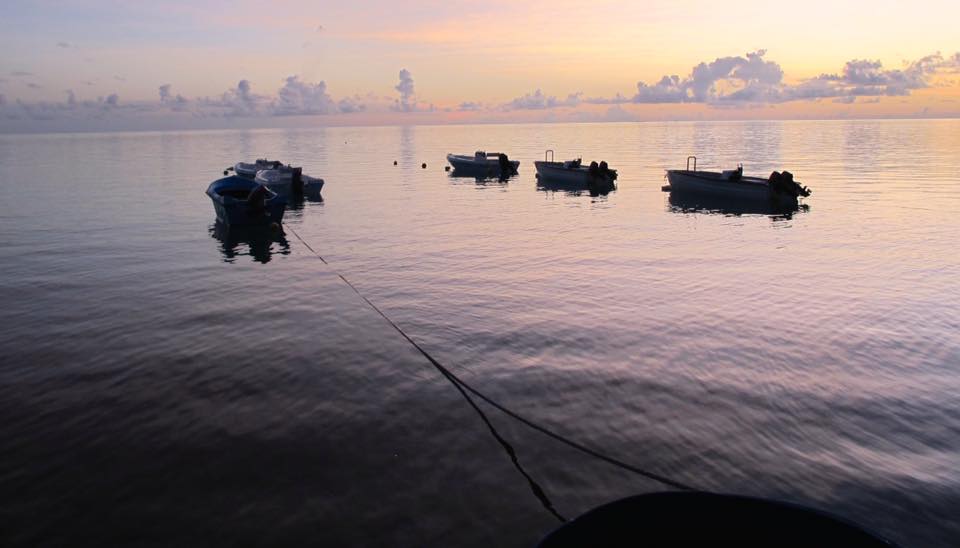 So until the next Farquhar mission…
If you would like more details on Farquhar Atoll please contact Peter McLeod or call the office on ++44 1980 847389.