Alphonse Island Fishing News – 26th November – 3rd December 2022
It's been another successful week on St Francois atoll, clear skies with little wind made for good conditions throughout the week.
Many of the anglers this week were focused on chasing the schools of giant trevally that have been very active around the atoll, and it turned out to be well worth it.
Angler Jo landed the fish of a lifetime. It happened to be a neap tide with not much water movement throughout the day. Jo's guide for the day, Chad, decided to pole Milky Way finger first thing in the morning. It seemed a bit quiet at first and then Chad noticed something happening on one of the coral bommies just off the finger, he had seen the Capel Shoal.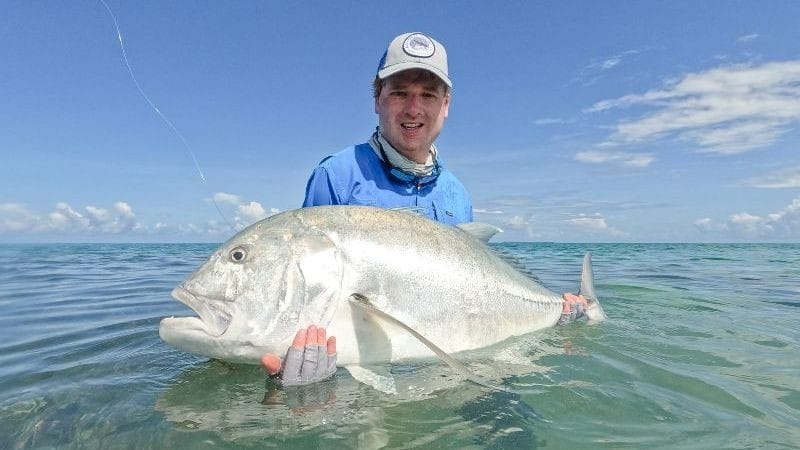 Anglers who have fished St Francois before may be familiar with the shoal but for readers who have yet to visit, the Capel Shoal is a school of nurse sharks that are followed by a massive school of large GTs that hang around the St Francois lagoon. Chad moved off the finger and paddled over to the bommie, Jo put out the perfect cast and the fish were on the fly instantly, Jo set the hook. After a hard battle, Chad grabbed the leader and pulled the fish into the boat, a 110cm giant trevally, the fish of a lifetime and what a way to do it.
The anglers were also in pursuit of triggers during the week, and anyone who has fished for these interesting fish will understand how tricky and heart breaking they can be. One yellowmargin and one moustache were landed during the week and a good few more were lost, either breaking free while we tried to stop them from swimming into a hole, or by them succeeding and getting into the hole.
Things are starting to heat up in St Francois and with more GTs moving on the flats the guides are excited for what's to come for the rest of the season.
If you would like more information and availability on Alphonse Island, please contact Charlotte Chilcott or Peter McLeod or call us on ++44 1980 847389. Alternatively click HERE if you would like us to contact you.
---
Astove Atoll – Fishing News 21st to 27th November 2022
A mixed group of divers and fishermen made for interesting chats at the tables sharing stories this week. The tides being in spring made for big water movements and loads of surf walks. The weather throughout the week was inconsistent with the south easterly trying its hardest, but not hindering the fun.
Marcus and Julian found themselves doing a long trek along the eastern side on day one. The wind was minimal and made casting a breeze. Spotting fish on your first day isn't the easiest but your guides, with their trained eyes, are always ready to help. Marcus caught his first-ever GT leaving him with a huge smile for the day. Both Julian and Marcus ended the day racking up a few more bonefish and adding bluefin trevally to their list.
The second day was a memorable day for Julian, hooking and landing his first GT. He decided it wasn't big enough and upgraded very quickly, landing an even bigger geet despite some tackle failure. Marcus and Julian kept themselves occupied with a good number of bluefin trevally throughout the morning.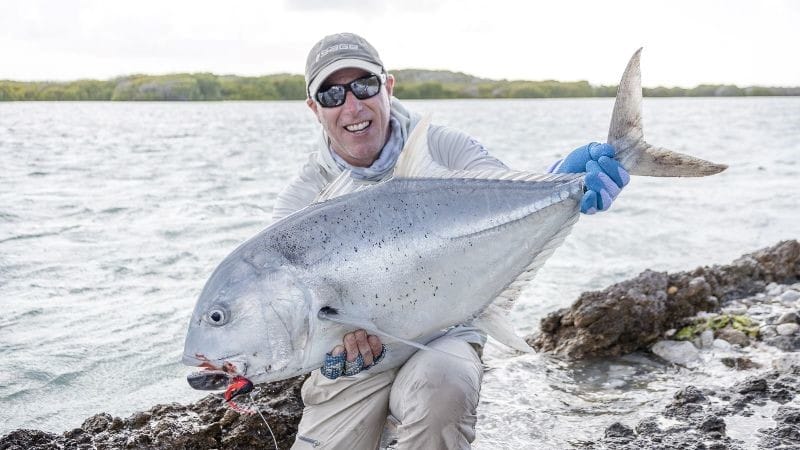 Midweek the wind picked up a little which put bonefish on the menu. Marcus and Julian racked up a few more bonefish adding to their already decent tally and they also added on another couple of bluefin bringing the total tally at the week's end to 32.
Everyone decided to trade in the skiffs for a walk on the surf for big bonefish on the catch list. Marcus and Julian fought up a good number of the strong fighting surf bonefish. Stan had an encounter with a GT which grew his desire for a bigger specimen, landing some good bonefish kept him busy throughout the day on his walk around searching for anything passing by.
Stan was the man with a plan nearing the end of the week, landing himself his first Indo-Pacific permit and followed in quick succession by his second. The total permit tally for the week was five, good innings for the elusive fish. Julian landed another GT and went searching for the flats slam but unfortunately those triggerfish in the wind made for a very tricky task, he opted to get stuck into the bonefish again bringing the total for the week to a healthy 127.
On the last day Julian and Marcus each caught beautiful Indo-Pacific permit and targeted big bones in the surf. Stan went on a cliff mission with his guide and needed a second 12-wt line as big geets don't play around. Unfortunately, it's the one that got away but his experience on the cliffs watching a cross-eyed giant trevally engulf the fly got him eager to come back and hunt those beasts. Next time he's bringing even more spare tackle with him!
If you would like more information and availability on Astove Atoll, please contact Charlotte Chilcott or Peter McLeod or call us on ++44 1980 847389. Alternatively click HERE if you would like us to contact yo
---
Cosmoledo Atoll – Fishing News 24th November to 1st December 2022
We started the week on the spring tides with lots of water movement, ideal for GT fishing. The weather didn't play its part the first two days with the wind blowing making conditions slightly tougher. Luckily, it was short-lived and we were back to that beautiful, sunny-skied Seychelles weather everyone dreams about.
Chantal Chone, a wonderful and frequent return guest, had spent the previous week with us and was well warmed up and prepared. She tied her own special triggerfish fly and her craft did not disappoint, landing her a trigger slam the first day she made use of it. The slam consisted of a yellow margin triggerfish, a moustache triggerfish and the beautiful, albeit petite, Picasso triggerfish. Chantal really covered her bases on this tricky species.
John Lagow had an amazing week catching his first-ever GT on the second day, a fight that prepared him for the next two geets he caught later on in the week. John pushed hard at the triggers and eventually managed to catch a 46cm moustache triggerfish. Undoubtedly topping off John's week, he landed a beautiful yellowfin tuna, a great achievement on a fly rod.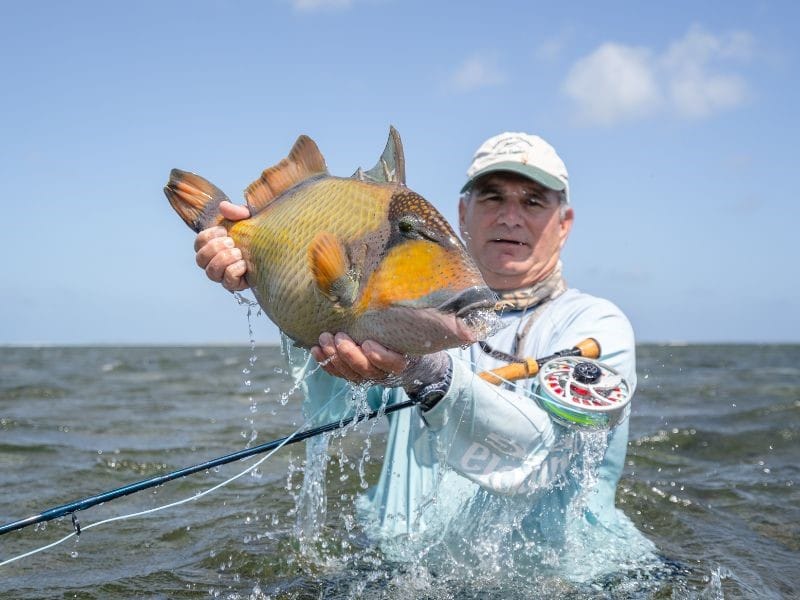 Ed Hall loved the deeper water fishing and all the species it had to offer. He took full advantage and managed not only his first-ever giant trevally but ended with a decent total of three for the week, along with an epic saddleback grouper, a special fish. Ed's boat partner, Bill Mudd, didn't miss out on the fun and had an impressive catch tally with varying species. In fact, Bill caught too many fish to mention. One special catch, that deserves some recognition, was a potato bass that was an absolute giant.
Michael Gong celebrated his 54th birthday with us and made it a good one by landing himself an 80cm GT on the day, he then went on to catch another two GTs for the week and a yellowfin tuna, again a very special fish to catch on fly.
Tommy Robinson had an epic first day on the flats getting a flats slam consisting of a bonefish, GT and a moustache triggerfish. A day that we're positive he won't forget anytime soon.
If you would like more information and availability on Cosmoledo, please contact Charlotte Chilcott or Peter McLeod or call us on ++44 1980 847389. Alternatively click HERE if you would like us to contact you.