Joining us for the season opener was a group of familiar faces and friends from our St Brandon's program. It would however be their first experience with us on Providence so we were eager to show them the array of species and intense sessions of fishing Providence produces….best of all we had nine days to do it in!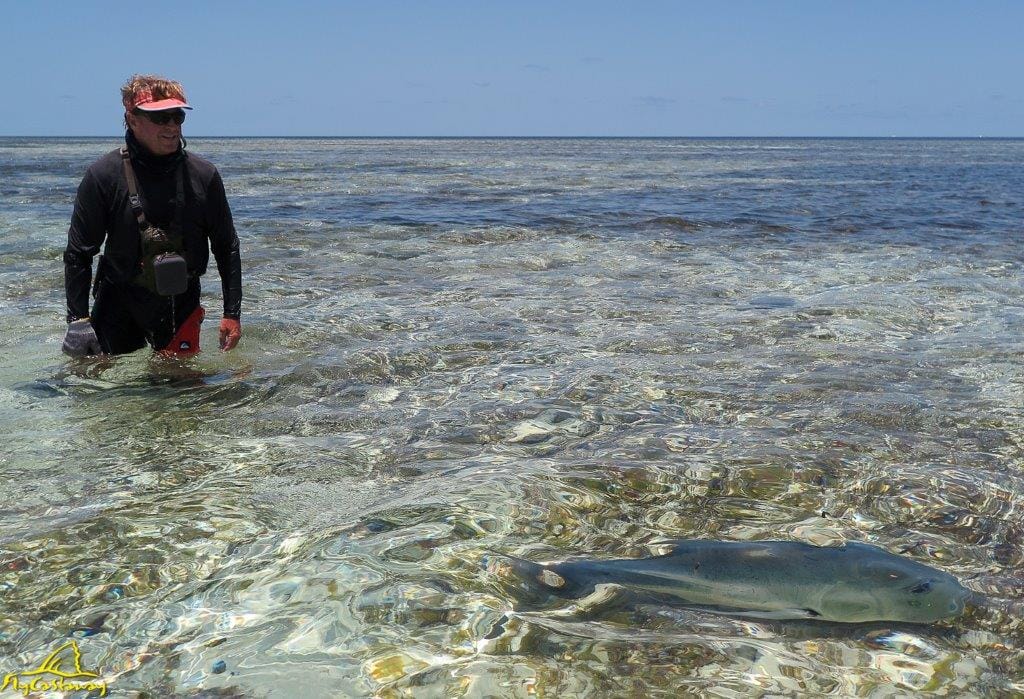 The trip kicked off with a pleasant surprise when we woke to large schools of feeding Milkfish at the back of the mothership on morning one. Excitement mounted even further as it was clear we had another species option for the group during the trip. After a strong cup of coffee and a solid Dugong breakfast, the skiffs shot off in different directions to get an idea which areas and flats were holding high concentrations of fish. It didn't take long to see the GT's were around in solid numbers, with singles, pairs and schools being encountered on day one.Father and son, Camillo and Juan capitalised early managing a nice double off the bat and Juan managing another three fish shortly thereafter.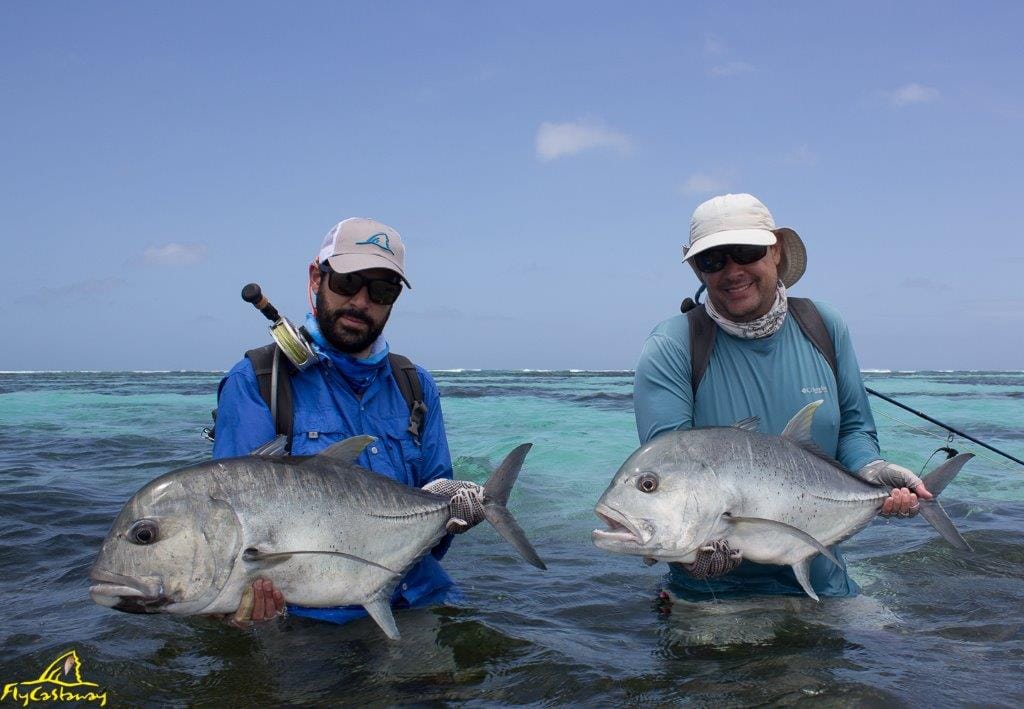 This sort of action was experienced by all the groups, most of the guests landing one if not a couple of GT's during their first day out!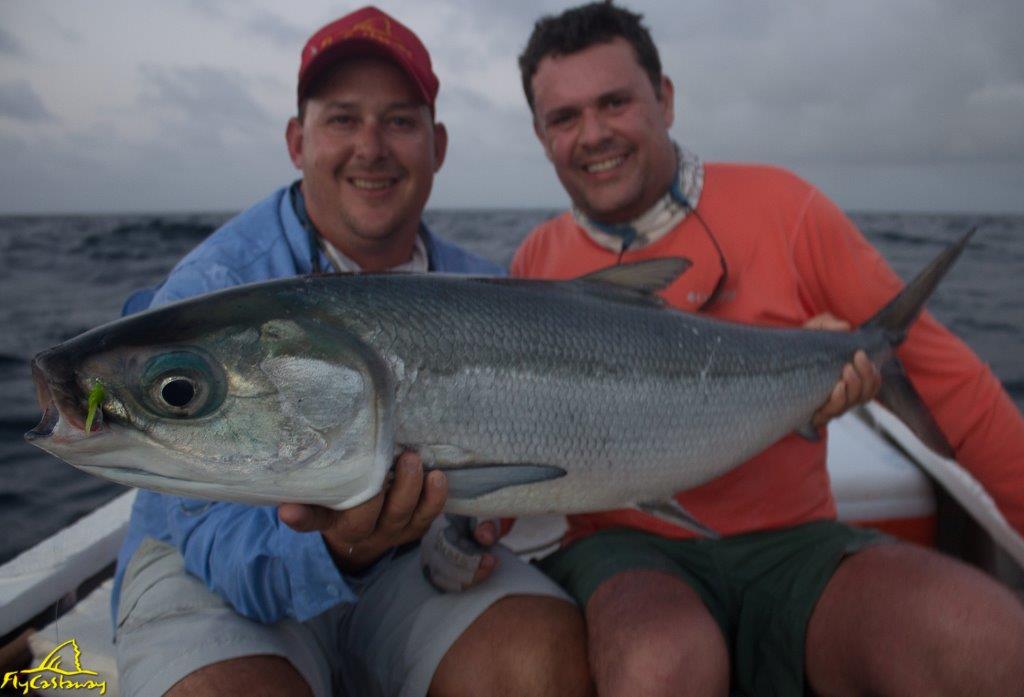 Juan's good fortune did not end there though. After the tide pushed them off the flat they went in search of the Milkfish that had been seen feeding a current line close to the Dugong. A shoal that consisted of daisy chaining fish was located and five casts later Juan's line went tight and a mammoth fish went greyhounding off into the sunset. Unfortunately technical issues with the fly reel meant that Juan had to battle it out for a further two hours, however with great patience and resolve a really big Milk was landed and photographed as the sun set at the end of Day 1. This set the tone for the next five days as numerous shoals of Milkfish were fished to in the morning and the afternoon sessions. Cast after cast resulted in a further dozen or so fish being hooked and lost by almost all the fisherman. Granted we didn't we have a ton load of luck in landing the fish, but great action never to be forgotten was had by all.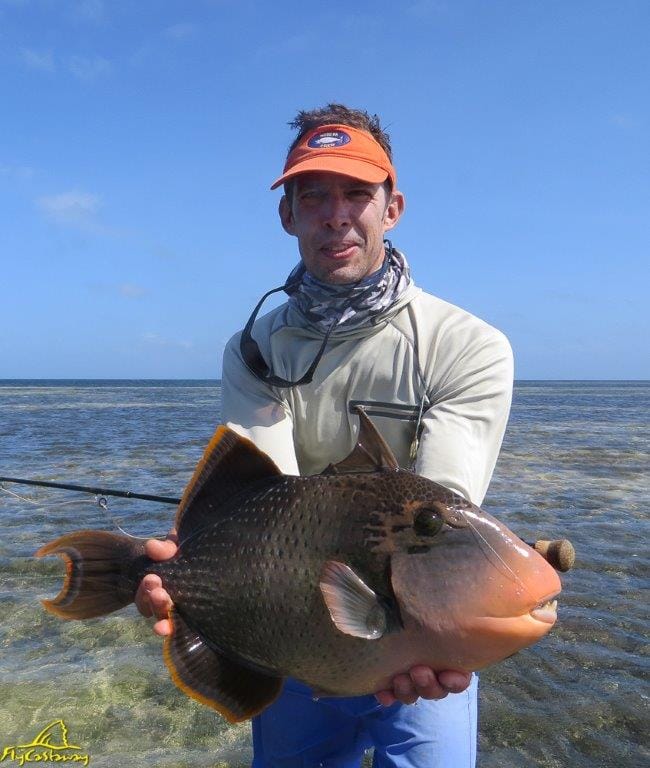 The weather got progressively better throughout the week, with slick calm conditions making for very pleasant wading. All the species made regular appearances and despite our major focus aimed at GT's, we encounterd some great Bonefish, Triggerfish, Bumphead Parrotfish sessions in between wielding the 12wt rods. On one particular afternoon Pat managed to hook and land four Moustache Triggers within an hour of wading time…incredible action for one of the most technical fish one can cast a fly to!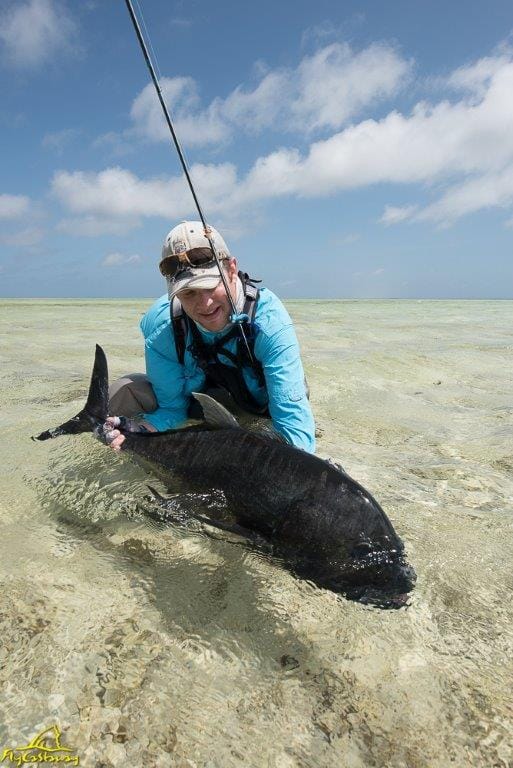 On the later part of the dropping tide, tailing Bones were spread unevenly across the flats. Ron took full advantage of the shots presented and managed to land a handful of fish that stretched in excess of 27 inches. Incidentally, while fishing for Triggers and Bones, the elusive Indo-Pacific Permit showed up regularly. On one particular morning, Dick had a shot at two of the biggest Permit we have seen on the atoll, both fish certainly in the 20lbs range and are now right in our cross hairs.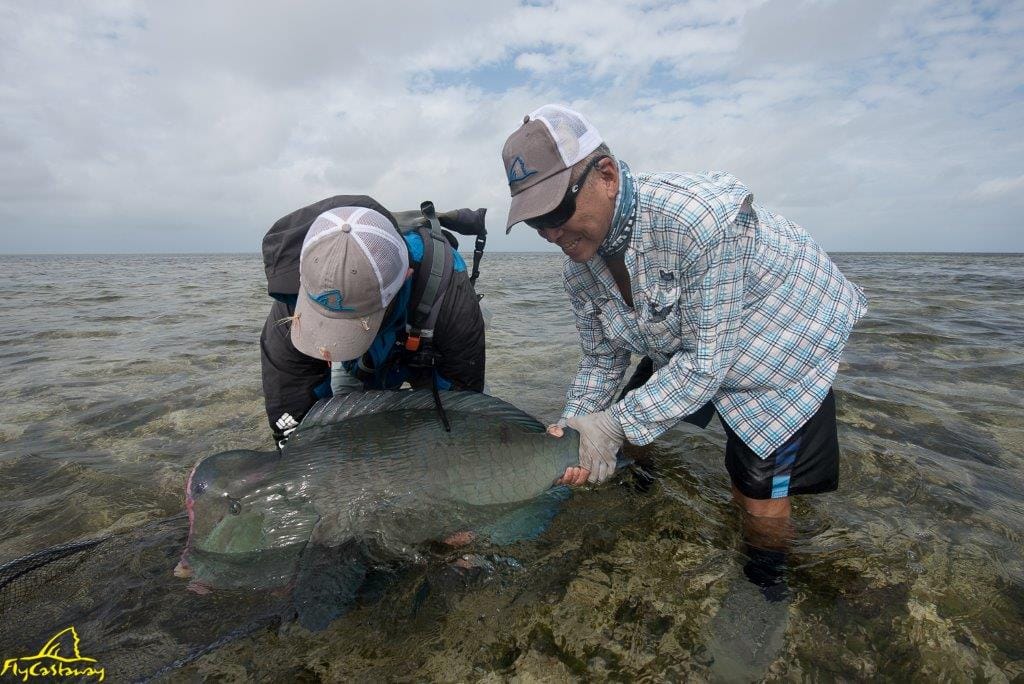 The GT's were however at the forefront of our guests target species, and it is safe to say no one was left empty handed. Although everyone got great fish, special mention must go out to the following individuals and their impressive catches. Firstly to Scott who on consecutive days managed to land two fish over the metre mark.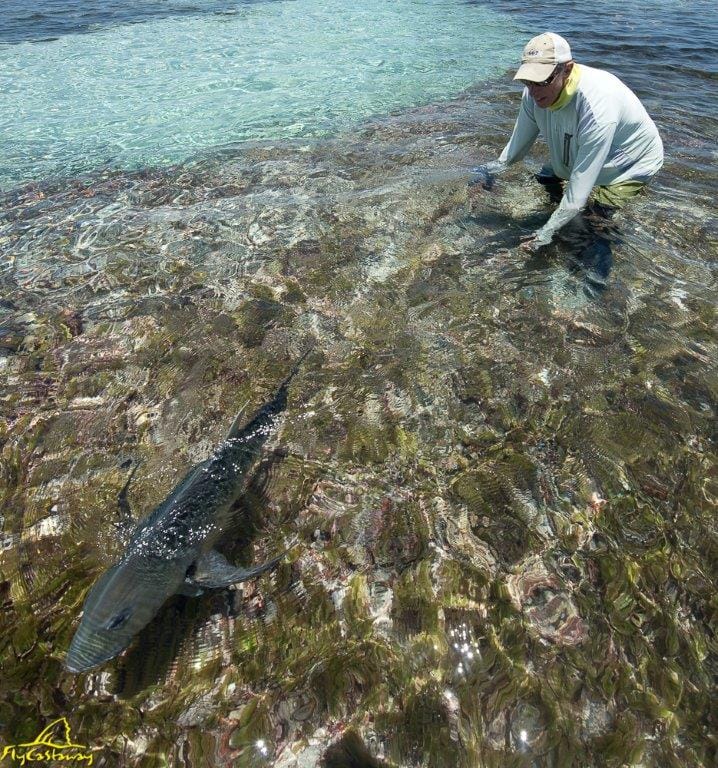 Pat who took full advantage of the opportunities that he had at bigger fish and landed a 103cm, 107cm, 110cm and a 116cm fish during his time on the atoll. And finally to Juan who landed the biggest fish of the trip, with a brute 120cm fish. This particular fish was a single fish that was seen cruising down a narrow gutter in the fading light on the second last afternoon. After a pin point cast, the fish with a very calculated approach engulfed the fly and sped off across the flat. After a solid tussle the fish of a lifetime came to hand. Congrats Juan!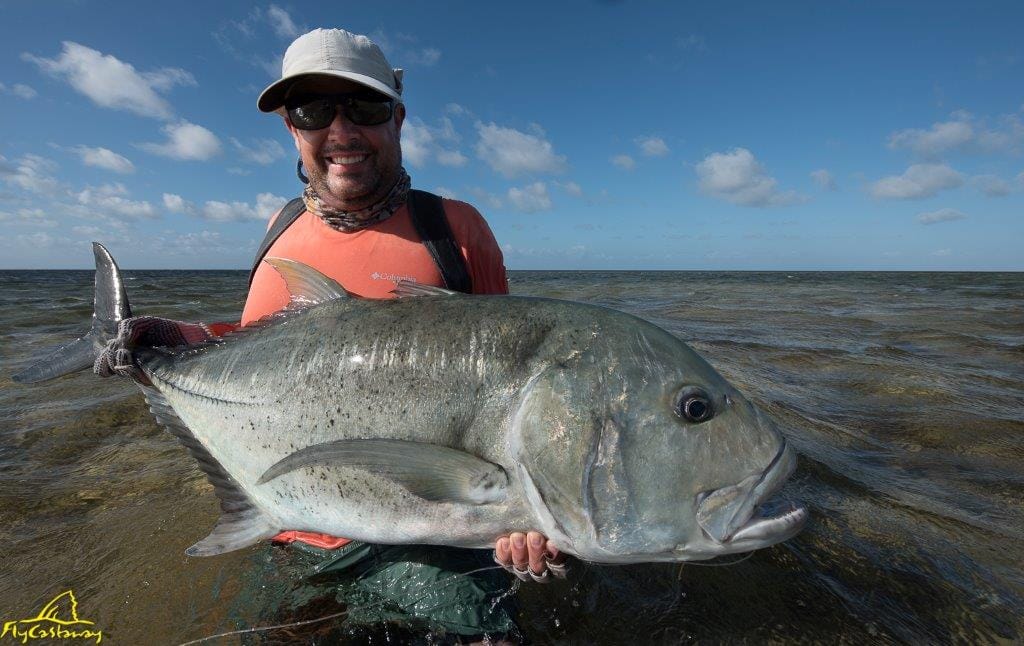 All in all, an unforgettable opening week with some great friends. All the anglers adding new species, new memories and also new personal bests in their flats fishing repertoires. Species wise we landed good numbers of GT's, Triggers, Bumpies, Bones, Bohar Snapper, Grouper, as well a Milkfish and a Sailfish and more Bluefin Trevally than one can even begin to count.
With 5 more trips to go during our season, no doubt there are many more incredible fishing sessions just around the corner. Watch this this space!
If you would be interested in joining one of the groups in the next big adventure in the Indian Ocean then please have a look below for the remaining availability for next season. Cost this season is US$12,000 and the extended trips are US$14,500.
PROVIDENCE, SEYCHELLES
19 – 28 March 2017 (Peter's hosted week extended 8 day trip – FULL)
28 Mar – 4 April 2017 (8 rods open)
4 – 11 April 2017 (6 rods open)
11 – 21 April 2017 (Extended Trip – 6 rods open)
If you would like discuss Providence or receive further information, please contact  Peter McLeod. Alternatively, please contact the office on +44(0)1980 847389.