"It's 5:30am on Providence."
I wake up to the familiar drone of the onboard generator, a sound that initially keeps you awake but over time becomes hard to sleep without. Then there's the smell of fresh bread and the sound of pots and pans coming from the kitchen. The kitchen is right next to our cabin. No doubt Chef is up! I lie in my bunk for a while and wonder if he ever actually sleeps…I maintain the Chef has the most taxing job on the ship! I slowly navigate my way out of my bunk trying to avoid the bulkhead and all the other obstacles a normal bedroom does without. Locating my toothbrush and toothpaste I make my way into the main passageway replying to a series of "Good Mornings" from crew members also getting up and ready for the day.

First priority is coffee, followed by a smoke on the aft deck…I know its a dreadful habit but I've convinced myself that I could be doing far worse things! It's still dark but signs of light are slowly showing towards the east. I am joined by Matt, our French guide, who begins his morning stretches – trying to iron out some of the back pain which is a common problem with Indian Ocean guides. I should be doing the same, but somehow I think I have become numb to the pain. Matt makes mention that the ocean is slick calm this morning. "Dropping tide" I mutter back, my mind already ticking over the day's plans. The rest of the guide team appears and also make mention of the calm conditions. We shoot the breeze for a bit, revising the fishing plans set out the night before, due to the present conditions. In the process I keep an eye out towards the now rapidly rising sun.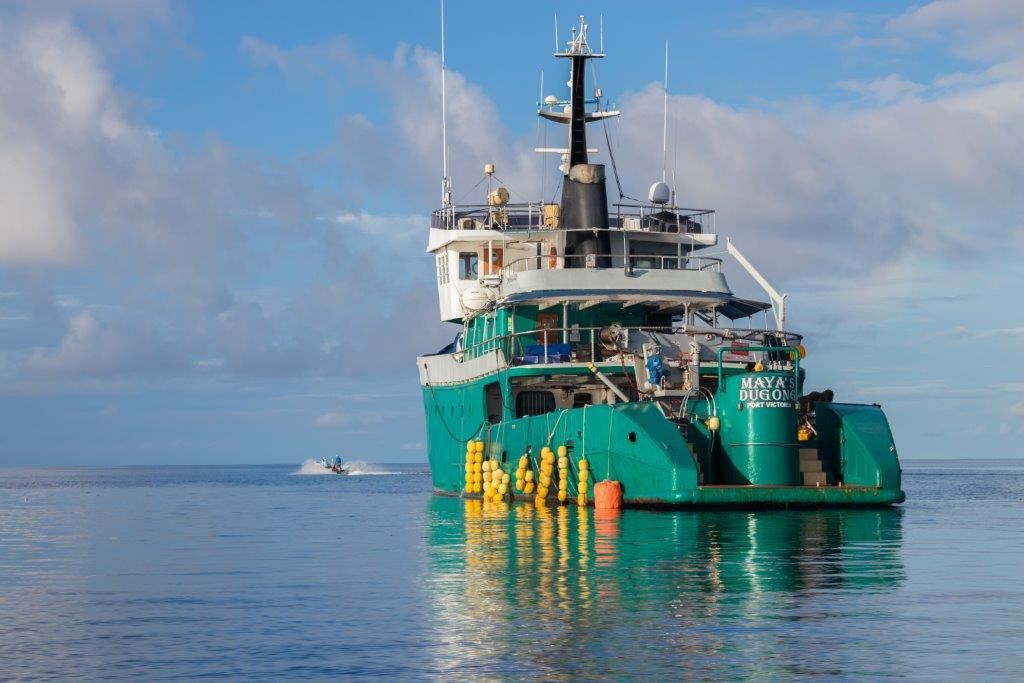 The sound of cooler boxes being packed and the starting of the crane generator break the calm. Like a sleeping giant in the middle of the Indian Ocean, Maya's Dugong begins to wake. This added noise seems to be the green light for the start of the day. Some guests join us around the table, eager to listen to the discussion and get some insight into how the day will pan out. My eyes are still set on the calm waters beside the Dugong and I scan for the sign of life the calm conditions usually provide. A glimpse of a shining tail appears, followed by another and then another.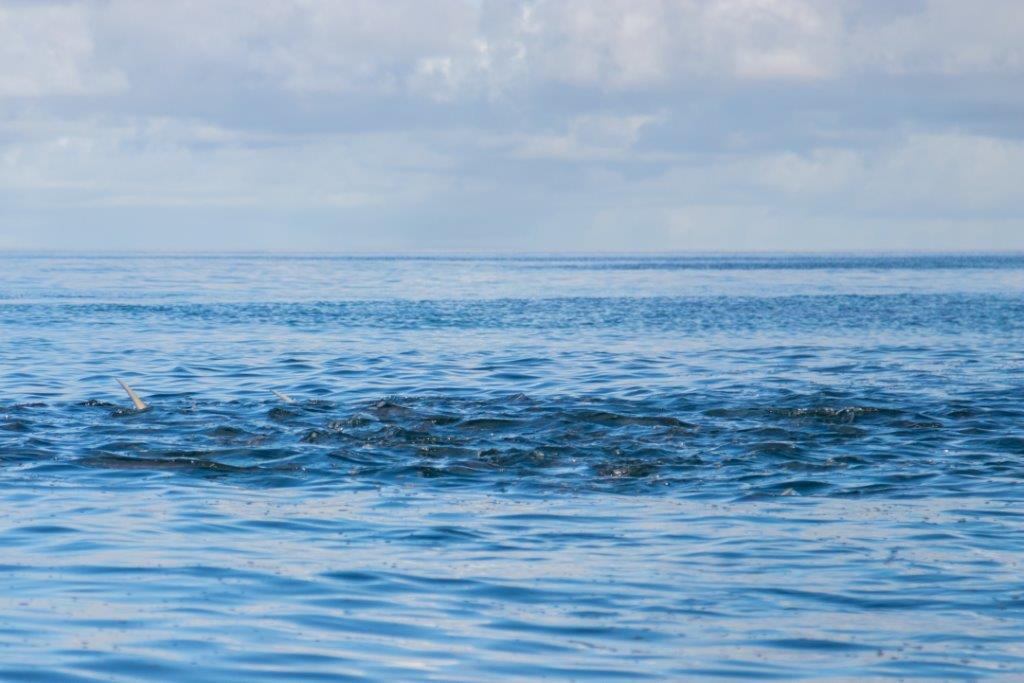 As suspected – Milkfish 100 yards on the starboard side, and there are a lot of them! Standing up I make my way to one of the side railings of the ship. Pouring out the last remaining drops of my coffee into the deep blue water below, I notice our ever present escorts, three +/- 500lb Bull Sharks and some nice GTs cruising menacingly around the ship. Clients are briefed on Milkfish tactics and some leaders are rebuilt. Breakfast is wolfed down and suncream applied. Boots are next, followed by final gear checks. The tenders boats are lowered into the water, cooler boxes packed and handed down to each guide. There is a hustle on the ship now as I offer a gentle reminder to my fellow guides: "Pushing tide in 3 hours boys – We've got 2.5 hours to get stuck into the Milks, but make sure you're on the flats in time for the push – Good luck and have fun!" I do a quick radio check in with the captain: "Receiving you 5 out 5… Have a good day!" Next is a safety briefing with my guys for the day, along with a brief run through of the fishing plan for our time together and then thankfully it's time to go fishing!"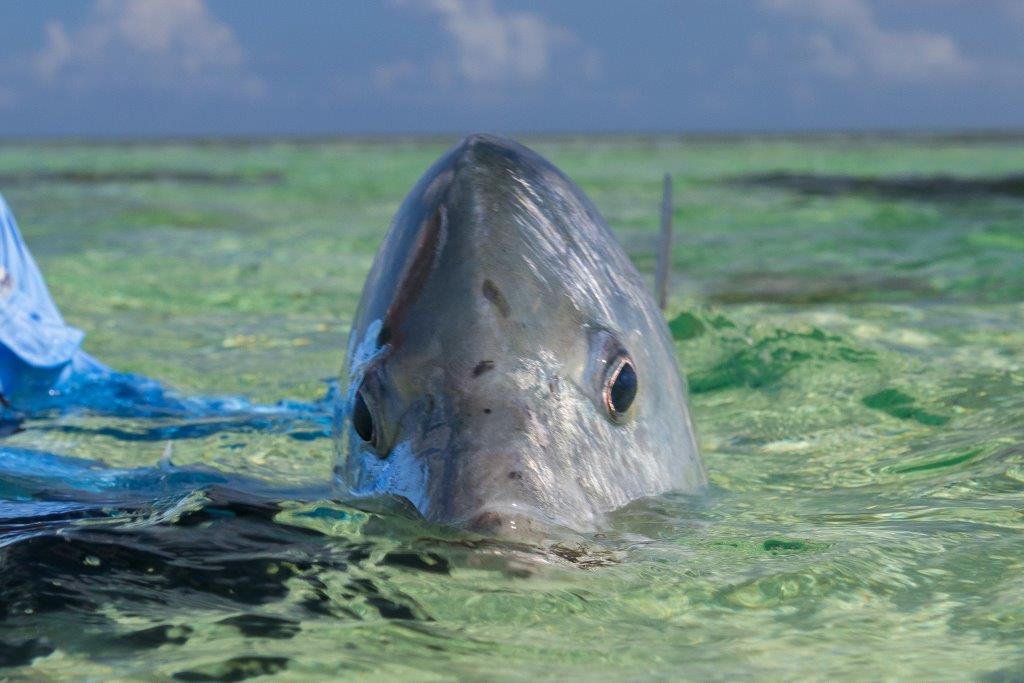 The above scenario is a pretty accurate description of my morning routine this past season on Providence Atoll in the Seychelles. The part you are however no doubt wanting to hear about is what transpired after we headed out fishing. In truth, this past March/April season in those respects is a blur…a blur of spotting fish, a thousand casts, tailing Triggers and Bones, shoal upon shoal of Milkfish, finding new areas which hold fish, the sound of two stroke engines and of course that mixed look of excitement & panic mixed on a guest's face when a GT screams in towards him.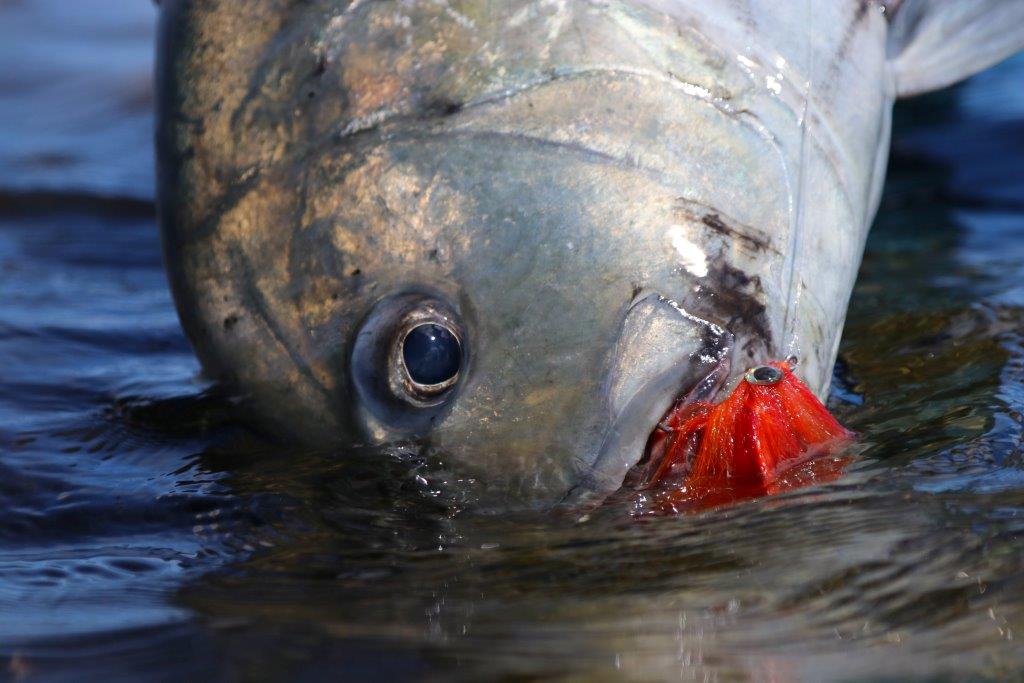 Its impossible to single out one day. Simply put, it was a great season, only the Bumpies not quite around in their usual numbers, but our hooked tally still a respectable 44 fish. We were privileged to experience the most insane Milkfishing I have encountered, with no less than a 110 fish hooked during the short season. It was further evidence that Providence ranks as one of the premier destinations for guests looking to tangle with these incredibly powerful fish.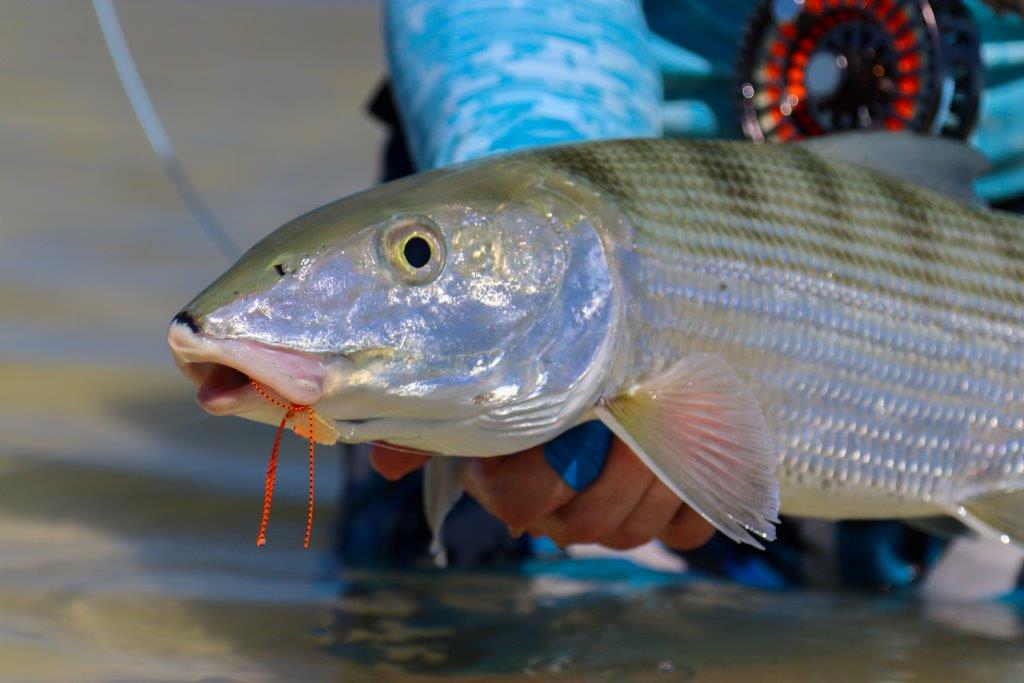 Providence's tricky Triggers and super chunky Bonefish were also out in full force throughout the season, 105 Bones and 82 Triggers falling to well presented casts. The sad reality is these fish didn't get fished to as much as they should have this season as the atolls large population of GTs were in fine form. Large numbers of them roamed the flats, both free swimming or shadowing stingrays or sharks. In total 507 GTs were hooked, 485 of these fish on the flats, with the biggest fish measuring 134cm. It was one of the most spectacular GT periods I have seen and testament to the atoll's health and our guide team's ever expanding knowledge of it. Not to be outdone was the smorgasbord of species that came to hand…. Bohar Snapper, Grouper of all sizes and colours, Napoleon Wrasse, Bluefin Trevally, Sailfish, Dogtooth and Yellowfin Tuna all were present and accounted for. In total we landed a staggering 1435 fish of varying species on the fly during the four week season. There were many good days, most of which ended in the following manner…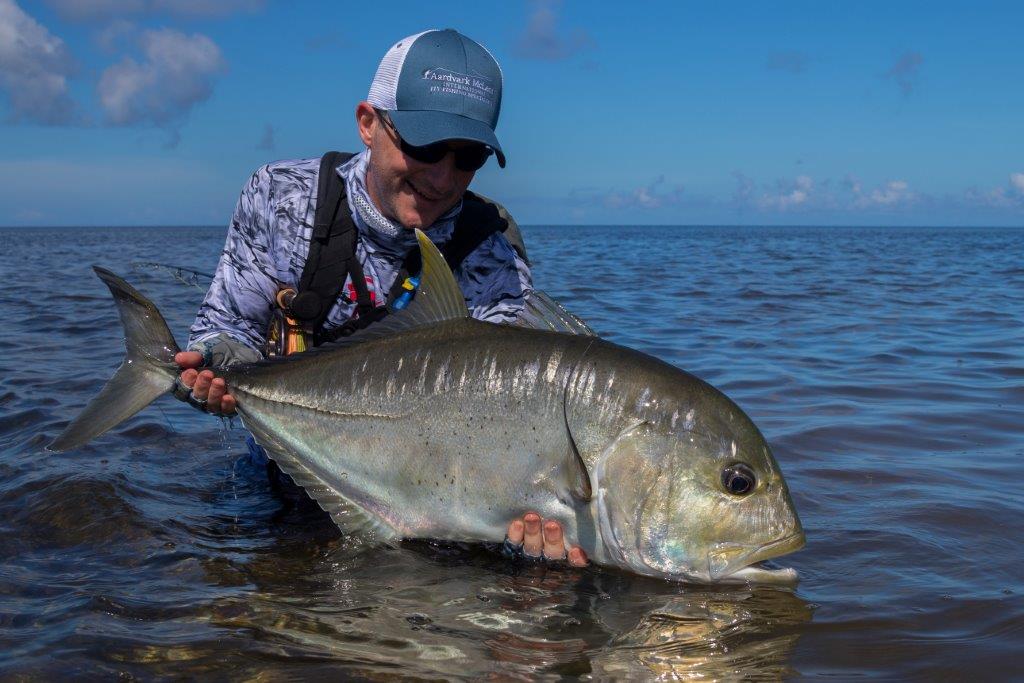 "The run home is a good one, the guys on my boat exhausted but content and upbeat. They are helped back onboard the Dugong by a crew member, their rods and other gear soon following them. A crew member or guide sprays their reels down with freshwater before they're strung up. Boots are hauled off weary and wrinkled feet as the sound of the crane lifts the last of the tenders back onboard. Guides and guests chat about certain details of their days on the back deck, before hitting the showers to clean the sunblock-encrusted salt and sweat off some weary but satisfied bodies. It was a good day all-round!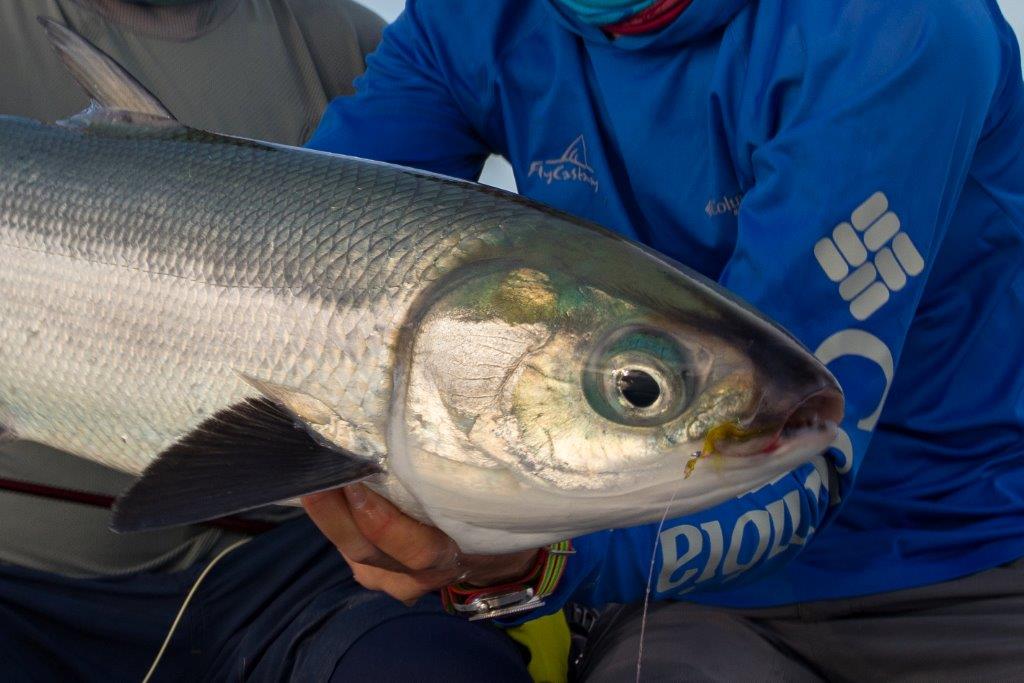 Making my way up the stairs to the top deck, I can hear some of the other guests already showered chatting about their day over a cold beer or nice dark rum. This chatter carries on until dinner and afterwards, until droopy eyelids force the inevitable. I make my way down the passageway, the chef is in the kitchen prepping for the next day……..I stand for a moment thanking my good fortune I am not the chef!!! As I climb into bed I realise I should have done those backstretches….maybe tomorrow. The drone of the onboard generator instantly settles me into a deep sleep, it had been another good day!"
A big thank you to our clients from this past season. We enjoyed some incredible fishing with you as the images below clearly show. Needless to say, we cannot wait to step back onto the flats later this year. No doubt it's going to be another exciting stint with some new friends made along the way!
Tim Babich – Head Guide
Providence 2017/2018 Season Openings
With fishing of that calibre and limited trips on offer each season, it's understandable why spots on Providence are so highly sought after. We do however have a few openings during 2017 & 2018 still up for grabs:
14 – 21 November 2017: 3 rods open
21 – 28 November 2017: 7 rods open
Season Break
10 – 19 March 2018 (Extended Tour): 3 rods open
19 – 27 March 2018 (Extended Tour): 4 rods open, Peter's Hosted Trip
27 Mar – 3 April 2018: 2 rods open
17 – 24 April 2018: 3 rods open
Season Break
27 Nov – 4 Dec 2018: 3 rods open
4 – 11 Dec 2018: 12 rods reserved (contact us for more info)
If you missed Peter's trip report from this season please click HERE. If you would like discuss Providence or receive further information, please contact Peter McLeod. Alternatively, please contact the office on +44(0)1980 847389.