Cosmoledo Atoll Fishing News 30 November – 7 December 2017 – 85 GTs

To say the elements were against us this week might be considered an understatement, with winds gusting to 30 knots and 100% cloud cover at times. Be that as it may the team kept in high spirits and pushed through to record some great catches. This week was exceptionally special as this team was eager to attempt everything that Cosmo had on offer! Lake Taylor was quick off the mark and used the 'calm before the storm' to his advantage and landed a beautiful dorado bull. The tricky triggers were plentiful and the team managed to trick two yellowmargin and four moustache triggers into falling victim to the trusty Alphlexo crab. The GT's were around in true Cosmo fashion with catch stats hitting the 85-mark between the team of 8 anglers. The Cosmoledo fishery is known for its larger bonefish and this week again proved this. Oleg Verber's bonefish session is one he will never forget, managing to land 15 fish in the spectacular 8 to 9lbs range. Richard Morton, accompanied by good friend David Desilets, came out on top with the GT numbers and managed to land his second-ever moustache triggerfish. While David had never cast a fly rod before, his beginner skills excelled and he landed his first triggerfish, cracked in on the GT action and perfected his bonefishing. Ivan Kolesnichenko had a day that most of us dream of after a good morning session of bonefishing and defeating an angry GT, he managed to strike gold by landing a gorgeous gold permit of 68cm, racking up the only "Grand Slam" of the week.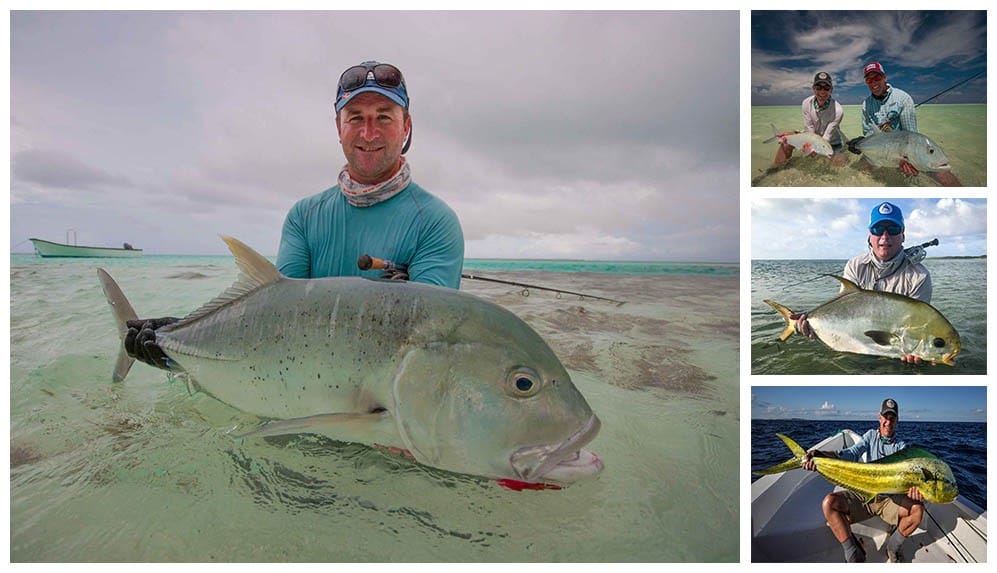 Cosmoledo Atoll Fishing News 7 – 14 December 2017 – 5 Anglers 71 GT's
The last week of the season out at Cosmoledo was coupled by a full neap tide, ensuring guides and guests alike could access almost-every inch of the atoll in search of the diverse species Cosmo has on offer. The GT's were around in true Cosmo fashion and although the beginning of the week fished a little better than the end, the team succeeded in landing a respectable 71 GT's between five anglers. Father and sons team Miguel Snr, Miguel Jnr and Nicolas Garza used the tidal movements to their advantage by landing their first GT's on fly as well as doubling up on almost all of their catches with Miguel Jnr taking the lead for the week after landing 17 GT's! Jose Alvarez put his tackle to the test and fought a beast of a GT, measuring 117cm, like a true champion, landing it and taking the prize for biggest fish of the week, just ahead of his battle with a GT of 110cm. David Hirsch, whom has a reputable reputation to uphold, again had a smashing week going home with nine 'Flats Slams' consisting of GT's, bonefish and triggerfish, including a record size mustache triggerfish, which was an ending to season like no other!  Concluding the season on such a high note, totaling 484 GT's landed for the five-week session and such special catches and slams all round has left the team eager to get back out to Cosmoledo in early February.
If you would like more information please contact Peter McLeod or Charlotte Chilcott or call on ++44 1980 847389. Alternatively click HERE if you would like us to contact you.
To read the most recent reports from Alphonse Island click HERE and from Astove Atoll, click HERE.