We enjoyed reading this story on a newsletter from Chad Black, general manager at Nicholas Dean Outdoors who is based on the Skeena River in British Columbia. It's a lovely account of a truly massive fish caught by a guest last autumn.
Trevor Hayes had fished with us previously and had focused mostly on conventional gear fishing, of which he'd had great success, but he'd always wanted to try his hand at Spey casting for steelhead. We have exceptional guides who are very good teachers, and on this fateful day, Trevor was fishing with Skeena veteran, Scott Young. After giving Trevor some lessons – teaching him about D loops, tension, and the push/pull fulcrum, he was ready.
At the next run, Trevor worked out line – cast, step, swing – until his line stopped abruptly, part way through the run. Pandemonium ensued when Scott, Trevor and friend Cam saw the sheer enormity of water that the fish moved. Several runs into the backing and tense moments led to the fish finally surrendering to the net – and what a fish it was! At 40 inches long and boasting a massive 24 inch girth, the fish was over 30lb – truly, a lifetime fish.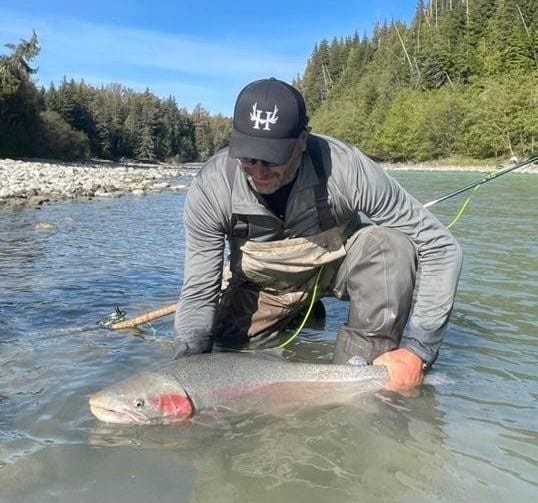 To summarize – it was Trevor's first day ever Spey casting, the first steelhead on the fly he'd ever landed, and he hit the holy grail of steelhead. Frankly, when we were heard about the story later that night, we jokingly told him to quit now as he's not likely to best that fish! But, he said there's zero chance of that happening – he's got the bug now!
This is just one story amongst many that explains why we love doing what we do – helping our guests to connect with wild fish in wild waters, and help make memories that will last a lifetime. Well done, Trevor and congrats!
The Skeena system in British Columbia boasts numerous productive steelhead and salmon rivers and produces some of the biggest wild steelhead and Pacific salmon in the world. Guests stay at the comfortable Yellow Cedar Lodge on the banks of the Skeena located near the town of Terrace. Nicholas Dean have what is regarded as the best guide team on the river and also have access to superb water on surrounding rivers.
For more information on this magnificent river please contact Peter McLeod or Alex Jardine or phone us on 01980 847 389.