Africa has always seemed like a long way away to me. As someone who plans nearly all of their movements around where and when the fishing is good, I have never really pictured the continent as high up on my list, or indeed yellowfish. Of course there is the well documented and fierce tigerfish as well as a very prolific saltwater fishery but nothing had made me take the leap…until now.
I had read and seen various accounts of fishing for yellowfish over the years and I must admit they did gain some of my interest, but I very much felt that they were a species that the South African's targeted as a replacement for trout…how wrong I was. In 2016, one of our good friends, Garth Wellman, first told us of this little-known but potentially world class destination in South Africa's Northern Cape for largemouth yellowfish (see destination HERE).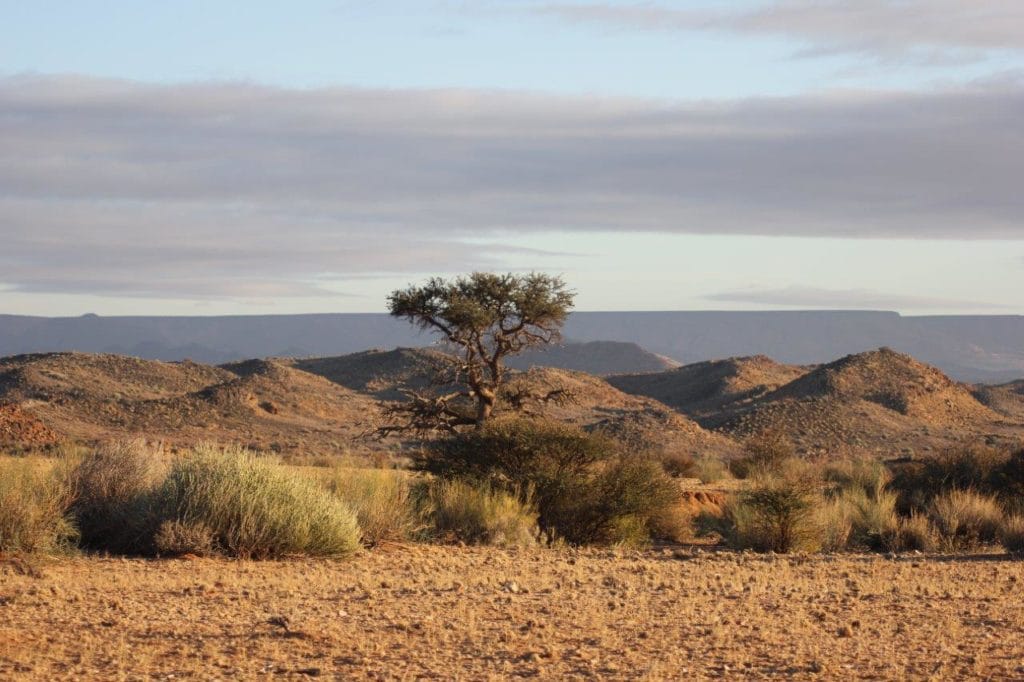 You, like I did, are probably thinking that a yellowfish is a yellowfish but there are in fact quite a lot of subspecies, each with their own unique characteristics. The smallmouth yellowfish is the most well documented of the species, it is an avid nymph and dry fly eater and is generally about 1 – 3 lbs in weight. The largemouth, however, are surrounded with more mystery. They are not readily accessible in southern Africa due to their specific habitat requirements, often looking for deep holes with lots of structure and plenty of baitfish. They are aggressive fish eaters, and unlike their more carp-like brethren, they take on a much more mahseer-like appearance with a flat and forward facing mouth combined with their eyes on the top of their head to help them hunt in low light conditions.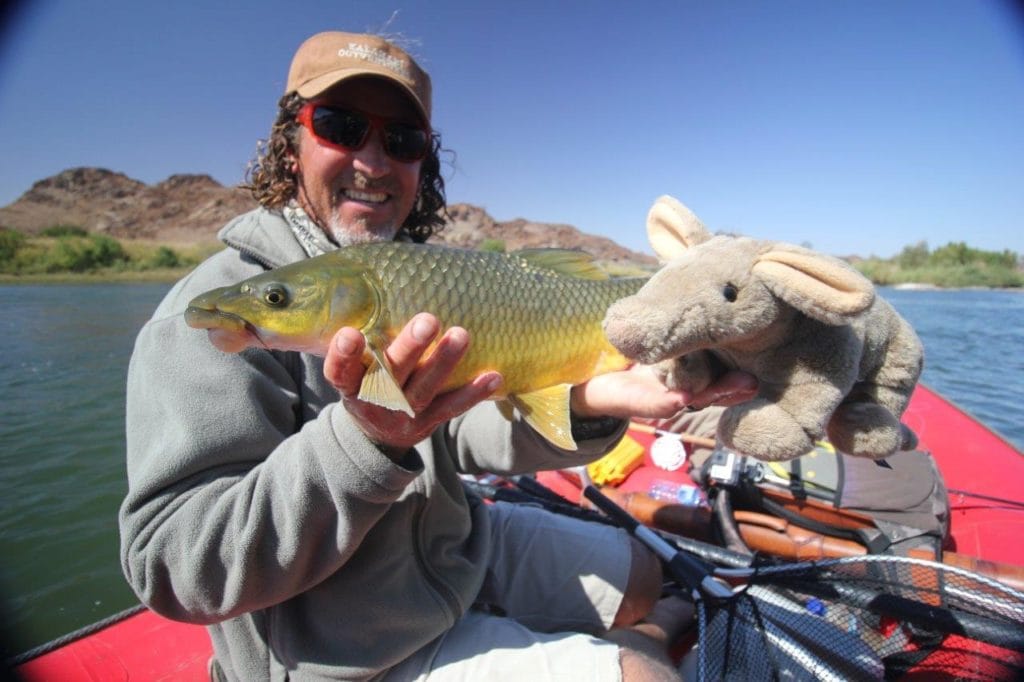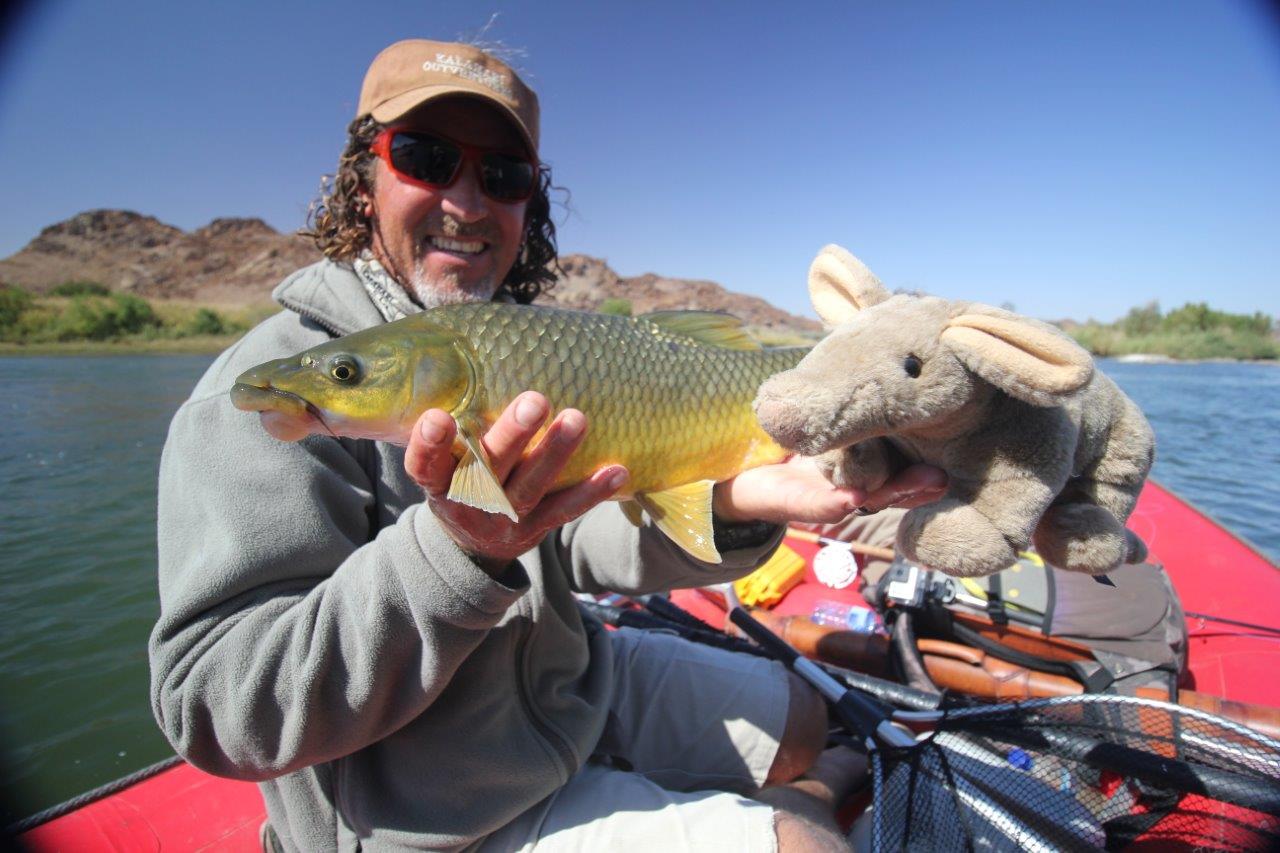 Garth and Craig had briefed us that it was possible to catch good numbers of smaller smallmouth yellowfish in the fast water on nymphs in the Northern Cape but what really made this place special was the big streamer-eating fish in the slow deep pools. As I secretly enjoy fishing streamers and baitfish patterns this grabbed my attention immediately and I set up station at my vice to prepare for the relative unknown…
With feather and fur strapped to hooks and bags packed it was soon time to leave the warm August sunshine in the UK for the South African winter. Africa and winter, you may not think all that much of it but I must recommend that you pack a woolly hat and warm socks. Whilst the day time temperatures were as hot as any summer's day in the UK the night time plunged into single figures and some extra warmth was often very welcome.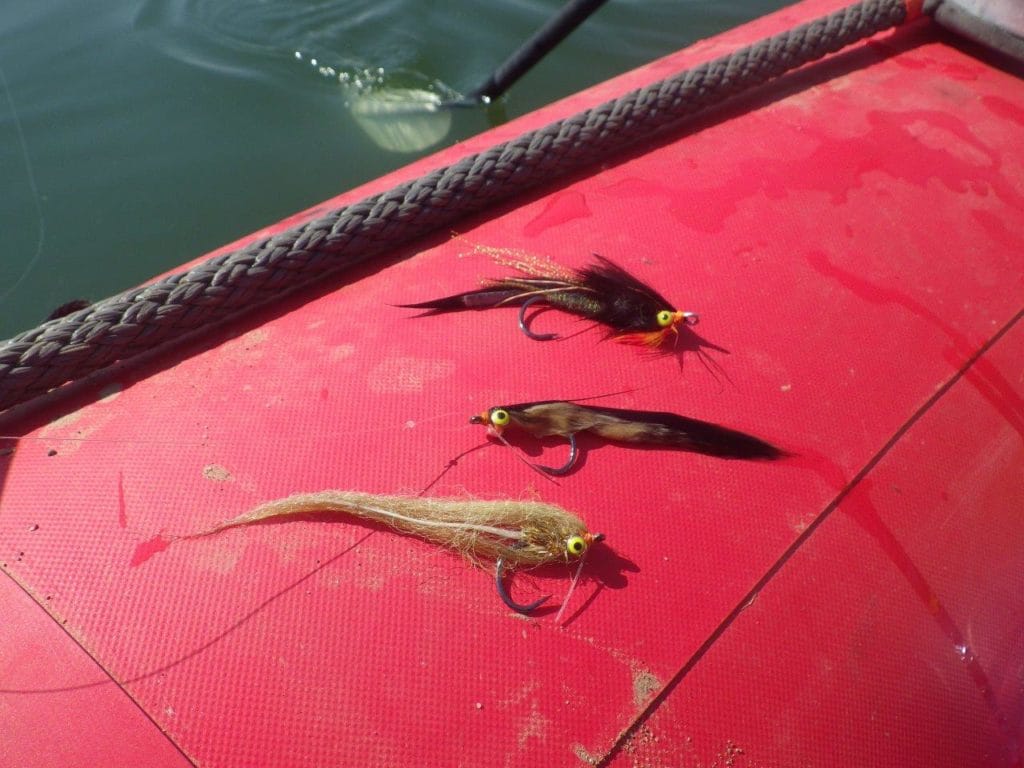 The overnight flight to Upington via Johannesburg was very simple and we were soon loaded into a minibus for our journey to our first lodge. The journey for the first hour and a half was along nice tarmacked roads, passing through small bustling villages and acres upon acres of grape vines. For the second hour of the journey we enjoyed the nice rumble of a corrugated dirt road, when the lodge appeared it was a relief to hop out and be at our destination.
We were greeted by our guides, Craig and Matt, and the camp crew that would be with us for the week, West, Eric, William and Anton. The bags were deposited in our rooms and welcome drinks were ready and waiting at the bar. That evening the usual buzz filled the air, stories of previous trips, judging of yellowfish flies tied and the anticipation for what lay ahead of us. We enjoyed a wonderful braai around a camp fire under a canopy of stars before grabbing a few hours' sleep.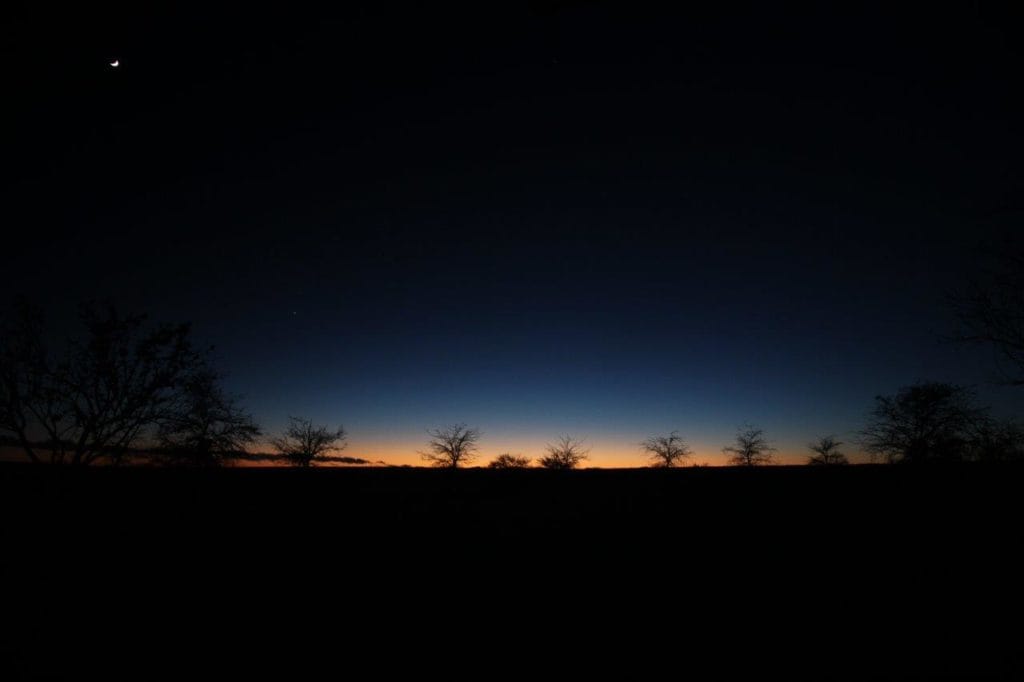 I usually struggle to sleep in on fishing trips, never wanting to miss a moment of daylight or the beautiful golden hours of sunrise and sunset. I was no different here, waking up at about 0530, I found my way to the hot coffee and waited outside for the bleeding hot orange of the horizon to take over from the expanse of midnight blue. As daylight begin to take a hold it was possible to see fleeting springbok move from grass tussock to bush.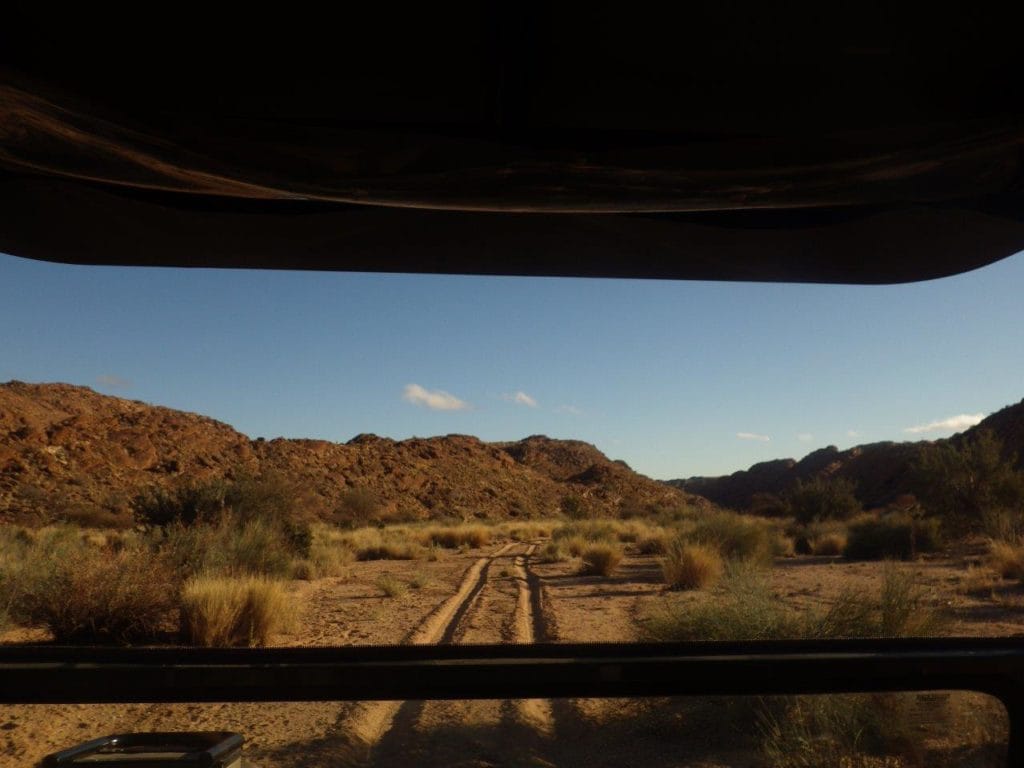 We wolfed down breakfast and more coffee before loading our kit on to a safari-style Land Rover and beginning our 20-30 minute journey to the river. The accommodation and river access is all part of a large game reserve and leopard protection area, this makes for a very unique and wonderful commute to the river. On this first morning we saw numerous springbok, a gemsbok and a lone giraffe as well as numerous birds and raptors. For what is at first quite desolate in appearance soon springs to life. As you approach the river the plains scrub turns into a rich vein of trees and shrubs with the chorus of various birds audible over the babbling water.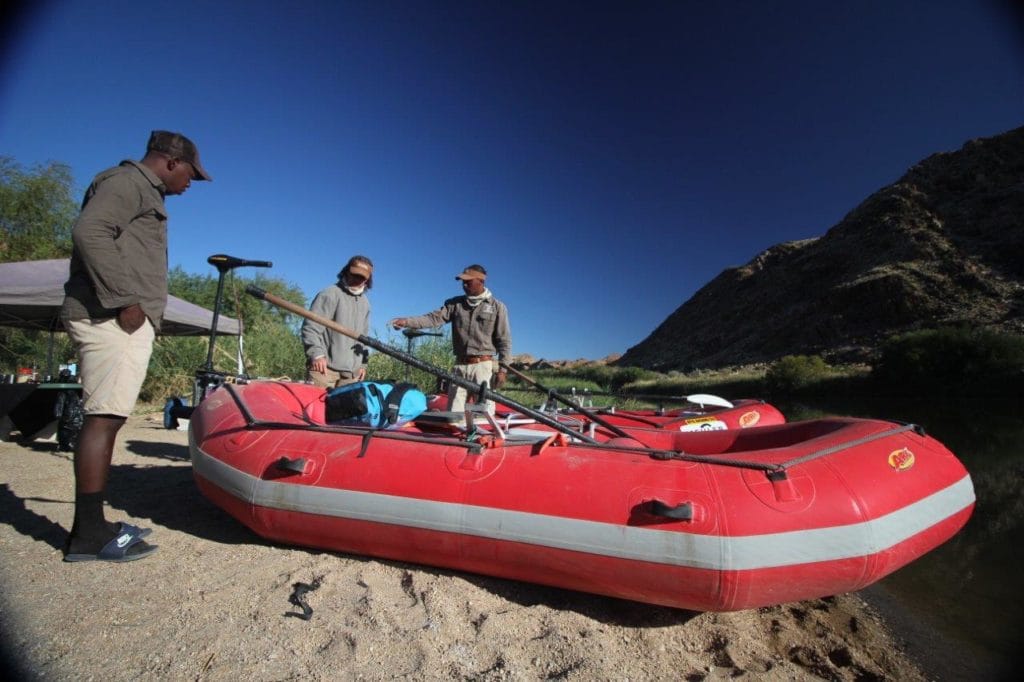 This was to be our first day on the water, it does not run as part of the main float trip but a small section of river where one can get their bearings. It allows you time to get used to the style of fishing, tinker with your set up and be fully prepared for the next four days yellowfish fishing. For any first time visitor to the area I would suggest that this day is a must, the knowledge that you gain and the sharpening of your skillset is key to your success during the main floated section.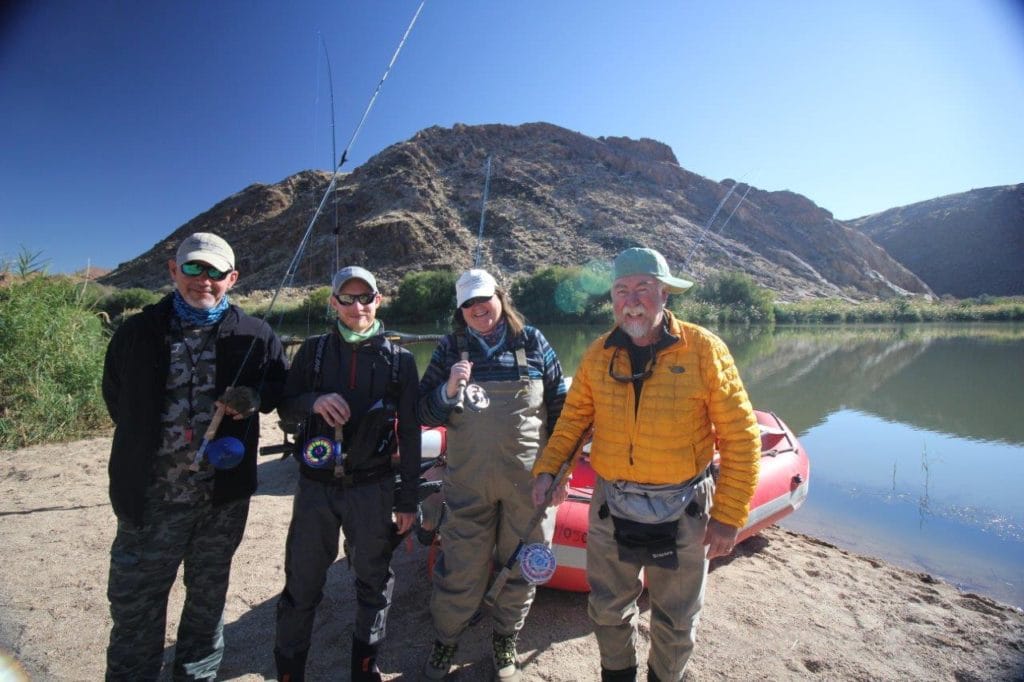 Our setup on this first day was 7 and 8 weight rods matched with Airflo 40+ Di5 sinking lines and 8-10 ft leaders with a 13-15 lbs tippet. For starters, Craig and Matt advised us to fish with heaver black streamer patterns. They assured us that these are good for searching for fish and only once you find a shoal that you then start trying different colours and sizes. Now all set-up, Ronnie and I headed out with Matt guiding us and Charlotte and Gordon headed downstream with Craig.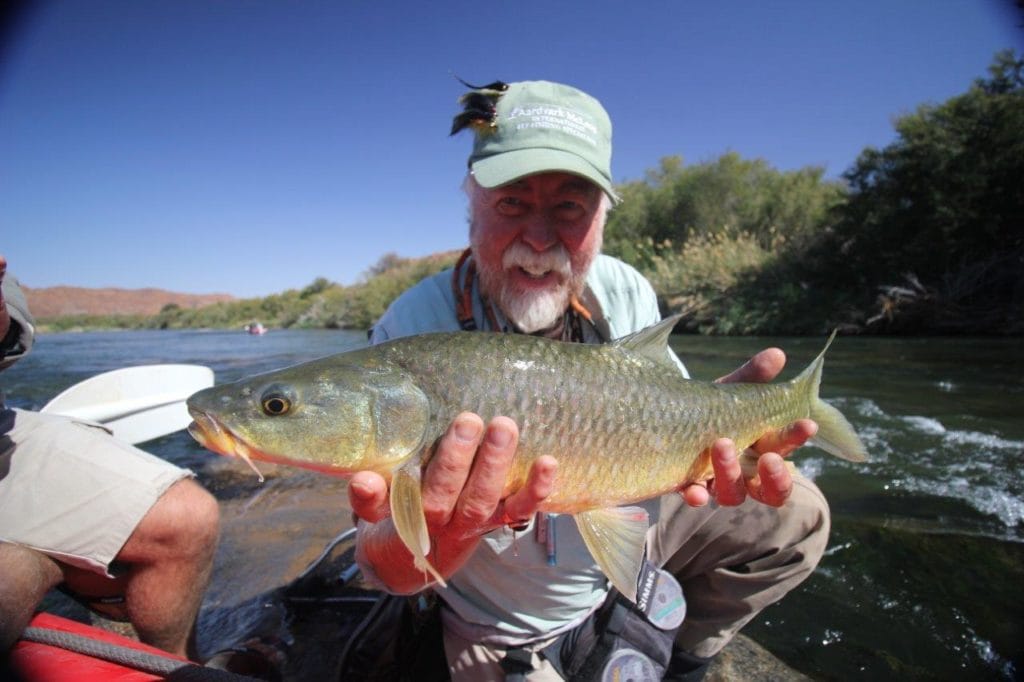 The day can only be described as one of two halves, the morning was fresh and sunny but the afternoon whilst still sunny buffeted us with a fierce and cool easterly wind which made for tough fishing conditions. Despite this we were all able to hook a yellowfish or two and feel a few takes. I found the takes very odd on this first day, they were not like the big hits that the Montana trout give you but far more hesitant, almost like a salmon just nipping at the tail strands. Both Matt and Craig put this down to the unusual low pressure system that had passed through the area just before we arrived. They hoped with some settled weather that we would begin to feel some proper takes in the coming days.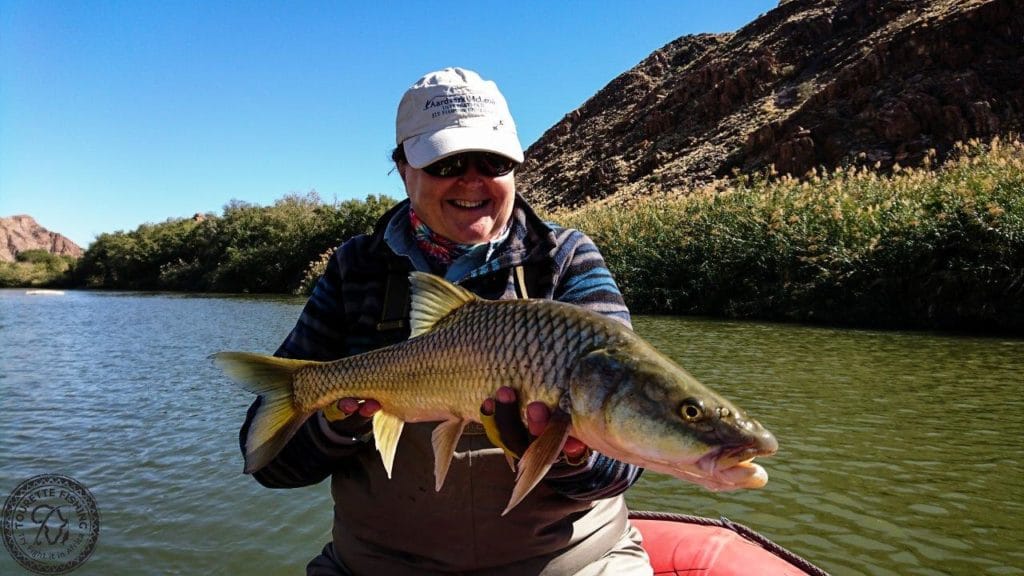 Charlotte took honours for the day with a nice largemouth yellowfish of about 4 lbs and we landed three smallmouth yellowfish between 3 – 4 lbs. Ronnie was the unfortunate angler with the 'one that got away' story as he hooked into what appeared a good fish only for it to stay deep before the hooked pulled.
That evening we were met off the boats by Robert, the manager from Tutwa Lodge. From the takeout he drove us to the main lodge where we would be based for the night. This was quite an upgrade from the Desert Farmhouse from the night before. Tutwa is a full safari style lodge, beautifully appointed it offers a great place to relax and enjoy the stunning surroundings. The waterhole located immediately outside is prime spot to view a handful of game species whilst enjoying a sundowner. The lodge staff are fantastic, offering great service, good food and always a cold drink.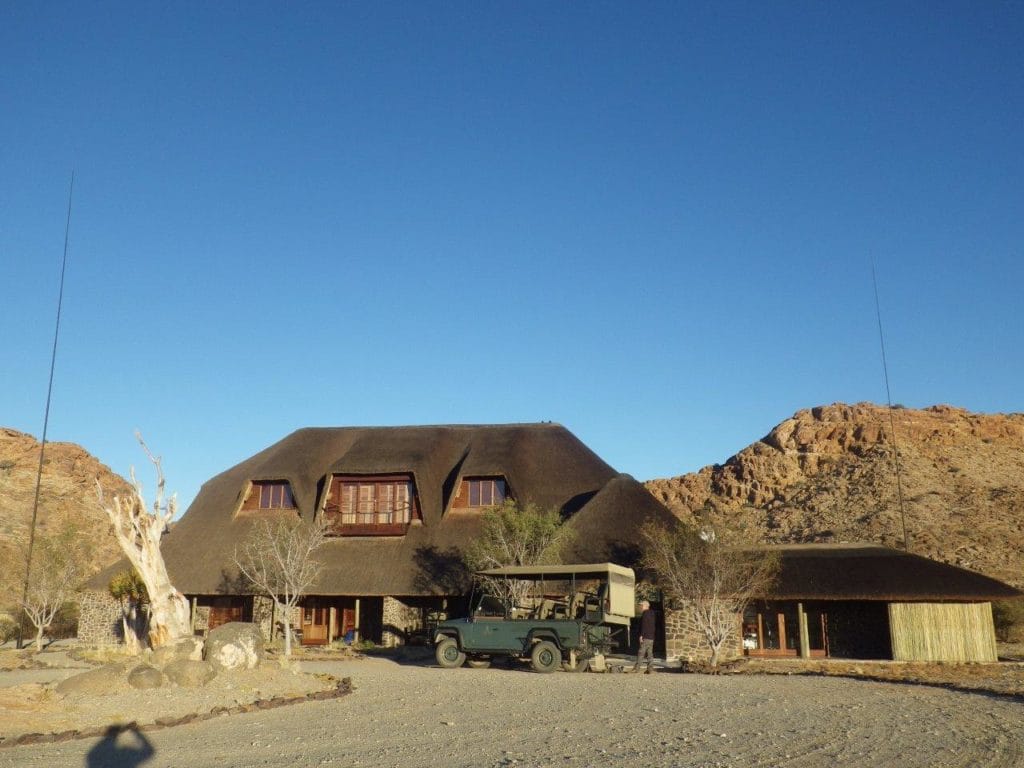 The bedrooms were large and the beds were extremely comfortable, but once again the night was short lived with fishing a much more pressing matter. Fresh coffee and an impressive breakfast spread set us all up for the next part of our adventure. The morning drive was a bit longer, 30-40 minutes, and it took us through the commercial farm grounds with acres of grape vines and date trees. The put in was a fixed concrete slipway with grass lawn surrounds. This slice of human activity was soon forgotten as we putted the rafts down the river and into the wilderness that divides South Africa and Namibia.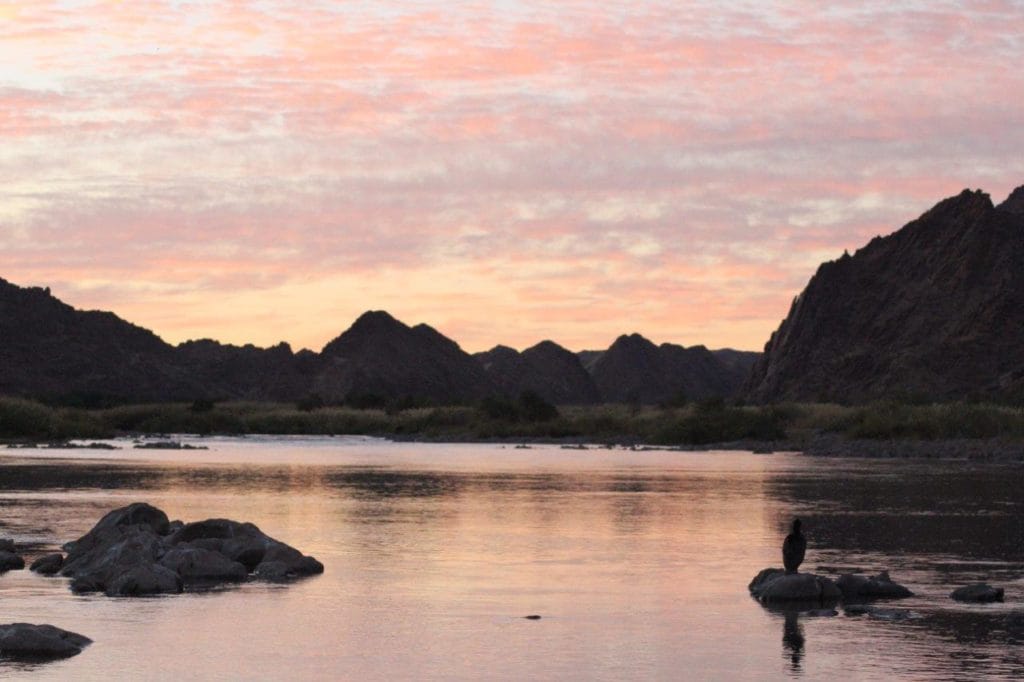 To journey along the Orange River here is to see how rich in life it is. The trees grow thick, catfish and carp leap from the water, and kingfishers, cormorants and herons pursue their prey from most rocky outcrops. It is truly an overload on the senses, as birds skip and flutter in all directions, baboon shouts ring up and down the valley, the flowering plants offer a subtle fragrance to the banksides and the sun began to warm the still chilly breeze.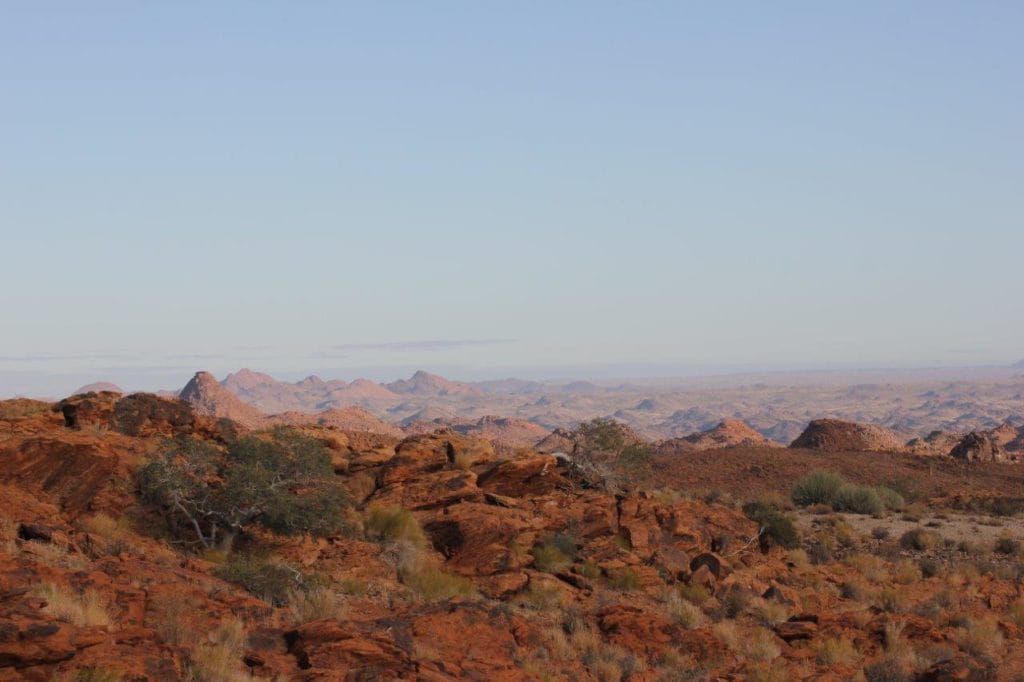 The landscape is full of interest, red sandstone and granite cliffs guide the river along its path. Dry river beds from floods bygone carve their way to the river offering animal drinking spots and the pools are broken up and split into channels by sand and bedrock islands.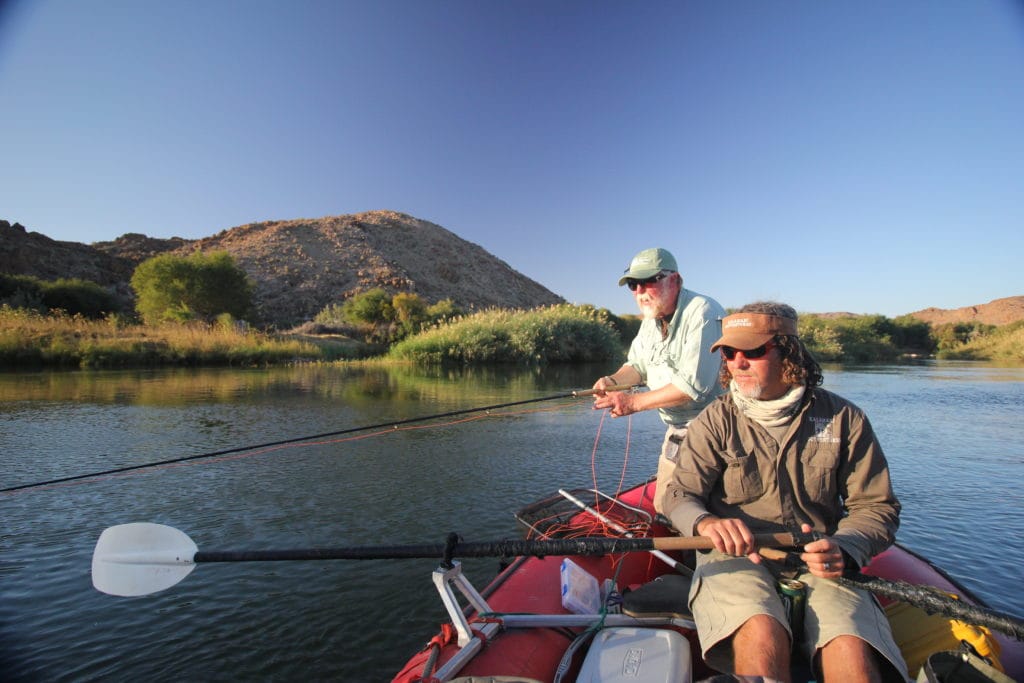 The guides worked the boats using anchors and the oars to hold the rafts in position so that you can target rock drop-offs, deep undercut banks and bed rock shelves. Over the course of our trip we really began to get an understanding of where these fish could be found, the biggest restraint was having the confidence to fish the fly properly. Both the largemouth yellowfish and larger smallmouth yellowfish were found in deep water, close to the bottom but also tight against a structure. The casts were often made at the structure and then a series mends were made in order to hold the fly in position and give the line and fly time to sink to the correct depth.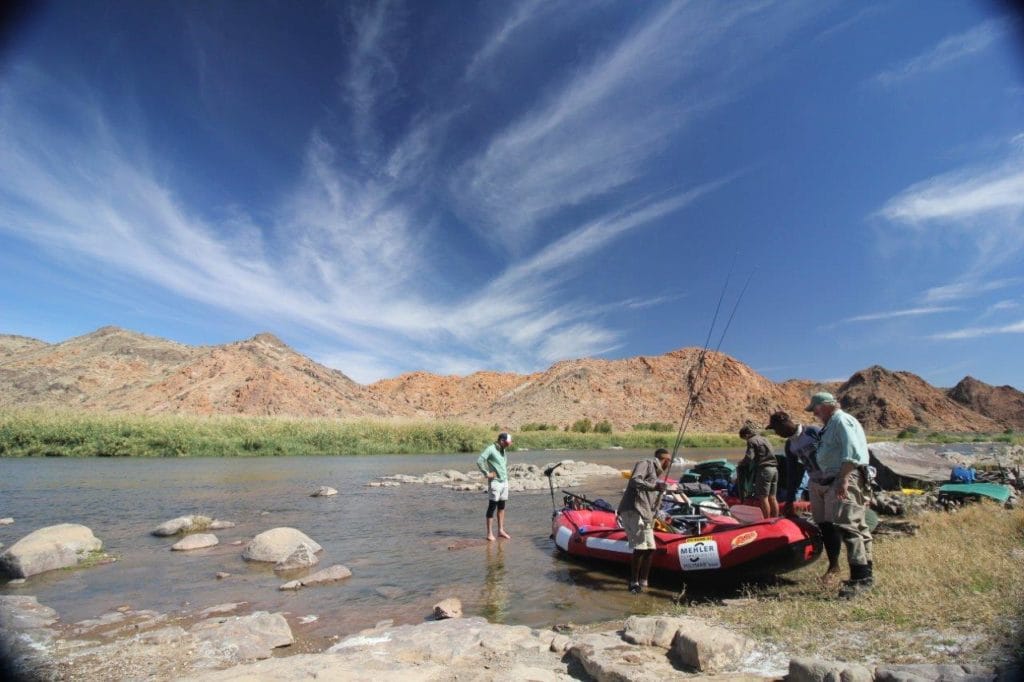 The fishing day had started slowly with a few taps here and there and two largemouth yellowfish landed, but lunch was to mark a change in our luck. We descended a short series of rapids into a large enticing pool named 'Fun and Games'. We were greeted by the camp hands who had laid on a nice little lunch shelter and spread. After a quick refresh we then decided to fish the pool from the rocks.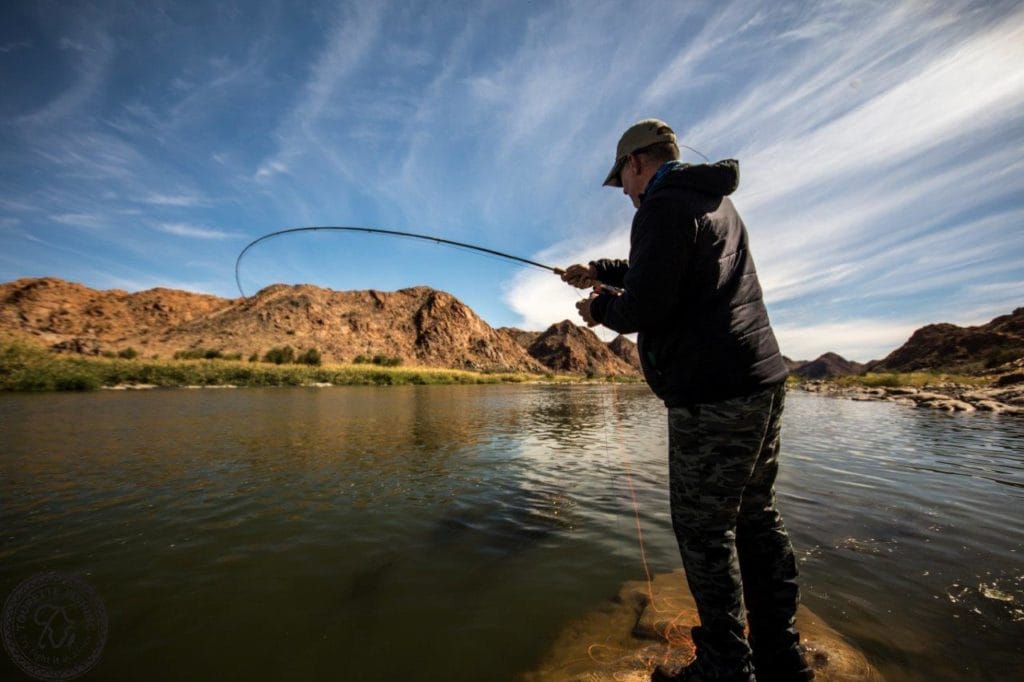 Charlotte and Gordon were quick to find success with the main pool with several smallmouth yellowfish falling for their offerings. Ronnie, however, had opted for a different approach and was sightfishing for smaller smallmouth in a side channel with a dry fly and nymph set up. In just a short space of time he was able to land three fish on the nymph. The fish were also rising but they would show only once before moving and rising somewhere else making them hard to target with a dry fly.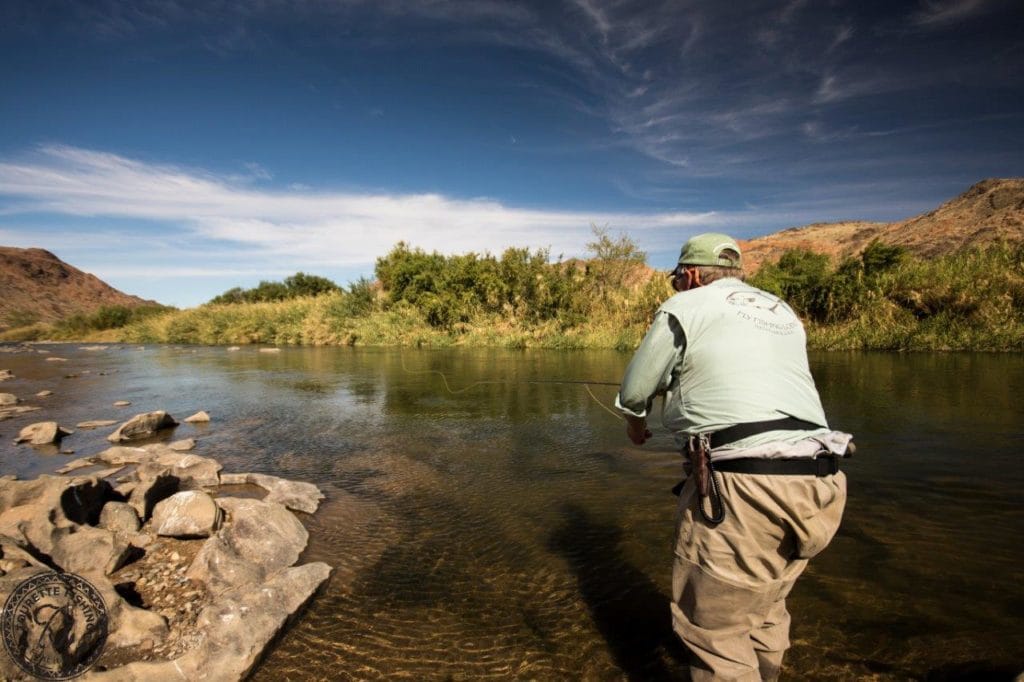 I had slid down to one of the tail out compressions. It seemed to have all of the hallmarks of a prime spot – good flow, steep drop off and plenty of rocky structure. Within the first few cast I had had a couple of takes without a solid connection. I repositioned myself a little and made a few more casts… it made the difference and a solid punch-like take hit my fly early in the swing. You could tell immediately it was a good fish, it got in the main flow and took off down the river. With both fish and current against me my 7 weight set up was working overtime to try and keep control. The fish kept boring deep, but with care and patience I was able to work the line back slowly but surely. Craig came with the net and was able to assist me landing my first big smallmouth yellowfish, about 9 lbs.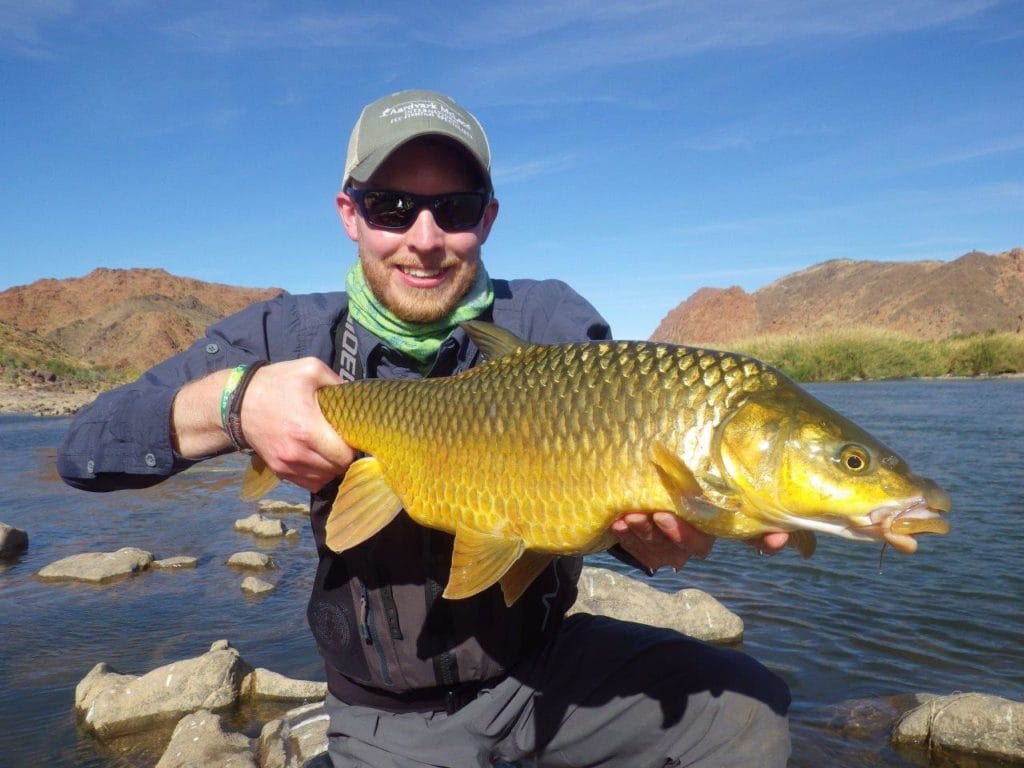 If that excitement wasn't enough, I flicked my fly back into the water, stripped off some line and went to cast but in the blink of an eye there was a flash of gold and I was attached to another strong fish. This time the fish hung close to the rocky ledge, but after a good tug-of-war tussle I guided another big smallmouth into the net. I was truly amazed at the turn of speed at which the fish hit the fly, and once hooked they are incredibly powerful.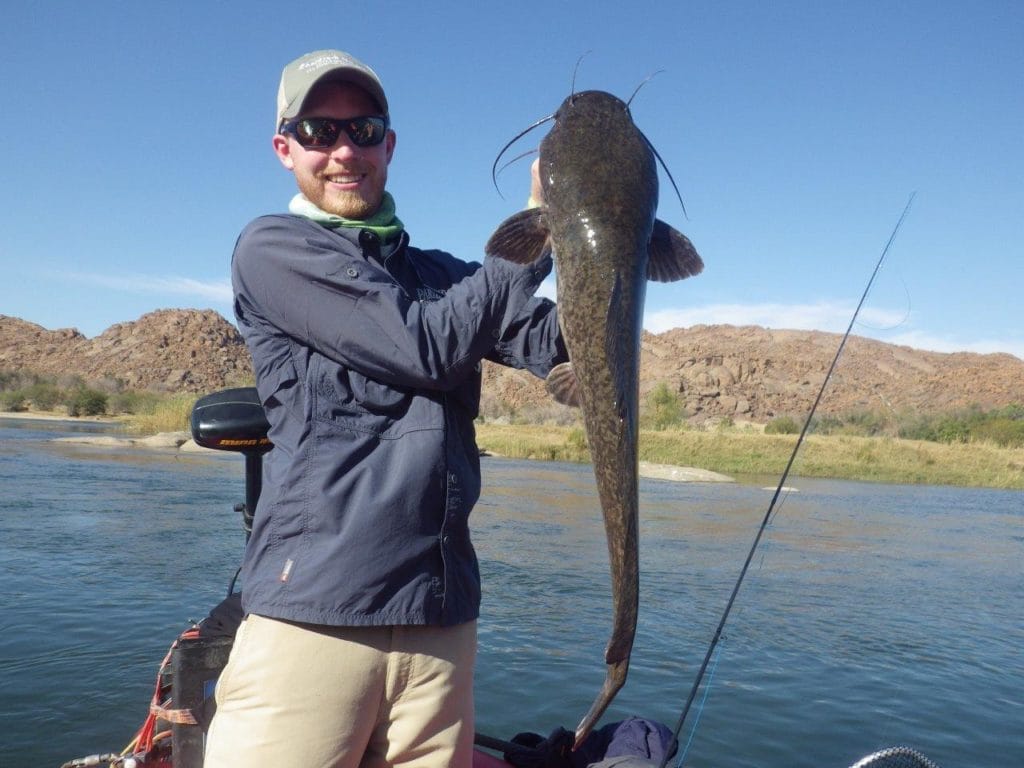 We then continued by boat to fish new areas and it was not long before I got another hit on the fly, this time the fight was different. The fish held deep and moved slowly. Matt looked at me. He was not convinced that it was a yellowfish. Soon our questions were answered as the dark outline of a small sharp toothed catfish appeared through the water. It was joined by two much larger specimens that caused a frenzy as Ronnie made casts to try and hook one of the larger ones. Unfortunately we were only able to land the one and after a quick photo we dropped him back.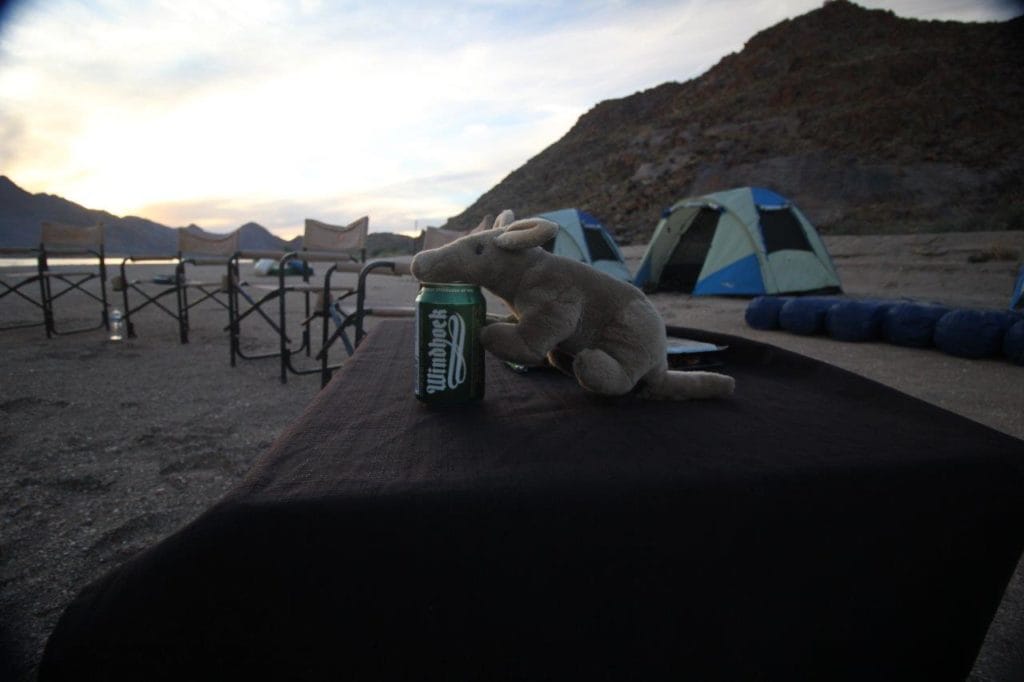 The next fish will haunt me for years to come, this time the line was almost ripped out of my hands. The fish then ran straight for us, and I rushed to gather up my loose line and get the fish under control on the reel. Now on the reel the fish felt the extra tension and this time took of downstream to take residence behind a rock midstream. Pausing on it briefly, it then went on a searing run for about 20 yards. There was no chance of turning this fish, or stopping it in its tracks and then I felt it go through weed and the line run along rocks. My heart sank at this point, knowing I was now facing a losing battle I hung on in hope. Sure enough, the leader frayed and broke and I was left crushed and beaten in the back of the boat. We never saw the fish so cannot say for sure how big it was. With knowledge that the largemouth exceed 20 lbs here and there is belief that they may even exceed 30 lbs it was easy for the mind to wander…
Never one to take losing a fish too well, I sat in the back of the boat with a cold Windhoek beer and watched the river pass by and Ronnie continue to fish. As the sun began to dip behind the jagged horizon the temperature began to fall and we pushed on to our first campsite at South Broom Beach.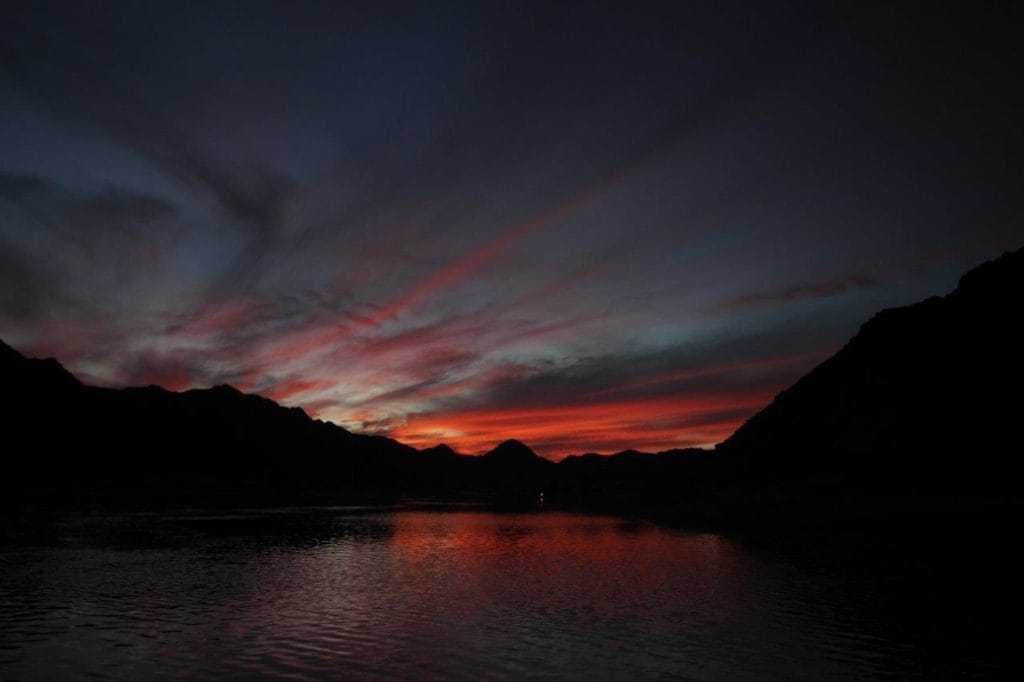 The campsite was already set up and the glow of a warming campfire welcomed us in. The camp was on a large beach, made up of small stones and millions of shells from the large population of crustaceans in the river, it was more akin to a seaside beach than a river. Four spacious tents were set up with plenty of room for two people to share. A seating area around one campfire and a second campfire for cooking. That night the sky burnt red before giving way to an incredible star display. Whilst the temperature plummeted to single figures the tents were comfortable and it was so easy to fall asleep with the stars glinting through the tent windows.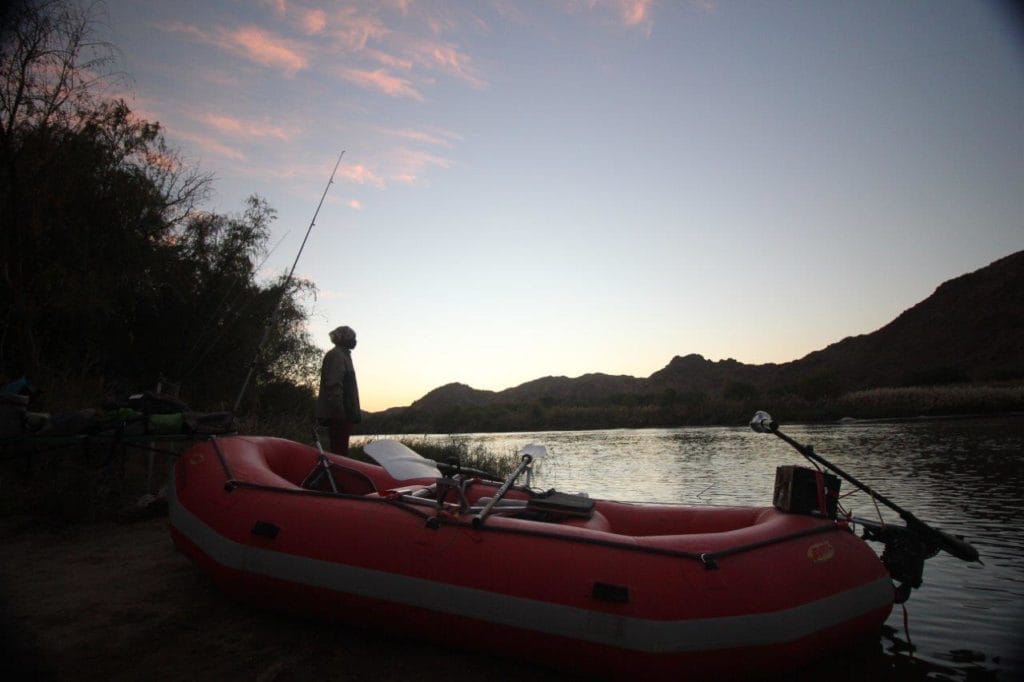 Rising early to the crackling fire and dim pre-dawn light was much easier here. It was a new day and there were more fish to catch. Breakfast was a simple spread of cereals, yogurts and rusk (best to dunk these in your coffee, unless you want to break your teeth). Whilst eating, the camp team set up a catfish rod with bait to see if we couldn't find one of the many big fish that reside in the river. The set up was a simple heavy duty spinning rod, fixed spool reel, weight and a hefty chunk of one of the many mudfish from the river. It wasn't long before we had action with a nice fish of around 20 lbs landed during breakfast.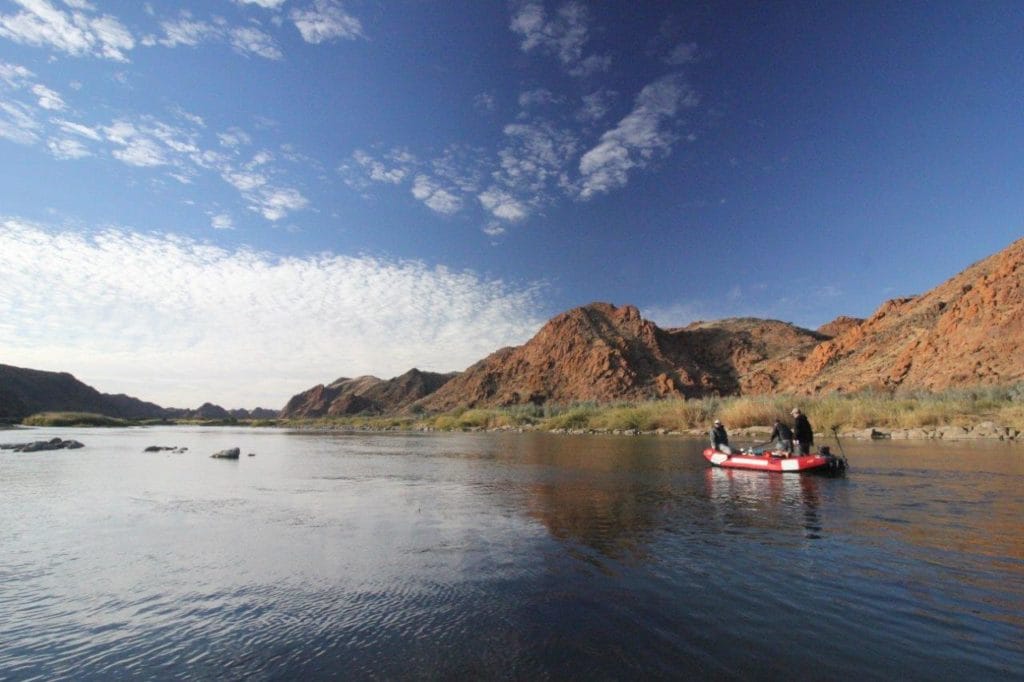 Our morning float took us along another stunning piece of river but the takes were slow. We worked hard with little reward until we reached a pool called Lover's Lane. A clearly defined shelf at the head of a large pool that the guides obviously knew was a special place. It didn't take long for the take to come quickly with Ronnie and I both getting lots of hits and landing several small and largemouth. Ronnie obviously had the right technique mastered as he led the way with takes and fish to the boat.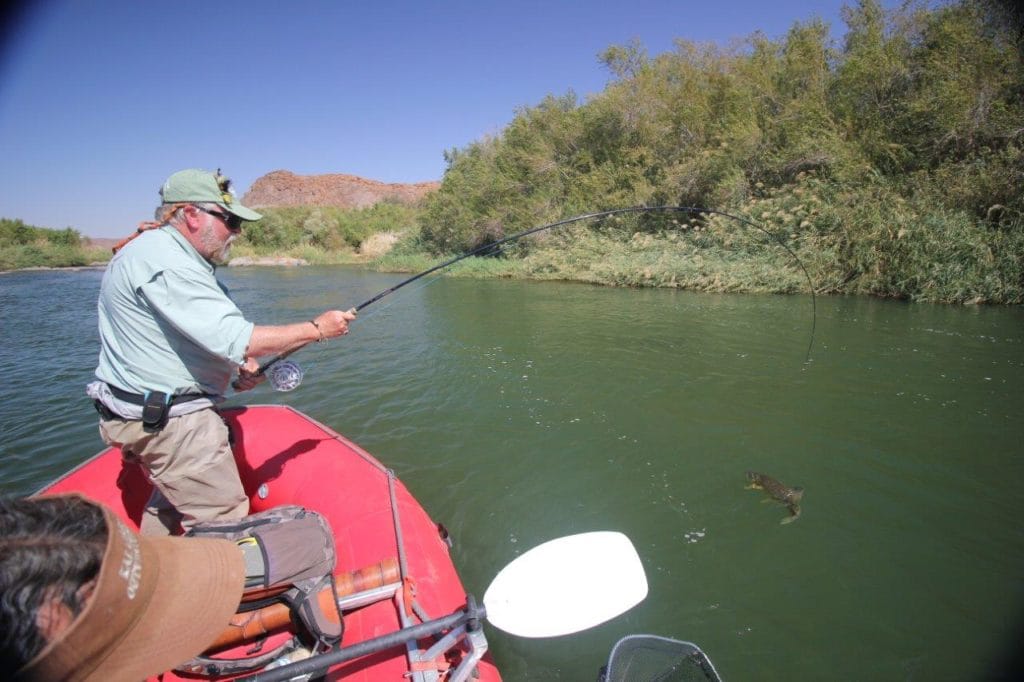 Out of nowhere a strong gale force wind picked up and we moved off to find some sheltered spots, but this allowed Gordon to fish one of the pockets we hadn't. From a swirling boat Gordon thought he had hooked into the bottom… until it began to move. Unlike my fish from the previous day, this one moved out to the middle of the pool. And after a solid battle and difficult boat handling for Matt they were able to slide the net under an amazing largemouth. Weighed at 18 lbs, the fish was stocky with a large fish eating head and huge paddle-like fins to generate quick bolts of speed.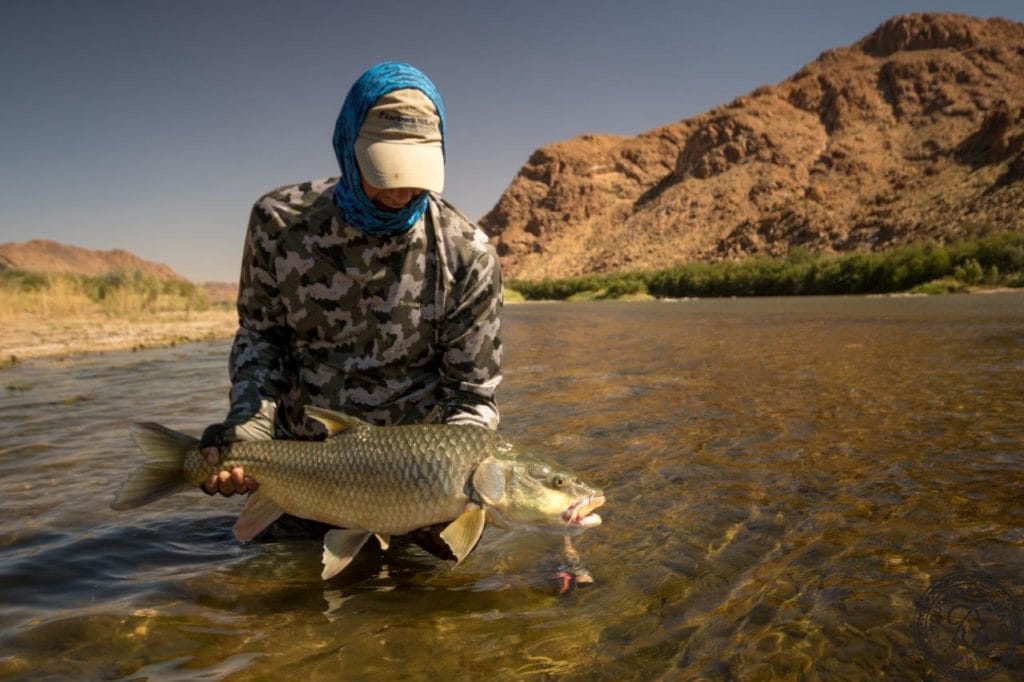 Lunch was an interesting affair as the wind just would not lay down and it attempted to blow everything away but we manage to succeed in a quick break before getting back on the water. The afternoon the wind continued to prove challenging but we still managed to land a couple more largemouth and smallmouth. Ronnie also hooked a good sized catfish on the fly that towed us around a pool.
As the evening approached the wind died down and we were left with another glorious African sunset. We made our way to our next campsite for the night, a narrow dry river bed surrounded by thick trees and shrubs. Called Margate Beach, fortunately it had no resemblance to the Kentish one…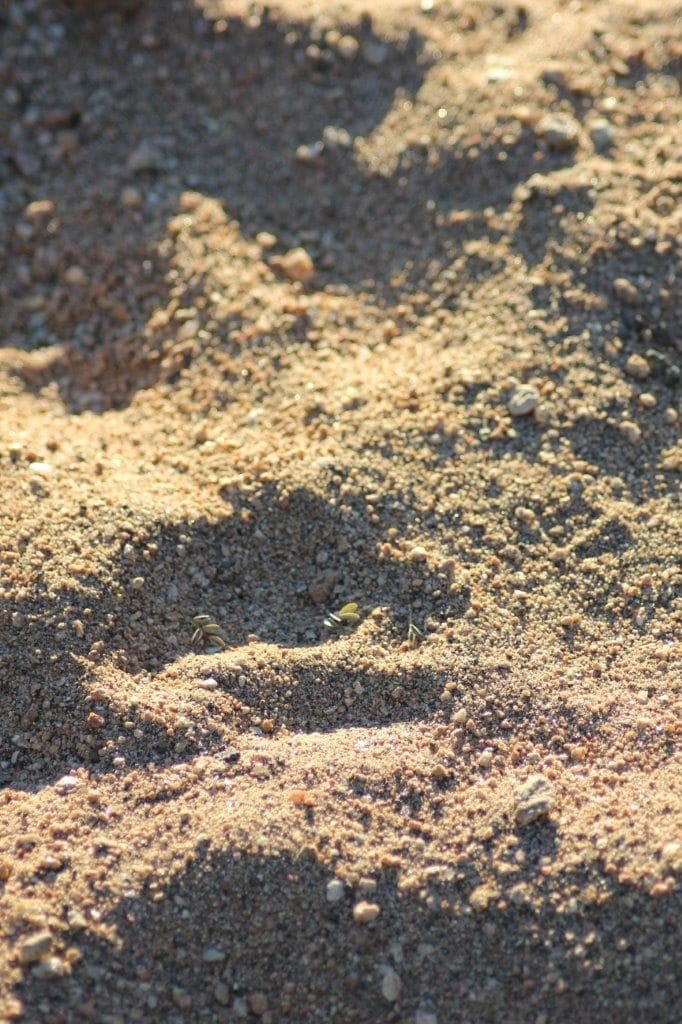 The tents were set up along the river bed, back from the water's edge whilst the cooking and communal fires were positioned at the edge of the river. It was possible to see leopard paw prints on the beach including those of a young cub. This added excitement to our new camping spot. The stars glinted down on us as we celebrated another wonderful, but tricky day on the river. The baited catfish rod was also set up and it was now Charlotte's time to hook and land her first ever catfish, estimated at over 20 lbs.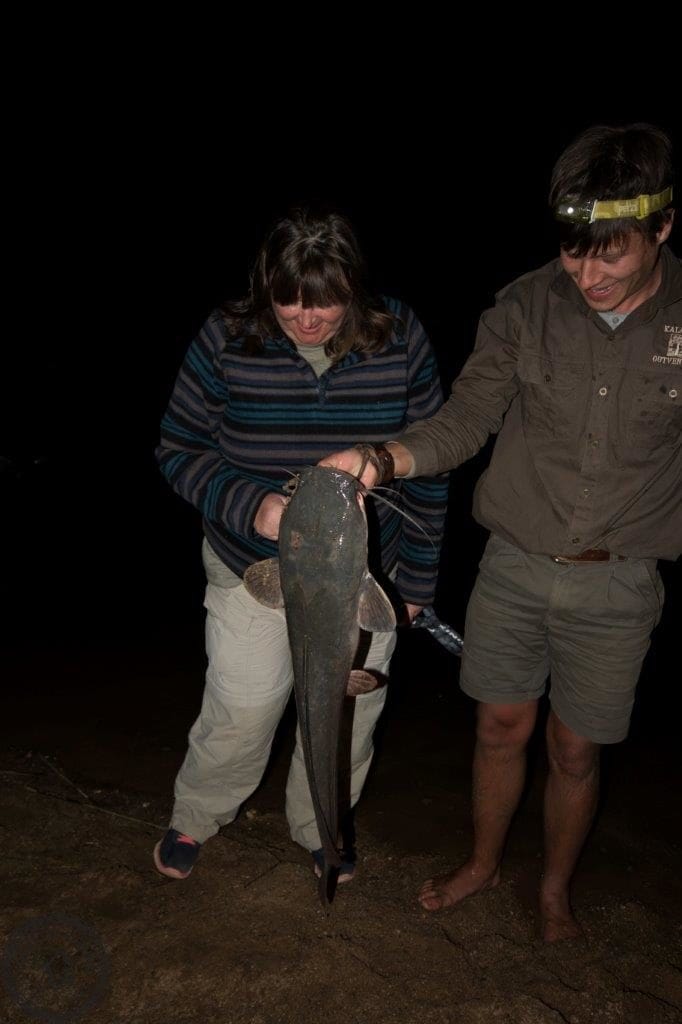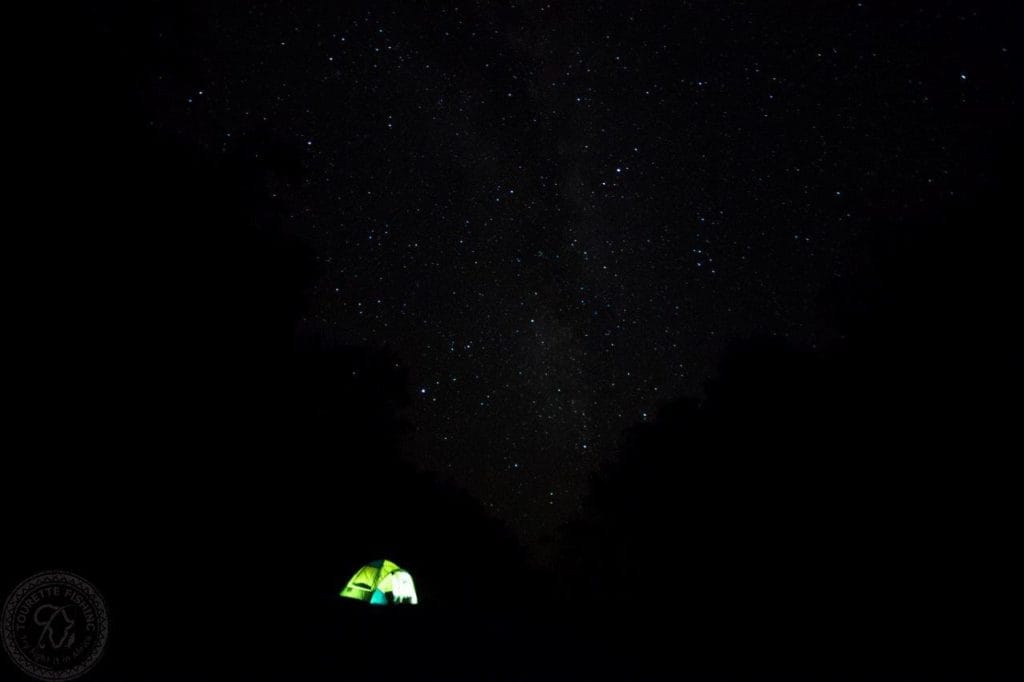 Overnight our camp was visited by a large leopard, Matt spotted red eyes looking out of the trees and there were fresh track markings in the morning. Obviously we were not too interesting as he did not hang around for long or venture too close.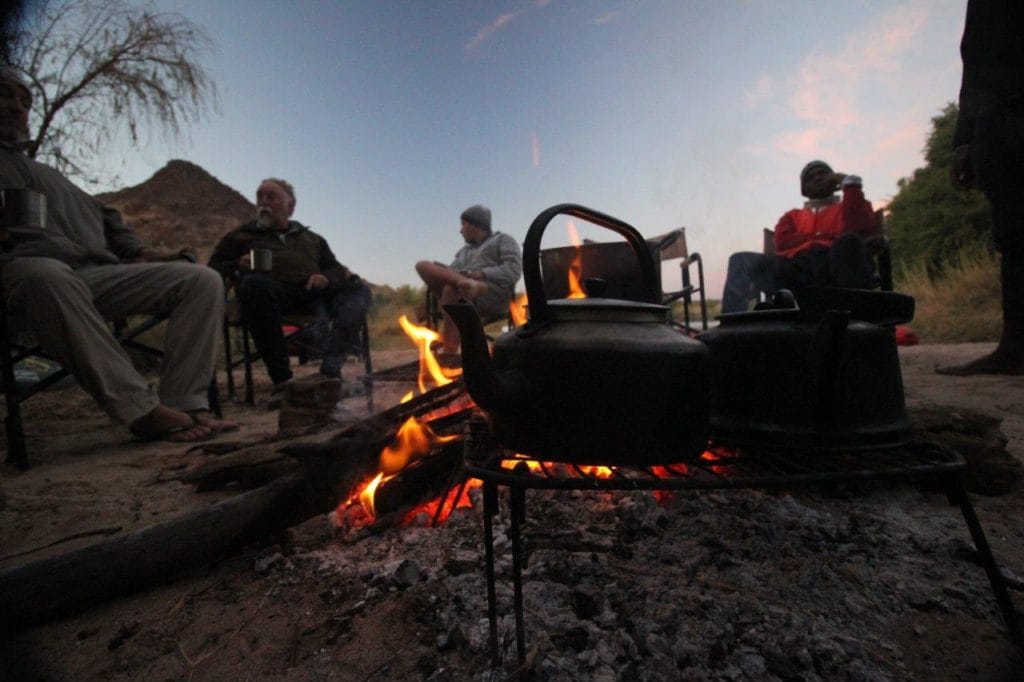 Our third day warranted a new approach, we headed out in the boats before breakfast at first light in the hopes of intercepting the largemouths as they actively hunted their prey in open water. We had a few takes, including a smash grab as the fly was sinking, but only one fish landed before breakfast. Returning to the camp the guys had cooked up bacon and eggs, it was a great treat in our remote setting. Refuelled and ready, we headed back out to seize the day.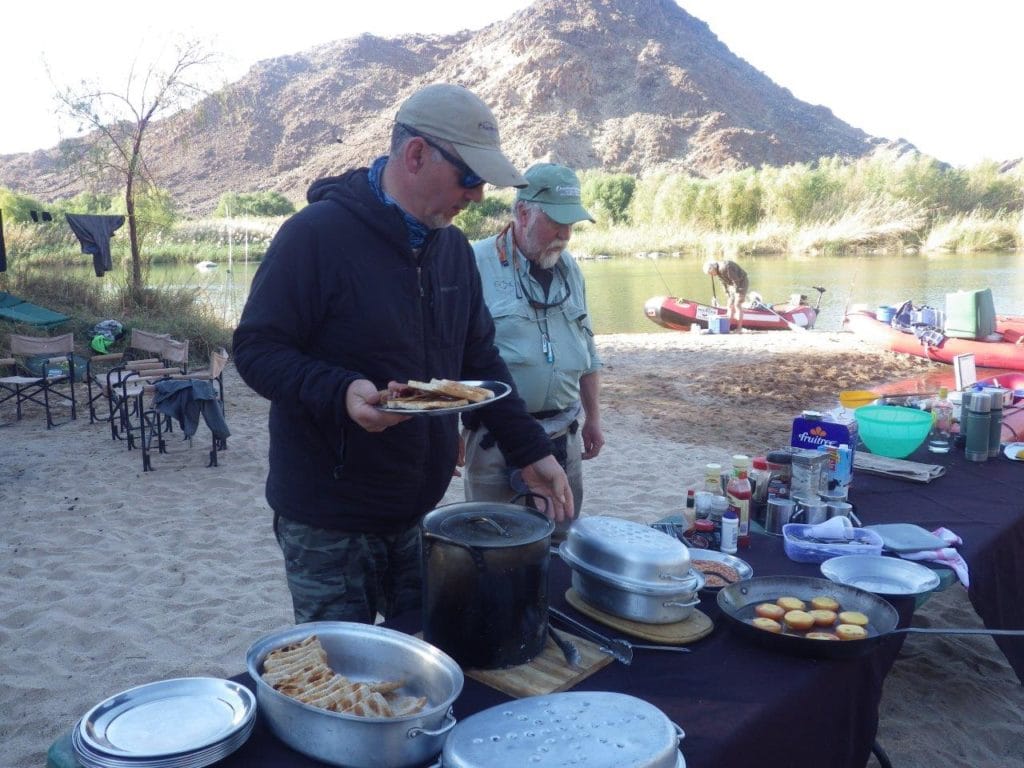 The fishing improved after lunch with Ronnie leading the way with some beautiful smallmouth and largemouth landed. The river was very interesting as we targeted smaller pocket pools. My understanding is this style of water is home to large smallmouth and smaller largemouth with the larger largemouth looking for the big open pools. Even so they were great fun to fish and both fish are truly exciting to catch on the fly.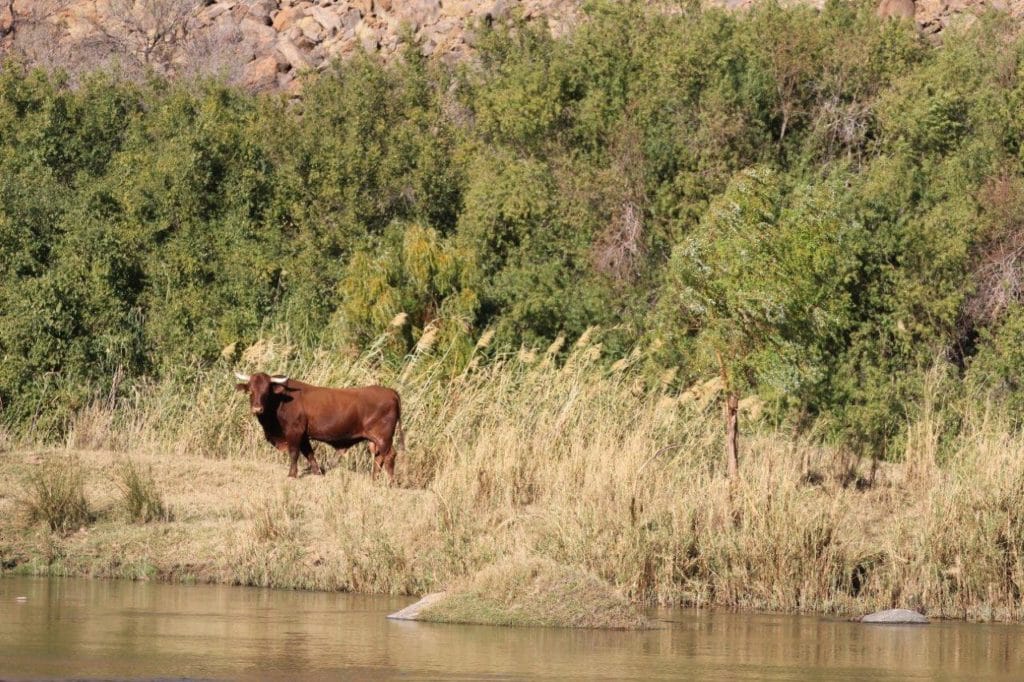 Our lunch spot was situated in front of a feral herd of cattle, left in this part of the valley for a year at a time before being rounded up and sorted. They looked mean but were obviously happy to just sit and rest in the shade of the trees in the background. The lunch spot was on a notably good nymphing spot for smallmouth and keen not to miss out I dedicated an hour to exploring here. I was wet wading and searching, on the whole it was fine until I reached waist deep… wow that water was cold, and to add insult I then hooked a smallmouth only to have it completely break my nymphing setup. Back to the boats it was with the heavier tackle.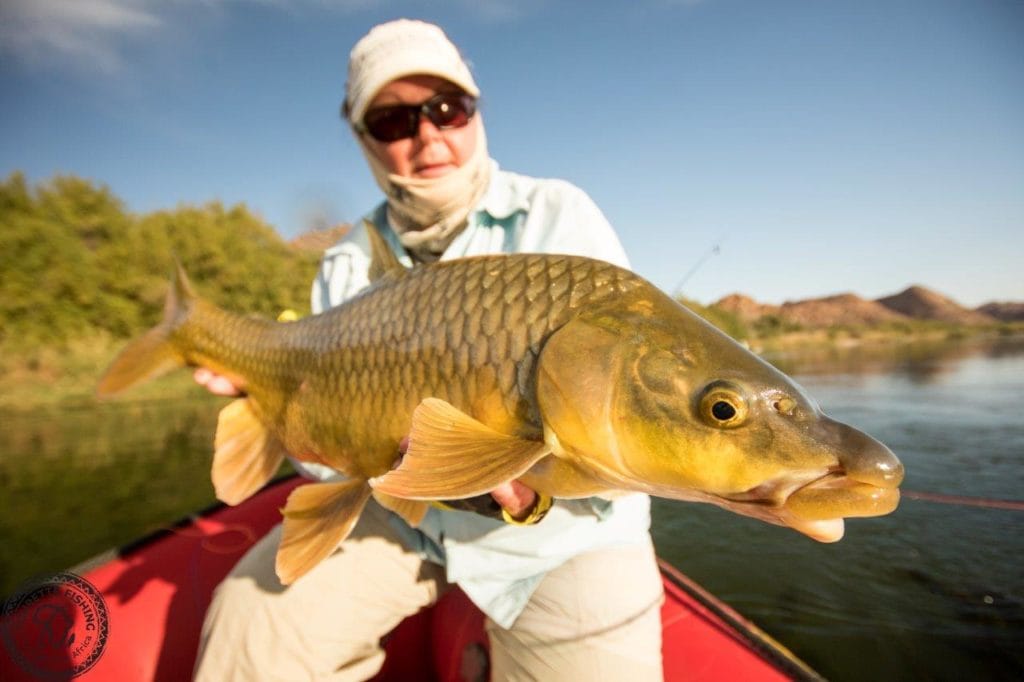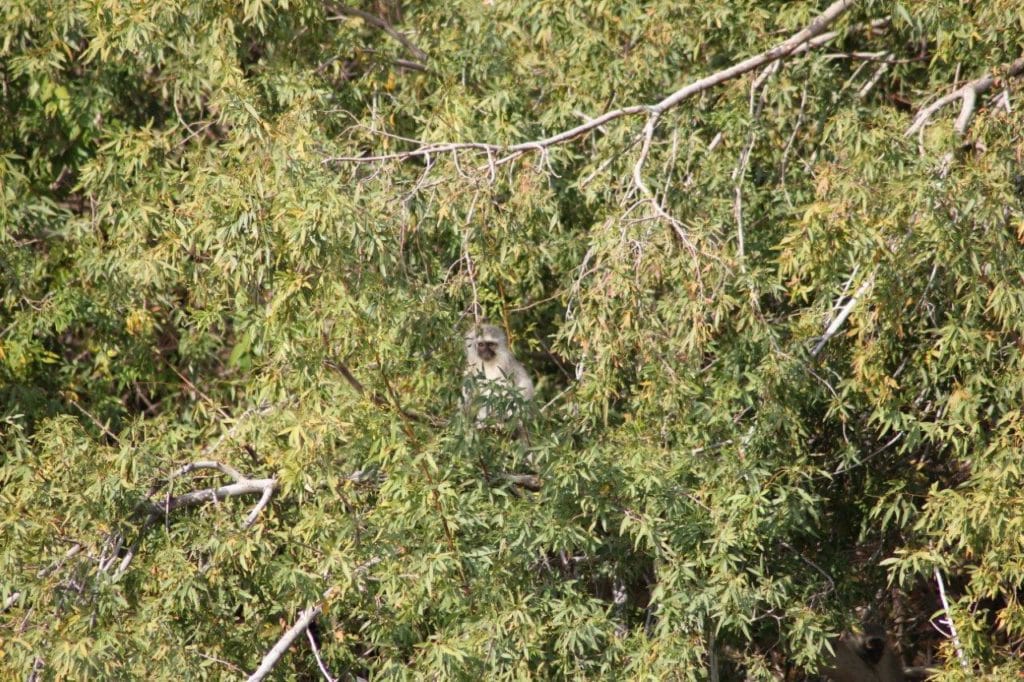 The highlight of my afternoon was stood on a rock, fishing into a nice drop off when the trees began to rustle on the bank. Peering closer it was possible to see the cheeky faces of vervet monkeys looking inquisitively back at me. Interested by what I was doing, they moved onto the outer branches and just watched, they soon got bored and carried on with their daily lives but it was a fantastic moment. Most days we had baboon troops who were equally as inquisitive but they often filled the air with loud barking that broke the nice serene sound of the river.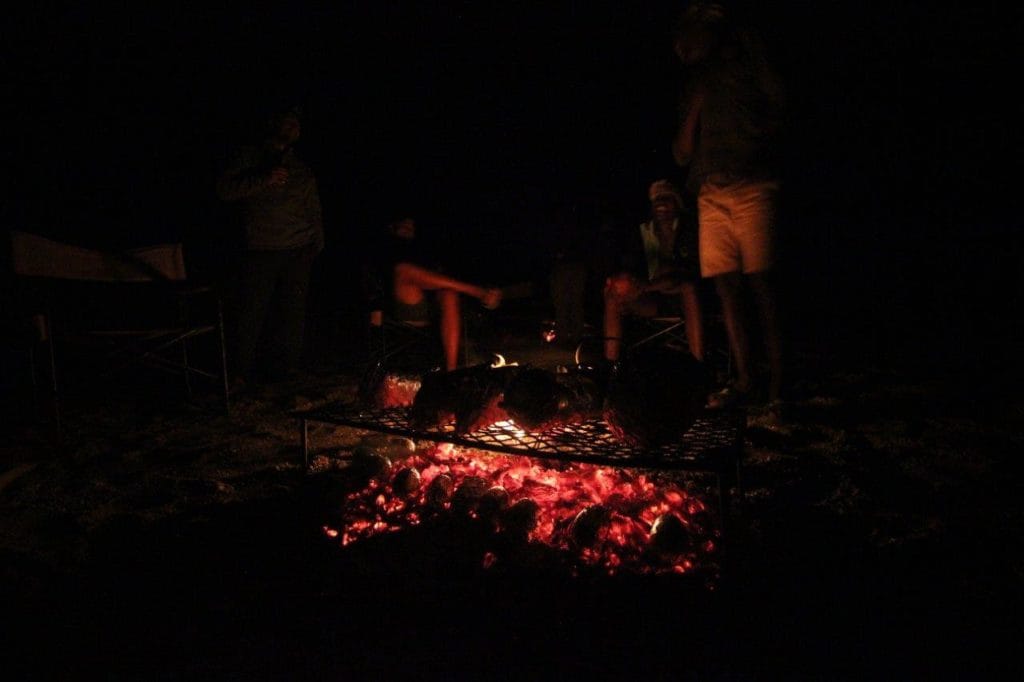 That night we floated down to our final campsite, John's Curse, whilst it may sound like something out of a Pirates of the Caribbean film it was as stunning and serene as the other sites. The nearby granite cliffs still displayed beehives built by the Bushmen whilst the camp crew got the fires going and a Sunday Roast dinner cooking. It was amazing what the guys were able to produce with just one fire and some tin foil. As darkness settled the sky gave us a final glorious display as shooting stars shot across the glow of the Milky Way.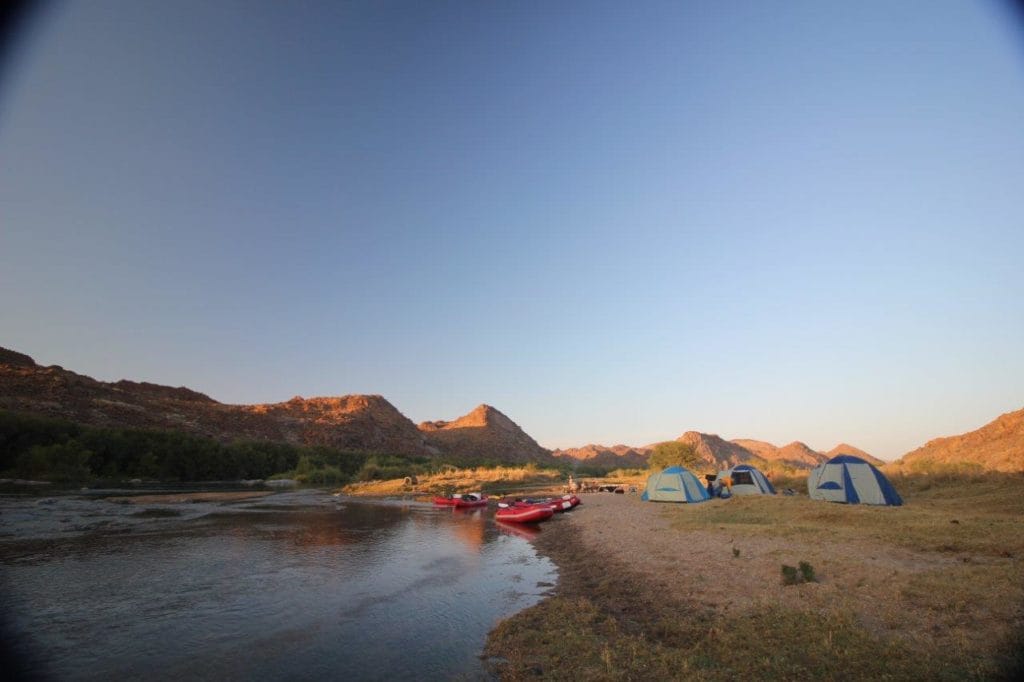 It seemed somewhat harder to rise on the last day, perhaps fatigue or maybe it was an attempt to prolong the inevitable last day on the water. The sunrise was spectacular, offering a warm glow down the river and burning off the moisture that had settled over camp. We loaded into the boats and got going.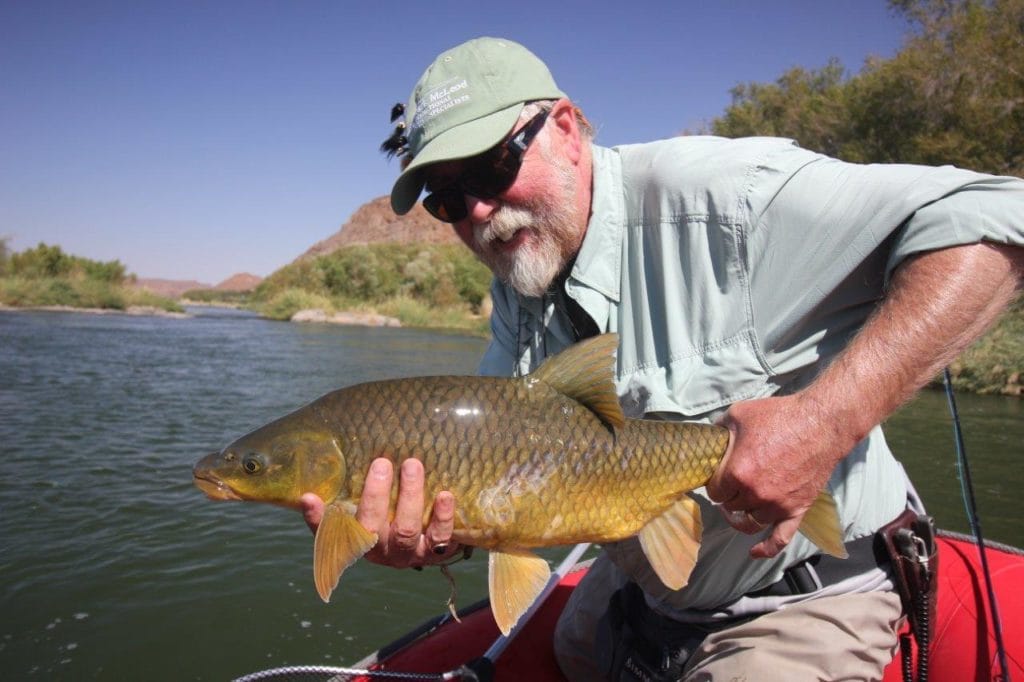 Ronnie was off the mark almost immediately, and continued to pick up regular takes whilst I fished with little interest shown. As the morning progressed I began to doubt whether I would even feel a fish that day. As my mind wandered elsewhere, the fish sensed my distraction and took my fly. Frustratingly I missed several good takes in a row.
After a stern word with myself I looked to pull myself together and make the next take count. As we drifted into Last Chance Saloon, we could see the prime spot. It took a while to get the cast in the right zone but then I fired a cast across. Immediately you knew it was in the right place, I made some mends in order to get the fly down. As I felt the fly sinking I could feel the line draw tight, not like a snag but different. I firmly strip set the hook and knew that I had got it right. The fish took off into the pool and tried to dig deep. Now that my fish was away from the zone Ronnie was able make another cast. As my fish approached the net I looked over to see that he has also hooked into a fish. After a few minutes we had both largemouth sat in our net. They were good fish and remarkably similar in size. When weighed they both clocked the scales at 12 lbs, it was a fantastic moment. Not quite the last cast but a wonderful way to round off a brilliant fishing trip.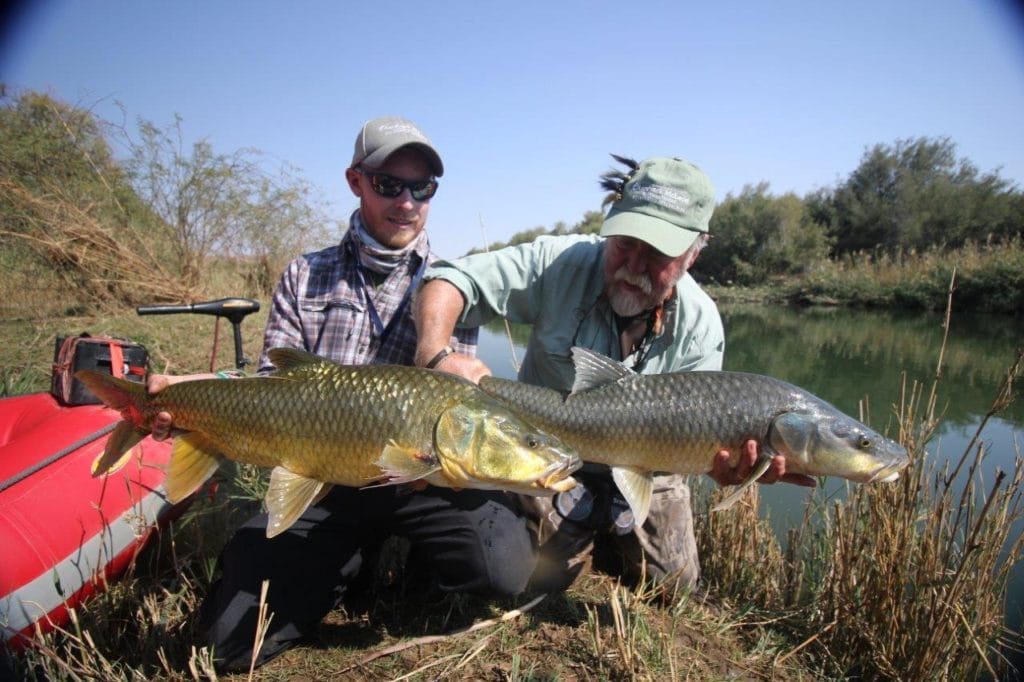 Over the course of our four and a half days fishing we landed 25 smallmouth to just under 10 lbs and 25 largemouth to 18 lbs between four of us. Whilst this was considered a tough week of fishing, we were delighted with our efforts but at the back of my mind that fish that got away is still lingering… I must go back.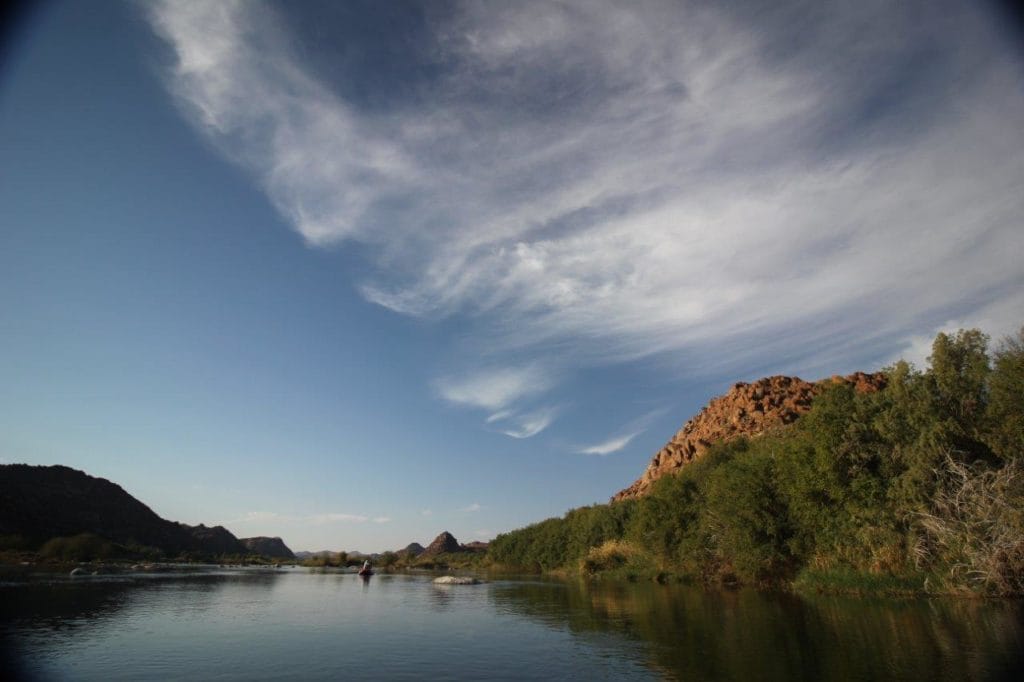 The drive back to Tutwa was quiet as anglers, guides and camp crew alike were capitalising on the cushioned seats of the bus and grabbed a much needed power nap. On arrival at the lodge it was weird to be back amongst electricity and other mod-cons but a warm shower was very welcome.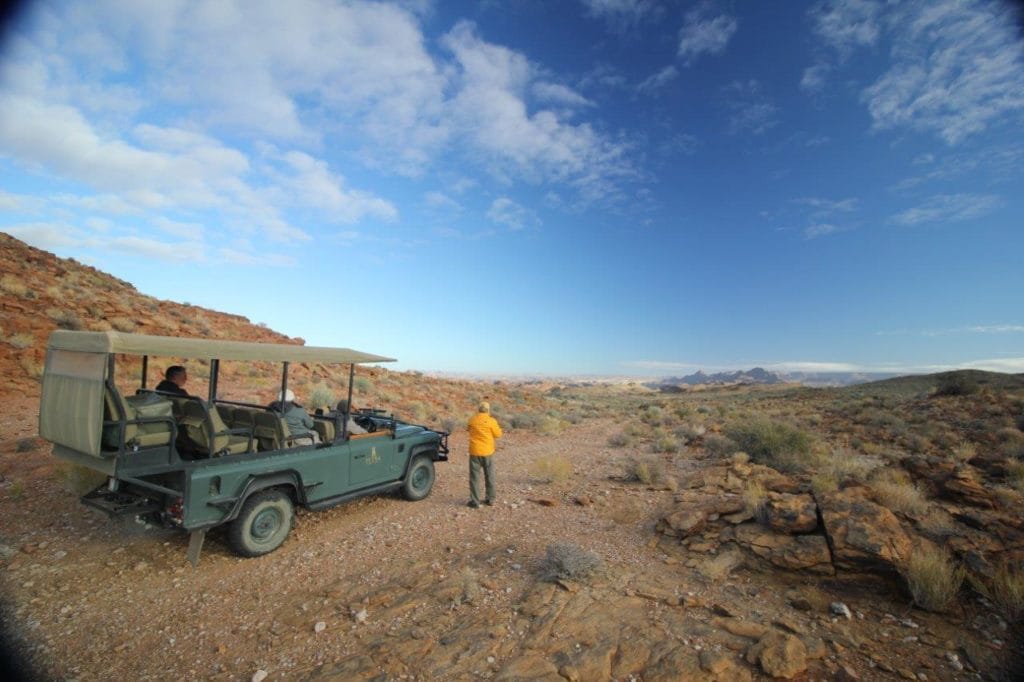 Enjoying a good and comfortable sleep, we were up early again, this time for a game drive on the reserve. Our driver, Norman, was a fount of knowledge with terrific eyes spotting various flora and fauna at vast distances. We saw a fantastic array of animals during the morning including Blue Wildebeest, Burchell's Zebra, Common Giraffe, Gemsbok, Steenbok, Klipspringer, Ostrich as well as a fresh leopard kill… but no leopards. Maybe next time.
It was with great sadness that we departing the Northern Cape but I am certain that I will return in search of a fantastic gamefish.
For more information on South Africa Kalahari trips and fly fishing for yellowfish please contact Alex Jardine or Charlotte Chilcott or call our office on +44(0)1980 847389.