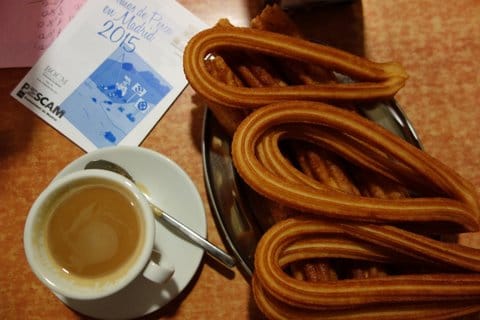 I found myself in Madrid on a weekend in early October with a day to spare and a desire to fish. I had seen some video of dry fly fishing for barbel and found a local guide online who was free to take my son and me fishing. Getting a fishing licence for the Comunidad de Madrid is not a straightforward matter for a visiting angler, but José was able to take care of that for us in advance. We met in a churreria early on Saturday morning where we had to obtain a (free) permit for the reservoir – there is a daily limit on the number of anglers. The churros were not the sugary sticks of stodge you find outside Spain, but thin and crisp and, dunked in a cafe con lech, close to a perfect fishing breakfast.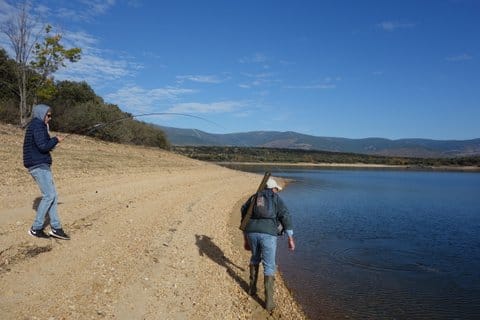 José H Weigand is a very accomplished fisherman. I wondered why his name was familiar and we worked out that I had once read an article by him on fishing in the Bijagos Islands. He has worked as a TV presenter and cameraman, and now edits his own bilingual magazine, Flymage. You may have seen his film 'Trutta' about fishing for brown trout in the Pyrenees, but the film that set the scene for what our day's barbel fish could have been is 'Golden Bones' – have a look at the take after 00:43…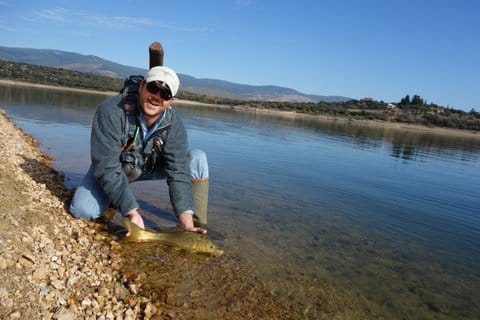 Unfortunately our day on the Riosequillo Reservoir was a tough one. Despite its proximity to Madrid it is in José's top 5 barbel waters, but with only two days left to go in the season the fishing was slow. José took my son on ahead along the shore where barbel cruise the shallows, and though they had shots at fish, nothing took. It seemed the fish were not looking up, so José changed to a nymph and put my son into a couple of carp. I carried on with small HiVis Ants and Coch Y Bondhu Beetles. José said that barbel eat off the surface in slow motion, and it was agonising to watch fish rise to inspect the foam flies, but refuse and turn away. I had plenty of shots at fish but nothing to show for it. Meanwhile, the carp continued to lollygag like milkfish.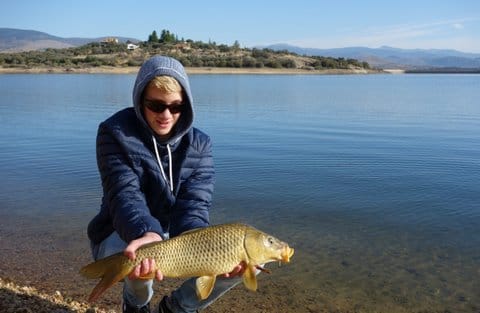 We had ideal conditions in the early morning, still and sunny though chilly, but spotting fish became harder when some high cloud came in. It blew away in the afternoon when the wind got up, but then there was too much wind and we went looking for shelter at the Atazar Reservoir, a spot José calls barbel university. We found a couple of big barbel to cast at – over the 4 pound mark – but were not interested, and we left having been schooled.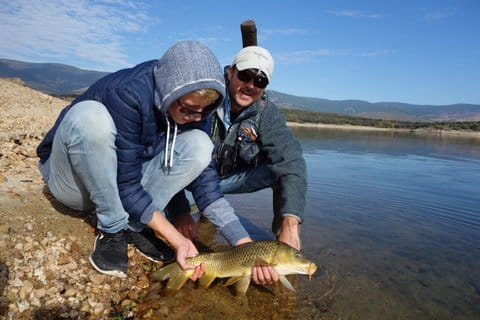 José may have travelled all over the world to fish, from the Kola Peninsula to the Great Barrier Reef, but most of his exploring has been in his home waters. He has good salmon spots in Asturias and rivers where they take sea-trout on dries. He has freestone rivers in the Picos de Europa and Pyrenees, and chalk streams in Léon (who knew Spain had chalk streams?). South of Madrid he has a place where both barbel and carp take baitfish imitations, and a large wading flat in a reservoir where he sight fishes for carp up to 20lbs with nymphs. In Andalucía he has rivers with wild Mediterranean basin brownies, as well as three different species of barbel. But the idea that got me going is an autumn saltwater programme out of Cadiz. Flying fish come in near the Straits of Gibraltar to spawn and with them come the predators – bonito, amberjack and even white marlin. The skipper José goes with lands a dozen white marlin a season on the fly. That and manzanilla sherry and Jabugo ham…