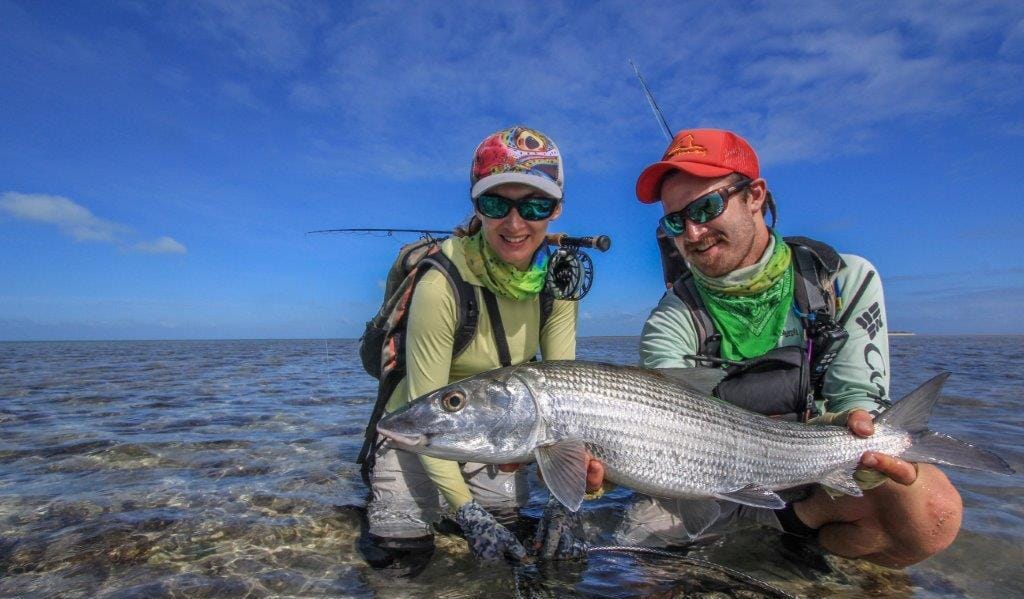 The start of our second trip of in late 2014 saw us experiencing some really great weather and the fishing matched it every inch of the way. Our first day out and everyone climbed into some memorable bonefishing. Ivan who was new to game landed his first ever bonefish and went on to land several more before a gorgeous Indian Ocean sunset closed proceedings.
The weather however did not last for long as heavy cloud and some drizzle greeted our second morning. Not to be deterred we headed out as experience has taught us some of the most exciting skinny water fishing occurs when the sun is nowhere to be seen. True to form some big fish snaked along the shallows and we managed to stick a couple of dark back fatties. The weather cleared by the afternoon and the cool water temperatures ensured we experienced the sort of bonefishing only St Brandon's can offer.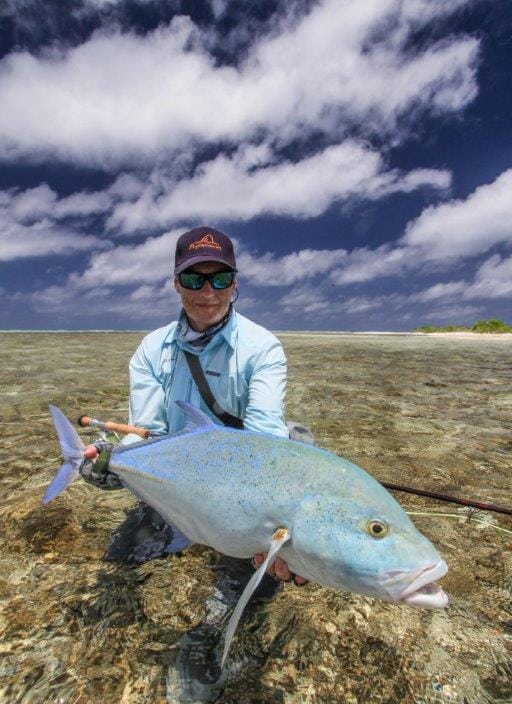 Our third day out provided our guests with a taste of the diversity St Brandon's has to offer. Whilst Ivan and Chase were exploring one of the large coral ridges they saw a shoal of massive bluefin trevally crashing into a panic stricken mass of baitfish. Quick to react, Chase changed Ivan's fly to something more suitable before moving into position. Ivan to his credit showed nerves of steal and delivered the perfect cast. Keeping his cool like a veteran he let the fly drift in the current until the bluefin started moving in for another round mayhem. The large bolts of blue charged fish rushed into the bait ball, Ivan made two aggressive strips and the biggest of the group rushed over and smashed the fly in shin deep water. Ivan set the hooked and the fish sprinted off! He fought the fish with intensity that ensured it came to hand fairly quickly and after some quick pics the fish swam off strongly.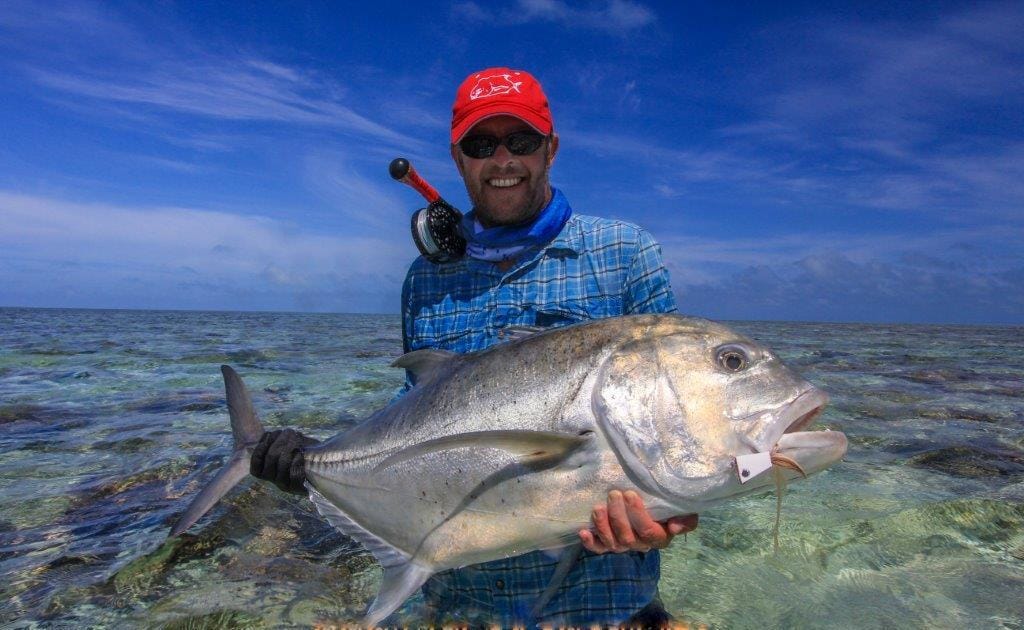 Alena and Oleg were on a different island experiencing a similar scenario with guide Christiaan and two most welcome guests. Two big black GTs were cruising along side another shoal of massive bluefin. Oleg rushed into position and lined the fish up. He led the two fish by a few meters and they moved in closer. Two big strips and the lead fish tore into full speed and devoured his fly. He set the hook and the fish bolted off with immense power. Line was ripping off the reel before a loud "crack" and his the line shot back towards him. The fish had snapped the 50lb braided core fly line as if it was cotton. Guide Christiaan and Oleg dropped to their knees, but before they could deal with the emotion of what had just transpired the bluefin were pushing baitfish back onto the ridge. A quick repair job and they were again into the action.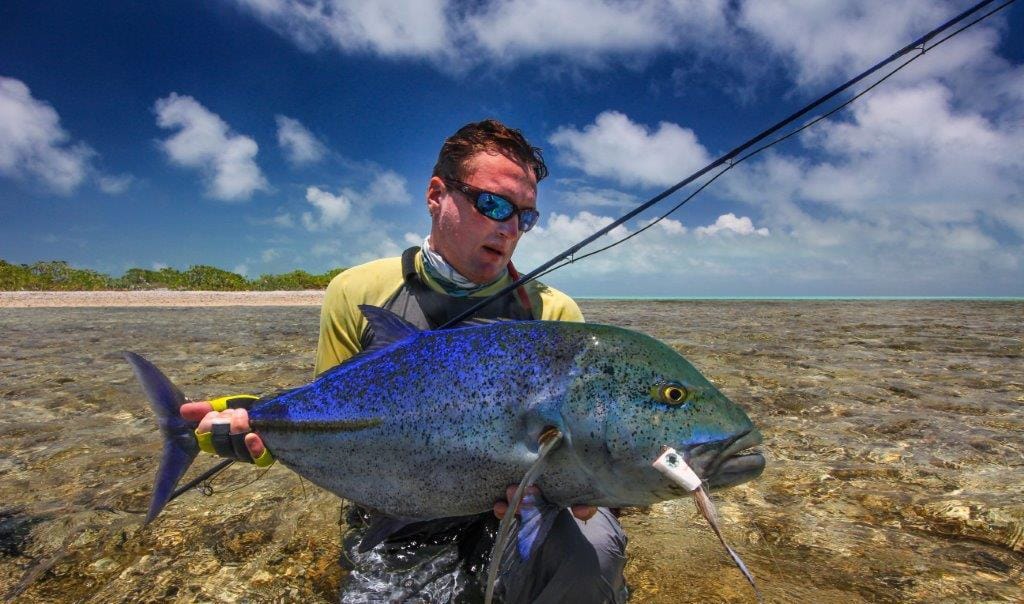 MC secretly had his mind set on a permit after having multiple shots at these tricky customers over the first few days without any success. Content after landing some big bonefish and a big bluefin, we stopped at the last spot of the day. MC and Denton split up and during his brief walk MC noticed three fish move in front of him. They were moving quickly but he made a cast and as luck would have it one pinned the fly down. He set the hook and after a couple of nerve-racking moments he landed his first permit. Not a monster by any means but a gorgeous slab of gold and one that will never be forgotten.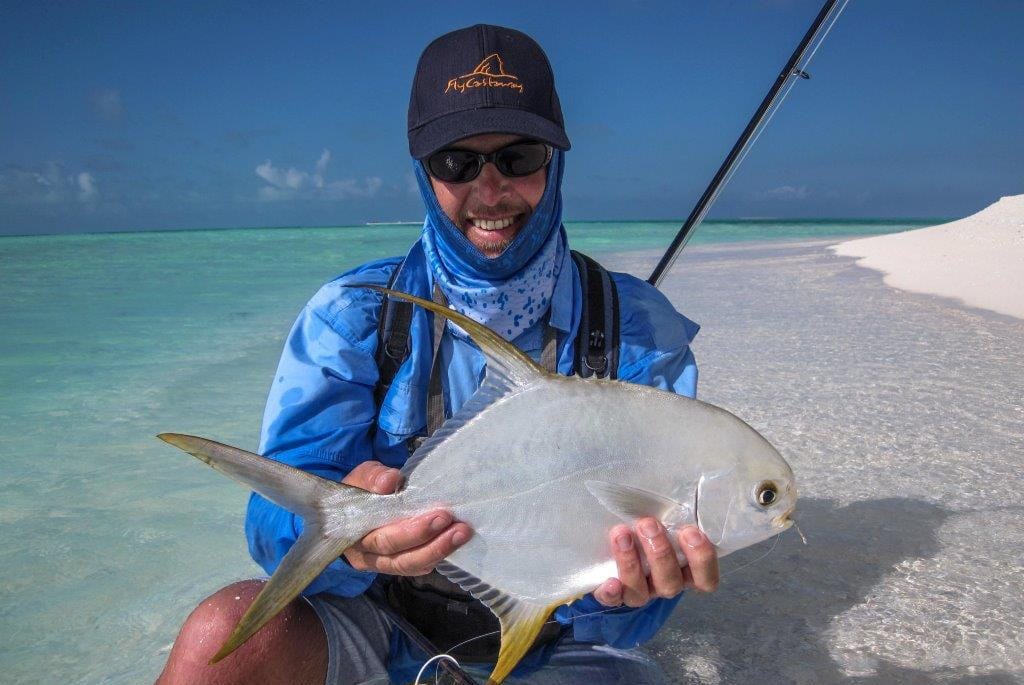 MC's trip was not done just yet though and on the second last day he, Denton and guide Christiaan began walking a ridge that has recently been producing the goods. Whilst watching another big shoal of bluefin working some baitfish, Christiaan spotted a dark fish patrolling behind the bluefin. It was a GT for sure! MC moved into position and made an accurate cast. A few big strips and the fished raced onto the fly and engulfed it. It bolted off through the coral garden with Christiaan hot on its heels and MC hanging on the other end. Fortunately they managed to clear the line from the coral minefield and landed his prized 104cm GT.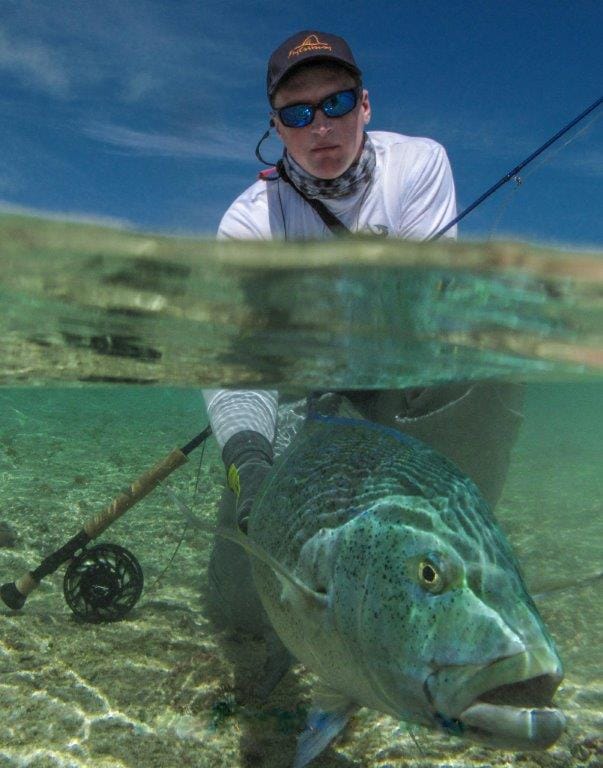 The last full day of fishing was a gift sent down from heaven! Perfect flats fishing conditions included a light breeze, sunshine and some skinny water bonefish. There's nothing quite like it and no doubt was a reminder to our guests why St Brandon's is such a special speck in the ocean. Although there were more than a few highs, Alena's weighed 8 lb single in ankle deep water was one that stands out. A delicate cast, one strip and the fish tailed on the fly. What a way to end the week.
Thank you to all our guests for an extremely enjoyable trip. We look forward to seeing you back soon!
Until next week
The St Brandon's Guide Team
For more details on St Brandon's Atoll or to hold space please contact Peter McLeod or call us on 01980 847389.