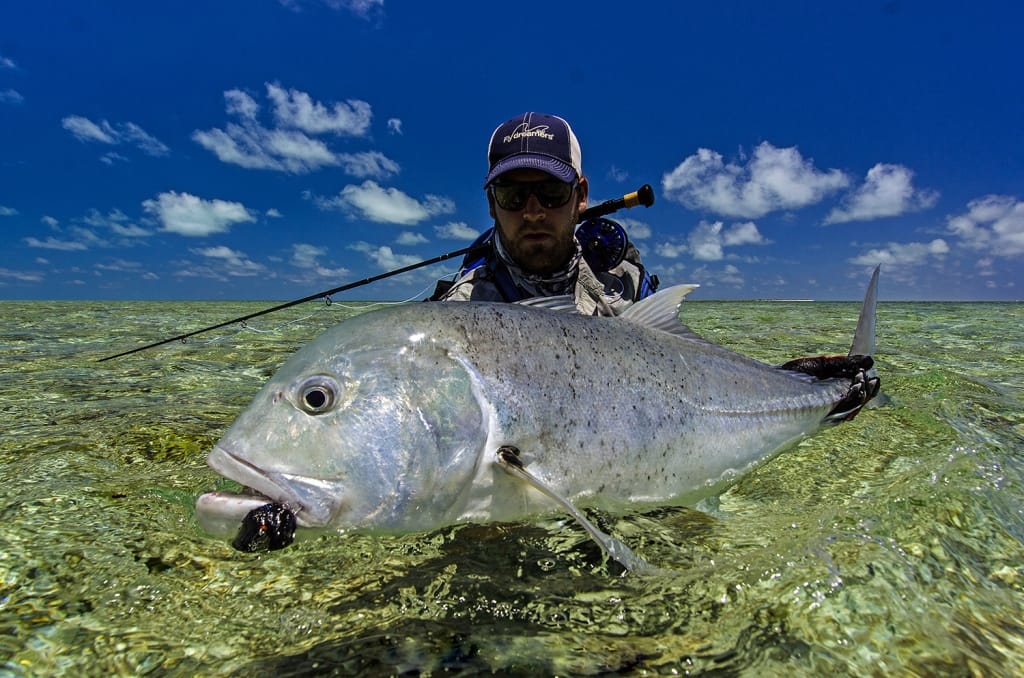 Waking up on St. Brandon's is always a special privilege, but with the sun rising and the Gryphon surrounded by dolphins on the first morning of our new trip, we knew we were in for yet another special week of fishing. Added to this, we were expecting some cooler water temperatures which would invigorate the large bonefish and other species to resume their traditional feeding patterns.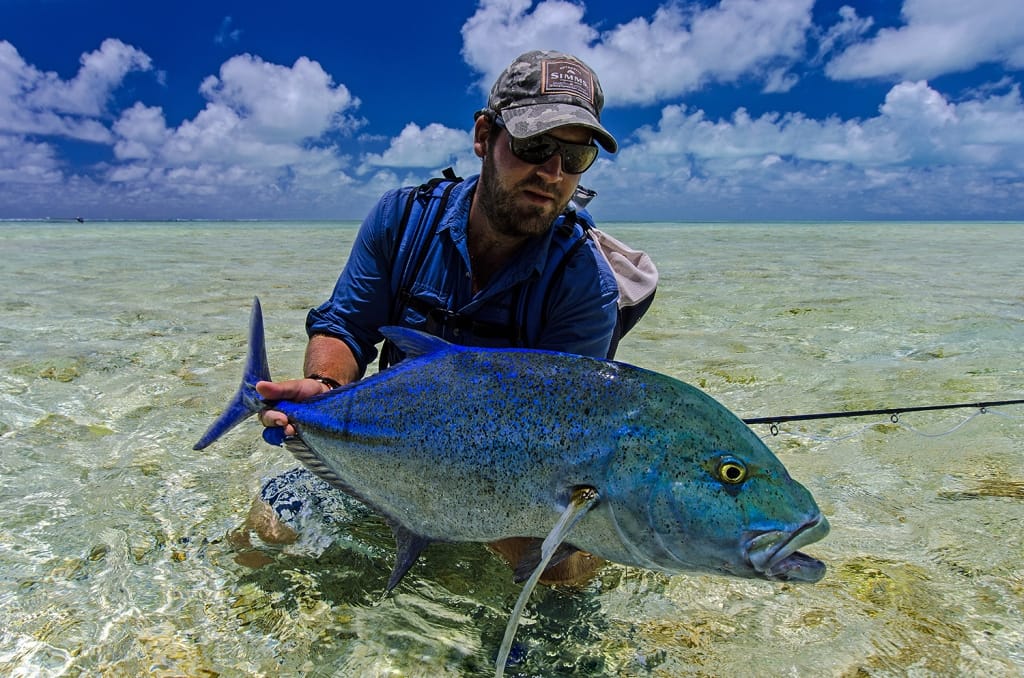 As all the boats arrived back at the Gryphon on the first afternoon one could clearly see some pretty happy clients. Great stories soon unfolded over a setting sun and few cold beverages and it was clear we had started the week off with a bang. Notable fish included Pedro's first fish two Bonefish of the trip, both had been trophies. His first cast at a sighted fish had been rewarded with a 10 lbs fish and would you believe so had his second. Where else would this be possible! Later that day he and Aline both landed good sized golden trevally which had capped off a truly special first day out for the couple. An accomplished angler, Felipe landed two GTs on his first day out, one of 95 cm and the second a 105 cm. These were his first ever flats caught GT's …not a bad way to kick off the GT Fever. Sadly Steve didn't quite have the same fortune. After hooking an absolute bus GT it pulled him through some coral, leaving both angler and guide devastated. The tone for the week had however been set and it was clear our guests were after trophies.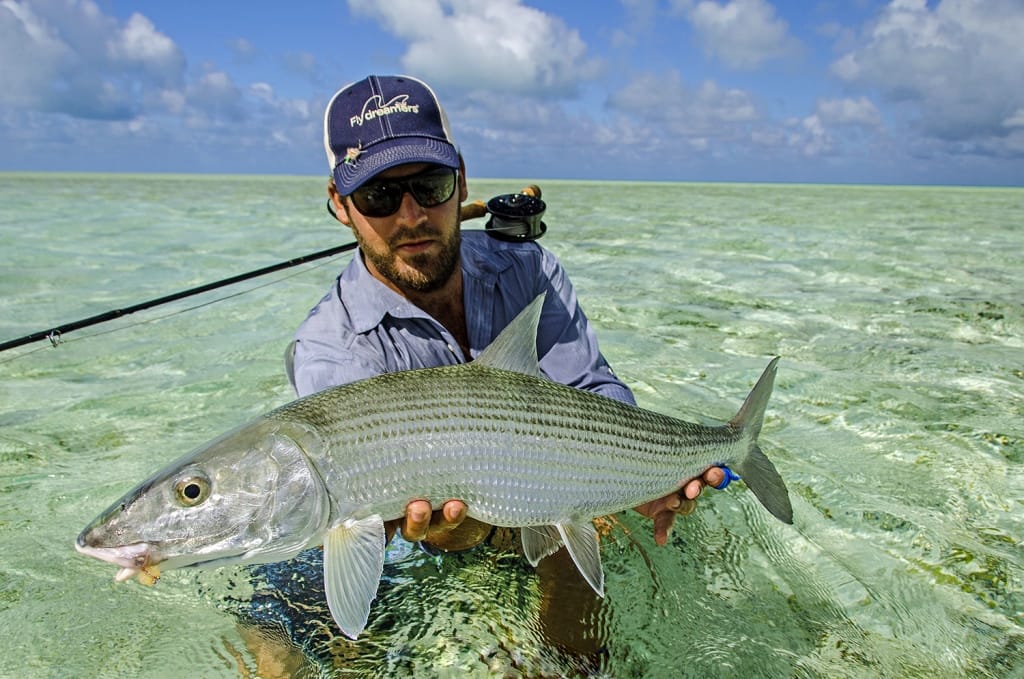 Day 2 was slightly slower, but compared to other fisheries around the world it was still a pretty super day out. Bonefish between 6 lbs — 9 lbs had made up the bulk of the catch, however Kathy excelled by bagging a nice golden and a few bluefin trevally. We did have shots at some good GT's but today was not meant to be. Matt and Felipe on the other hand had chased down permit after permit but sadly none dipped onto the fly. Still, casting at feeding permit is always a great day out only driving you harder to seal the deal!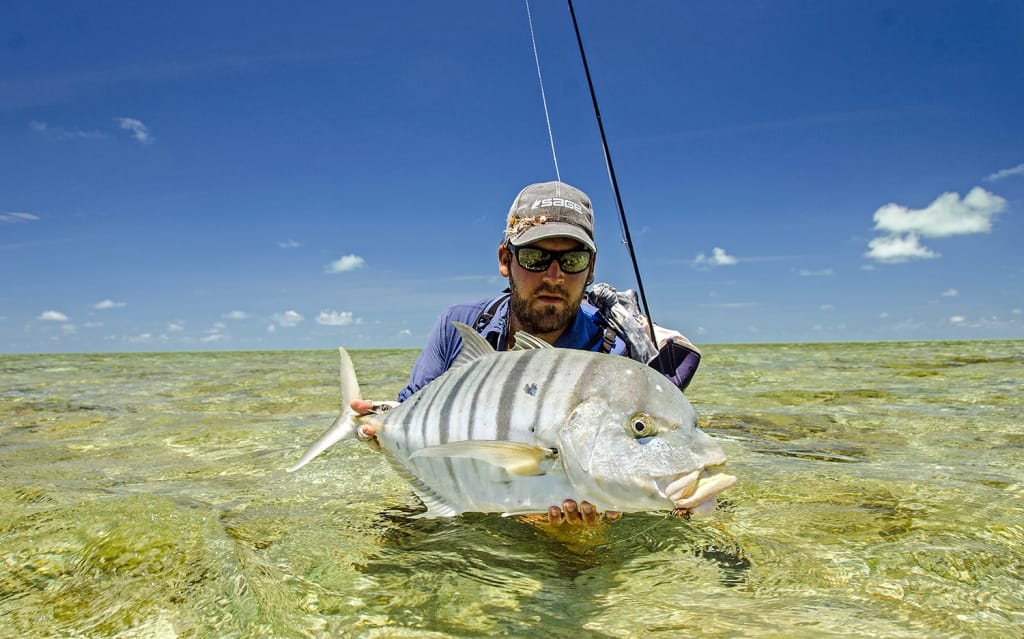 Day 3 was a glorious day out on the water. The morning produced a number of species. Golden's, greenspots, massive bluefin, big bones and more shots at permit. Steve landed two truly impressive bluefin, one of 76 cm and the other a monster of 84 cm. Congrats Steve! It was during lunch when our world was flipped upside down; a call on the radio rang out: "Get in here….… the GTs are wild". Sensing the urgency we headed off straight away and we were soon involved in one of the most special situations an angler can find himself. There were GT's coming from all directions and they were hungry! Felipe took charge of the situation. The first two fish which charged his fly were huge, but these brutes turned away right at the end. No matter, as a while later he had landed 4 great fish, the largest measuring a whopping 110 cm. His excitement was almost tangible and I chuckled as a string of Spanish came rattling out. Tim later on added to our tally with a good sized 15 lbs bluefin. It had been a crazy day out and one that won't be forgotten in a hurry!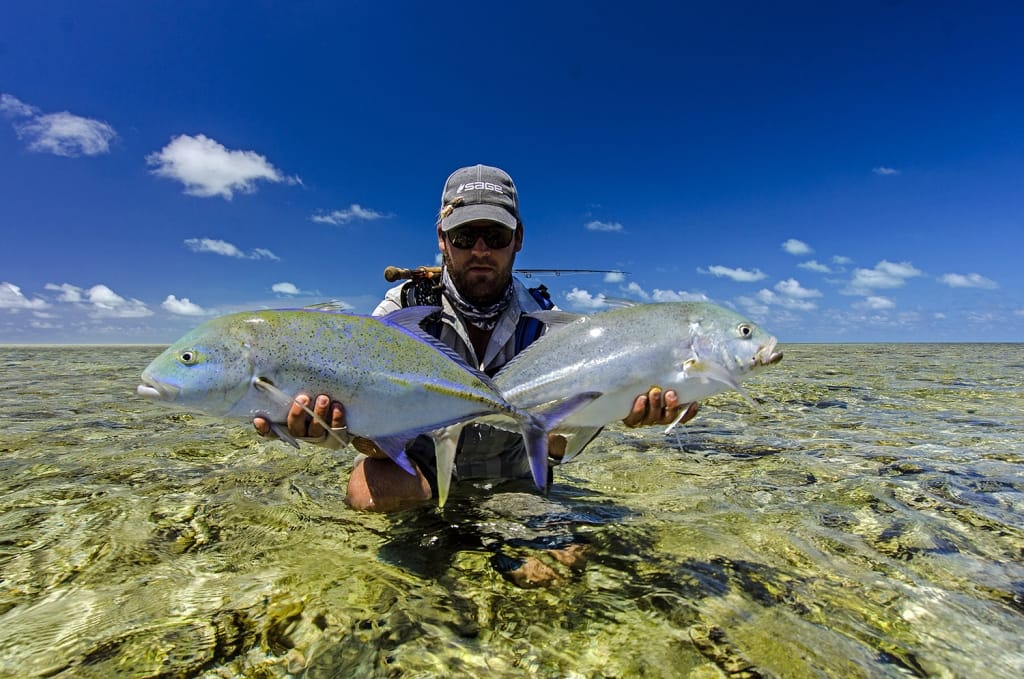 Now when you hear stories of GTs eating the fly rod's tip section, your initial reaction would be to laugh it of. For Steve and his guide Chris, this sadly became a reality. A big GT had rushed the fly, missing it on three occasions before opting to chew on Steve's rod. Stunned at first, Chris instructed Steve to cast again. Just as before the GT came for the fly again but after missing again it decided it was time to move on and find something made up of real flesh and bone. Tim on the other hand was into the action. Two massive explosions later, he was on to a big fish. After an epic battle which had tested him and his gear to the maximum he landed an enormous GT which measured 115 cm. What a fish Tim!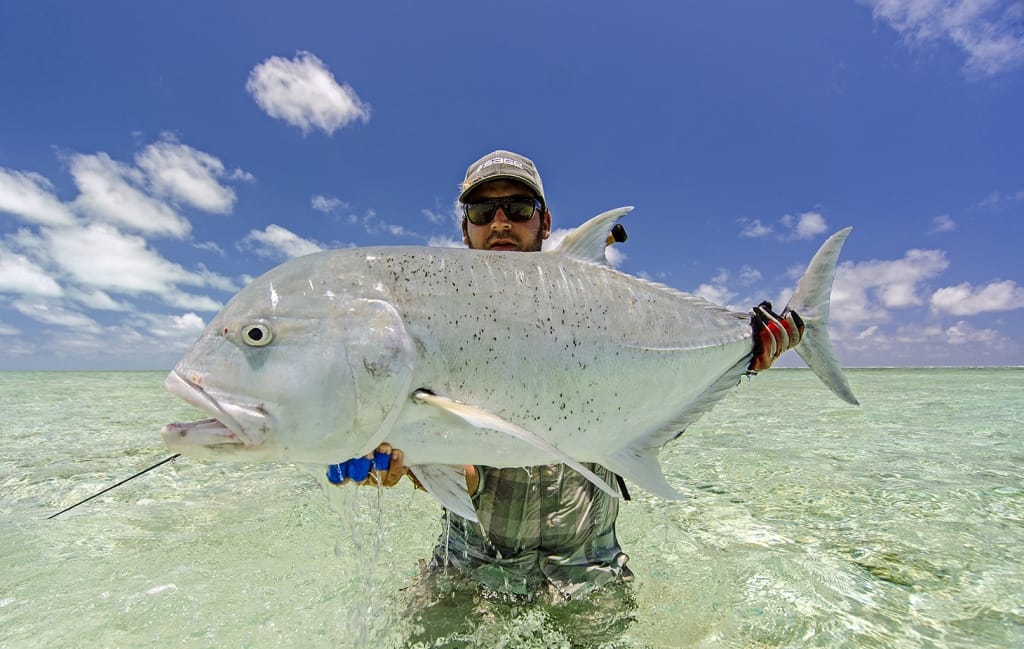 Although we were having to work hard for our bones due to some warm water which had again made an appearance, Steve and Kathy stuck to it and were rewarded with some big fish up to 9 lbs. Mark's objectives on this trip were slightly unusual compared to most of our normal guests, however the guides welcomed the challenge. He was after a big shark on fly and he got his chance when he hooked a lemon around 120 lbs. After watching his backing disappear for 10 minutes another shark appeared and the game was over.  Felipe was still going full throttle and landed a 10 lbs bonefish. Pedro too got stuck into some great fish and landed a handful of greenspot, bluefin along with two more GTs.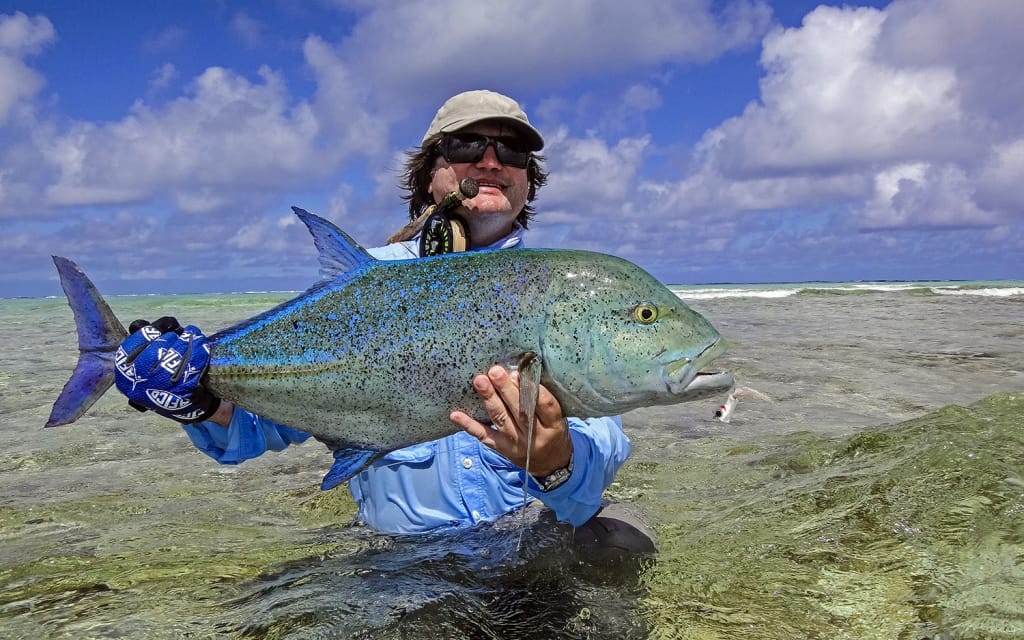 The last day on the flats and things continued to heat up. Steve got his 10 lbs bonefish, whilst Tim and Mark both landed good GTs, bluefin and greenspot trevally. Felipe was not done though and landed his 7th GT for the trip together with a massive 19 lbs golden…A really special fish.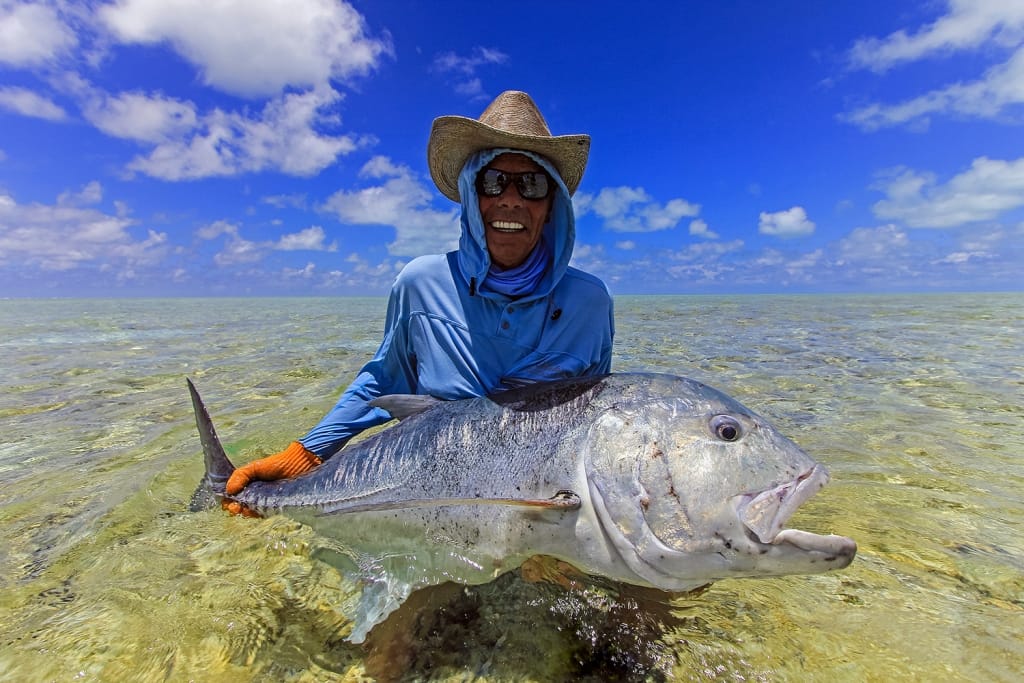 Sitting on Coco's Island sipping on a glass of champagne, talking about the weeks fishing and watching the sun set over the Indian Ocean we were left in no doubt as to what a special week we had had. We had landed five bones over 10 lbs, thirteen GTs (the biggest being Tim's 115 cm fish), thirty-seven bluefin, a handful of golden's and greenspots. This week showed St. Brandon's real potential. Yes, we have experienced easier bonefishing in previous weeks and seasons but the quality of the fish we landed together the diversity of the trevally fishing highlights yet again why St Brandon's is so special.
A big thank you to all our guests for our great trip!
Brad & the St Brandon's Guide Team
If you would like more information on St Brandons or to hold space, please contact us or call us on 01980 847389.