It's always great to see repeat clients and such is the fishing on St Brandon's we're really get to form a strong bond with anglers who we now classify as friends! Added to this we get to know each anglers personal fishing goals and have more than just a day or two to ensure we fulfill these milestones. So it was with great pleasure when we welcomed back Tony Czura and Tony Hayes owner of the famed Tongariro Lodge in NZ for our third trip of the season. Joining them for the first time was Dennis Ward of the Ngatapa Station in New Zealand. This week was a special trip in many regards firstly due to 4 guys booking the entire boat clients for an extended trip that in total would last 15 days. Unfortunately however the 4th member and group leader had to withdraw at short notice and he was sorely missed. We look forward to having Douglass on the next one that's for sure!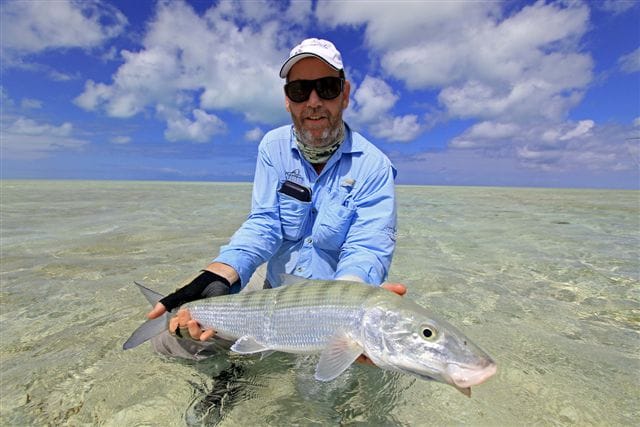 So with calm seas forecasted for the crossing we made are way to St Brandon's with great excitement. On arriving our boots where quickly strapped on, cool boxes packed and we headed off to flats. Off the bat Tony Czura landed a 10lb Bone on his second cast of the trip and later that day landed a magnificent trophy Bonefish of 12lb fish that is monster in any circles. The rest of the day included dozens of 7lb to 8lb fish and was the perfect way to kick off the trip.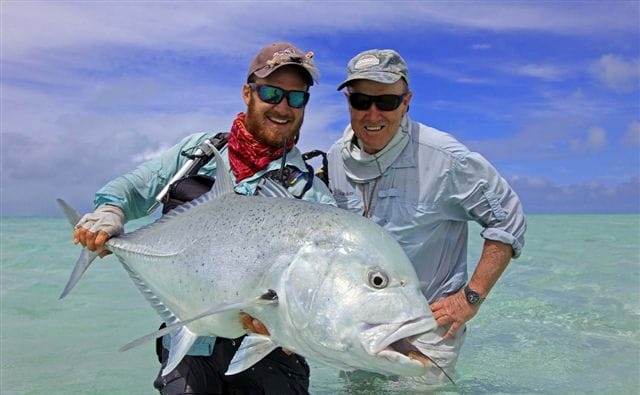 As for what would happen over the next couple days, well that can hardly be put into words! I can only describe it as some of the best Bonefish fishing I have ever encountered in my 8 years of guiding the Indian Ocean atolls…. even by St Brandon's standards. To give you an example Tony and I headed out one morning and got stuck into fish after fish between 6lb and 9lb. For six hours straight we were either playing a fish or casting at a fish. Later on we stopped because we remembered we hadn't had anything to drink and his arm was pretty tired. It was just scary fishing and set the tone for a truly amazing week of Bonefishing. On more than one occasion I heard both Tony's saying that there is no place they would rather be Bonefishing, which itself is impressive considering the experience these two anglers have between them.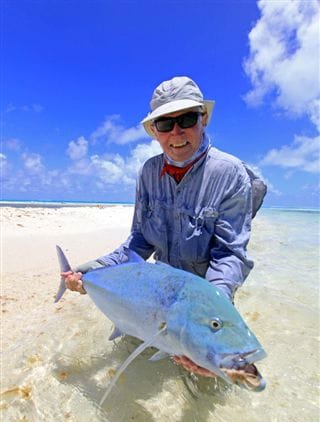 St Brandon's is not just about big Bones, we also saw and had shots at good numbers of Permit through out the week, of which we managed to land three. Add some Green spot, Yellowdot, Bluefin Trevally just to spice things up. As for our friends the GT's there were very big fish around. We managed to tempt 3 of the brutes, sadly though only one of which stuck and it was a delighted Tony Hayes (guided by Christiaan) who eventually lifted up 107cm monster. Congrats Tony…it's a special fish!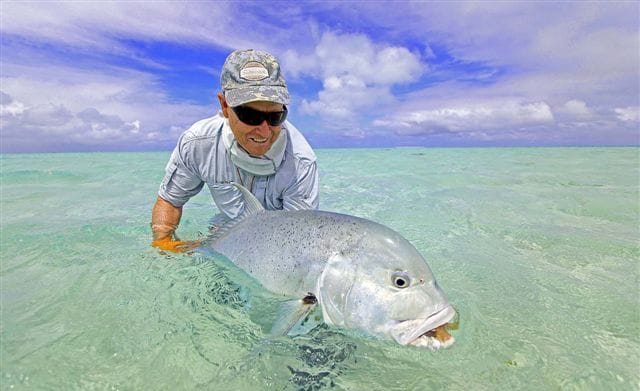 Christiaan and I really enjoyed the company of the now named KWI team. We had formed a bond with a group of anglers over the course of a very special few days of fishing. Each night our guests and friends had us either bent over with laughter or sitting with goose bumps as they reeled off story after story of big Brown Trout eating dry flies in their home rivers of New Zealand. So whether it is on some remote river in the South Island of NZ or on the best Bonefish flats the world has to offer we are already counting down the days till we fish together again.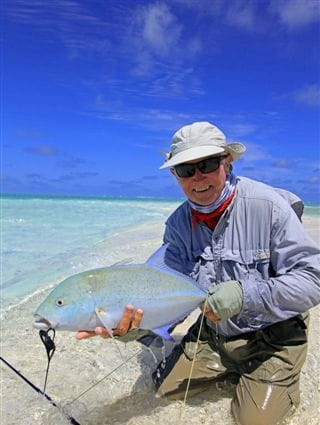 Until next week
Tight Lines
Tim and Christiaan
If you would like more information on St Brandons or to hold space, please contact us or call us on 01980 847389.