St Brandon's Blog: 3-13 October 2017
The second trip of our season saw some truly exceptional Bonefishing take place on St Brandon's. With over 30 fish in the 6lb range landed during the first morning session, everyone got a chance to shake off the cobwebs and get the crossing well and truly out of their system. We also managed to get the guys into position for some great shots at Permit but none of them stuck unfortunately. They also enjoyed some memorable Bluefin Trevally action with Ian landing the largest fish of the day, an 'ice blue' 72 cm fish hooked only a rod length from the shore after it tore in and devoured his fly. After a tough fight the fish was brought to hand, capping off a great first day on the atoll!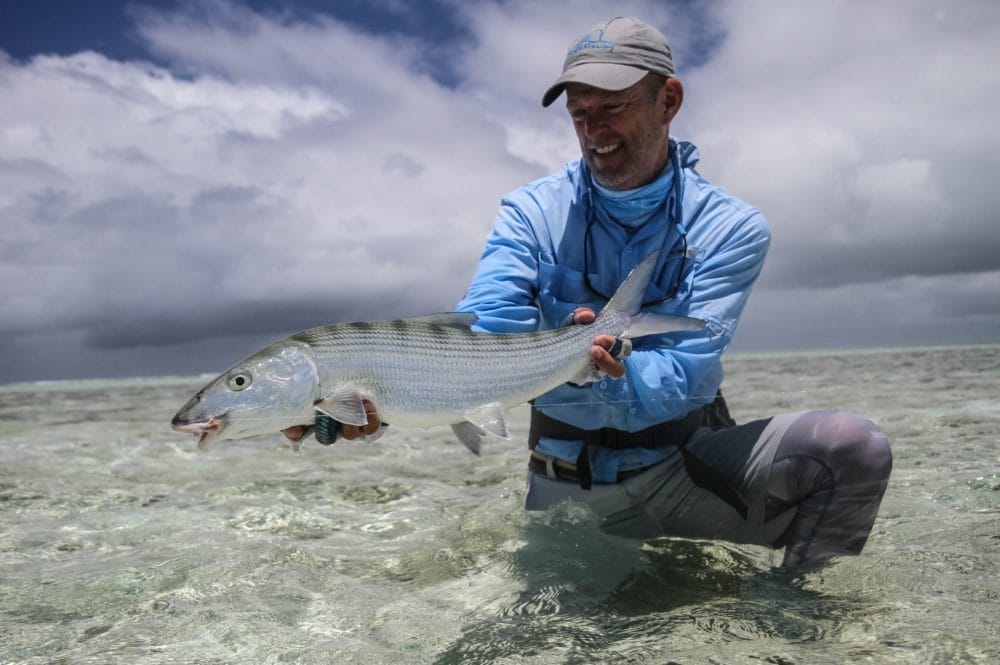 With some icy cold water spread out across most of the atoll the superb Bonefishing continued into Day 2, with well over 25 fish landed at an average size of 6lbs. Various Trevally species were encountered throughout the day as well, the Bluefin fishing in particular really heating up; many Bluefin were landed throughout the day. Don Armstrong landed the largest fish of the day, his highly aggressive fish measuring 71 cm nose to fork.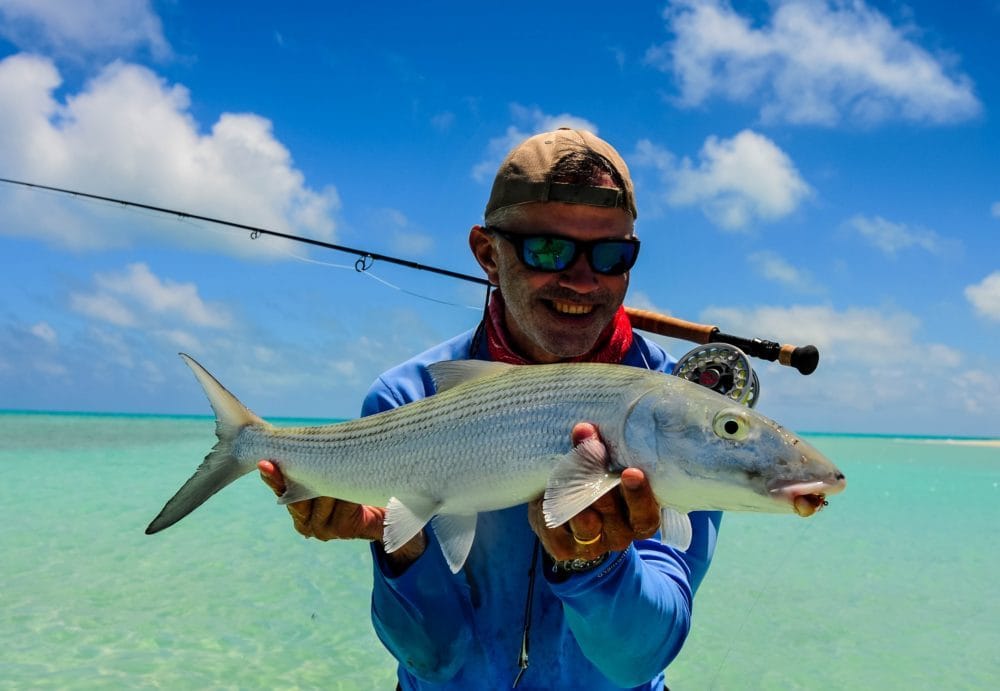 The third day proved to be a very special one, full of action. We landed forty Bonefish at an average weight of 6,5 lb. The crazy Bluefin Trevally action continued and by the end of the day we had landed 10 fish measuring over 60cm. Our arch rival the Giant Trevally provided us with an opportunity when Ian hooked a very large fish! The fish charged and ate the streamer in an extremely ferocious manner before turning straight towards some coral. Sadly there was no stopping this monster and with his fly line and a substantial amount of backing off his reel, the line went limp as the fish cut him off. Heartbreaking for Ian and his guide! The day however did end with one very special fish being landed, Jim hooked and landed his first ever Permit. After fishing at three separate pods of tailing fish for well over an hour, Jim sent out a perfect cast and on his third strip the fish tailed hard on his fly, before he came right and the fish tore off into the distance. A long and anxious fight ensued, but finally a trophy 15 lb fish was landed much to Jim and his guide's relief. Congrats Jim!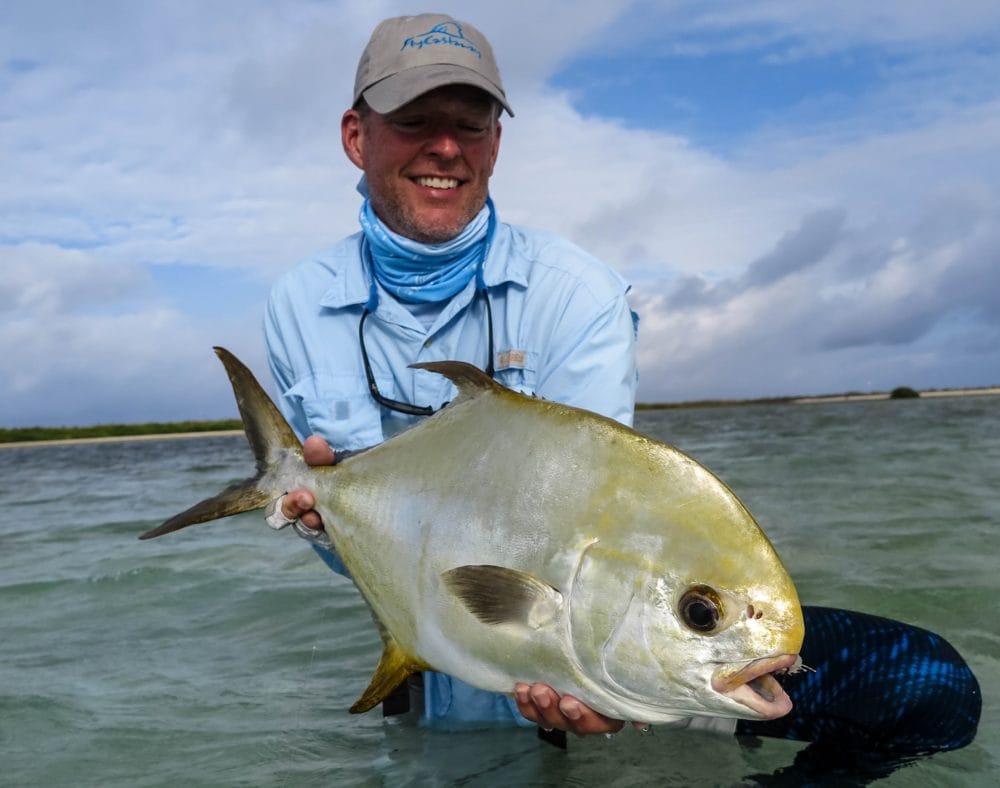 There were multiple shots at the atoll's very large GTs on Day 4, sadly however these top predators coming out on top on this occasion. The Bonefishing however provided phenomenal fishing for our guests once again, with over 35 fish  landed during the day. The Bluefin were all riled up and making pigs of themselves due to large numbers of baitfish around the raised areas on the high tide and the clients got stuck into good numbers of these aggressive predators. A few of the anglers had some great shots at Permit, but by the end of the day the fish had had the final say.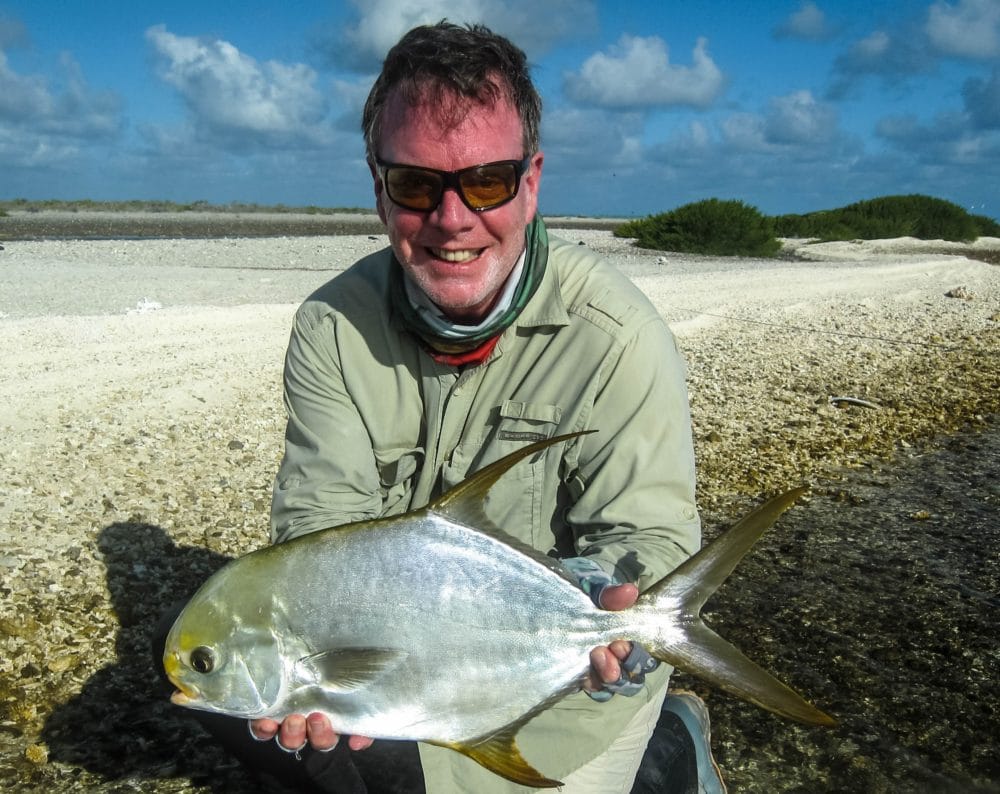 With the great conditions continuing into Day 5, the fishing proved nothing short of spectacular. There were over 40 Bones landed during the day with the average weight stretching the scales to 6.5lbs. Many of the anglers also enjoyed great shots at the Permit, possibly due to some lower tidal movement, but Permit being Permit, shots aren't always enough to get it done! The Bluefin Trevally fishing kicked up a gear with many coming to hand, five fish in particular of special mention as they weighed between 12 – 14 lb. With the Bluefin being around in such abundance it was only a matter of time before someone would get into a tussle with a very large GT. Sean proved to be the fortunate angler, the monster 111cm fish hooked and landed very close to the eastern reef edge. After an intense battle and some serious running from his guide, the beast was tailed and some great photos were taken before the fish was sent back to harass the high numbers of baitfish and Bonefish which were congregating in the surf zone. What a great fish Sean, well done!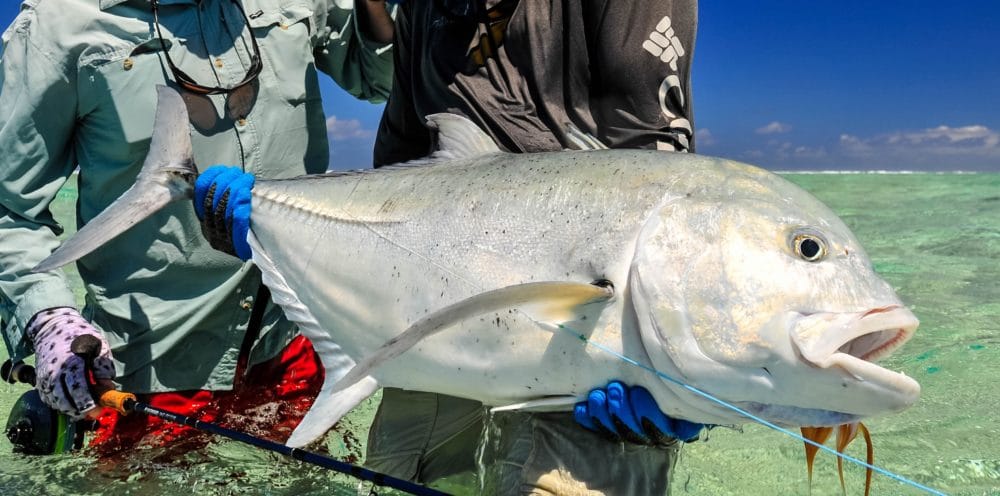 Day 6 started off with some more phenomenal Bonefishing, with 40 fish between 6-7lbs landed by the clients. It must sound monotonous saying this almost everyday, but that really is special fishing anywhere in the world and if one considers all of it is done on foot in ankle to knee depth water you know you are in a special place. The Trevally were out in force once again, with many good sized Bluefin coming to hand. Unfortunately Don lost our second large GT for the week while fishing a section on the eastern edge of the atoll. His day did improve though! Firstly he landed two trophy size Bluefin Trevally, 71cm and 74cm respectively, however his major consolation came in the form of his first Indo-Pacific Permit, the fin perfect fish weighing 10lb!  Well done Don!!!!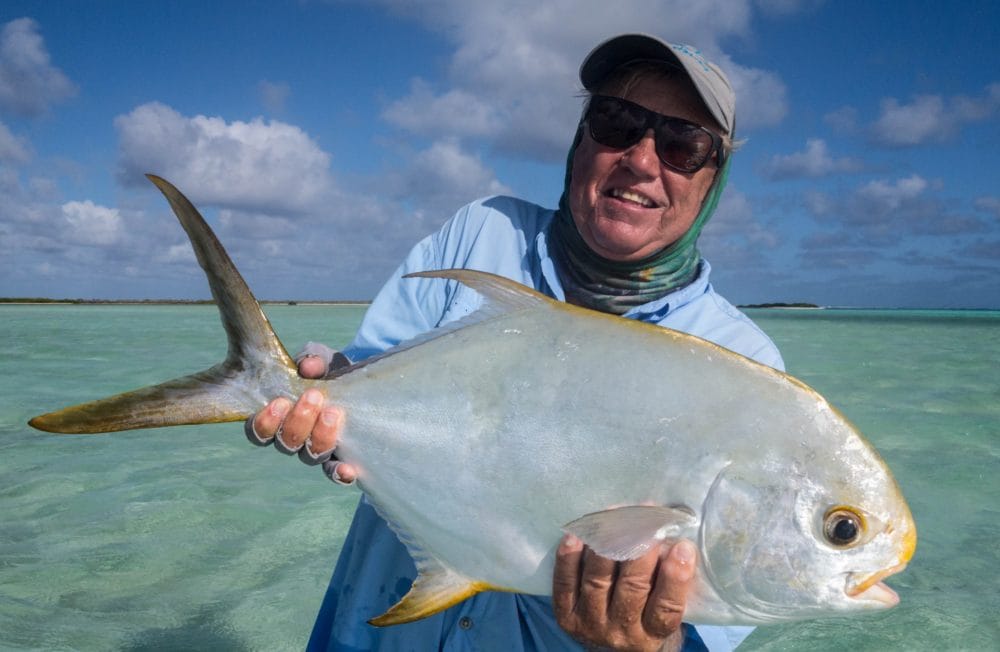 The final day of the trip brought a fitting end to a great week on St. Brandons. Over 60 Bonefish were landed throughout the day, on average the fish weighing an impressive 7lb. Jim pinned a super strong 8,5 lb fish, before Doug stole the show with a 10lb beast. The fish was spotted and cast to as it slowly snaked it's way up a turtle grass finger, a few short strips and he had a solid connection. It ran him deep into backing before steady pressure eventually brought about it's entry into the net. A few quick snaps were taken and the fish was swimming off in no time. A truly special fish Doug, congratulations!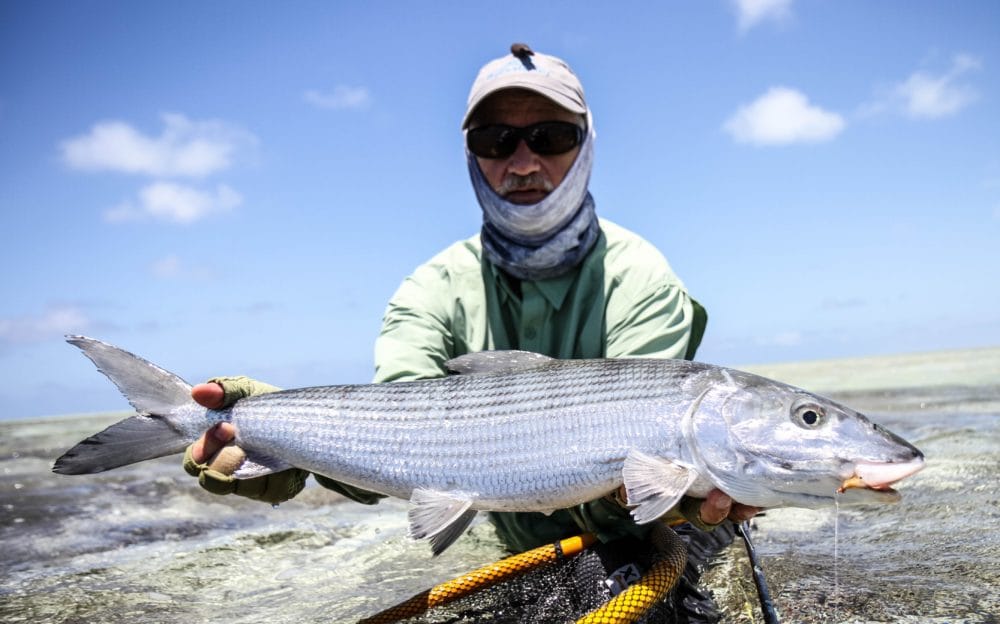 The Permit were out in good numbers again and with his last cast of trip, long time Seychelles client Rob, hooked and landed his first Indo-Pacific Permit. After having a few good shots at tailing fish, Rob put in a spot-on effort and within three strips he went tight. The fish fought hard but Rob would not give an inch and soon the 5lb fish was safely in the net. Awesome job Rob! There was plenty of Trevally action as well, most of the clients enjoying some excellent shots at GTs and ferocious Bluefin Trevally. Ian landed our largest Bluefin for the day, the electric blue specimen measuring 76cm. With this great moment the second week of the season came to an end. We had a great time hosting some old friends and making a few new ones and look forward to having them out with us on the atoll in seasons to come!
Until next time
The St Brandon's Guide Team
If you would like more information please contact Charlotte Chilcott or Peter McLeod or call us on ++44 1980 847389. Alternatively click HERE if you would like us to contact you.