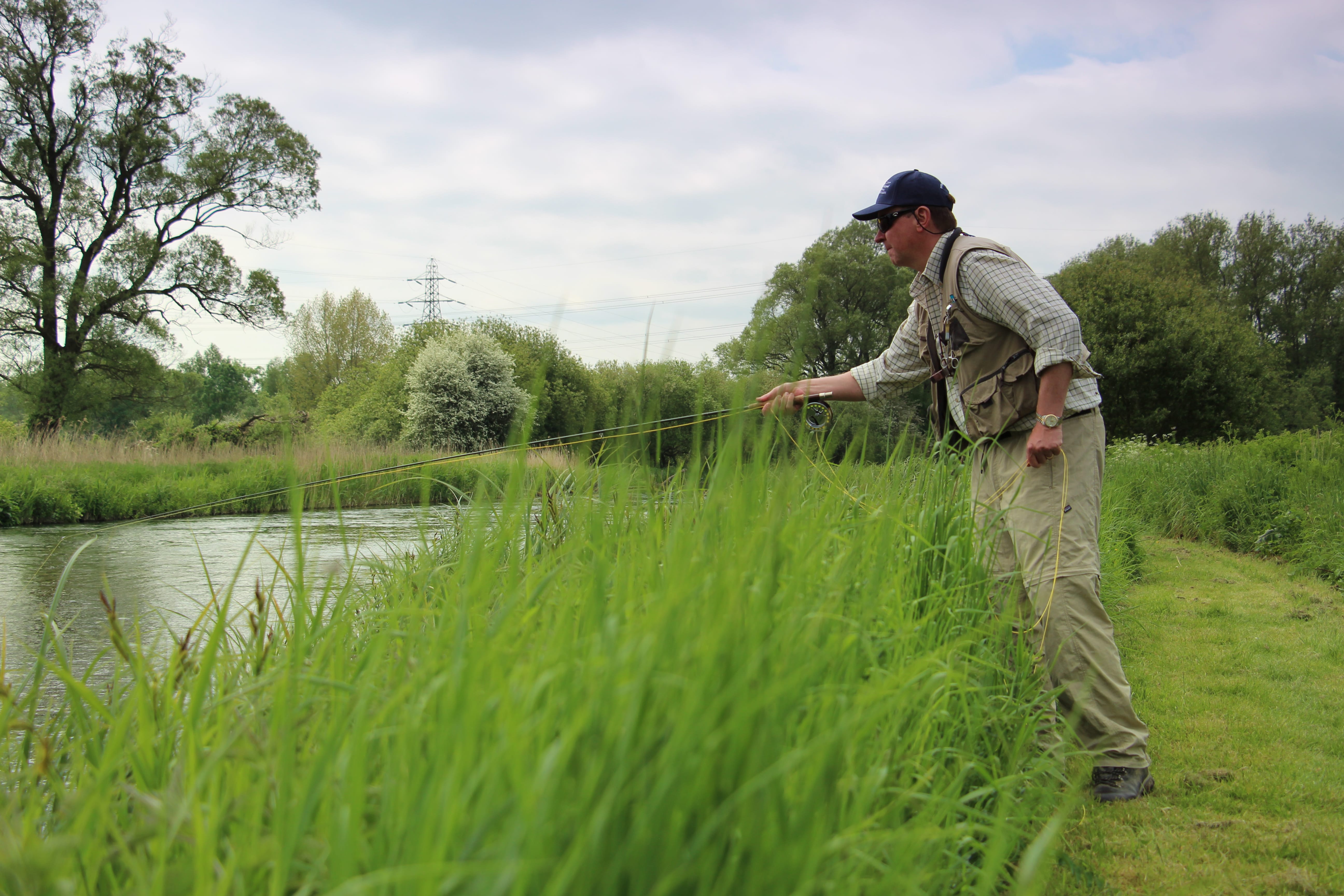 Ever since we heard the first report about St Brandon's atoll in Mauritius, I had been itching to go and in the back end of 2014, having met Gordon at Heathrow, we arrived in Mauritius, all geared up and ready to go.
The Gryphon, although not in the first bloom of her nautical youth, was a great boat to spend time on; there was plenty of room, the cabins were roomy and the beds surprisingly big. Flushing loos and hot water in the shower – perfect. Yes, the crossing is long but that is unavoidable and, for me, it only added to the sense of adventure. This atoll is something else and if it was easy to get to, it would very quickly lose its uniqueness. There is no fishing pressure as it is fished for two very short seasons in a year and local fishing is restricted and enforced.  The hard, white sand flats are easy wading and they are vast.  Almost everything about St Brandon's is big (including my G&T glass).

The bait is big and the predators are bigger. Its GTs are not as commonplace as they are in Cosmoledo but they are seldom under one metre and one cruised right in front of me the size of an original Mini Cooper. All I had to hand at the time was my 7# and an orange Christmas Island Special and while Hardy are rightly confident about the Proaxis' abilities, that the enormous lump of gunmetal trevally would have been a pound or five above its maximum load.  Gordon cast and stripped and cast and stripped only to be completely ignored; my quip about it being female was met with aloof indifference by both James Christmas and Gordon in a moment of male solidarity.

The schools of permit were the biggest I have seen yet and while I have seen vast schools of bonefish on Alphonse, what makes St Brandon's stand out from other Indian Ocean destinations is the size of its bonefish.  Here double digit fish are a very real opportunity; casting to these enormous bonefish as they feed with their backs exposed in super skinny water is mind blowing. I have seen bow waves off the snouts of crocodiles but never off the nose of a running bonefish with half of its body out of the water; between the size of the fish and the shallowness of the water, it was a breath taking sight.
Would I go back? Absolutely.  This is an incredible fishery and a true adventure. If you haven't ventured forth to St Brandon's yet, please put it on your bucket list – at the top. It is worth it. Don't be put off by the long sail, where's your sense of adventure? Make use of the downtime to recharge your batteries, sort out your fly boxes, tie flies, talk fishing rubbish with your fellow anglers, watch movies with the guides … just enjoy the whole experience and arrive on St Brandon's fully charged and ready to cast.
My memories though are as much about 'the other things'.  James rashly picking up a floating dead turtle; and Christiaan and Eugene drowning their lost GT sorrows only to celebrate another day.

For more details about fishing St Brandon's atoll, Mauritius please contact Charlotte Chilcott or call the office on ++44 1980 847389.
Last, but not least, Willem proving that big isn't always better as the markings on this little golden trevally are beautiful and will fade with growth.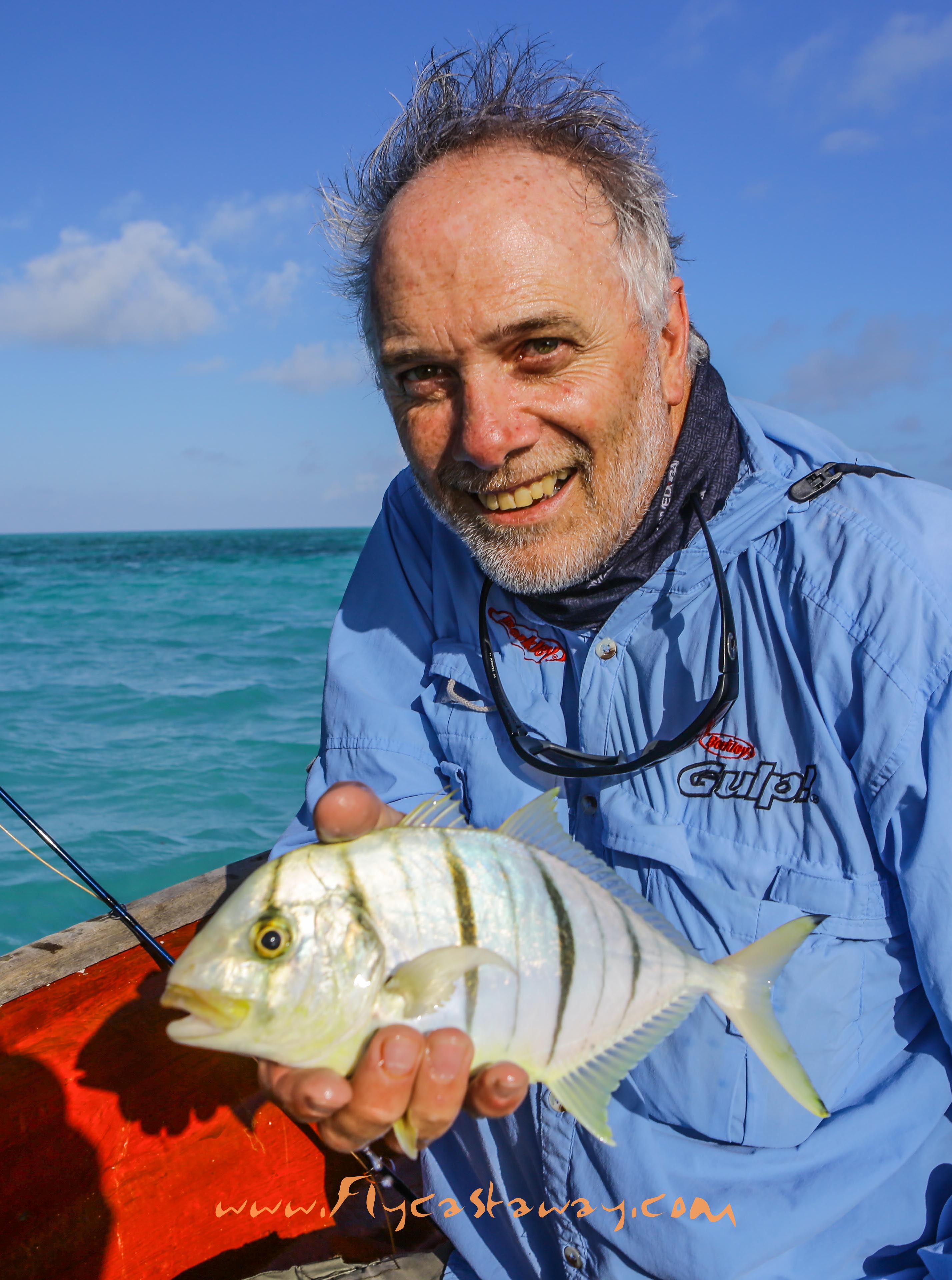 The most recent fishing updated from Alphonse Island click HERE or for the most recent Alphonse diving update, click HERE
For the most recent blog from St Brandon's, Mauritus please click HERE
For the most recent blog from Farquhar please click HERE